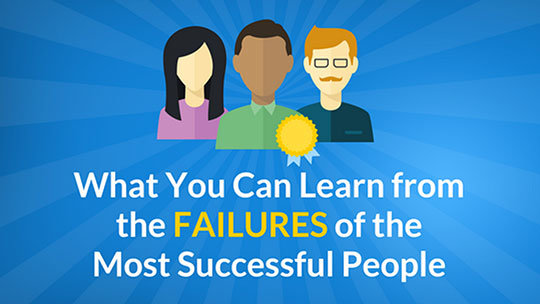 By Kevin Raheja, Affiliate Manager for LeadPages
Growing up in the late '80s and early '90s in Chicago, I was naturally a huge Bulls fan.
Like many kids back then, I idolized the great "Air" Jordan. It was hard not to. At the time, Michael was featured in almost every commercial.
Of all the commercials he did, I remember this one from Nike the most vividly. In it, the great Jordan focused not on his successes — but on his failures as a player.
"I've missed more than 9,000 shots in my career. I've lost almost 300 games. Twenty-six times, I've been trusted to take the game-winning shot and missed. I've failed over and over and over again in my life. And that is why I succeed." —Michael Jordan
In the commercial, Nike used Michael's failures to highlight his greatness. In looking back, there's a lot of wisdom here. The most successful people take the most risks, so they do tend to fail the most. In failing, they eventually succeed.
I was so inspired by this, that recently, I reached out to some of the most successful people I know. I asked each one: "what's been your biggest failure?"
Below, you'll hear the stories of their most epic failures in their own words — and what you can learn from each of these struggles.

"When I was still working with Tony Robbins, we decided to create our very first paid webinar. As a team, we had never used GoToWebinar and had to learn as we went along.  
"The night before the big webinar, we had 800 paid customers signed up. Tony and I were on the phone practicing — just to make sure we had it all ready to go. I'm not sure what I did, but while on the practice call, I clicked a button and DELETED the entire webinar.
"In that moment, Tony said to me, "Amy, why did I just receive an email saying the webinar was canceled?" I froze. With a click of a button, all 800 paid registrations instantly received an email letting them know the webinar was CANCELLED. That night I lost a few years off my life as I frantically tried to fix my mistake!
"When I left Robbins a few months later to start my own business, I could have EASILY decided I would never do webinars again. But I had to really push past my tech fears and try it again because I knew webinars would make a big impact with my potential customers.  
"I am truly glad I didn't give up, because today live and automated webinars are the #1 way I build my email list, and how I promote and launch all of my online programs. Webinars are my #1 strategy for success."
Today, Amy is known for her webinars. Here's a look at how Amy sets up her webinars.

"The biggest thing we did wrong was during our launch. We collected roughly 10,000 email addresses for a beta launch list between October 2011 and May 2012.
"We didn't email most of these people a single time until the launch day. As a result we were emailing a pretty stale list. Major fail."
Fast forward to present day, and over 250,000 people use Zapier to connect their aps. So this "major fail" was overcome by a solid marketing follow through.

"My biggest marketing failure ever was my launch of EntrepreneurOnFire. This epic failure cost me $100,000. You can listen to the full story here."
This "epic fail" was back in 2012. Here's how John runs a launch now.

"A big product launch without properly understanding the numbers.
"I was inspired by watching a video where a big name guru went behind the scenes on one of his launches. In his video, he shared the full sequence of videos and follow up. I created a very similar sequence – it cost me quite a bit and took an absolute ton of time.
"When I did the launch the results were okay, but nowhere near what I'd hoped for. In particular, they didn't really justify the big investment I'd put into the launch itself.
"When I did a post-mortem later I compared my numbers to the ones the big name guru shared in his video. Despite my disappointment, it turns out that percentage-wise my results had actually been better. I got a better opt-in rate to my videos, a higher percentage of click-throughs from my emails, and a higher overall close percentage.
"The big difference was that the guru had 100x as many names on his email list than me! So not surprisingly he got better results.
"My mistake was that I could have run all these numbers in advance of the launch. Had I done so I'd have seen that for my much smaller list size, the return on investment didn't justify the time and money invested in the videos and launch.
"Instead I got excited by all the big absolute numbers being reported and just got going without understanding how the numbers would work for me."
Today, Ian Brodie runs his business by the numbers. Here's an example of how he does it.

"Being a software engineer by training, I didn't have much of a clue about what sales was about when the company was first started. I made a brave attempt to sell the earliest version of the product to large enterprises.
"Many unreturned phone calls later, I realized that without someone on my team with a strong understanding of sales, I wasn't equipped to sell anything. And so the focus of the company was shifted to target SMBs.
"After a quick retooling of the app's interface, we launched ReferralCandy, a self-serve product that is now used by global brands like 99designs.
"Learn from my mistake: Solve a problem for someone you can sell to."
Since then, ReferralCandy has taken off. Recently, Dinesh Raju shared one of Referral Candy's success stories on our podcast. You can listen in here.

"My biggest fail was not starting an email list from day #1. Because my blog started as a personal blog, I didn't apply my usual marketing methods to it.
"As a result, the blog list didn't start until a year down the road. Had I started the list from day #1, my list would be twice the size it is now, as so would my income. Expensive mistake."
At last count, John Chow has 255,069 daily visitors and readers on his site. So while this may have been expensive, it didn't hold him back in the least.

"The biggest marketing failure I'd made was thinking that marketing was critical to the product's success early on. Huge mistake.
"The product was core to the product's success. Not marketing. Marketing is the icing on the cake – not lipstick on a pig and the desire to market too early can hamper proper evolution and formation of great product."
You can see how Mad Mimi has focused on building their product on their site.

"Here's a recent failed experiment:
"At BBT, we're always in search of ways to get more people to register for our webinars. The greater the number of registrants, the greater the sales, so it's a big deal, but sometimes the factors that raise or lower registration are counterintuitive.
"For instance, we tried doing multiple webinars at different times of day and offered the choice of which webinar to attend on the registration page. After all, people are all over the world, so certainly giving them an option at a convenient time in their time zone will improve conversions, right?
"Actually… no. Offering the option of choosing which webinar to attend dropped registration by 37%.
"Why?
"I would guess it's because choosing the time and day forces people to think about their schedule. The more they think, the more they realize how busy they are, and so they don't register. By not offering options, you allow them to register without really thinking about the time and day, unless they have an obvious conflict.
"The whole experiment led me to a revelation: the most powerful sales process is often the one that requires the least thinking. That idea alone has at least doubled the conversion on some of our funnels."
Failed experiments like this one often lead to the best business intelligence. You can see examples of what's working in Jon's business on his site.

"We once set our budget on a Facebook Ad campaign to $5,000 per day BEFORE we were approved to spend that much, in order to max out our current budget.
"A few days later Facebook bumped our budget to $5,000 per day without our knowledge and we spent the entire $5,000 multiple days in a row.
"This would normally be a good thing, but in this situation our conversions fell off significantly because we weren't keeping an eye on it. Needless to say, we lost that day.
"Lesson learned: don't take your eye off your numbers, ever."
Since then, Brian has become the foremost authority on Facebook marketing. He even designed a landing page for Facebook that generated 350,000 fans and 200,000 opt-ins.

"Not having a product ready for marketing success. We launched CrashPlan at Macworld in 2007 hoping to get our initial hundred users or so.
"Social media got ahold of the idea and we found ourselves on the homepage of Digg with 30,000+ people hitting our site – which of course, crashed hard.
"Lesson: Be conservative in your planning, but be prepared if you get lucky. (It took us over a year to get to single day volume like that again.)"
You can see how far Code 42 has come since then just by glancing at their site.

"If anything, I would say a failure in my marketing was fear back in the day to make offers to people on my email list. If I were to do anything differently back in time, I would have launched my first product much sooner."
Today, David Siteman Garland has become a well-known authority online. Here are some examples of his work.

"The failure? Not having the proper metrics in place to determine if my ad dollars were well spent and looking at partial data cost us hundreds of thousands of dollars because we kept throwing good money after poor quality leads."
Today, Renter's Warehouse is ranked the #3 property management company in the nation. Renter's Warehouse was also featured in the Inc. 1000 for being one of the fastest growing privately held companies in America.
Keeping a close eye on their metrics helped fuel that growth.

"At Moz, we've long had a self-service SaaS model with no salespeople. This means we get a ton of people trying our product via a 30-day free trial, but many who aren't qualified.
"When we re-branded last year (from SEOmoz to Moz), we delayed the launch of our new software package and collected emails on an invite list. That email list grew from June – October to nearly 90,000 people, but when we finally launched, the performance was incredibly disappointing.
"Less than 0.5% of those 90,000 became customers vs. our average conversion rates of — 50% on folks who take a free trial. We learned some important lessons, but also cost ourselves nearly 6 months of growth. Ouch."
Offering a free trial turned out to be an integral conversion tool for Moz, and since then, they've had their share of successes. Here's a recent $2 million dollar success story that Moz shared on our podcast.
Now It's Your Turn
See a pattern here? The most successful people have experienced epic failures. In fact, they have steadily and consistently failed until they find their success.
Going back to my idol: Michael Jordan lost 300 games and was still considered one of the best athletes of all time. How did he get that way? He was consistent. Michael Jordan shot 100 free throws before bed every single night.
In the same way, Amy Porterfield steadily hosts one webinar a week to this day. She consistently takes the exact action that she knows will improve her business.
I'm sure you could say the same about all these marketers above. They steadily take the actions that eventually lead to success. Failing along the way is just the fastest way to figure out exactly what works and what doesn't.
Failure is the key. But, steady, consistent failures could be your ticket to the top.
So here's to your successes and your failures.
About the Author: As Affiliate Manager for LeadPages, Kevin Raheja spends his days speaking to some of the top marketers in every industry. Before LeadPages, Kevin worked on Strategic Partnerships and Business Development at Cox Media, the Star Tribune, Groupon and has consulted for many fortune 500 companies. He's created partnerships with Coca-Cola, Uber, Target Corp, Whole Foods, Delta, Petco and others. If you're already an affiliate of LeadPages or you're interested in becoming an affiliate, you can contact Kevin at kevin@ave81.com.