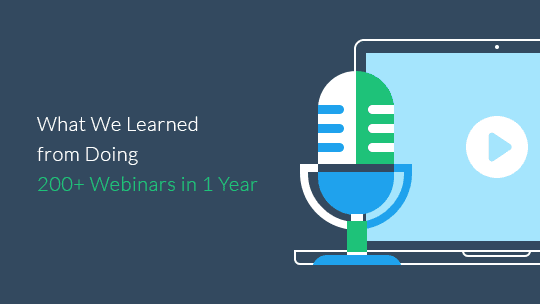 Do you have your sights set on using webinars to sell more of your products, services, and programs in the months ahead?
Having delivered over 200 webinars in 2014, the marketing team at LeadPages™ has learned plenty of lessons (many the hard way) we're using to guide our webinar strategy for 2015.
I recently created a complete Webinar Funnel System course that lays out our webinar marketing plan that you can use in your business (you can watch the entire course here — it's totally free).

Below, I'd love to share with you 24 of the market-tested lessons we've learned over the past year about profitable webinar marketing.
1. Teach Great Stuff
How your first time webinar attendees experience their initial training with you determines if they will ever return.
Teach great content to make showing up worth their while. I wish this went without saying, but too many webinar hosts save their best stuff for the other side of a "pay-wall," barely scratching the surface during their webinars.
During your short time together, give your audience some of your best material. Not only will they be more likely to buy from you, they'll come back for more webinars, and likely bring some friends along.
2. Get to the Point
If your webinar is 30 minutes in and you're still building up credibility, you will lose — every time.
Get to the meat of your presentation as soon as possible. Earning the right to be heard is important, but should be done before your webinar begins through your webinar registration page and initial email communications.
Use your first 10 minutes to tell a relevant and educational story that reinforces your authority while simultaneously educating your audience.
3. Simplify Your Lessons
As a former high school teacher, this lesson has been the hardest for me to learn. However, time and again, our webinars prove this to be true: teach less, earn more.
This doesn't mean to be light on detail. Focus on a "minimum effective dose" that an audience member can enjoy during the webinar without drowning in the details. The worst thing you can do is overwhelm your audience and immobilize them with stress. The result: not only do the overwhelmed not buy, they don't take a single action from your webinar.
For example, when we simplified our primary Conversion Webinar from covering four web pages to just three web pages, we saw our conversions increase. Our attention ratings got a boost, too.
4. Keep Your Answers Concise
After watching Tim Paige, the host of our weekly webinars, present again and again, I've learned a surprising lesson about brevity. Instead of diving down a rabbit hole to answer a question (which I've been known to do quite frequently), in most cases a simple "absolutely yes" or "absolutely no" will suffice.
Potential buyers of our software don't really need to know HOW an aspect of our platform works before they buy; they simply want to know WHAT it can do. The how can be learned through the customer on-boarding training we do each week.
5. Pre-Load Your Webinar Funnel
Although a lot of your new webinar registrants will be first timers on your email list, you'll have better attendance rates and improved conversions if you pre-load your webinar funnel with content they can immediately use.
Offer a resource guide, free report, checklist, or "cheat-sheet" to entice a new subscriber to opt in.
Add relevant content upgrades as give-aways to build your list at the end of your most popular blog posts. Here at LeadPages™, we offer a free four-step tutorial at the bottom of every blog post, give away landing page templates, and provide bonus content for every episode of our podcast, ConversionCast.
Complement those initial gifts with relevant tips, strategies, and lessons through a follow-up email sequence.
This primes your subscribers for a high value webinar, and increases your conversions on that webinar tremendously.
6. Track the Right Numbers
This is a huge reason for our success with webinars: geeking out over our numbers. Just to name a few, we track:
Our webinar registration page conversion rate (for both our internal webinars and those with our affiliates)
Our attendance show-up rate
Our revenue/attendee
Our follow-up sequence buy-rate (including which message typically triggers the sale)
How many views our replays get (when we show them)
Knowing each of these numbers allows us to track changes over time, make adjustments, and keep a pulse on the health of our business. These numbers also help us determine how much money we can spend on advertising and other methods to acquire that initial lead.
7. Diversify Your Traffic
Building up an audience for your webinars is difficult to do organically. The shortcut to larger audiences comes from a balanced combination of partnerships, content production, SEO, and paid traffic.
Our partnerships with well-respected thought leaders like Amy Porterfield, Pat Flynn, and James Schramko (just to name a few) introduce us to thousands of people at a time. Additionally, many of our Pro and Enterprise customers use their partner links to introduce LeadPages™ to their communities.
We also produce several new pieces of content each week on our blog and podcast — which increases our long term search engine success.
When it comes to paid traffic, we invest in a variety of different sources, including Facebook and Google. We then constantly track and adjust to maximize the return on our ad spend.
8. Front-End Conversions Compound Success
Why do we obsess so much about front-end conversions? Because it's been proven over and over again that small improvements in that initial opt-in process (the first landing page or LeadBox™ someone sees) lead to higher conversion rates throughout the rest of the funnel.
Naturally, you'll likely conclude that more people means more sales. But it's bigger than that.
We've seen a huge improvement in webinar sales conversions when our live attendance rates go above 100 people.
This is largely due to the increased energy level a larger group of attendees brings to the whole group. The host whose audience numbers exceed expectations brings more confidence and passion to the webinar. Both of these factors result in better conversion rates than lower attended webinars.
9. Revise and Repeat
Creating new presentations for every webinar is a big (and common) mistake. We've found that repeating the same webinar allows for better testing and optimization.
We run two LeadPages™ Conversion webinars every week (Thursday and a Friday live encore), and partner with 2-5 affiliate partners each week with a similar webinar. Our Conversion Educator Tim Paige, Product Educator Jeff Wenberg, and Marketing Educator Bob Jenkins (that's me) are able to continuously perfect this one webinar through practice, audience feedback, and revision.
Tim still delivers one new webinar each month for a special presentation, but the consistency of our weekly webinars has proven quite effective for us. It also allows us to hold webinars more frequently, as opposed to taking more time between events while a new presentation is developed.
10. Systematize It
Since the ideal scenario has you presenting webinars at least twice per month, save yourself hours of time by creating a workflow system for your webinars.
Instead of starting from scratch every time you set up a webinar, be sure to use the "Schedule Similar Webinar" option inside of GoToWebinar to use a previous webinar as a template for the title, description, custom branding, audio settings, email notifications, polls, and more. Simply revise any of those elements as needed.
As your Webinar Registration Pages improve, keep duplicating those pages instead of starting with a blank slate. You'll save time by re-using the primary design and copy on the page. Simply adjust the start time, connection to the new webinar, and swap out webinar host/guest images. Do the same thing with your Thank You Pages. LeadPages™ gives you the option to duplicate your pages in less than 15 seconds.
Re-use your email reminders and follow-up sequences, too. Your success with webinars is largely determined by the communication before and after the webinar. Systematizing this email flow will save you another two hours per webinar.
11. It Helps to Have Help
With so many moving pieces to a well-oiled webinar machine, you'll benefit from having help.
Larger companies should ensure their webinar host is supported by additional personnel who can moderate the webinars, set up the event logistics, and monitor support after sales come in.
Solopreneurs should enlist the help of a virtual assistant or virtual event manager in those same kinds of tasks to accelerate the implementation of a webinar sales funnel.
Yes, webinars are easy enough to do on your own, but you'll cut your sales cycle in half even with just one additional person helping you put the pieces together.
12. Have an Understudy
We've also seen the benefits of developing a "webinar bench." All the pressure for delivering frequent webinars no longer falls on the shoulders of one person; we have at least two understudies who can step on the virtual stage when opportunities arise or circumstances demand it.
Now, instead of canceling a webinar (and losing a lot of revenue) if something comes up, we're able to deliver our webinars on schedule every week.
Having more than one person in your company deliver the primary webinar also brings fresh perspectives to the training itself, leading to higher conversions and better presentations. If you are a solopreneur, enroll a joint venture partner as your understudy, and reciprocate the favor.
13. Instant Gratification Increases Attendance
By their very nature, webinars are the only virtual or digital opt-in gift that requires the recipient to wait to receive what they've asked for. How you handle that wait time impacts your attendance. Will Hoekenga wrote extensively on this topic in this Psychology of Waiting post on our blog.
Consider how you can provide instant gratification for your attendees after they've registered.
We've found giving instant access to checklists, cheat-sheets, and handouts that outline the content of the webinar achieves this result.
What you give your audience immediately should provide a certain amount of stand-alone value, while piquing your registrants' curiosity by leaving key points in the handouts blank. To fill them in, your audience must attend the webinar. Coupled with a quick tip in a video on the registration Thank You Page that whets their appetite, you'll have them salivating for your virtual event.
14. Time Zones Matter
Experiment with the date and time of your webinars to maximize attendance. You'll never satisfy everyone's schedule, but you can serve the bulk of your audience by paying attention to key factors that influence their ability to attend:
What time zone do they live in?
Do your ideal clients work 9-5 jobs or are their daytime schedules more open?
Do your ideal customers have young children?
Are they weekend warriors or do they shut off the tech during the weekends?
With our primary audience being North American small business owners and marketing teams within larger companies, Thursday afternoons have worked very well for us. However, we also have a large contingent of European and Australasian customers, which encourages us to occasionally run webinars in the morning and late evening hours.
Like most variables in your marketing, the key is to test what works best for you. Compare your attendance rates and your conversion rates during the webinars at different times of the day and days of the week. The results you get may surprise you.
15. Have a Backup Plan
Since webinars are live virtual events, they occasionally deviate from your perfect plan. I guarantee you will experience glitches and hiccups.
Be calm (and totally human) when something happens.
Have an understudy (see above) who can take over your webinar if an emergency comes up.
If your event can't continue as scheduled, have an email ready to fire off to your attendees to let them know what happened, and when a make-up webinar is going to take place. Use your social media channels (primarily Twitter and Facebook) to update your audience.
How you handle those random situations speaks volumes to your audience, and determines how positively they'll respond to their experience with you.
16. The "Starting Now" GoToWebinar Hack
Between your last scheduled reminder for your webinar (3 hours before is ideal) and the actual start time, your attendees have plenty of opportunities to get distracted and fail to show up.
In GoToWebinar, we use a little system hack to improve our live attendance by at least 20%. Ten minutes before your webinar, change the name of your webinar to:
*** Starting Now *** Title of Webinar (link inside)
Then check the box to notify all participants of the change. The GoToWebinar system will send out an email with that title as the subject line.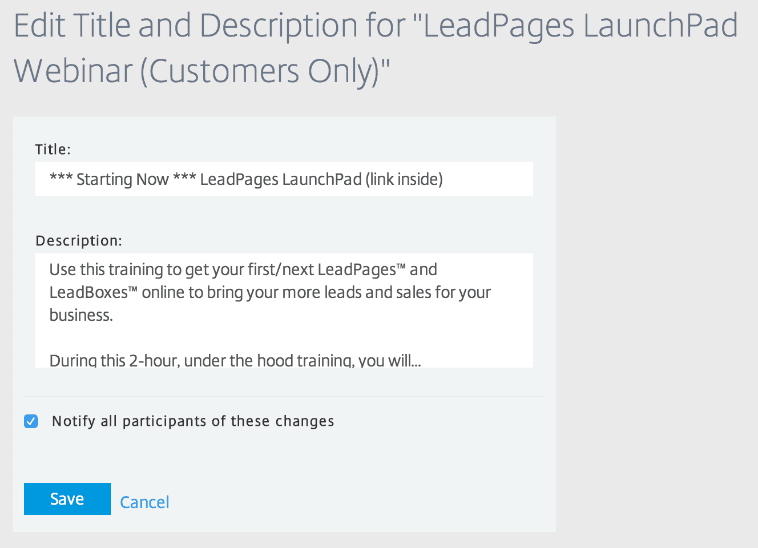 Just be sure to revert your title back to normal after your webinar is over (without notifying participants) to avoid confusion with future email notifications that may be scheduled.
17. Make Your Offer the Obviously Easier Path
The primary goal of a business webinar is to profitably serve your audience.
Create and deliver webinars that are high on content and value, while showcasing your premium product, service, or program as the path with the least friction for your audience.
In our primary sales webinar, we educate our webinar attendees on the three most profitable webpages in their business to focus on. Using whatever methods they have on-hand, attendees can accelerate their list building and improve sales just by optimizing those three pages with or without our software.
We then make it obvious that our lead conversion software reduces the time it takes to do that, lowers the cost of hiring it out, and shortens the learning curve.
For your business, focus your webinars on a key result your audience wants. Then position your offer as the easiest path to realize that result.
18. Do It Live
Replays are good, automated webinars are great, but in our experience nothing beats a live webinar for conversions and building community. Resist the lazy temptation to rely solely on a set-and-forget webinar strategy.
Use automated webinars to provide encore presentations for people in different time zones, on weekends and holidays (we use StealthSeminar on Saturdays, for example), but present live webinars at least once every two weeks. Not only will you likely find your conversions are better, but you'll learn a lot from the interaction, questions, and feedback from your live attendees.
This information is vital for continuously improving your webinar, and determining positive changes to your product line. Plus, live webinars are the best format for solidifying the long term relationship between your company and your community. This will ultimately improve the longevity of your business.
19. Optimize Registration Rates
In doing over 200 webinars, we've learned particular tweaks to webinar registration pages that have yielded conversion rates as high as 91% with warm traffic, and averages well over 40% with cold traffic.
Compelling headlines and benefit bullets are obviously important, but don't stop there!
Adding a countdown timer provides the potential attendee with a sense of urgency and time-relevance that improves opt-in rates.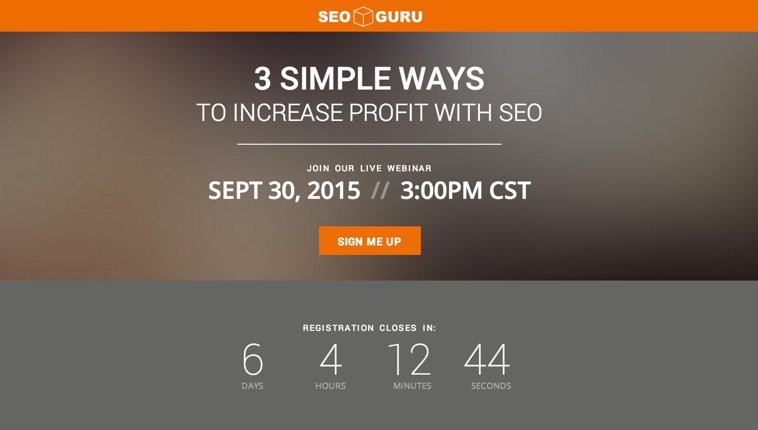 Semi-casual headshots of the webinar host and guest generally outperform more corporate imagery. We've also found best results when the host and guest are in a great mood (i.e. genuinely smiling) in their photos. Photos cropped from "sternum to skull" work better than neck-up or full body shots.
Adding a blurry image of a webinar mind map that we give away upon registration has also proven quite effective.
Finally, a high call-to-action button connected to a two-step opt-in is essential.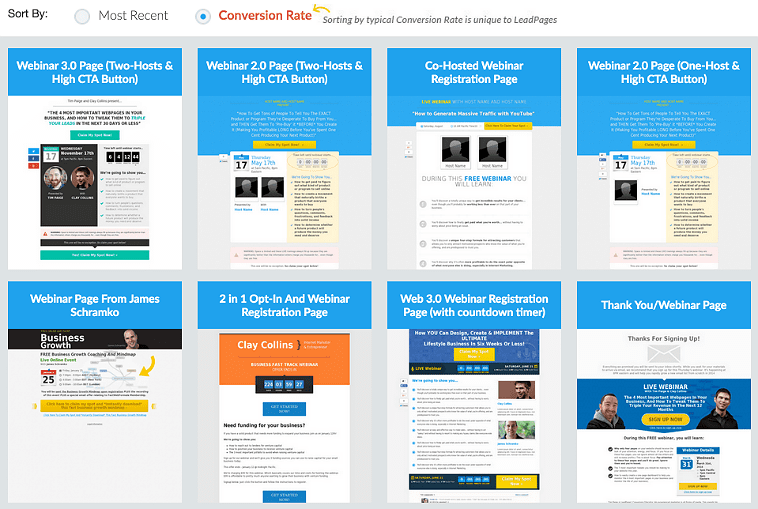 20. Replay Conundrum
One of the most controversial decisions you'll make in your webinar marketing concerns replays. Should you show them at all? Should you tell your audience ahead of time a replay will be available? How long should you leave a replay up?
Truthfully, advertising a replay will increase registrations, but it will also torpedo your attendance rates. The improvement of registrations is negatively offset by the lack of viewers (both live and replay).
Yes, we want to build our list, but our primary goal is to get as many people to actually watch our webinars as possible.
Time after time, we found that offering a well-advertised replay actually decreased the number of views our webinars got. That doesn't serve our audience, nor does it serve our business.
Instead, we rarely do replays — making them a surprise for registrants when we do offer them.
We definitely catch some flak from people who can't make the live events, but our overwhelming amount of data (registrations, attendance rates, revenue) supports this position.
21. Follow Up Matters
We're pretty excited when we see 30% of our live webinar attendees turn into new customers. But even that level of success means that 70% of attendees, plus everyone who did not attend the live training, didn't purchase. Following up with these potential customers is critical to maximizing our webinar funnel.
How you follow up matters, too.
Communicate with webinar attendees and absentees differently. Those who saw the webinar should receive a recap of the highlights of your webinar and a reminder of the primary benefits of your offer.
Those who missed your webinar should receive a time-limited opportunity to watch a live encore or automated replay.
In both cases, add non-buyers to a follow-up email sequence to provide further education about your solution. Be sure to remove new customers from your sales sequence, and transfer them to a customer follow-up training/consumption sequence.
22. Embrace the Spotlight
As a musician, our primary webinar presenter, Tim Paige, is no stranger to the stage. His willingness to embrace the spotlight on our webinars brings a high level of confidence, energy, and enthusiasm that makes for a memorable experience.
Don't worry — you don't have to be a natural performer to succeed with webinars. However, you can't be timid about the role you're playing during an online event.
To give your audience a valuable experience, you must be willing to step out on the virtual stage as a performer. Don't take for granted the power and influence your attendees have granted you. They're eager to learn from you, and they are excited to find a new solution to a challenge they're frustrated to still be experiencing.
23. Be Passionate About Your Message
The energy you bring to a webinar can make or break your results. Show up stiff and boring, and you'll lose them in the first five minutes. Go over the top inauthentically, and you'll have them running for the hills.
Genuinely be passionate with what you're sharing on your webinars.
From a conversion perspective, your energy will result in more sales. More importantly, though, having a huge impact on the lives of your audience matters.
It matters a lot.
Each time your mouse hovers over the "Start Webinar" button, I want you to ask yourself, "What if this webinar is the MOST valuable training the people joining me today will be part of this year?" Then deliver an amazing webinar that proves that to be true.
24. Train Your Customers, Not Just Your Prospects, with Webinars
One final lesson we've learned concerns webinars for existing customers. Sales webinars are vital for acquiring customers, but live on-boarding webinars are proving to be just as important to retain customers, lower support ticket volume, and increase use of our product.
Even though we have an extensive Knowledge Base of articles, screenshots, and video walk-throughs of LeadPages™, our customers tell us time and again how much they appreciate and learn from the live LaunchPad trainings we do each week.
These trainings result in a few added benefits, too. The audience questions that come in during these trainings get passed along to our development team for platform enhancements.
They also give our support team an additional solution to offer our customers.
And, we can use these customer trainings as research to improve the messaging in our sales webinars.
Put These Lessons into Action
I'm sure our next year of doing webinars will yield even more lessons. We'll continue to report what we discover.
If you are ready to design your own profitable webinar funnel, I created a free 10-part Webinar Funnel System course that you can access for free. This course takes you behind-the-scenes of the exact webinar funnel we've used at LeadPages™ to go from zero to 25,000+ customers in under two years. You can watch the entire webinar course here.
I'd love to know what lessons you've learned from doing webinars yourself. Share your comments, questions, and results below.
To your webinar success!