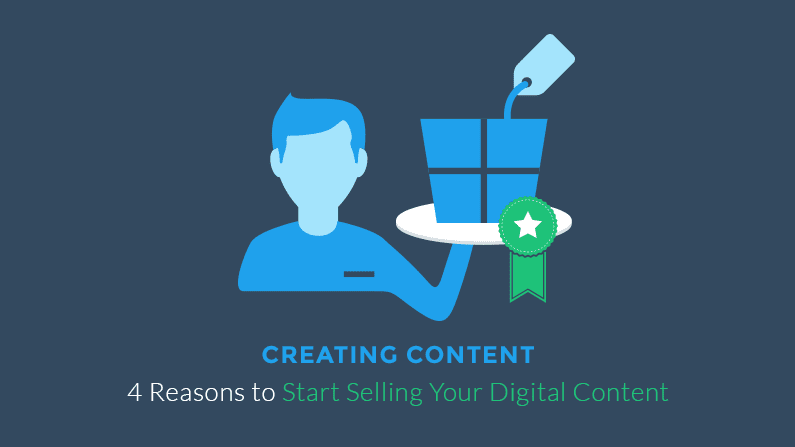 It's time to start selling what you know, instead of only selling what you do.
If your company's only source of revenue comes from selling real-time services offered to your clients, you're missing out on several profit streams and actually under-serving your customer base and the marketplace.
Tomorrow, we're revealing a new way you can implement what I'm about to teach you. But first, I want to show you how selling information — or what you know instead of what you do — can impact your business.
In today's post, I'd love to share with you how to think differently about the value of what you know, and your expertise in your particular field.
I'll also show you how to increase your company's cash flow, generate more consistent income, and be of greater service to your customers by publishing (and selling) digital content, information products, and highly leveraged coaching programs. Finally, I want to offer an alternative way to communicate with your current customers.
Why Selling Just Your Services Is No Longer Enough
You'll often hear us discuss the importance of generating leads by offering a free Lead Magnet to build your email list of subscribers. For instance, you can download our free Lead Magnet right here:
A free resource guide, checklist, video, or special report is a great first step in building your relationship with a potential customer.
For most service professionals, your goal is to convert this new email subscriber into a paying customer as soon as possible.
The trouble is, if you only have one service or product to offer, your success rate is entirely dependent on that one purchase.
Enter the digital product.
When you create a video course, ebook, webinars, or audio series that packages part of what you know into an easy-to-consume format, you instantly provide value to your potential customers and give yourself the opportunity to generate additional revenue.
Ideally, this digital product should give your potential customers valuable information, but not provide a complete solution for the overall challenges your prospects face. That's what your primary service is for. Instead, this digital product just gets them started.
Many of the people who initially say no to your primary product or service will still buy your digital product. When they see the value you have to offer, they will often go on to buy more from you, and even purchase your primary service, when they gain confidence in you and your business. You'll expand your reach to customers beyond your current geographic limitations.
Plus, after you create the product and set up delivery online, no additional time or energy is required to deliver your information product to new buyers.
Deliver Your Content Via A Membership Site

Your business will also benefit by how you deliver your digital products and leveraged programs to your customers.
It's not enough to simply bring buyers back from your shopping cart and hand them a file to download. Sometimes downloads don't work or aren't compatible with a customer's operating system.
Also, if you simply hand your customers a download, it's extremely easy for them to share it with everyone they know. That's not ideal if you're planning on earning extra revenue from your digital products.
Instead, turn part of your website into a members-only area to easily deliver and protect this digital content. This gives your customers a higher level of user experience, while providing you with additional revenue building opportunities.
Let me share with you four ways your business benefits from delivering your content in a membership site.
#1 Generate Consistent, Recurring Revenue

Are you still invoicing your customers by check? Do you have to manually run a credit card at your office or over the phone?
Over the last decade I've coached countless professionals who initially relied on these methods to collect payments. They faced serious cash flow issues that restricted the growth of their businesses. In many cases, they were still providing services while their clients were several months behind in paying their bills.
With a membership site, payments are handled online with major credit cards, or payment services such as Paypal and Stripe. Access to the valuable content you offer is hidden behind a "pay wall," so if a payment isn't made, customers no longer have access. This is especially helpful if you set up payment plans or subscriptions for your offers – including your services.
As a coach myself, I've used this process to protect my online coaching calendar behind a pay wall. Clients aren't able to make an appointment for their next session unless they are current with their payments.
Another benefit: your online payment processing removes you from the equation. Your revenue collection will no longer depend on your follow up with an overdue client or customer.
Start using a membership site and high converting sales pages (like the ones we offer here at LeadPages) to sell your services in a more automated way. Then add information products and/or leveraged coaching programs to what your company offers to benefit from recurring revenue streams.
There are two primary types of recurring membership you can offer your customers to increase your cash flow: fixed-term and ongoing.
In a fixed-term membership, customers buy into your program knowing they'll be responsible for a limited number of payments to receive the entire program.
For example, a 90-day course, delivered through your membership site in weekly video lessons with accompanying PDFs, is offered for three monthly payments of $197 each, or a single payment of $497. This payment flexibility typically results in more customers than offering just one payment option.
With an ongoing membership, you can offer more value with weekly teleseminars, hangouts, or webinars that delve into analysis of trends in your field. Customers stay on (and keep paying each month) for as long as they continue to find your content and wisdom useful.
In both versions, instead of having spikes of revenue, you're building in recurring revenue that keeps your cash flow steady throughout the year.
#2 Elevate Your Business with a Membership Ladder

How are you currently generating additional sales from your customers? For many professionals, the relationship with a customer is a one-shot deal. For others, the customer is in control of when they return to purchase again.
Let's get you back in the driver's seat. By selling information products or leveraged coaching programs, you can direct your customers to go up (or down) a membership ladder.
Each rung of this membership ladder corresponds to the amount of access granted to your knowledge and your time. You can price each level accordingly. Then you can use your valuable membership site real estate to showcase each consecutive level to your customers.
Also use your information product to connect the customer to the next level you offer.
For example, let's say a successful personal trainer's ideal customer is a client who trains twice per week at the gym for $150/week. The success of their business is entirely dependent on the number of training hours actually delivered each week. Their membership ladder could look like this:
Level 1 – 30 Days To Drop 7 Pounds – $19.95 Ebook and Video
Level 2 – Shred Unwanted Fat (90 Days to a Slimmer You) – $97 Video series, workout plan, nutrition plan PDFs
Level 3 – Personal Training Jump Start – $80 session(s) in the gym, or via Skype
Level 4 – Summer Body Bootcamp – $497 group fitness program in the gym, with workout plan, nutrition plan PDFs
Level 5 –  Get Shredded Now – $1997 3 month 1-on-1 personal training, with workout plan, nutrition plan PDFs
Notice: the first two levels require absolutely zero time commitment from the trainer, which means revenue is not restricted by the trainer's schedule. And level four turns a one-on-one program into a leveraged group coaching experience, multiplying the revenue per training hour while requiring the same amount of time as a single client.
That's just one example. For your own business, you can create similar levels of information and services.
You can also allow your members to skip to different levels. Membership site owners make a huge mistake when they hide higher levels from entry-level customers. In my own experience, 10-15% of customers jump from the first rung all the way up to MVP with a single purchase because they value their time and want to get faster results with higher levels of help.
Finally, use your membership site to offer limited time promotions for upgrades. When members login, show an alert message or banner inside your members area to highlight your offer.
Not quite sure what levels to offer in your membership ladder? Here are 10 membership package ideas to get your wheels turning, along with an infographic of these 4 reasons to use a membership site.
#3 Increase the Lifetime Value of a Customer by Selling Related Products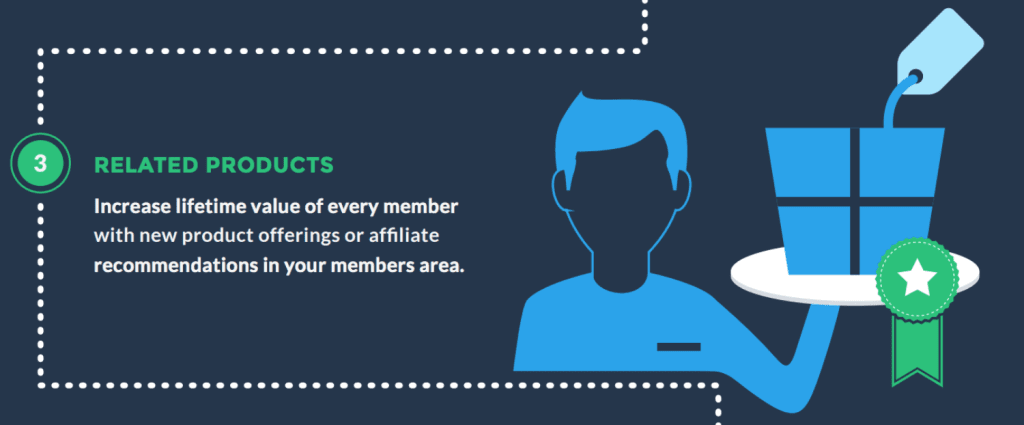 Your membership site real estate can also generate more revenue when you offer related products. This can have a dramatic effect on the lifetime value of all new customers. As you expand your offerings beyond one membership ladder, you'll have different products your customers will be interested in, but that aren't dependent on the purchase of your original products.
For example, a real estate agent can offer one membership ladder concerning the buying of investment properties. That same agent can then offer the same customers a membership ladder concerning renting and property management.
Additionally, your customers benefit from your recommendations for resources, tools, and other programs that will help them in areas beyond your skillset. As I share in The Affiliate Marketing System (get this full course here, free), you can boost your revenue 30% or more by making these kinds of recommendations.
Consider what tools or resources someone needs in order to take full advantage of your products and services. For example, if you offer investment services, your clients will want to know what home accounting software you recommend so they can have more money to invest in your program. A wedding planner can share online wedding registries and invitation printers. A digital marketing agency can share their favorite landing page generation software.
When you pair these resources with your own content, you'll generate passive revenue for your company as you help your customers find what they need. Better still, you'll generate revenue even from free email subscribers who have never purchased your primary service.
#4 Keep Growing through Attention and Retention

Last, but certainly not least, your business will benefit from incorporating a membership site because your website is visited more often by your customers and cuts down on support requests. When you protect your content behind a paywall, members login to access their purchased content. This keeps your company top-of-mind, a psychologically powerful marketing strategy for ongoing sales and referrals.
You'll also help your customers avoid problems if their hard drives crash. Instead of losing their files then emailing you for help, their files will always be available in your members area. You can use a support desk, knowledgebase, or Frequently Asked Questions section of your site to streamline your customer support.
You can also put your customers on separate email lists or segments for clearer communication. This allows you to speak directly to customers of particular products so they get more out of what you have to offer. And you'll avoid promoting your products to people who have already purchased.
Action Plan for Membership Site Success
Now that you understand how you and your customers benefit from selling your information products and leveraged coaching programs through a membership site, let me break down a quick action plan for getting started.
Turn your current service or product into a membership level. In the members area of your site, provide access to relevant documents, videos, and audio files that help deliver your primary product or service.
Create a lower level product/service, and turn it into a membership level.
Create a higher level product/service, and turn it into a membership level.
Use high-converting landing pages to sell your products. LeadPages® has dozens of landing page templates you can use as sales pages
Use high-converting landing pages for upgrade and related product sales pages. Link to these pages within your members area to complementary products or services.
Use a membership software platform to bring it all together. (For more on this, check back tomorrow for details in our video.)
If you're still not quite sure what you'd want to offer as a product for your membership, download this quick guide of 10 Membership Package Ideas to Offer Your Customers and Prospects, plus the full infographic you see part of above, Turn Content Into Cash – 4 Reasons to Start Selling Your Digital Content.
Remember, tomorrow, we're introducing you to a completely new way to launch your own membership site. We'll have details for you first thing tomorrow.
In the meantime, I would love to hear any and all questions, as well as how you plan on growing your business with information products and a membership site in the comments below.