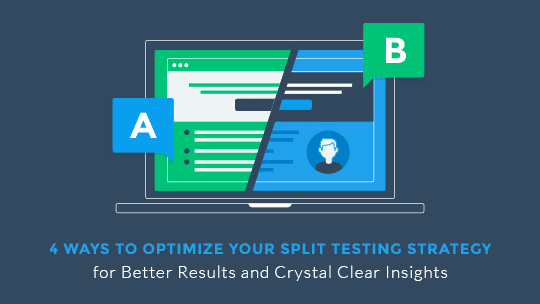 Split testing has quickly become all the rage for online businesses these days, and for good reason: it's one of the easiest ways to increase your conversion rate.
Neil Patel (co-founder of KISSMetrics and Crazy Egg) even went as far to call it "the only reliable way to improve your conversion rate" in an article for Forbes.com.
At its core, however, split testing is much more than that. It's also one of the best ways to learn what motivates your customers.
In this post I'm going to show you four ways to run better split tests by testing with purpose. You'll learn not only how to improve your conversion rates, but also how to gain priceless insights into your customers with every split test you run.
1. Test to Learn What Works, Not Just for Conversion Lifts
The purpose of a split test should not only be to increase conversion, but to also learn why your test made an impact (or didn't).
If you can determine why a particular change made a customer more or less likely to convert, you can use that newly acquired knowledge to make your future marketing efforts more effective right off the bat.
So, how do you pinpoint exactly why one variation of your split test was more effective? Test one change at a time. In a previous split test blog post, we provide a great example from a test that Melissa Ingold ran for her Entrepreneur Calculator:
Original Landing Page Headline: "FREE Calculator for Entrepreneurs to Help You Determine What Your Time is Actually Worth!"
Variation Landing Page Headline: "FREE Calculator for Entrepreneurs to Help You Determine What an Hour of Your Time is Actually Worth!"
Test Takeaway: Customers were more likely to convert with ROI-centric value.
When you view every split test as a learning opportunity, you'll gain invaluable insight into the motivations behind your customers' behavior.
Extra Tip: If you are testing a different template or layout, keep the copy, colors, and imagery identical to the competing page. This assures that the change in your customers' behavior is due to the new template or layout, not a change in copy, color, or imagery.
2. Duplicate Your Page Before Making a Change
Let's say you've finished building your landing page and you're ready to create the variation you're going to split test against the original.
Rather than rebuilding the original page from scratch, be sure to duplicate it. By duplicating your pages, you are avoiding not only the hassle to re-create a page, but also avoiding the misplacement or removal of page elements that were meant to stay in the Variation).
LeadPages™ built-in split testing feature makes this easy.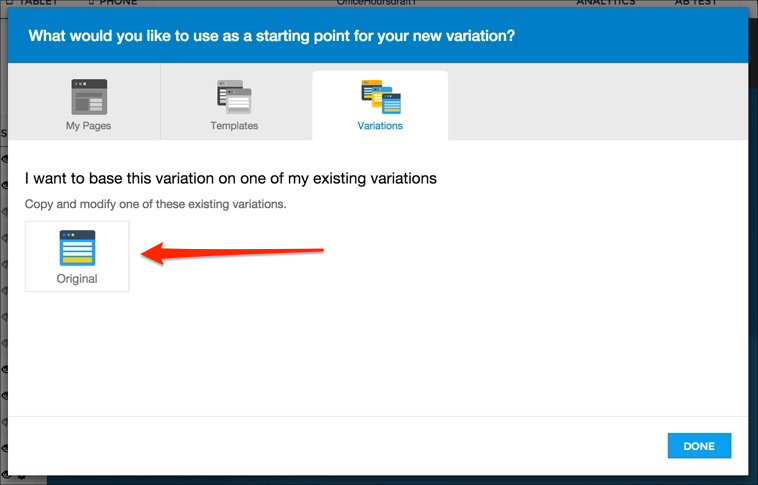 By duplicating your original page, you ensure that you don't forget to include any of the original changes you made to the template. That way, when you make your change on the new variation, all the other elements of the page will remain identical to the original.
As we discussed in point #1, this will make it easier for you to understand why one page outperformed another.
3. Let the Test Run for an Appropriate Period of Time
Many people run a test until a page reaches validation, usually when the probability of outperforming the Original or Variation is near or above 95%. This is acceptable in most cases. However, there are a few instances where you should let the test continue to run (even after it reaches validation), such as:
The test has not run for a full week. To get a more accurate sample for your test, you should let it run long enough to include a full week's data. This will give you a better idea of how your page performs during a standard week. Running a test only on weekdays or weekends may not give you an accurate readout as customers' motivations typically change based on the day of the week.
The test has run for 11-13 days. In order to provide a more even playing field, tests that run for nearly two weeks could benefit from a full 14 days. This will make the ratio of weekdays to weekend days representative of a standard week.
4.Run the Test During the Right Period of Time
The time period in which you run your test plays a major role in what you're able to learn from it.
For instance, consider the following scenarios:
1. Promotions: If you run a test during a promotion, the real takeaway you come away with is ultimately what will work during a promotion. During this time, the customer's motivation may change and may not be as high during a non-promotional period. After all, wouldn't you be more inclined to buy during a sale?
If you want to find out what works during an average week, you should run your test on an average week — not during a week that includes a promotion.
Example: Traffic to your website during a Cyber Monday sale with huge discounts will behave differently than traffic to your website during an average week.
2. Holidays: Much like promotions, customers are typically more motivated to purchase specific items during the holidays and may produce test results that don't necessarily apply to the rest of the year. These results may not accurately depict which page variation works best outside of a holiday.
Example: Traffic to websites that sell holiday wreaths may be high during November and December but will not accurately represent the page(s) performance in the remaining 10 months of the year.
3. Seasonality: For some businesses, there are specific periods of time when customers will have a higher motivation to buy specific products or services (outside of promotions and holidays). Running split tests during these times can also render some data invalid.
Example: Traffic to fitness websites at the beginning of the year can skyrocket due to customers' New Year's Resolutions and will not be representative of their customer traffic for the remainder of the year.
Note: Want some ideas for your next split test? Click here to download a free PDF covering 20 of the most interesting split tests we've featured on our podcast, ConversionCast.
What Split Tests Have You Run Recently?
Split testing is a great tool that any website can benefit from. In the short-term, you can find ways to increase conversion. But in the long run, you can build on what you have learned and keep those numbers climbing!
With that in mind, tell me — what tests have you run lately? What did you learn from them? Leave a comment below and let me know.