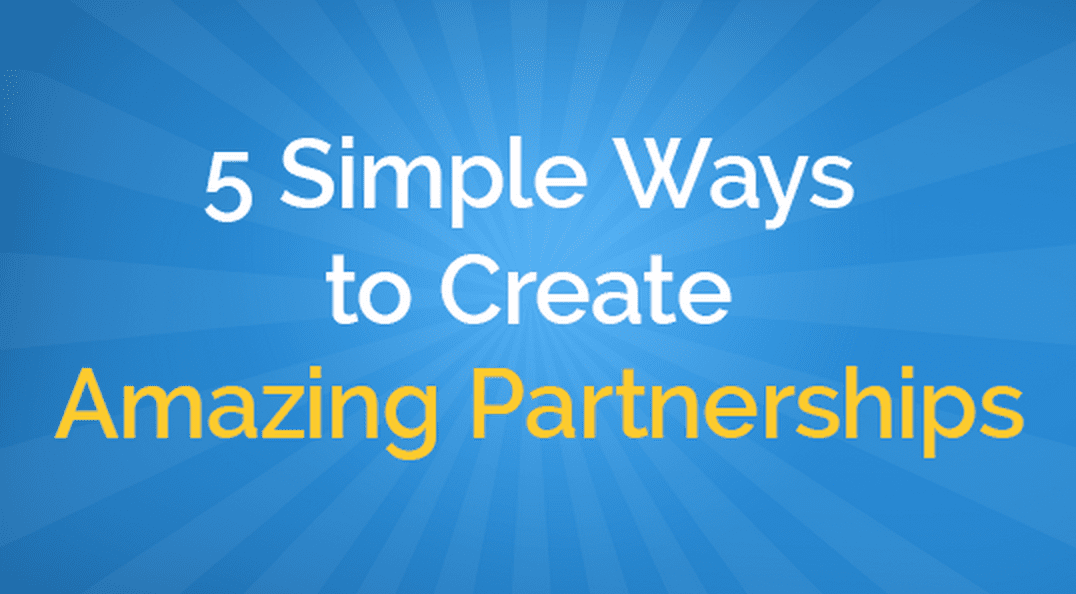 By Kevin Raheja, Business Development and Affiliate Manager for Leadpages
I'm thrilled to be here at Leadpages, taking over as the new Business Development and Affiliate Manager.
We're building an incredible team, so we can continue to design and develop great tools online to build your list and generate high quality leads.
My role at Leadpages is a bit unique. Instead of developing apps or software, I develop partnerships. Specifically the kind of partnerships that can bring in a couple hundred extra sales on any given day. That's what I want to talk to you about today.
Throughout my career, I've been lucky enough to work with the best when it comes to forming partnerships. I've sat at the table and talked my way into deals with Fortune 500 companies. I've been on the phone as tech start-ups sealed the deals that made them household names.
I've seen some deals perfectly come together, some fall apart, and some that never got started in the first place. Along the way, I've discovered the best strategies for building the most successful relationships — no matter what business you're in.
If you want to boost your sales for your business, a few strategic alliances with the right affiliate partners can help make that happen.
Here are five of the best ways I've found to build those relationships…
#1: Personalize your strategy
Let me show you what I mean when I say "personalize your strategy."
Years ago, I was trying to get a meeting with Coca-Cola. At the time, I had already drafted a long proposal, which naturally I thought was extremely interesting and definitely worth their time. But of course, it's Coca-Cola. It's an enormous company. So it was hard to get their attention.
Now I could have given up. But instead, I started researching the one person at Coca-Cola who I was trying to contact. Turns out, this Coca-Cola guy was a huge fan of the band, KISS. So I took the initiative and bought two KISS tickets for this random person I had never met.
About a month later, the KISS fan got back to me. Suddenly, he was enthusiastic about my proposal. From there, we started talking and we actually became good friends. We also formed a hugely successful business relationship that we both profited from for years.
That's what I mean by "personalize your strategy." When you have an affiliate who you want to partner with, take the initiative to learn something about that person. Find a way to identify with that potential partner that makes you stand out in a unique way.
It might be as extravagant as buying concert tickets. Or it might be as simple as phrasing your proposal in a way that would resonate with that person.
#2 Hone your communication skills
The Harvard Business Review just released a study that proved once again how important communication is in business. As usual, the study cited "listening" as the most important trait to building successful business relationships.
Here's what I say: Effective communication goes way beyond just listening.
Think of it this way. We only derive 7% of a message's meaning from actual words. We get 38% of a message's meaning from how it's being said, and 55% from the speaker's face.
So if you want to build relationships with potential affiliates, you need to practice communicating effectively so you can articulate exactly what you mean — and get the results you want.
#3 Be top of mind
In other words, stay engaged with what's happening with your partners, so they'll stay engaged with you.
Let me give you an example. One of the best ways to start (or develop) a conversation with a potential partner is to send your partner informative content that they would be interested in.
I saw this happen just last year. At the time, a colleague of mine found out that his publishing partner was going through an exciting acquisition.
My colleague heard about the acquisition because he was already subscribed to Google Alerts, and receiving all the latest news about his client's company. (Quick tip: Setting up Google Alerts is something you can easily do for any of your potential partners.)
As soon as he found out, my colleague emailed his contact at the publishing company to congratulate her on the acquisition. Her response: "I didn't even know this happened yet, how did you know??"
Doing this accomplished two things. My colleague got to learn more about the company that he was working with, and he established himself as a resource for his contact at the publishing firm.
We also use this top of mind approach here at Leadpages.
If you haven't noticed, we often give you access to free downloads and important split test data here on the blog. The reason? We want you to consider us as a resource for your business, and as the industry leader in lead generation and conversion.
You can do the same in your business. This is a very important way to create loyalty with your audience, and connect with your partners in a way that adds value.
#4: Make sure that all parties benefit from your partnership
I've always liked to measure success in terms of retention.
If you have clients or customers who repeatedly want to work with you, then you are doing the right things. It means you have built-up a reputation for excellence. It also means that your customers benefit from your products and services as much as you benefit from your customers' business.
It's the same when you're making a deal with a partner or affiliate. Your potential partnership should be a positive development for both of you.
If you don't truly believe your partner or affiliate will equally benefit from a business transaction, rearrange the deal until it will or leave the table entirely.
#5: Keep your word
This is perhaps the most important one.
Never put yourself into a situation where you'll have to compromise your agreement. Unfortunately, I've heard of this happening far too many times. Trust me: It always ends badly.
Fulfilling your end of the agreement is essential to maintaining trust and integrity when you're forming a partnership. Before you make a verbal or written agreement, make sure that you are able to fulfill your side of it.
Finally, be genuine. Never push something you don't believe in just to make a sale or seal a deal. Instead, take time to consider and care about the outcome for all parties involved, including yourself. That's how the best partnerships are formed.
Speaking of partners, I'm excited to get to know all of our affiliates here at Leadpages. If you happen to be an affiliate, I'll do my best to reach out to you personally. But if you need anything in the meantime, please don't hesitate to contact me.
About the Author: Kevin Raheja has worked on Strategic Partnerships and Business Development at Cox Media, the Star Tribune, Groupon and has consulted for many fortune 500 companies. He's created partnerships with Coca-Cola, Uber, Target Corp, Whole Foods, Delta, Petco and others. He also sits on the advisory boards of several emerging startups.
If you're already an affiliate of Leadpages or you're interested in becoming an affiliate, learn more here.