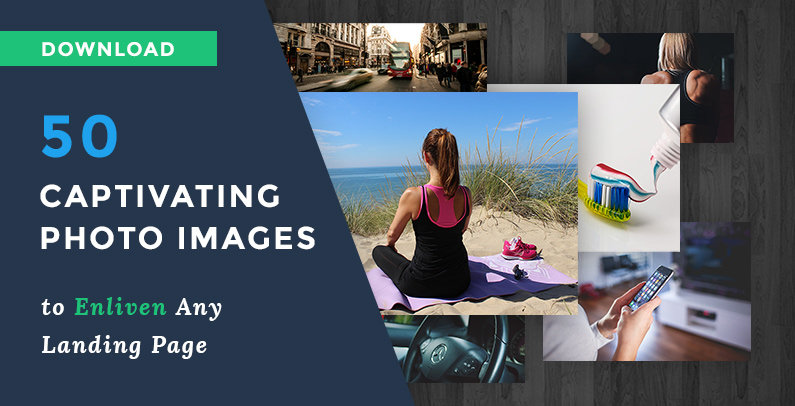 From Instagram to Pinterest, the signs are clear: great photo imagery is increasingly powering the Web. Pull up a landing page featuring clip art and stock images of creepily cheerful business meetings, and you can practically see it becoming more and more dated by the second.
That's a little unfortunate, because good free photos take some digging to find. And if you're creating enough landing pages to really drive growth, you may not want to use the same few good photos on them over and over again.
So what do you do if you're an entrepreneur who doesn't happen to moonlight as a photographer?
Well, I guess you could sign up for photography lessons. Or you could add "sift through free stock sites" to your weekly agenda.
Or…you could get lucky. Today, we're hoping to give you a little bit of luck in the form of a collection of more than 50 pro-quality photo images designed to make it hard for your landing-page visitors to tear their gaze away. We're giving them to you totally free—just click below to get them all now:

In fact, we're selling ourselves a bit short when we say we're giving you more than 50 images. By one count, we're giving you more than 200 image files. That's because for each photo, we've included four different sizes stretching up to 5616 pixels wide—enough to stay high-resolution on even the largest screens.
We've given away images in the past, but this pack is several times larger than we're usually able to offer. It's also special because it includes mini collections designed just for marketers who have told us that they've had an especially hard time finding imagery that makes sense for their industry. Here's a look at the mini collections you'll find in this pack:
Landscapes: What happens when you're someone who doesn't make a physical product, or even have a physical location to show off? You're not stuck with abstract images. Instead, consider a landscape or city scene to convey a sense of invigorating energy. The outdoor images in this collection were taken in striking locales all over the world, so there's likely to be one that has the spirit you're trying to evoke.
Holidays: If your business involves events, or if you create any seasonally themed lead magnets, check this mini collection for imagery. Festive decorations and fireworks abound.
Health and Fitness: Trainers, massage therapists, yoga instructors, and other wellness-focused professionals should check out this category. With scenes ranging from a neck-and-neck bicycle race to yoga on the beach, you may also find images that inspire simply through their optimistic mood and colors.
Coaching: This is among the most flexible mini collections in the pack. Here you'll find photos that indicate friendly and valuable one-on-one consultations, which are great for coaches but also for anyone whose business involves a lot of face time.
Food and Drink: Who doesn't enjoy gazing at delicious-looking plates of food and glasses of refreshing beverages? We've selected these images with chefs, nutritionists, restaurateurs, caterers, and event planners in mind. You could use many of them anywhere you want to convey a sense of conviviality or nourishment.
Dentistry: We're not just including these out of a sense of obligation to balance out the red wine and sugary desserts in the previous category. The fact is, dentists have an especially tough job finding good imagery. So we're trying to give them a little extra help to make the sometimes-feared process of making a dental appointment as appealing as possible to clients.
Real Estate: Of course, there's no substitute for great photos of the properties you're trying to sell on many real-estate pages. But real-estate agents also have a need for more general images—for instance, on their agent profile page or on an opt-in page for a lead magnet. This mini collection holds outdoor, indoor, urban, and rural scenes to use in contexts like these.
Automotive: Whether your business involves selling cars, repairing cars, or coaching cars to succeed in business, this mini collection has you covered. Images of drivers on the go could also resonate with any landing page that bears a message of metaphorically "taking the wheel."
You can use these images anywhere without restriction, but if you're a Leadpages member, it'll be especially easy to start using them to enhance your landing pages within minutes. After you've downloaded them and saved them to your desktop, you can just click "Upload New Image" for any image field in any template. Many of these photos will work especially well as the background images for opt-in pages, but the possibilities are vast.
What kinds of images do you look for when you're creating landing pages? What kinds of images should we create for you next? Tell us in the comments!