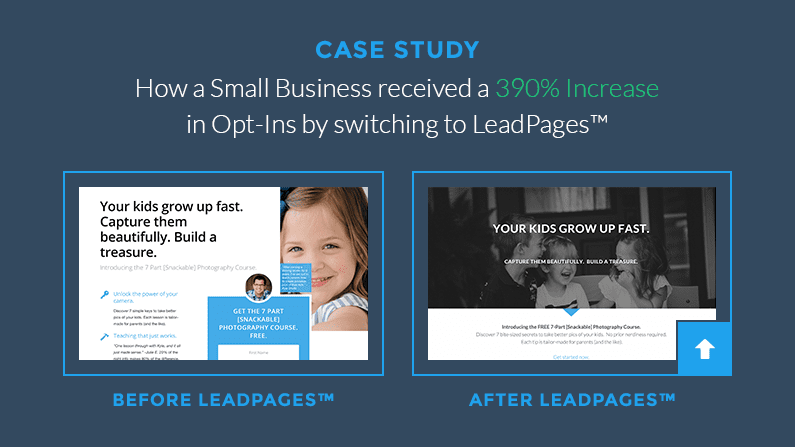 Industry
Photography
Challenge
Increase landing page opt-ins
Solution
LeadPages Landing Page
Template
Call To Action Template
Result
390% Increase in Opt-ins over previous landing page
Summary
Imagine waking up one morning to a 390% increase in your landing page opt-in rate. That never happens, right? Wrong. Kyle Shultz felt that excitement the day after he created and published his new LeadPages™ landing page. In less than 24 hours, Kyle's opt-in rate climbed from 10% to 39%!
Shultz Photo School, Before the Switch
Before he switched to LeadPages™, Kyle's landing page had received 110,000 visitors but only yielded a 10% conversion rate. Of those 10%, only 6% of site visitors upgraded to the flagship program. In hopes of increasing the number of opt-ins, as well as paid conversions, Kyle turned to LeadPages™ to revamp his landing page.
Needless to say, the only thing Kyle regrets is not making this decision sooner.
"I could kick myself for the lost opportunities.  Or be glad I tried LeadPages when I did." – Kyle Shultz
The Switch to LeadPages™
With aspirations to improve his opt-ins and conversion rate, Kyle made the switch to LeadPages™' landing pages. After creating his landing page, using the Call-to-Action template in the Marketplace, and pushed it live. What he found the next day when he awoke astounded him.
"Today I checked results when I first woke up…. The bottom line: the LeadPages™ landing page has converted 97 of 251 arrivals. THIRTY. NINE. PERCENT."  – Kyle Shultz
The Results
When he checked the next morning, Kyle saw that 97 of the 251 arrivals had opted in! In less than 24 hours, Kyle's new landing page was converting at 39% (a 390% increase). 12,619 visitors later, the page had received 4,752 opt-ins, settling at an opt-in rate of 37.7%!
Want to Get These Results for Your Business?
If you want to see how this Call To Action landing page template will work to improve your opt-in rate, you can download it here:
If you're already a LeadPages™ member, this template is in our template library and ready for you to use right away.
If you're not a LeadPages™ member, you will need to code this template, or hire someone to code it for you, to get it to work properly.
If you have questions or comments about our case study, please leave them in the comments below. If you are interested in having your business featured in a future case study, please leave a comment and a link to your LeadPages™ landing page or website with a LeadBox™ and we'll contact you.