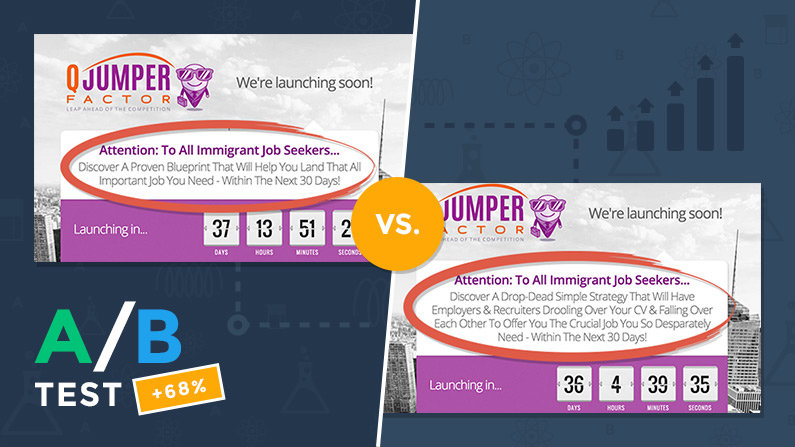 "Everything can have drama if it's done right. Even a pancake."
The great chef Julia Child said that, and we could continue her sentiment into the marketing world: Even a simple landing page. Even a few lines of copy on a "coming soon" page.
But even if you can add drama to any page on your site . . . should you? For instance, can you ever be too dramatic with your copy?
After all, flip a pancake too high and it might get stuck on the ceiling fan.
In today's A/B test, Anton Nadilo from Q Jumper Factor examines the impact of adding extra drama to the copy on a simple "coming soon" page. One version was enthusiastic but concise, while the other amped up the drama by adding length and more emotional vocabulary:
Version A: "Discover A Proven Blueprint That Will Help You Land That All Important Job You Need—Within The Next 30 Days!"
Version B: "Discover A Drop-Dead Simple Strategy That Will Have Employers & Recruiters Drooling Over Your CV & Falling Over Each Other To Offer You The Crucial Job You So Desperately Need—Within The Next 30 Days!"
Which landing page copy do you think increased opt-ins by 67.79%?
Go down to the comments and tell us which one you'd choose and why—then vote below to see if you were right!
Vote to reveal the winning A/B-tested LeadPage® and our analysis.
[split_test id="7049″]