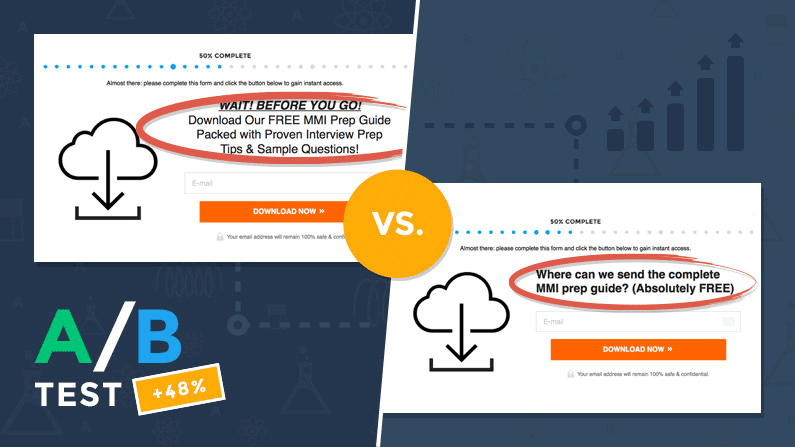 There's some urgency built into the very concept of an exit LeadBox™. If you haven't seen one of these, they're pop-ups that appear just as you're about to leave a page, giving you one last chance to opt in.
Exit LeadBoxes® are a great way to get attention. But once you have that attention, is it better to pile on the urgency in your copy, or to take a more casual approach?
That's what BeMo Academic Consulting Inc. sought to find out in today's A/B test. BeMo is an educational consulting firm that focuses on helping students with admissions to competitive undergraduate, graduate, and professional programs in the U.S., Canada, and Europe. They take an evidence-based, scientific approach to their work—so naturally, they also take an evidence-based, scientific approach to their marketing with A/B testing.
The exit LeadBox™ BeMo tested offers a lead magnet related to one of their most popular products: the Multiple Mini Interview prep program, designed, they say, to "help medical school, dentistry school, and pharmacy school applicants prepare for their dreaded admissions interviews." One version adds extra urgency to the high-stakes subject by beginning with "WAIT! BEFORE YOU GO!" The other takes a more casual approach, while still emphasizing that the guide is free.
Which version do you think increased opt-ins for this LeadBox™ by 47.56%?
Go down to the comments and tell us which one you'd choose and why—then vote below to see if you were right!
Vote to reveal the winning A/B-tested LeadBox™ and our analysis.
[split_test id="6699″]