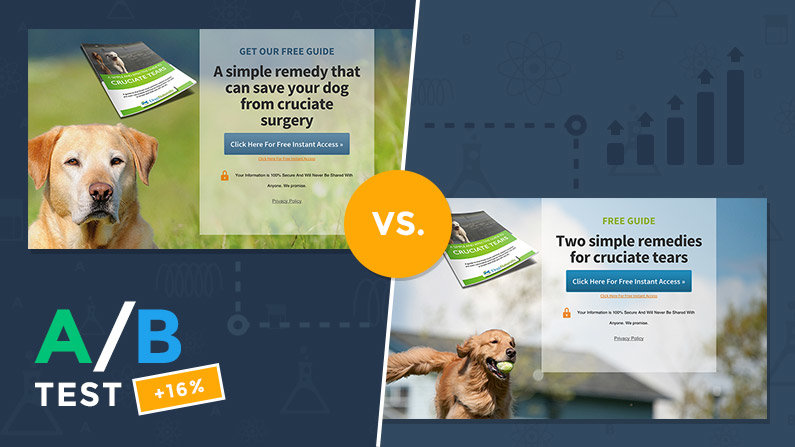 One of the most endearing things about dogs is their predictability. Give most dogs a little care and attention, and they'll keep fetching tennis balls for you until your throwing arm gets sore.
A landing page can't sit pretty, roll over, or serve as a kickball team mascot (as my coworker Stephanie's dog Buster does for the LeadPages team), but it's not entirely dissimilar. In fact, a good landing page is a marketer's best friend: pay close attention to it, and it'll keep fetching leads for you in perpetuity.
Part of the proper care and feeding of a landing page includes regular A/B testing. In this A/B test, a canine health company tested 2 different background images and headlines to determine which would fetch the most leads:
Version A: Sad-faced, inactive dog background image with a headline focused on preventing a negative outcome (surgery)
Version B: Happy, active dog background image with a headline focused on fixing a problem
Which version do you think increased opt-ins for this LeadPage® by 15.93%?
Go down to the comments and tell us which one you'd choose and why—then vote below to see if you were right!
Vote to reveal the winning A/B-tested LeadPage® and our analysis.
[split_test id="6692″]