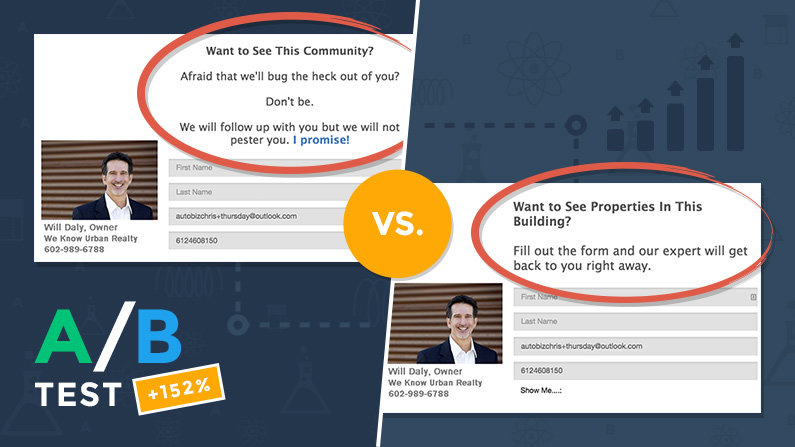 How do you write copy that gets people to take advantage of your offer?
Typically, you start by thinking about all the reasons they might want to opt in, and then incorporate the most compelling reasons into your copy.
But what if you took the opposite approach? What if you thought about all the things preventing visitors from opting in, and used your copy to address their concerns?
In today's A/B test, real-estate agent Will Daly from We Know Urban Realty tested that strategy on a LeadBox™ designed to get people to schedule a condo viewing. One version sought to allay visitors' fears that they'd be subjected to high-pressure sales tactics, while the other took a more straightforward approach:
Version A: Anxiety-reducing copy—"Want to see this community? Afraid that we'll bug the heck out of you? Don't be. We will follow up with you but we will not pester you. I promise!"
Version B: Action-oriented copy—"Want to see properties in this building? Fill out the form and our expert will get back to you right away."
Which LeadBox™ copy do you think increased opt-ins by 152.15%?
Go down to the comments and tell us which one you'd choose and why—then vote below to see if you were right!
Vote to reveal the winning A/B-tested LeadBox™ and our analysis.
[split_test id="7043″]