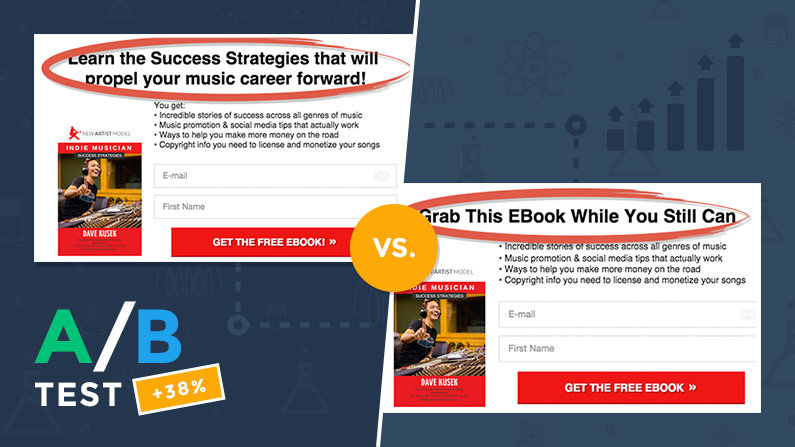 Being an independent musician doesn't mean going it alone. Even the rapper Macklemore, who's been widely celebrated for his success selling tens of thousands of albums independently, struck a deal with an arm of Warner Music Group when it came time to get his music distributed more widely and sail to the top of the charts.
In today's A/B test, digital marketer Dave Kusek of Digital Cowboys teamed up with client New Artist Model to give indie musicians a leg up of their own. The help they offered came in the form of an e-book full of strategies for navigating the music world without a major label, and they offered it with a LeadBox™.
To get more musicians to take New Artist Model up on their offer, Dave decided to optimize  his LeadBox™'s headline with an A/B test. In Version A, he took an ultra-positive tone that focused on the book's contents and benefits: "Learn the success strategies that will propel your music career forward!"
Version B was less sunny. It implied that the e-book was a limited resource, warning, "Grab This E-Book While You Still Can."
Which version do you think increased opt-ins for this LeadBox™ by 38.25%?
Go down to the comments and tell us which one you'd choose and why—then vote below to see if you were right!
Vote to reveal the winning A/B-tested LeadBox™ and our analysis.
[split_test id="6247″]