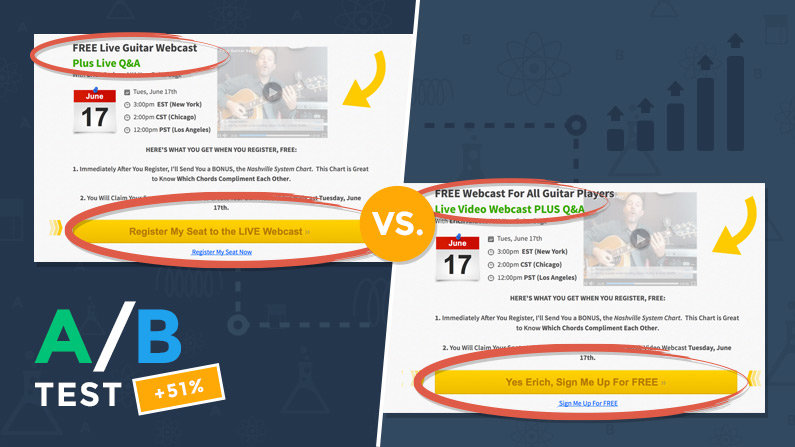 When I look at a new A/B test, I usually have a pretty strong hunch about which variant converted better and why.
But today's test has me a little stumped. Maybe you can help piece together a convincing theory in the comments.
As you may know, we feature a lot of single-variable tests, which typically make it easy to find the source of  a big impact on conversions. However, in this A/B test, Erich Andreas from Your Guitar Sage tested copy changes in two different areas: his subheadline and his call-to-action-button. It's not necessarily easy to spot all the differences right away, so I'll break them down here:
Version A
Subheadline: FREE Live Guitar Webcast Plus Live Q&A.
Button: Register My Seat to the LIVE Webcast
Version B
Subheadline: FREE Webcast For All Guitar Players. Live Video Webcast PLUS Q&A.
Button: Yes Erich, Sign Me Up For FREE
Which version do you think increased opt-ins for this LeadPage® by 50.83%?
Go down to the comments and tell us which one you'd choose and why—then vote below to see if you were right!
Vote to reveal the winning A/B-tested LeadPage® and our analysis.
[split_test id="6367″]