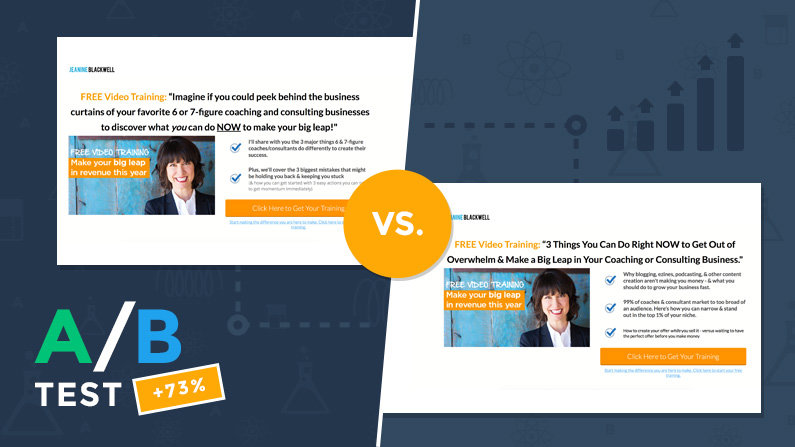 Business coach Jeanine Blackwell is a master at motivating her clients. (See just how successful she's been in our Customer Spotlight profile.)
But in order to motivate them to improve their businesses, she first has to motivate them to opt in for her content. And even someone as skilled as Jeanine can use a little help from A/B testing to decide what kind of opt-in page copy will motivate them most.
In this A/B test, Jeanine tried 2 very different overall approaches in her copy. Version A takes an inspirational tone, asking visitors to imagine themselves as the owners of a 6- or 7-figure business and promising the information needed to get there.
Version B focuses on the readers' current state (overwhelmed and producing unprofitable content, Jeanine assumes) and the small, practical steps they can take to get unstuck.
Which version do you think motivated visitors to opt in 73.11% more effectively?
Go down to the comments and tell us which one you'd choose and why—then vote below to see if you were right!
Vote to reveal the winning A/B-tested LeadPage and our analysis.
[split_test id="7403″]