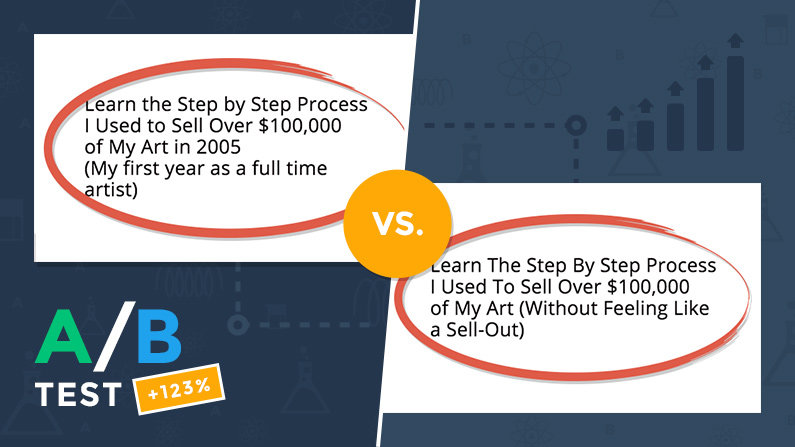 Succeeding as a full-time artist takes both craftsmanship and a deep knowledge of one's market. Fortunately for today's featured A/B tester, the same two traits come in handy when you're trying to write a great landing-page headline.
Knowledge of your market is especially crucial because an effective headline has to reflect your audience's motivation for visiting your page in the first place. This is quite possibly the biggest influence on their decision to convert. It's also something that you, as a business, can't control.
But if you can't control your visitors' motivations, you can research them through A/B testing. That's what Ann Rea of Artists Who Thrive did with a landing page offering her business plan for working artists.
In this A/B test, 2 headlines face off to determine what motivates Ann's audience more: making money as fast as possible, or making money while retaining their integrity. Here are the headlines she tested:
"Learn the Step by Step Process I Used to Sell Over $100,000 of My Art in 2005 (My first year as a full time artist)"
"Learn the Step by Step Process I Used to Sell Over $100,000 of My Art (Without Feeling Like a Sell-Out)"
Which version do you think increased opt-ins for this LeadPage® by 123.38%?
Go down to the comments and tell us which one you'd choose and why—then vote below to see if you were right!
Vote to reveal the winning A/B-tested LeadPage® and our analysis.
[split_test id="6435″]