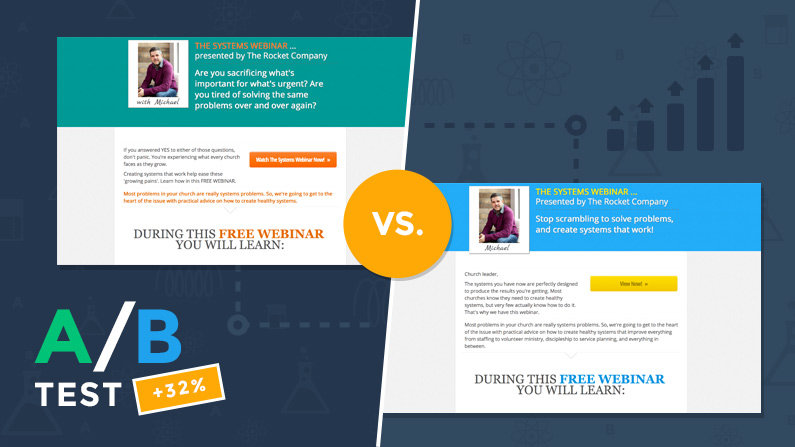 Most of the time we think about A/B testing as a way to optimize landing page performance.
But there's another use for an A/B test you may not have considered …
To settle arguments with cold, hard data.
Now, I don't actually know if that's what went on with today's featured test. But it could have been. Think about it this way …
Say you and a coworker are trying to create your next webinar page.
"I'd like to have a pretty direct, upbeat headline and call to action," you say. "Maybe a bright blue and yellow color scheme to go with it. And wouldn't it be cool to format the copy as a letter to church leaders?"
"Hm …," says your coworker. "I think it's better to draw readers in by asking questions in the headline—and doesn't a 'letter to the reader' seem kind of old-fashioned? I was thinking a teal and orange color scheme would feel more modern, too."
How to decide? You launch an A/B test—may the best landing-page creator win.
So, which of these 2 pages do you think increased opt-ins by 32.4%? Version A, the teal-and-orange page with the longer headline and copy that focuses on readers' problems? Or Version B, the yellow-and-blue page with the shorter headline and "letter to the reader" copy?
Go down to the comments and tell us which one you'd choose and why—then vote below to see if you were right!
Vote to reveal the winning A/B-tested LeadPage and our analysis.
[split_test id="7263″]