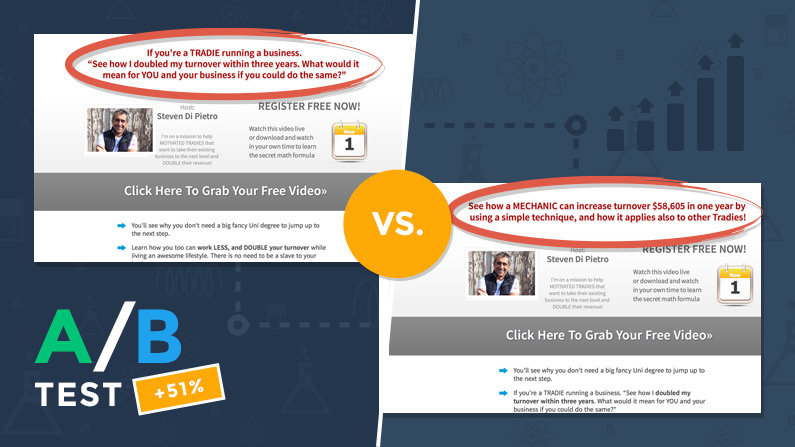 When you set out to write a headline for your webinar page, it may be obvious what you should write about: your webinar topic, of course.
But there's another, harder question hiding behind that easy one: who should you write about? What perspective should you take?
If you're promoting a webinar, there are usually at least three different perspectives your copy can take:
First-person: you, the webinar host sharing what you've learned and experienced
Second-person: your audience, the specific people whose lives will be improved by what you have to share
Third-person: someone in your audience's larger demographic, who has already benefited or stands to benefit from the information in your webinar
In today's A/B test, webinar host Steven Di Pietro tested the impact of persona and perspective through two different headlines. Check out how they use perspective differently (note for non-Aussies: "tradie" is slang for "tradesperson"):
Version A, first- and second-person focus: "If you're a TRADIE running a business.'See how I doubled my turnover within three years. What would it mean for YOU and your business if you could do the same?'"
Version B, third-person focus: "See how a MECHANIC can increase turnover $58,605 in one year by using a simple technique, and how it applies also to other Tradies!"
Which version do you think increased opt-ins for this LeadPage® by 50.56%?
Go down to the comments and tell us which one you'd choose and why—then vote below to see if you were right!
Vote to reveal the winning A/B-tested LeadPage® and our analysis.
[split_test id="7077″]