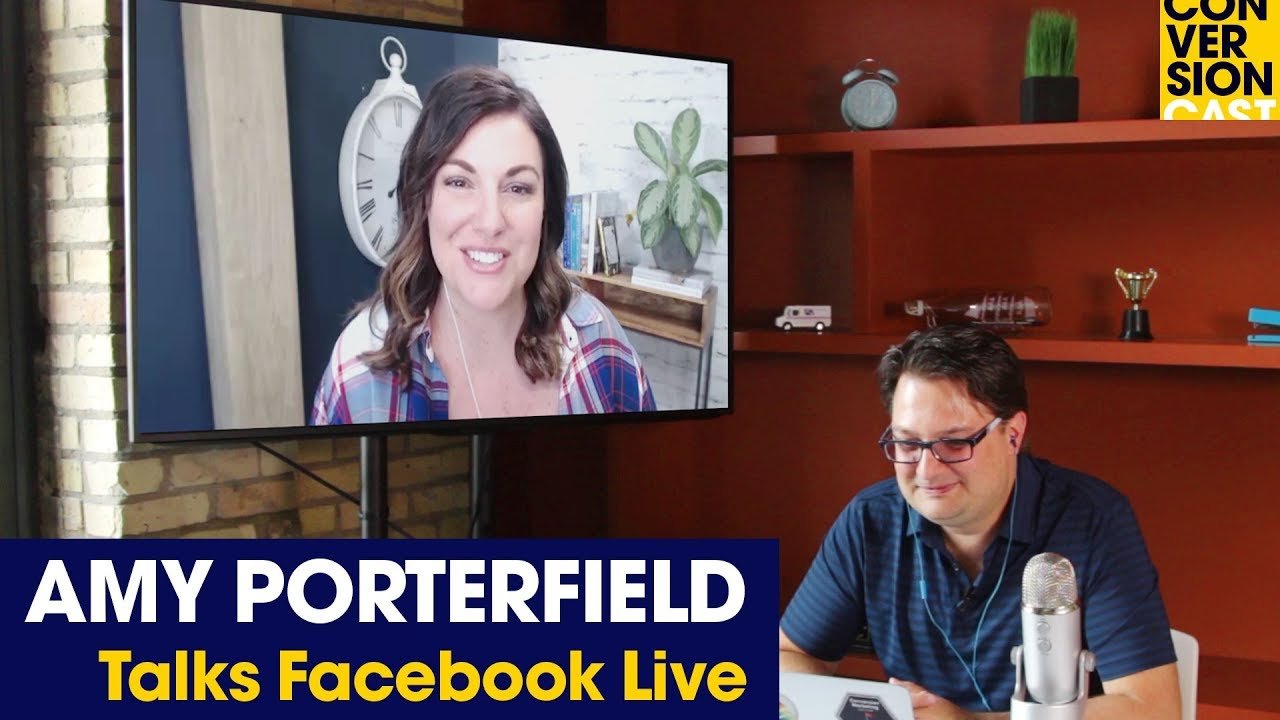 Every day at Leadpages, we spend our time coming up with ways to help our customers succeed no matter what entrepreneurial dream they're after.
We recently got to sit down with someone who also works tirelessly to help teach entrepreneurs how to start and grow their business—Amy Porterfield.
Our very own Bob the Teacher got to chat with Amy, of AmyPorterfield.com, and learn more about how she uses Facebook Live to launch her products.
Watch Bob and Amy chat above, or read on to learn more about her clever and effective strategy.
Amy Porterfield's 5-Step Strategy to Launch a Product Using Facebook Live
Amy teaches everyone from educators to entrepreneurs on how to find success selling online. One way Amy finds success is through her own 5-step Facebook Live strategy.
Facebook Live is the ideal tool to pre-launch your product before you dive into the deeper aspects, like paid webinars or ebooks.
Live videos get attention and engage your audience well before your product is ready to ship. Plus, a recording of a live video can continue to be shared thanks to today's word-of-mouth—social media.
Amy suggests drumming up energy 4 weeks before your promotion launches by hosting a weekly Facebook Live session.
To create a worthwhile video series that your audience can gain true value from, you need to ensure that each video aligns with the product launch you're working toward.
Think about four different topics you can talk about that align with your launch—one topic for each week. Once you've loosely outlined your four topics, put them on your calendar.
"If you don't schedule it, it's not real," Amy reminds us. So head to your planner and stuff your schedule. Amy also recommends scheduling each video for the same time and on the same day of the week. This will help avoid confusion and boost attendance.
Five steps to launch your product with a Facebook Live video:
1. Quick Intro: Stick to explaining who you are and what you do at the beginning of each video in a few short seconds. This will help newcomers get to know you and relate to your mission.
2. The Hook: Next, explain what the topic of your Live session is and why it matters to viewers. Be clear and concise so viewers know exactly what to learn with each video.
3. The Story: Tell a story or anecdote to bring viewers into the experience with you. An effective way to engage your audience is to let them know you are sharing their journey with them—you've been in their shoes. Not only is a short story relatable, but it also helps build trust between you and your audience.
4. The Teaching Points: This is what your viewers have shown up for! The meat of each Facebook Live session should dig into what you have to teach about the topic.
You could have one point you want to really dissect, or you might have many about this one topic that you want to teach your audience about.
No matter how far you choose to go with your teaching points, remember to have an outline made beforehand for each one. This isn't the time to fly by the seat of your pants. Establish yourself as an expert in your field, and your viewers will make a point to tune in for your next Facebook Live.
5. The CTA: Your call to action is where you get to give your viewers a free offer just for tuning in. Amy uses customized landing pages for each Facebook Live she records. Using a unique landing page for each Facebook Live is an ideal way to collect the email addresses of your viewers.
Once Amy delivers her freebie (an ebook, a tips list, a cheat sheet, something of value that's related to the video), she now has even more opportunities to nurture that lead before the launch of a product.
How to Promote Your First Facebook Live Recording
Getting a large crowd to tune into your Facebook Live can be tough, especially if your business is fairly new.
Talk about it in relevant groups, mention it in a podcast, email your subscriber list with your four dates and times, and remember, word of mouth is still king. Reaching out to your direct network may be all you need to propagate a sizable audience.
What if attendance is low? Don't sweat it. There is more in store for this video than just the live headcount.
Use each video to help grow your email list, and engage with the people who are tuned in as much as possible. If only a few people are watching you live, still give as much value as if 500 people were watching. Your audience—no matter the size—will take notice and spread the word.
And while it's OK to provide a product teaser in your recordings, remember to stay focused on the topic you promised to teach and discuss.
The goal of each Facebook Live should be to get each viewer to sign up for the free offer and become a subscriber on your email list.
How to Use Facebook Ads for Product Pre-Launch
Amy's five-step Facebook Live strategy is a killer, but it doesn't end once you stop recording. Keep spreading the value within your video through Facebook ads.
Use ads to retarget people who viewed your pre-launch Facebook Live videos. This is the segment that converts the best for Amy, and it makes sense why: They were engaged, they had just watched the video, they got to see the host live, and they've worked their way through the sales funnel. The final step is converting.
Another useful tip is to edit the text surrounding your video to include a link to your landing page and free download. These extra CTAs will get even more people subscribing to your email list and receiving your valuable offers in their inbox.
Hungry for more marketing strategies? Check out the rest of our marketing interview series where we shoot the breeze about marketing news and the best tips this side of the Mississippi. How will you use Amy Porterfield's Facebook Live strategy? We'd love to hear about it in the comments.
More from the Leadpages Team