By Clay Collins, Co-Founder and CEO of LeadPages
Believe it or not, I get my heart broken every day.
It's because I visit job boards like Elance and I see things like this:

And this:

Which, more often than not, lead to this: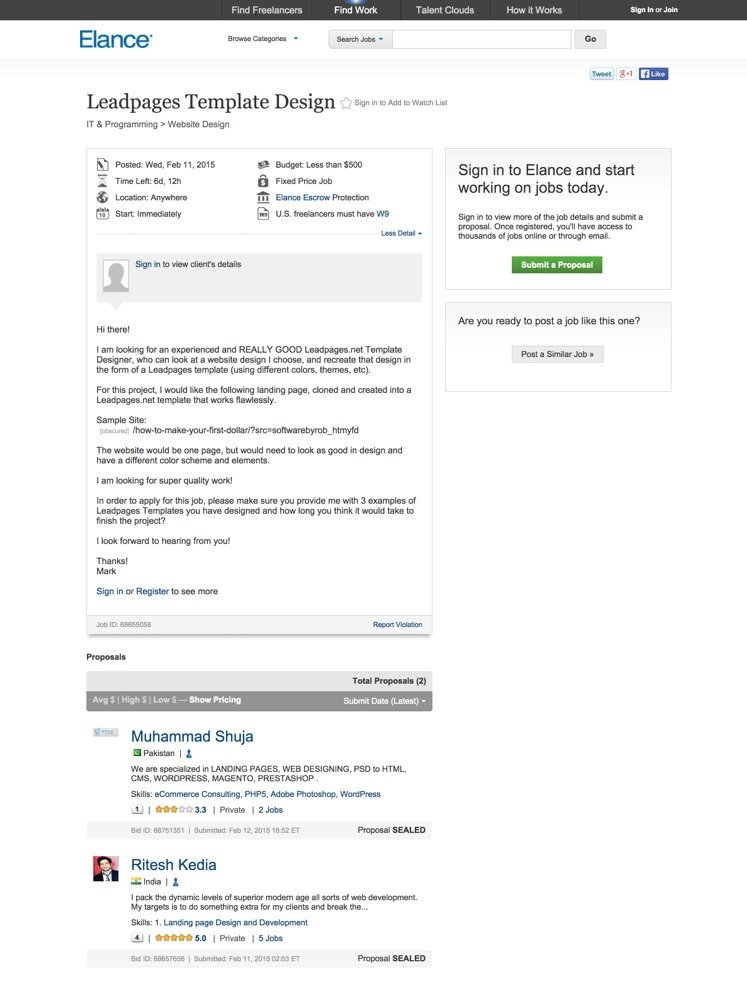 And that breaks my heart. These are ambitious, talented LeadPages customers who want to do big things with our product, and they're looking for experts who can help them with these enhancements.
Yet, as you can see on this particular job listing, they received almost no bids, and the two people who DID submit bids aren't even LeadPages customers.
So I decided to never have something like this happen to one of our customers again. We took matters into our own hands to do what we could to ensure you get real LeadPages experts to help you out with real LeadPages needs.
Which is why we're proud to announce….
Introducing the LeadPages™ Freelance Jobs Board
Today, we're excited to roll out the new LeadPages™ Freelance Jobs Board. If you're a LeadPages™ customer and you need help enhancing the number of sales and conversions your business receives, you no longer have to scour the internet for the right freelance job board that might have professionals that can help you.
With the LeadPages™ Freelance Jobs Board, qualified experts in every aspect of conversion optimization bid for the chance to work on your project. Our directory hooks you up with experts in four crucial areas:
Designers: Design experts can help layout and create new, custom templates.
Developers: Need a web page or feature developed? We've got you covered.
Conversion Rate Optimizers: Is your landing page just not converting like you want it to? Our freelancers can help turn that around.
Funnel Experts: Create intricate, smart funnels that convert at every turn.
You won't find another jobs board on the internet that is as laser-focused on maximizing your LeadPages experience.
If You Need Help On A Project….
Then you've come to the right place. Submitting a job is as easy as:
1) Visit the Freelance Jobs Board and clicking the "Submit a Job" button.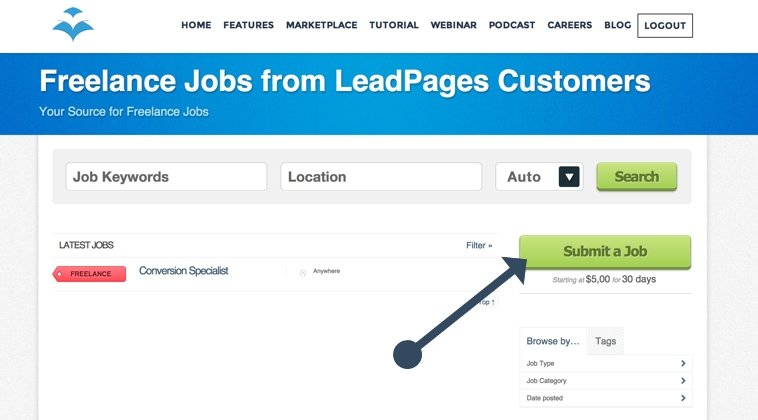 2) Register for a new account (NOTE: This is different than your LeadPages account login).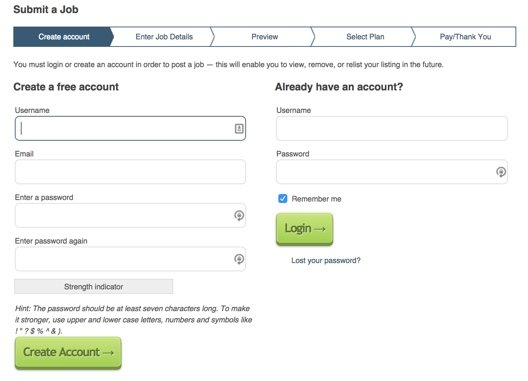 3) Fill out your job details information.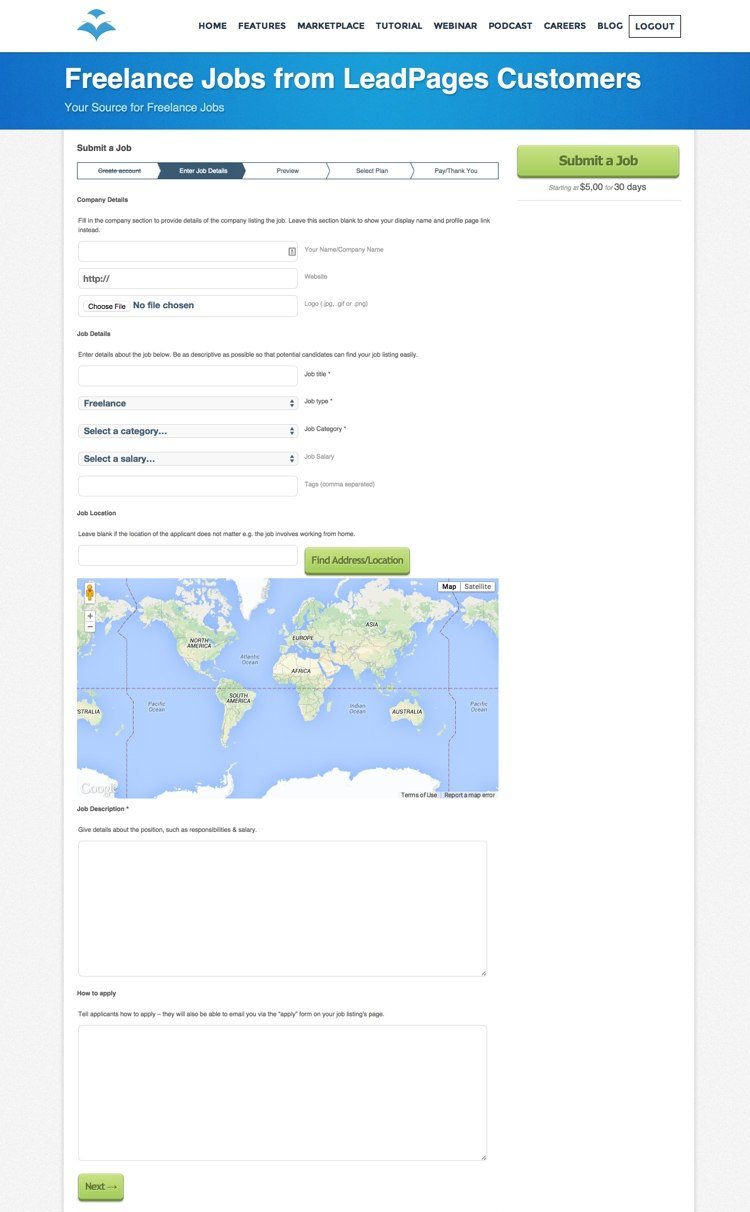 4) Review and post your job.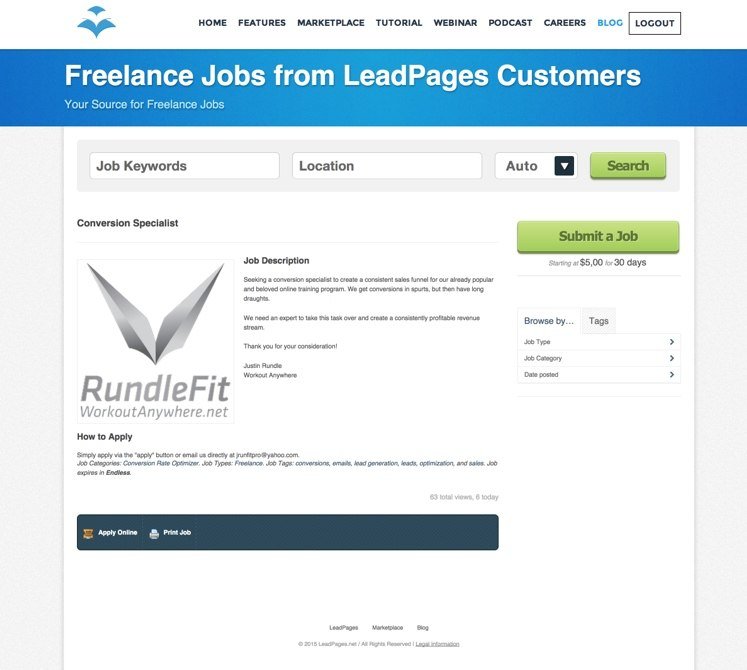 And that's it! You can submit one job at a time for $5, and each post lasts 30 days. Once you post a job, you'll receive emails with bids for your job from highly qualified conversion experts.
We're unbelievably excited to share this new resource with you, and we can't wait to see the excellent work that comes from these collaborations! To get started, click the button below and get ready to use the last jobs board you'll ever need.