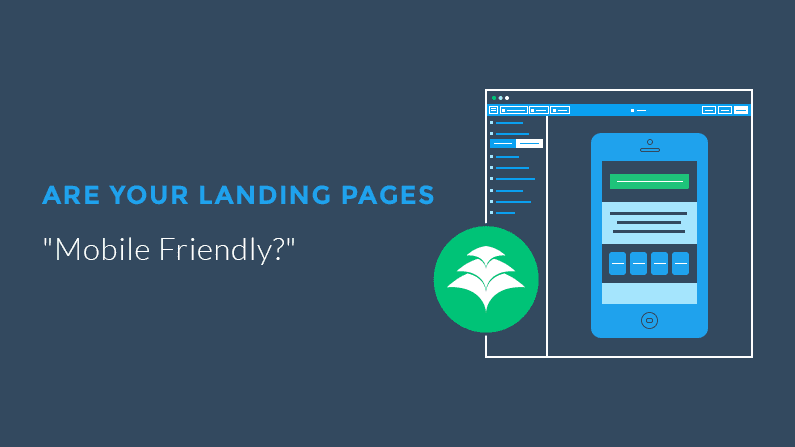 ---
On April 21st, Google released their latest algorithm change, the "mobile-responsive update." In this update, Google announced that mobile-responsive websites will rank higher in mobile search rankings. Websites that are not optimized for mobile may drop in mobile search rankings in the coming weeks.
Are your landing pages ready for "Mobilegeddon" as many folks in the press and the web community are calling it? If you use Leadpages they are. All of our landing page templates and pop-ups are designed to be mobile-responsive, so you can view them easily on any device.
Not a Leadpages member? Don't worry. There are several, very simple things you can do to make sure your landing pages, and your website, are mobile-responsive. Here are answers to some of your questions.
How will "mobilegeddon" impact my landing pages?
If your landing pages are already mobile-responsive, this new Google update won't impact your pages at all. You shouldn't see any difference in your mobile search engine ranking. If your landing pages are not mobile-responsive, over the next few weeks, they will drop in mobile search rankings, as Google says this update "will have a significant impact in our search results."
Google also points out that, "the intent of the search query is still a very strong signal." This means if your landing pages are still relevant to a search and they have quality content, they will still rank well in mobile searches.
Will this affect all search results?
No! And this is very important for you to understand: The only search rankings affected by this algorithm update are mobile searches, meaning searches from smartphones. Tablet and desktop searches will not be affected by this change at all.
Even if you believe your target audience is mainly desktop and tablet users, you should still optimize your landing pages for mobile. Studies show that at least 60% of people use their cell phones to access the Internet. In some areas of the world, mobile phones are the only way to access get online. Even if this new update isn't hurting your landing pages' ranking right now, you'll want to make sure your landing pages are mobile-responsive in the future so you don't miss out on potential customers.
How can I tell if my landing pages are mobile friendly?
Google has taken care of that. They've built a mobile-responsive test tool where you can enter your landing page URL and it will tell you whether your page is mobile-responsive or not.
I went ahead and ran our blog URL through the tool to see how we did: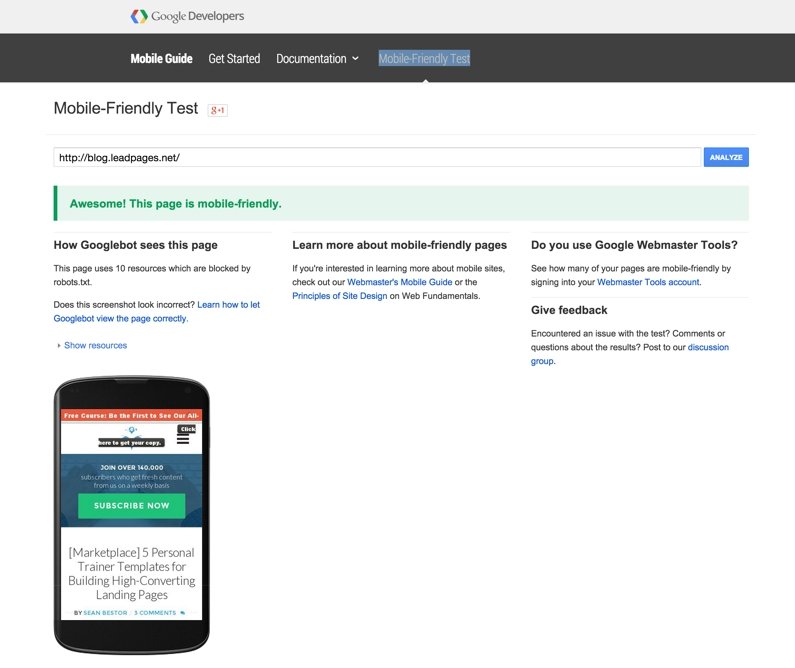 As you can see, our blog registers as mobile-responsive.
I also ran one of our landing pages through the tool. This is the Smart Product Sales Page, which we're using to collect leads for Corporate Sales accounts.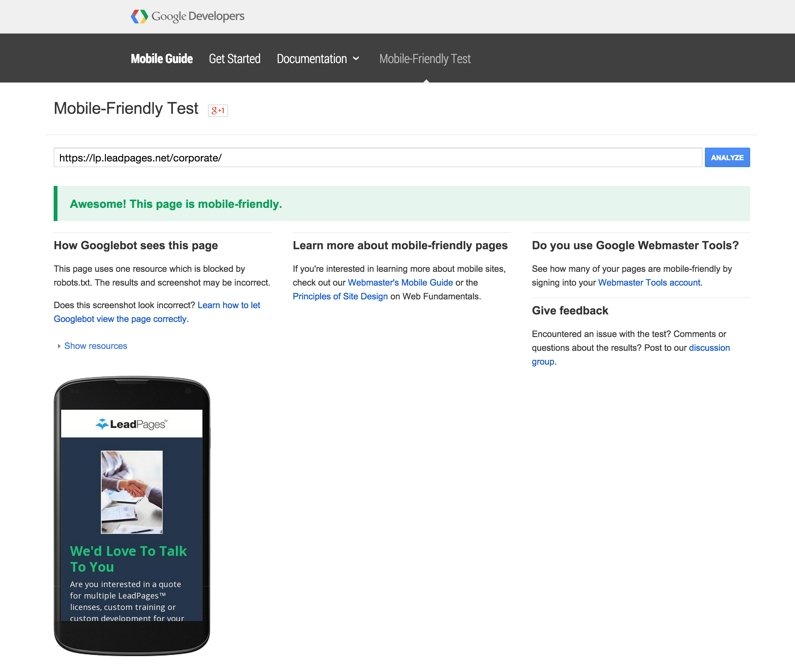 It too registers as mobile-responsive, just like every one of our landing pages. They're all designed to be mobile responsive. In fact, you can check how your landing page will look on a desktop, a tablet and a mobile phone, inside our Leadpages landing page builder. This lets you you see with one click how your landing pages will look on each screen size.
Just for kicks, I ran a site that, according to its own article, wasn't mobile-responsive through the tool. The BBC website.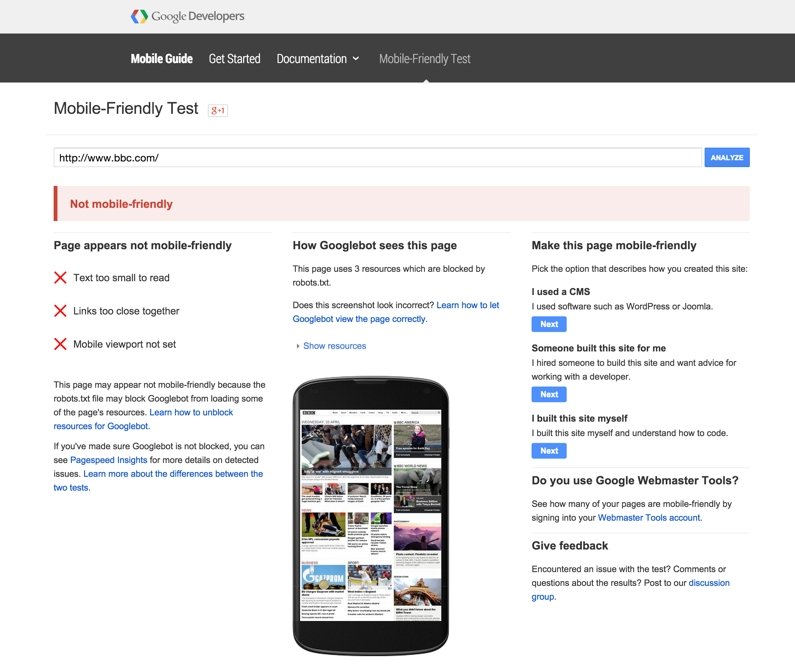 Google does an excellent job of showing why a page isn't mobile-responsive. On the left, it tells you which parts of the web page need improvement and why. It also tells you which factors  may be contributing to the results and gives you links to learn how to fix them.
In the center, the tool shows you what your page will look like on the average mobile phone. Just by glancing at these images above, you can see the significant difference in how the BBC page looks on a mobile device vs. a mobile-responsive landing page.
For example, the mobile-responsive landing pages feature large, easy-to-read text and images that easily fit on a mobile device's screen. By contrast, the BBC page looks cramped, the text is tiny and hard to read, and it's nearly impossible to see the images on the screen.
On the right side of the BBC results page, Google gives you resources to make your site mobile-responsive.
What types of websites are being affected by this?
Lots of companies of all sizes, as well as governments, organizations and everyday people, are having this problem right now, so if you're not ready for Mobilegeddon, you're not alone. This Google algorithm update will be keeping developers everywhere busy for quite a while.
Regardless of whether you design your landing pages yourself or you have someone do it for you, make sure all of your landing pages are optimized for mobile devices.
Does the mobile-responsive update everything?
The new mobile-responsive algorithm works on a page-by-page basis. This means if your website isn't mobile-responsive, but your landing pages are, your landing pages will not be affected by this algorithm change. That's important because your landing pages are often the most critical pages on your site. They drive sales and generate new leads for your business, so you want these to rank for mobile searches.
Ultimately you want your entire site to be mobile-responsive, but having mobile-responsive landing pages can at least buy you some time without losing a large chunk of your business.
So how can I make my landing pages mobile-responsive?
A simple way is to test using Leadpages landing pages in your business. As I mentioned above, all of our landing page templates are already mobile-responsive, so they'll look great on any size screen. And we have over 100 templates to choose from, so you'll always be able to find something that suits your needs.
All of our templates are optimized for conversion, and you can sort them by conversion rate to see which templates are converting the best. This means you'll always know which templates will work best to get site visitors to opt-in or buy your products.
But what about the rest of my website?
Well, that may be a bit more involved. As I said above, Google gives you resources on its mobile-responsive test tool page to make your site mobile-responsive. They let you choose your information based on whether you used content management systems (CMS) software, such as WordPress or Joomla, had someone build your site for you or built your site yourself. Each of these links will take you to a solution to make your site mobile-responsive.
If you had someone custom-build your site, contact your developer or designer and discuss what it will take to make your site mobile-responsive. Depending on how it was built, it may be very simple or it may involve a total overhaul of your website. Your developer will be able to answer these questions for you.
If you're no longer in contact with your developer or designer, please check out our Marketplace Jobs Board. You can post a job listing with your needs here and we'll help you find the right person.
Other options may be available from your Internet Service Provider (ISP). Several of them are offering monthly or one-time cost services that will convert your website to mobile-responsive. For instance, GoDaddy offers a tool that will rebuild your website to be mobile-responsive and they charge a monthly fee for this. Bluehost's goMobi tool will build a smaller version of your website for a one time fee.
Additionally, you can look at services like dudamobile which lets you rebuild your website for mobile "in minutes," according to their website.
Finally, I should point out that many of our customers have built entire websites from Leadpages landing page templates. For instance, realsimple.solutions used our Small Business Home Page/Minisite Marketplace template as their website. In fact, several of our Marketplace templates are designed to be mini-sites, including our "Expert" Marketing Service Minisite and our Flat UI Advanced Minisite. You can host your landing pages on our lightning-fast server, our WordPress Plugin lets you publish directly to your WordPress website or you can download and publish any of our landing page templates on your own server.
Use mobilegeddon to your advantage
Yes, Google makes updates to their algorithm that can damage your search engine rankings and potentially hurt your sales. Panda and Penguin caused many online companies to change their entire business models and these companies lost a lot of money.
But keep in mind: This type of update can also give your business a significant edge over your competitors. All you have to do to gain that edge is be one of the first to adapt to this update. Fortunately, Google gave advanced warning so business owners had the time to update their websites. If you haven't "gone mobile-responsive," Google is giving you the tools to get ahead of your competition.
Review all of your landing pages to make sure they're mobile-responsive. If they're not, take steps to change them to a mobile-responsive format.
Let us know in the comments section below if Mobilegeddon is affecting you and what you intend to do to fix your landing pages, if it is. Best of luck and here's to higher conversions.