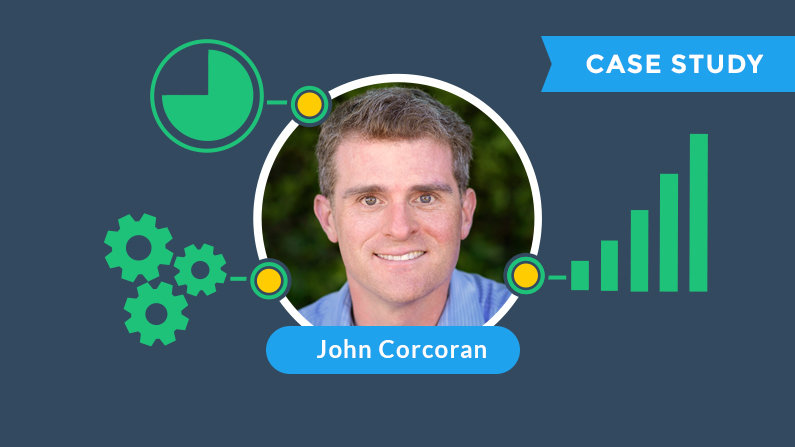 As a 20-year-old, he already had a job at DreamWorks Studios. By 23, he'd gotten a writing position in the White House. At 25, he was writing speeches for the governor of California.
Meet John Corcoran, everybody.
He's clearly a man of many talents. But ask John how he achieved such rapid success, and he'll attribute it mainly to this: he knows how to build great relationships with the right people.
And with the help of Leadpages, he's figured out how to build strong customer relationships at a remarkable rate, too.
Today, John is a practicing attorney, and in 2011 he started his own Bay Area law firm. But he knew that, as with most service-based businesses, the amount he could make as a lawyer was ultimately limited by the number of hours in his day.
So he started a side business: a blog and podcast known as the Smart Business Revolution, designed to help others build strong and meaningful business relationships.
It wasn't easy at first, but eventually, John found some tools that helped him move a lot faster—including three Leadpages landing page templates in particular. We're giving you these three templates free. Just click below to get them, then read on to find out how he used them:

In order to grow his side business, John started off by writing guest posts—but his business really started to accelerate once he started partnering with other ventures to host webinars and using Leadpages to promote them.
Smart Business Revolution has now become his primary source of income, and Leadpages has played a big role in its growth. In fact, he wishes he'd started using it earlier:
"If I was starting over again, I would probably not even register a domain, I would not even start a blog, I would not start a podcast. I would just sign up for Leadpages and I would guest post until I built up my email list. That's it." – John Corcoran
Want to hear John's story straight from the source? Watch the video below:
Enter Leadpages
Before John signed up for Leadpages, it actually became a running joke between him and his friends. Whenever he made even a minor gripe about something, one of them would answer, "You should buy Leadpages."
His friends were one major influence, but the tipping point came when John finally got fed up with his original landing page builder. He recalls:
"It took like 20 minutes to create one landing page and I couldn't even split test. I was putting all this effort into guest posts that took me hours, dozens of hours sometimes, and then I would create a landing page for it and I would have no idea how it was doing." – John Corcoran
At that point, John was adding 200–300 new subscribers to his email list each month; at the three-year mark, he had about 5,800 leads. Not terrible—but not the kind of results he wanted or needed.
So when he finally signed up for Leadpages, John made up for lost time and began creating landing pages for just about anything, anywhere. Here are some of the primary pages he used:
Webinar registration pages: Landing pages like our Webinar 3.0 page don't just let visitors sign up for your webinar. They can simultaneously send the attendee's email address into your email service provider or CRM system, so you can contact them again later. And because John frequently co-hosts his webinars with a partner in his field to reach two audiences at once, this dual-presenter template was a natural fit.
Webinar replay pages: John also used special landing pages to host video replays of his webinars right on the page, reaching leads who weren't available at the scheduled time or wanted the added value of a recording to rewatch.
Thank you pages: The "Invite a Friend" thank you page that John prefers doesn't just confirm registration and allow for additional messaging from the hosts. It also prominently invites registrants to share that they're going with their Facebook and Twitter networks, giving John's webinars a wider reach.
404 pages: 404 pages are landing pages that receive redirected traffic from incorrect URLs and malfunctioning pages—so you can give people an opt-in point where normally they'd click away from the page.
Blog Home Page: Tying it all together was this template, which served as a conversion-optimized gateway to the rest of John's content.

Clearly, John set himself up to capture leads from as many angles as he could—even some that very few people ever consider. For instance, anyone who clicks on the link in his email signature will be taken to a landing page made just for them: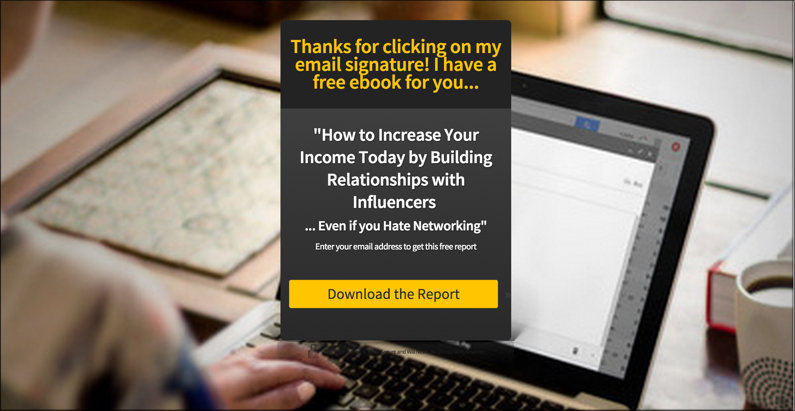 Cool, huh?
John's Success
John's been careful to make sure no leads fall through the cracks. Due to his hard work and the power of Leadpages, his email list has grown from 3,000 to 17,500 leads in just 8 months. Now, he's adding around 3,000 leads a month via his webinars and landing pages alone. Night and day difference, right?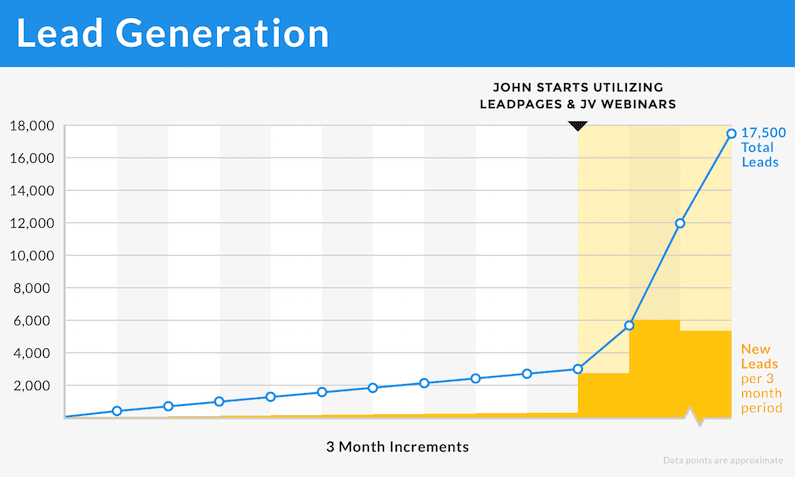 "I struggled for a long time to get from 0 subscribers to 3,500 subscribers. It took a lot of hard work and effort in order to save a measly $25 a month. It was really such a waste of energy and resources. My time was so much more valuable to use [Leadpages] in conjunction with the other things I was doing from an earlier era." – John Corcoran
Once John was able to create and test landing pages at a rapid speed within Leadpages, he was able to set up far more pages on a regular basis. This sheer quantity—plus the time he was able to save—let him host more webinars with more partners in less time.
Beyond the increase in scale, John found that the pages he was creating were now more effective. Before he started using Leadpages, some of his landing pages had an opt-in rate of just 5%. Now, however, he's seeing an average conversion rate of 17% on his current landing pages.
"One of my goals was to make over $20,000 in a month consistently and to hit 20,000 email subscribers by the end of the year. I hit $20,000 in revenue [in January], in large part thanks to my email list. Now my goal is to hit 35,000 or 40,000 by the end of this year… My goal after that is to hit 100,000 by next summer." – John Corcoran
Going forward, John plans to continue creating Leadpages, and eventually master Leaddigits, our mobile-messaging lead-gen tool, to use during his webinars.
How Does This Apply to You and Your Business?
Having worked in so many different industries, John thinks that his landing page strategy could be used by everyone from a new entrepreneur to a Fortune 500 marketer. He says:
"It's very simple. You need to create landing pages, you need to split test them so you learn eventually over time what resonates with your audience, and you need to drive traffic to those landing pages in the form of guest posts, webinars, videos, Pinterest, or whatever it is you choose." – John Corcoran
Of course, not everyone's business strategy relies on webinars. But other elements of John's strategy are just about universal. For instance:
To expand your audience, build strong partnerships. John did this using guest posting and joint-venture webinars. In your own business, think about the things you know better than just about anybody else, then look for other people whose audiences could benefit from that knowledge. Reach out to them and see what kind of mutually beneficial content you could create together.
Seize even the smallest lead-gen opportunities.
Although thank-you pages and 404 pages will never be the primary pages you promote, they can still give you the opportunity to upsell visitors or capture leads who would otherwise bounce away from broken links. Over time, it all adds up.
To get the exact templates John used, just click below:

John's Advice
"Don't make the make the mistake I did which was thinking that your business needs to grow up first before you can invest in Leadpages. Your business will grow up when you invest in Leadpages." – John Corcoran
Between guest posts, joint venture webinars, and Leadpages, John has been able to grow his side business into his primary source of income. If you're working toward a similar dream, John suggests you invest in the tools you need and jump in with both feet.
John also warns, "Don't be penny-wise and pound-foolish. [Becoming a Leadpages member] is just like spending money on your email list." And in John's case, that investment paid off in the form of a 583% increase in leads within 8 months.
If you want to create landing pages like John's to use in your own business, we're giving you three of the exact landing page templates he used to grow his email list: the Blog Home Page, the Webinar 3.0 Webinar Registration Page, and the "Invite a Friend" Thank Your Page. (If you're already a Leadpages member, you can find these templates in the library under these names.)
Click below to download these three templates now:

Did John's strategy spark any ideas you can use in your business? Tell us in the comments!