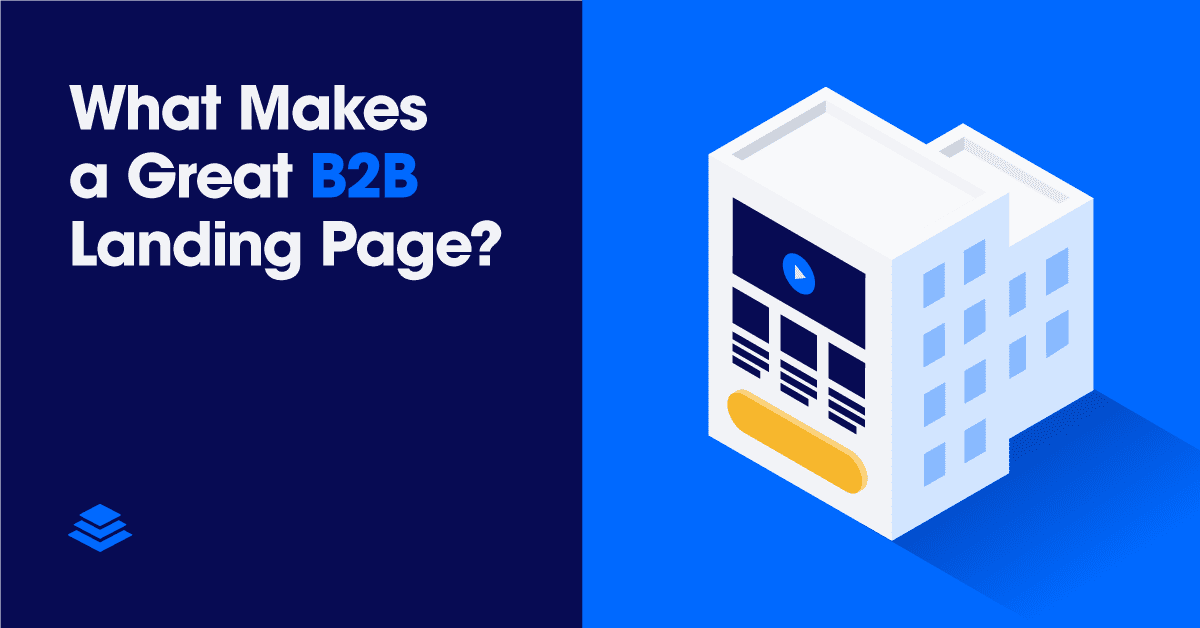 For many B2B companies, every conversion is high-stakes.
You might sell a $1,000 annual subscription or a $3,000 product that accounts for a large percentage of your company's revenue.
Moreover, your customer isn't a single person with a credit card. They are a team of decision makers with internal and external business goals just like you.
That's why not all of the landing page techniques that work for B2C companies or solopreneurs will help your business grow. You need B2B landing page best practices to increase your conversions.
In this post, I'm going to assume you know some of the basic elements of a decent landing page: a headline that speaks to the benefits of your product or service, a strong call to action, a distraction-free layout, etc.
Here, I want to get a little more strategic. I want to talk about not just how you optimize each page, but how you approach your B2B landing pages in general.
If your landing page strategy feels a little scattered, these best practices should help.
1. Map your landing pages to different stages of the sales cycle
Lead nurturing is an ongoing process that involves building quality relationships with potential customers. For B2B companies, it can take as much as six months to one year to nurture a lead to purchase your product.
When you think of lead nurturing, you might first think about your sales team and your automated email sequences. But landing pages have a role to play, too.
For instance, say you're a tax attorney who works primarily with small and medium-size businesses.
Obviously, you want to be there whenever someone in your area is looking specifically for a small-business tax attorney.
But you also want to be there when they're deciding whether they need a tax attorney or just an accountant.
And you also want to be there when a business is looking for tax planning services.
If you take a long enough view of your sales cycle or marketing funnel, all of these prospects have a place. And each of them needs a landing page that looks very different from the others.
By consistently offering your prospects unique content tailored to their needs, you begin to develop a level of trust: trust that your business will deliver helpful resources in the moment, while also being there when they're finally ready to sign a contract.
Every element of the landing page should be relevant to their concerns. If not, you risk losing the lead's interest (or worse, giving them a reason to visit your competitor).
Start by breaking down the different stages of your sales cycle or marketing funnel. Different companies use different frameworks, but at Leadpages we tend to think of the B2B sales funnel like this:
Awareness: Prospects are learning more about a general problem they're facing. At this point, they don't necessarily know about the different kinds of solutions available yet, or even fully understand the problem.
Trigger:

Prospects recently became aware of the kind of solution you provide and are researching to find out if it's a good fit for their situation.
Consideration:

Leads are comparing your business to other similar businesses and solutions to decide on a final choice.
Close:

Leads are ready to make a purchase. They may be deciding between different service tiers or packages you offer, or working to get different stakeholders to sign off.
Stay:

Customers are seeking to get value out of your product or service. They may be deciding whether to renew or upgrade their subscription or contract.
Every stage of the cycle offers you a chance to capture a lead or a sale with the help of a landing page.
Your goal for each landing page is to move your prospect at least one step further down the path to becoming a client. That goal will guide everything from your offer to your page layout and content.
Here's a real-world, big-name example from transportation company Ryder. For prospects at the beginning of the sales cycle, they use a very simple landing page to collect leads by offering a free report on the costs of owning a truck fleet.
This page speaks to prospects in awareness mode, who may be searching for things like "renting vs. owning truck fleet" or "truck fleet maintenance costs."
Further along in the cycle, when prospects are in the consideration or close phase, Ryder uses a slightly more content-heavy landing page to explain its leasing options and offer detailed pricing information:
Leadpages offers landing page templates geared toward each stage of the B2B sales cycle. For instance, you might get businesses into the top of your funnel with the Enterprise Lead Gen Page template used here by GE Digital …
… then reach prospects in the trigger phase with the Simple Webinar Registration Page template (as modeled by Recruitment Coach here) …
… then sway people in the consideration phase with the Free Consultation Page template (seen here: Fergusson Consulting):
… and beyond. Find a template made for the stage you're targeting, add your own offer and branding, and you're ready to go.
2.  Position your content to serve multiple stakeholders
Unlike marketing to an individual consumer, B2B sales involves multiple stakeholders in the decision-making process. There's an entire team deciding whether your product can solve their problems.
The Corporate Executive Board reports that the average number of stakeholders involved in the B2B purchasing decision has risen to 6.8 stakeholders. Each person has their own set of unique priorities, objectives, and metrics to determine if your product works for their business.
It can be an overwhelming task to differentiate your marketing messages to every single individual. That's a lot personalities and expectations to meet.
However, it's not impossible. Just as you map your landing pages to different parts of the sales cycle, you should map your pages to different buyer personas.
The Online Marketing Institute breaks B2B buyers into five different types:
Researchers:

people who gather information about your company and product.

End users:

the individuals who will use your product to solve tactical issues.

IT influencers:

the stakeholders who will deploy and manage the software or hardware for tech-based products.

Finance decision-makers:

the people who decide if your product is financially feasible for their company.

Executives:

the key stakeholders interested in knowing the long-term ROI.
These people probably aren't sitting around a conference table and looking at your landing page as a committee.
No, the researchers are digging up detailed information on the kind of solutions you provide.
The end users are asking their peers about the solutions they've found in online forums.
The IT influencers are trying to figure out what works with the software they already use.
The finance decision-makers are comparing pricing and analyzing ROI. And so is the CEO, who's also investigating whether your solution is compatible from a brand and operational perspective.
That means you don't necessarily want your landing pages to address the company's needs as a whole. Your landing page must address the pain points that matter to each decision maker. For businesses, this may mean creating a different landing page for each stakeholder, built for the traffic source they're likeliest to arrive from.
Sales analytics company InsightSquared follows this advice by creating multiple pages based on the lead's role in their business.
On a landing page directed towards sales leaders, the copy discusses forecast accuracy and pipeline management.

Both pages draw on InsightSquared's branding and product positioning, but they speak to their different audiences with the concerns of each stakeholder.
3. Demonstrate complex ideas with multimedia
B2B products and services usually involve solving complex problems for large organizations, and text isn't enough to explain how your business will deliver results.
It's hard to put into words how your analytics pulls information from a million data points into a single report. Or how your public relations agency will cross-reference every source on an international database that will generate 100+ monthly press opportunities.
Sometimes, your leads must see it to believe it. That's where multimedia comes in.
Think about using videos, GIFs, diagrams, and even interactive content to present your complex idea quickly and ensure that prospects understand how your product provides value.
Video: Adding video to landing pages can increase conversions by 86% and often creates a personal connection with the prospect. At Leadpages, we offer landing page templates specifically designed for video.
Images: Sometimes visual elements can convey your message better than just plain text. The most effective images are relevant and consistent with the intent of the landing page. Below Visible Digital uses an image to show how it helps businesses create virtual tours.
GIFs and animation: Instantly capture your audience's attention with a GIF. Animation is helpful for demonstrating your product and persuading prospects to sign up for a free trial.
Interactive content: Engaging, personalized experiences entice leads to learn about your product and brand. With interactive opt-in processes, prospects are more invested in receiving your customized lead magnet. Alarm system provider ipDatatel uses its Leadpage with an embedded calculator to flaunt the value of its services and earn qualified contractor leads.
Using multimedia in your landing pages is an opportunity to explain your solution and showcase to stakeholders how your product operates.
4. Head off objections with social proof
Social proof reassures prospects that your product actually produces results. Because without results, why would they buy?
It's important to illustrate how your product has demonstrated success for your previous customers. Then, prospects can see how the same outcomes can be achieved in their businesses.   
If you have several types of social proof available for your business, where do you start?. I like the advice growth marketing expert Angie Schottmuller gave on ConversionXL: "In order to harness this concept for persuasion, marketers must first identify the uncertainties of their customers and then buffer accordingly with appropriate social proof."
Jot down a list of objections and uncertainties you've heard from prospective customers, then look through the social proof you've accumulated to see how real customer stories prove that those worries are unfounded.
For instance, if prospects often feel your pricing is too high, add social proof to your sales page that touches on the incredible value or ROI your customers have discovered.
Or if you're at a relatively unknown company trying to prove its authority, consider using social proof that highlights your credentials or connects you to an established industry leader on your opt-in page.
Below are three types of social proof you can consider adding to your landing page.
Customer Testimonials
Testimonials give prospects insight about how your customers perceive your worth. Customers willing to vouch for your work is a positive sign that their expectations were met.
Fashion-startup accelerator Factory45 uses testimonials at the bottom of their landing page to speak to the value of subscribing to their email list.
Ask your satisfied customers to give you a brief statement about your brand. A good testimonial will provide specifics about the customer's results, address the lead's objections, and build an emotional connection.
Case Studies
To highlight customer success, use case studies to boast about real results. The best case studies offer details about the problem and how your business developed a solution. A typical case study discusses the customer's problem, how your product solved the issue, and the impact the solution had on the business.
In the example below, Help Scout created a landing page to compare its services to competitor Desk.com. Their team produced a case study in video format to show how its platform benefits an actual customer. That way, they don't have to spend time tearing down a competitor—the results speak for themselves.
Expert Endorsements
If you're looking to add authority to your name, expert endorsements can give your product or business a stamp of approval.
Don't have much of a network yet? You'd be surprised how far a few genuine interactions with leaders in your industry might get you. If you've ever connected with someone well-known at a conference or on social media, consider dropping them a line asking for their honest feedback on your product, offer, or informational materials (making clear that you're not trying to sell to them).
Any response you get will be valuable for your own growth, but if it's positive, simply ask if you can quote them on your landing page. A simple two-sentence quote with their picture on your landing page gives your business the extra credibility.
5. Use your thank you pages to extend your funnel
If you've followed all of the best practices above, you have a B2B landing page that's built to engage and convert prospective clients.
But what happens right after they convert?
It's easy to forget about your thank you pages or confirmation pages—the ones that appear after someone hits the Submit button on your landing page. But you're missing an opportunity if you stick with your form builder's default thank you page, or use a generic confirmation message. Instead, use a landing page builder like Leadpages to create a custom thank you page that connects leads to the next step in your funnel.
For many B2B businesses, the next step after someone opts in is to initiate a conversation with the lead. You can do this right on your thank you page. Kyle Hale is the VP of sales for Leadpages and Drip, and he recommends: "If you're in an industry where scheduling a demo or conversation is critical to converting a sale, then embed a scheduling calendar into the Thank You page that appears after a lead submits specific information on your demo request form."
Kyle's team did exactly this by embedding their Calendly demo-scheduling calendar into a thank you page they built with Leadpages. (This is easy using Leadpages' drag-and-drop builder—just add an HTML widget and drop in the embed code for whatever calendar service you use.)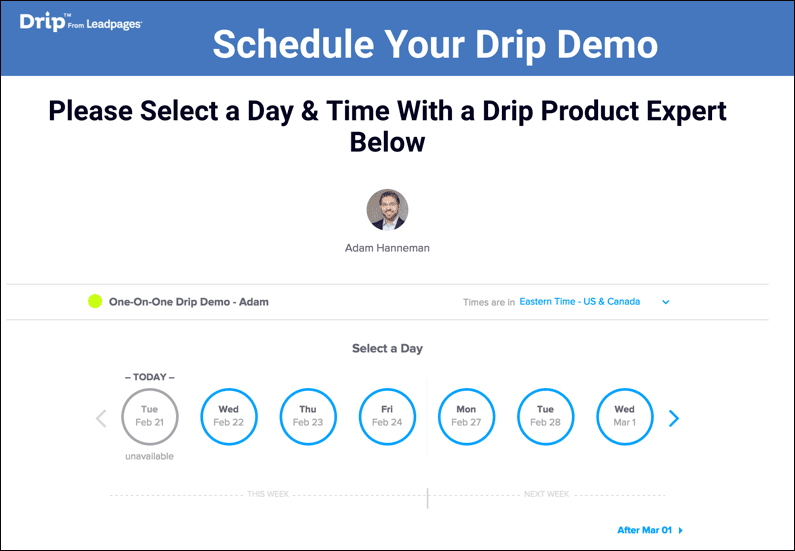 Before they added this to the thank-you page, Drip's demo-request conversion rate was 32%. Now, after the thank you page + scheduling calendar strategy, that's risen to 67%.
"It just makes sense," said Kyle. "Because the people that fill out that Leadbox want a demo, they've shown intent. Why make them wait for an email campaign to schedule it?"
Keep leads moving down your sales funnel with a thank-you page offer they can't refuse. In fact, you can extend this chain of offers indefinitely. If you have multiple kinds of landing pages, a sequence like this could drastically accelerate the rate at which leads move through your pipeline:
Someone opts in for your free report and sees a thank you page offering a free webinar …

… then opts in for the webinar and sees a thank you page offering a demo …

… then opts in for a demo and sees a thank you page offering a special deal on your product …

… then purchases your product and sees a thank you page cross-selling them on a different product … 
And so on. Although longer sales cycles mean that most people won't go through the entire sequence at once, the cumulative effects of these thank-you page offers could create quite a boost.
Start building better B2B landing pages today!
B2B landing pages may take a little more care and consideration than other kinds of landing pages. But once you incorporate these best practices into your landing page process, you'll be able to continually create pages that meet the unique demands of your audience and convert them into qualified leads.
And hopefully, by now you're realizing that careful planning doesn't have to result in dry, dull landing pages.
Have you struggled with your B2B landing pages? Leave a comment and we'll try to do some problem-solving for you.