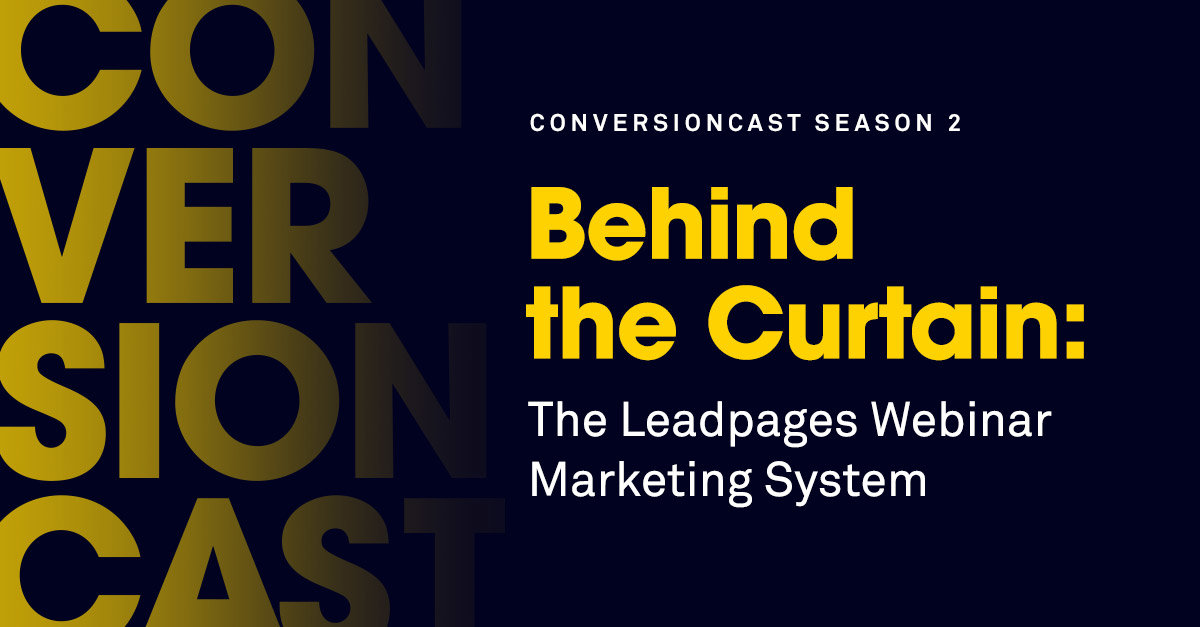 Season 2 of ConversionCast is here.
In this 12-episode, binge-worthy Season 2 of ConversionCast, I brought several members of the Leadpages marketing team together to take you behind the curtain of our well-oiled webinar marketing machine. In each episode, you'll discover specific strategies and tactics the team used to launch our successful Conversion Journey webinar campaign—resulting in significant improvements in registrations, attendance, live conversions, and follow-up sales.
All 12 episodes of Season 2 are below. Be sure to subscribe to ConversionCast in iTunes for easier listening on the go and to enjoy past and future episodes of ConversionCast!
Episode 1
Webinar Fundamentals: Creating an Impactful Webinar (Part I)
Featuring Bob Jenkins, Manager of Marketing Education

In this episode:
How to create a webinar that converts AND provides actionable value to non-buyers (they aren't mutually exclusive)
Structuring your offer to avoid "bonus anxiety"
How to provide tactical insight that differentiates your webinar from the rest
Episode 2
Webinar Fundamentals: Creating an Impactful Webinar (Part II)
Featuring Bob Jenkins, Manager of Marketing Education

In this episode:
How to establish the credibility that sets up sales
How to create content that converts prospects to buyers
Content that creates a relationship with non-buyers
Episode 3
Webinar Offers That Increase Conversion
Featuring Clay Collins, Co-Founder and Chairman of the Board

In this episode:
Our webinar strategy that originally drove growth at Leadpages
How to use Clay's webinar formula to construct your offer
How to create urgency and value during the webinar to actualize that offer
Episode 4
Everything You Need to Know about Creating Landing Pages That Increase Webinar Attendance
Featuring Bob Jenkins, Manager of Marketing Education

In this episode:
How to create multiple registration channels to fill your webinars
Our favorite tactics to drive webinar attendance AND retention
The three vital pieces of information to include on your registration page
How to use SEO data to drive registrations
Episode 5
Crafting Email Copy That Drives Attendance
Featuring Chuck Dolce, Direct Sales Copywriter

In this episode:
How to create an engaging email series to avoid webinar no-shows
The three questions to ask webinar registrants to drive attendance and engagement
How to write an email series that gets the right message to the right person at the right time, whether they register 5 minutes or 5 days before your webinar
How to create a dialogue with an automated follow-up series
Pre-webinar downloads that get people to show up
Episode 6
Automation That Is Easy and Engaging
Featuring Haley Neve, Marketing Automation Specialist

In this episode:
Three tags to automate your webinar follow-up
How to use marketing automation for highly personalized sequences before and after the webinar
Automating your marketing based on how people interact with your webinar
Episode 7
How to Tailor Conversations That Drive Webinar Engagement (and Revenue)
Featuring Chuck Dolce, Direct Sales Copywriter

In this episode:
How to segment your audience after your webinar (and the emails to send to them)
Post-webinar remarketing to keep building your relationship with prospects
Email copy that drives conversions after the webinar
Episode 8
Growing Revenue from Replays
Featuring Bob Jenkins, Manager of Marketing Education

In this episode:
How to implement our revenue-tripling replay strategy
Designing a replay page that mimics a one-on-one sales process
Why we have implemented a time-limited strategy for the webinar replay
Episode 9
The Ads That Get Prospects to Your Webinar
Featuring Zach Grove, PPC Advertising at Leadpages

In this episode:
How to implement a retargeting paid media strategy to drive webinar registrations
How to select audiences to target that are closest to buying
An in-depth look at two broad audiences you should be targeting
Episode 10
Testing and Tweaking Your Webinar (It's Different than Your Website)
Featuring Tim Paige, Senior Conversion Educator

In this episode:
How to split test your webinar content to increase sales
Strategies to tweak and change your webinar while gaining measurable results
Structuring your content to mimic your customer's journey
Episode 11
Take Your Webinar Content Further
Featuring Bob Jenkins, Manager of Marketing Education

In this episode:
How to make the most of your time by repurposing content you've already perfected
How to drive traffic via social media with content snippets
Episode 12
Webinars On-Demand (Navigating the Netflix Phenomenon)
Featuring Beth Varela, Marketing Automation Manager

In this episode:
How to provide on-demand content while creating that sense of urgency that drives sales
The Netflix phenomenon that engages people who you just can't get to show up to your webinar
The on-demand strategy that drives attendance and creates educated (and more valuable) customers