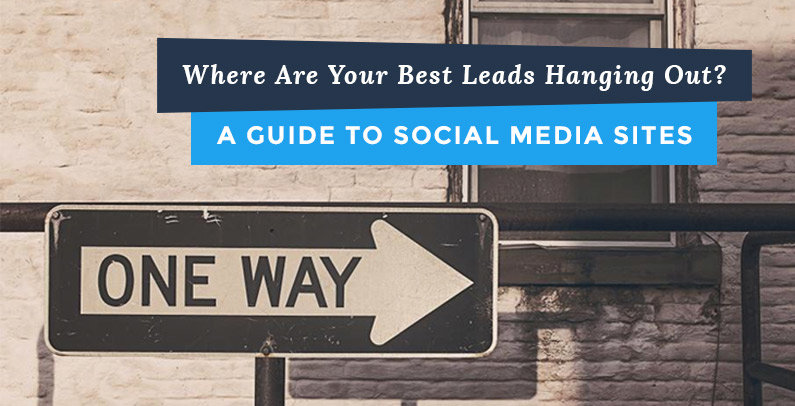 They're out there somewhere—chatting, sharing, researching their next purchase, or simply having fun.
I'm talking about your potential leads. Chances are, most of them are using some form of social media, and you have a huge opportunity to connect with them . . . if you can figure out where to find them and how to reach them.
That part can be tricky. There are now more social media sites in use than most smaller businesses have time to even investigate, much less establish a regular presence on. Plus, it seems like a buzzy new network pops up every other week.
If you're starting a new business—or just now adding social media to your marketing toolkit—where should you focus your efforts? To get some direction, I sat down with LeadPages' own social media manager, Sarah Tessien.
Since she joined the team in June, Sarah has grown our social audience by nearly 10,000 followers. But she has some good news for businesses who aren't lucky enough to have a Sarah on their team: when it comes to social media, "go big or go home" doesn't apply.
It turns out you don't have to be everywhere at once. And it's possible to expand your reach and attract more leads in just a few hours a week.
Here's Sarah's take on six major social platforms you may want to consider to promote your small business. Chances are, you'll want to use a couple of them in combination, but not every one will be suited to your demographic.
We know all this can still be a lot to keep straight, so for an at-a-glance look at the demographics of each platform and how you can use it as a marketer, we've also created a free, colorful infographic you can download and save. Click below to get it now:

This infographic should help you answer the question "Where to now?" the next time you're ready to add a new channel to your social marketing. It'll also let you know how much time you should expect to spend to get good results from each platform we cover.
Now, let's get social!

Facebook: The "No-Brainer Social Network"
"Facebook is an invaluable tool for any size or type of business," says Sarah. "With over 1.44 billion active monthly users, it is the no-brainer social network for any business, as you most likely have access to any demographic you're targeting."
Facebook users come from all over. They're slightly more likely to be female than male, and although you may have heard claims that younger people are abandoning Facebook in droves, a Pew research study from earlier this year found that 87% of U.S. internet user ages 18–29 had an account.
Facebook usage has indeed dropped among teenagers in recent years, but a large majority of social-media-using teens remain fans. (Still, if your brand is aimed at very young people, you'll want to watch this trend carefully.)
Another reason to use Facebook: it also owns 67% of website referral traffic among all social networks. Sarah notes: "Facebook users are not afraid to click links and visit websites—thus, it can be a great tool for boosting traffic."
First Steps
First, you'll want to set up a Page for your business, which Sarah calls "the central hub of your business presence on Facebook." Note that this isn't the same thing as a Profile, which is what you'd set up to connect with your own friends. A Page gives you many features designed just for businesses, including:
Data on the reach and engagement your posts are attracting. "Facebook Pages have excellent analytics," says Sarah. "You can easily see the reach, engagement, clicks and any interactions that happen on your page."
A call-to-action button that can let people jump straight to your site, send you a message, or book an appointment
The ability to create custom tabs—in fact, you can publish any landing page you create with LeadPages® as a Facebook tab, letting you capture leads right there.
Opportunities to promote your posts (we'll get to those soon)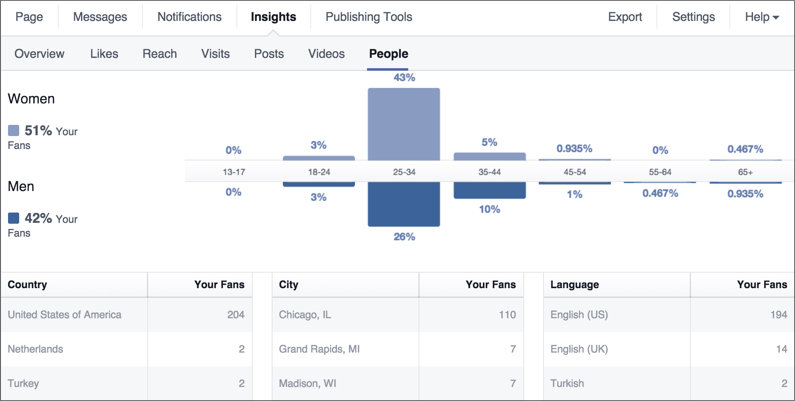 Once you've created a Page, make sure to add, at minimum, a profile photo of you or your logo, and a header photo (perhaps a shot of your team, your location, or an event you put on). Then, you'll want to post at least once a day to indicate to visitors that someone's actually watching over your page. (For more on what you should be posting, check out our recent interview with Facebook expert Mari Smith.)
When you're posting, you'll also want to check in on any activity from your audience. Fans and others can write on your wall with questions and comments or send you inbox messages—prompt responses can build strong relationships.
While you won't reach all your fans with every single post due to Facebook's feed algorithm, creating a Page has an additional benefit outside the platform. It'll also be findable in a Google search, giving you more SEO traction.
Next Steps
If you have a little bit of money to spend—and I do mean a little, since you can get good results on just $5 a day—Facebook also has excellent opportunities for paid advertising.
There are a few ways you can incorporate paid advertising on Facebook. You can simply boost a post and put a money behind a post that's doing well or that you want to be seen by a certain audience. This can be done within minutes via Facebook's user-friendly interface.
The other paid option on Facebook is Facebook Ads. These ads, which can appear either in Facebook's sidebar or embedded in users' feeds are also quite simple to set up from your admin panel.
What's unique here is the incredibly sophisticated targeting process, enabled by the fact that Facebook profiles can paint an ultra-detailed picture of their owners' lives and interests. You have the ability to show your ad to groups of people you select according to factors including age, location, interests, and even shopping and search behavior.
If you're interested in becoming a master of Facebook advertising, I'd encourage you to take our self-paced free course—check out the Facebook Advertising System course here.

Twitter: High-Speed Connection
If your business and your audience move fast, Twitter's a natural place for you. Signing up for an account is even quicker than on Facebook, and the purely chronological feed structure means that your audience can potentially receive your updates as soon as you post them.
The fast pace of this channel means two other things for businesses:
1. Your content gets buried more quickly. On most social networks it'd be poor form to post a link to the same page or story repeatedly, but on Twitter the impact of these posts will be diluted by the continuous stream of other content pouring in. To reach your whole audience, you'll want to share your content multiple times.
2. Response time matters. "The most important thing to remember about using Twitter for your brand or business is that it's a bit more interactive than most channels," says Sarah. "Users expect to be responded to by brands, so Twitter can be more of a time commitment." If customers are frustrated by long wait times, Twitter can make their frustration very visible.
If you're especially strapped for time, Twitter may not be for you. Unanswered comments or a sparsely populated and outdated feed can harm your brand's image. But if you're up for the challenge, here are some things you can do to expand your reach and get more leads, all for free:
Tag your posts with relevant hashtags so that people outside your audience can find them when they click on that hashtag elsewhere.
Announce time-sensitive updates, such as daily specials for a restaurant or class times for a fitness instructor.
Collect email addresses by offering a freebie when someone opts in. You can place a LeadBox™ link in a Twitter post advertising a coupon or free guide; when someone clicks they can enter their email address and get the freebie delivered automatically.
Get attention by engaging in conversation with influential figures in your industry; followers of that figure will see both sides of the conversation.
Keep an eye out for other connections. "Twitter is also as much about listening as it is about sharing," Sarah reminds us. "Find out what's happening in your industry, what your competitors are doing, what your target audience is saying."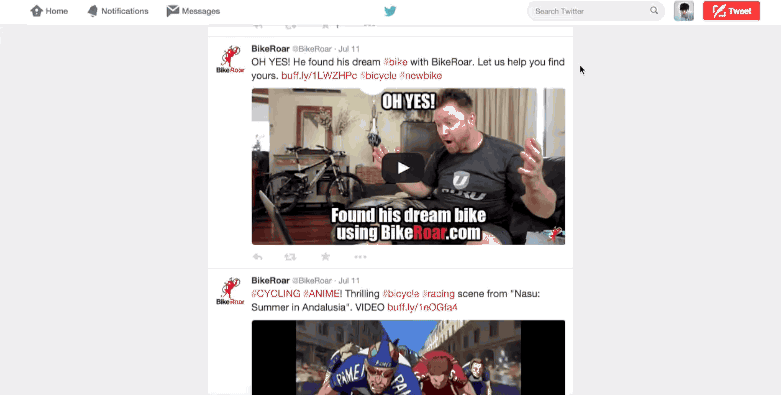 Overall, "keeping your feed relevant to your business is key," says Sarah. "People who follow you care about what your business does and want to learn more.
Next Steps
Twitter also offers paid advertising options. Rather than manually post the same link multiple times, you can promote a single important tweet to a particular audience. You can also develop ongoing paid campaigns that are broadcast to specific users you target.

Google+: A Low-Key Network with Surprising Power
"Many people pushed G+ to the wayside after it didn't take off like Google originally hoped," Sarah observes. But, with more than 540 million monthly users, it's had more staying power than those naysayers have predicted—something of a tortoise among the flashier, busier hares of the social-media world.
That's partly because those who use it seem to really use it. While users may not be as active on a daily basis as on Facebook and Twitter, a recent Forbes study of 3 million user interactions found that "brands' Google Plus posts generated nearly as much engagement per follower as their Facebook posts—and almost twice as much engagement per follower as their Twitter posts." It tends to attract an especially tech-savvy and involved audience, so if that sounds like you, it's especially important for you to establish a G+ presence.
First Steps
First, set up a G+ page for your business—even if you don't plan on posting regularly. That's because creating a G+ page has lots of search value on its own.
"Anyone searching for you on Google will be presented with a sleek and simple way to contact you, go to your website or interact with you on the spot," says Sarah. And that easy portal into your business will be right at the top of the Google search results page whenever someone looks you up.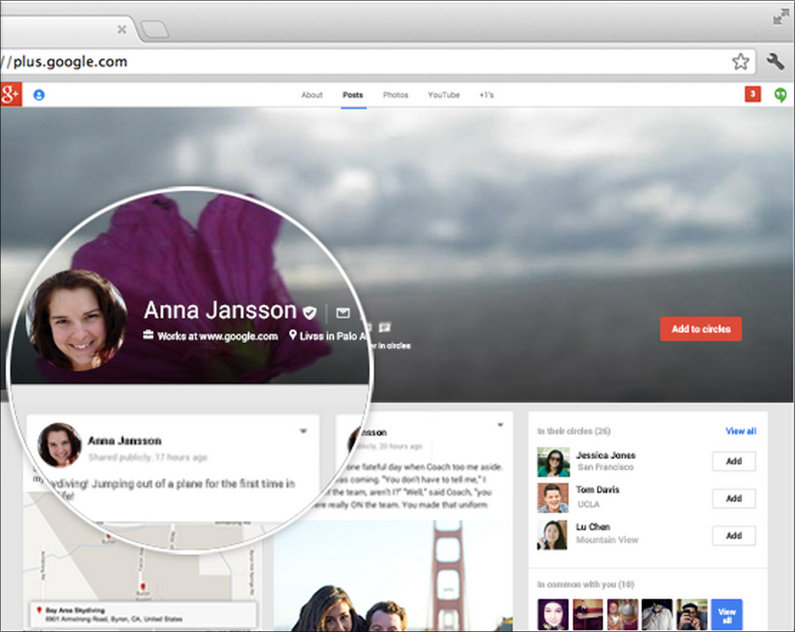 If your audience is a good fit for G+, in addition to posting occasional updates and links to other content, you can create a community especially to interact with your followers. There you can foster discussion on topics in your industry and even answer pre-sales questions from prospective customers.
Next Steps
Once you've acquired at least 1,000 followers, you can further the reach of any post on G+ through a paid campaign with Google AdWords. Within your AdWords account, you can choose a Google+ post to appear on different websites that are a part of the Google Adsense program, as well as areas of any website that display Google Ads.

LinkedIn: Talking Business
LinkedIn isn't just for job-seekers and recruiters these days. The professional networking channel has grown to over 300 million users, unsurprisingly skewing older and with more formal education than the user base for most social platforms.
"The majority of LinkedIn users are engaged professionals, looking to network, recruit, make connections and learn about other businesses," says Sarah. And that means . . . well, they mean business. If your company serves this kind of audience, you can get a lot of value from enhancing your company's LinkedIn presence beyond the bare minimum.
First Steps
First, of course, fill out your business profile completely—and steer clear of paragraphs full of jargon in describing what you do. Yes, people in your industry may be able to parse it, but if you're going to use your LinkedIn presence to build connections, you need to sound approachable and human as well as knowledgeable.
Then, post updates: not just job listings, but milestones, links to blog articles, and other pieces of business-related content that will resonate with your target audience. You can even publish longer, blog-style pieces directly to LinkedIn. If you're already running a blog, check your archive to see if any of your content could be given new life on this platform. Content on leadership, management, and how you as a business owner get things done can connect with a broad range of people.
LinkedIn also plays host to industry-specific discussion groups. It's well worth finding a couple of these and adding to the conversation. These groups aren't the place to promote your business directly, but by contributing under your own name (which is presumably linked to your business!), you can establish a reputation as an authority in your field.
Next Steps
LinkedIn also has paid advertising opportunities. Sarah sums them up this way: "They're very easy to set up but tend to cost more per conversion than on Twitter or Facebook." However, depending on your business, the leads you find on LinkedIn may be more committed—and thus more valuable—than those you find on other platforms.
This can be true especially for B2B marketers, or for anyone whose business is related to the idea of professional growth. If that's you, it may be worth testing the waters with a small paid campaign.

Instagram: Where Image Matters Most
"Instagram can be an insanely powerful tool if your business has engaging visual content to share," says Sarah. She points to these stats as proof: in 2014, Instagram had over 100 million daily active users, 1.6 billion daily likes, and 20 billion shared photos.
We mentioned that Google+ users are especially likely to interact with brands via that platform. The same study reporting those results found that that's even more true here: Instagram users were 58 times more likely than Facebook users to like, comment, or share a brand's post, and 120 times more likely than Twitter users.
Part of that seems to be simply that followers are likelier to see every post by a business they follow on Instagram (whereas Facebook, for instance, filters out most of any given company's posts from a follower's feed). But part of it may be the fact that the content people post on Instagram is required to be their own—there's no reposting function. And we've seen in other contexts that unique content tends to attract more leads.
So does that mean every small business should fire up an Instagram account? Not so fast, says Sarah: "Instagram might seem like it's a great choice for every business, but unless you have visual assets and a clear strategy, it can simply muddle up and complicate your brand."
If you're a hair stylist, Instagram is likely to work beautifully for you—but if you're, say, an attorney, you'll have a hard time making this work. If you don't have a natural source of good photographic content, this channel isn't worth the trouble.
First Steps
"Unlike most social networks, Instagram is completely based on sharing images rather than full-on content in each post," says Sarah. So your photos have to tell a story on their own. You're able to add captions, and followers can add comments, but the image dominates the page.
As with Twitter, you can get your posts found by adding relevant hashtags. Because this is really the only way to search for content on this platform—again, words aren't the focus—you'll want to pay close attention to which hashtags are most popular in your industry.
Next Steps
Until recently—as in, a couple of days ago!—only big players like J. Crew and Lexus were advertising on Instagram. But in early August, Instagram officially switched on its advertising API (application programming interface).
The site is owned by Facebook, and it will now offer the same automated, hyper-targeted marketing capabilities that are available on its parent company's platform. Sarah predicts this "will help transform it into a major platform for mobile advertising that could rival larger social networks in the future."

Pinterest: A Gateway to Discovery
Pinterest has an estimated 47.1 million users as of spring 2015, many of them middle-aged, high-income, and female. Like Instagram, it's an image-first medium—it refers to its posts, or "pins," as "visual bookmarks"—but it's compatible with a much wider spectrum of imagery than Instagram. Sarah sums up this platform's unique character this way:
"If you decide to market your business on Pinterest, you should try and think like a content strategist rather than an advertiser. Pinterest is much less about selling and more about discovery and learning through engaging visual content. This doesn't mean that everything you pin needs to have an image created by a designer, it simply needs to be engaging enough to portray what you're sharing in that particular pin."
Unlike Instagram, Pinterest also links each post directly to the site it came from, so Pinterest can be a terrific way to dramatically increase traffic to your landing pages if you pin strategically. Adweek reported that in the first 6 months of 2014, Pinterest drove more website traffic than Twitter did.
First Steps
You can set up a board—that is, a themed page where you'll post your content—within minutes. Consider posting not just product photos, but other kinds of visual content such as infographics, or even attractive presentations of inspiring or thought-provoking quotes. You can pin these images from your landing pages, blog posts, website, or anywhere else you'd like to direct traffic.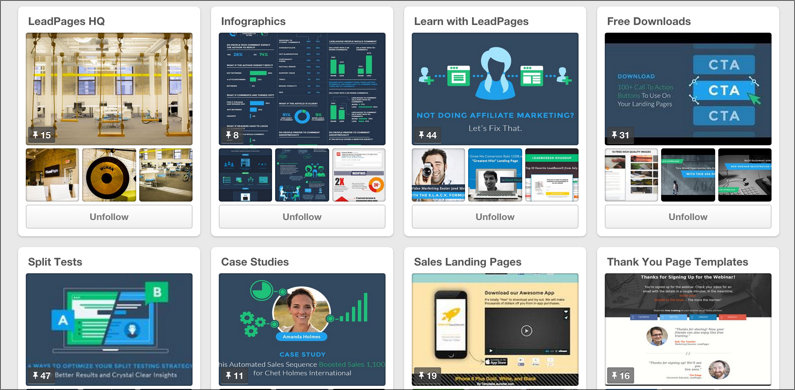 Next Steps
Right now, the only paid opportunities on Pinterest are called "promoted pins," in which you pay to have your pin appear as a native ad on user feeds. This option is somewhat new, but has been very successful for some marketers so far—check out our recent Pinterest marketing case study to see just how successful.
If your business sells products via the Shopify or Demandware platform, you can also enable users to purchase those products directly from a pin. (Pinterest doesn't take a cut.)
What social media sites are you currently using with your business? Which platforms that we didn't cover here do you expect to take off in the future? Tell us in the comments—and ask Sarah any burning questions about handling your own social-media presence!
Before you go, don't forget to grab your free copy of the Social Platforms at a Glance Infographic. (It's not just shorter than this piece—you'll also find additional information on demographics and more that we didn't cover here.) Click below to download it now:

Here's to your social media success!