By Ian Brodie of IanBrodie.com
In this video, LeadPages user, Ian Brodie is sharing his results from a LeadBoxes split test that he recently ran on his homepage.
As you will see, Ian tested a regular opt-in box vs. a LeadBox. According to his results, Ian boosted response by over 59% using a LeadBox throughout this month-long split test.
See his video above for the full story.
Since filming this video, Ian has continued split testing LeadBoxes on his site. At the moment, Ian is testing the copy on two different LeadBoxes to boost his results even further.
You can see Ian's latest LeadBox split test live at www.ianbrodie.com.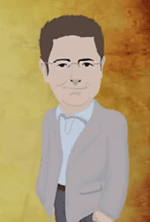 Ian Brodie has been helping some of the world's leading organizations with their marketing and sales challenges for over 17 years. Among other accolades, Ian was ranked "one of the top 50 global thought leaders in marketing and sales" by Top World Sales Magazine, and "one of the top sales influencers of 2012" by OpenView Labs. To learn more about what Ian is working on now, check out www.ianbrodie.com.
Video Transcript:
Hi, it's Ian Brodie of IanBrodie.com here. I just wanted to share with you a very recent split test I've done of the new LeadBoxes feature of LeadPages.
When LeadBoxes first came out I was really quite excited because it looked very promising. However, I'm always quite wary of new things because I work in quite a small niche of marketing for consultants and coaches, and a lot of the things that typically work in internet marketing don't necessarily work for them. So it's always worth testing.
So what I did was I did a quick split test using LeadBoxes. I just wanted to share with you the results as to how it went. So what I tested was using LeadBoxes on my homepage.
So this is my current homepage. It's a pretty well-designed homepage. There's modest branding on the header, there's me, headline hero shot of the LeadMagnet with the social proof we've caught, a bit more social proof down here, places I've appeared. There's a nice looking opt-in box and then you got my kind of services and my blog posts etc. So that's a fairly high performing homepage anyway. It gets about a 5% opt-in rate, which given that many of the visitors to the homepage are paid visitors who've already opted in, that's a pretty decent rate.
But I wanted to see if I could do any better because the homepage is the most visited page on my site so any improvements I can get there are going to have a big impact on my business. So this is what I replaced it with using LeadBoxes. This is the updated design. So obviously I've kept it pretty much exactly the same. It's the same pictures, the same headline, the same social proof, same hero shot. All I've done is I've got – and I've got the same text on the button. All I've done is the button can be now be slightly bigger because I haven't got all the other fields there. When they click on it, they get the LeadBox, which has the exact same text that they would have had on the homepage there.
So I wanted to keep it as close as possible. You can see some split tests where they've changed a whole bunch of things at once. I want and ordinarily, for Leadbox I might actually put different text on that button. I might put "get started now" and try a few different things like that. In this case, I wanted to use the exact same text that was on the existing button just to make sure that the only difference showing up was the difference between having a full opt-in form there and having a single button there.
So let's just take a quick look at the results. So here are the results coming from Optimizely, which is what I use to do the split testing. You'll see here are the results over time. Variation 1 is the LeadBox version and there's the original. So the original had a 5.3% opt-in rate all over kind of late December into January and the variation had an 8.4% opt-in rate. So that's a 59%, 59.3% improvement with a 97.4% chance of that being significant when I stop the test a couple of days ago.
So I mean you can see here how we're showing in the lead quite significantly very quickly, but I decided to keep the test going. Sometimes with split tests, you got a bit of blip early on because certain things look new but you can see consistently the variation, the LeadBox variation got me much better results. So that's almost a 60% boost in opt-in rate and remember this is the most visited page on my website. It's not a one-off landing page that people rarely visit. This is the page people come to the most and it's getting me nearly 60% improvement in opt-ins over what I have currently.
So absolutely well worth doing so I think we can officially declare the big LeadBoxes' split test to be well and truly won by LeadBoxes over standard opt-in form. Of course, you want to test it for yourself. It may be different for you and your audience and the type of opt-in form you have. But for me, the results are very clear. LeadBox is well worth implementing instead of normal opt-in forms.
So hope you found that helpful. If you want to see the LeadBox in action, you can head over to my website at www.ianbrodie.com. I'll be very varying the LeadBox itself and split testing different options on that. Of course, over time I'll be measuring not just the opt-in rate but the impact on sales. So of the opt-ins from different options which ones turn into more sales rather than just opt-ins because that's obviously the ultimate test. It takes much longer for that to work itself out so I've gone based on opt-in rate right now, and I've no reason to believe that the actual sales should be any different given the minor difference between a LeadBox opt-in box and a normal opt-in form but we'll be measuring that over the long term too. Cheers.
Editor's Note: If you're wondering, split testing will be available on your LeadBoxes inside LeadPages very soon. Until then, you can use any other split-testing tool on the market to run a similar LeadBoxes test on your homepage.