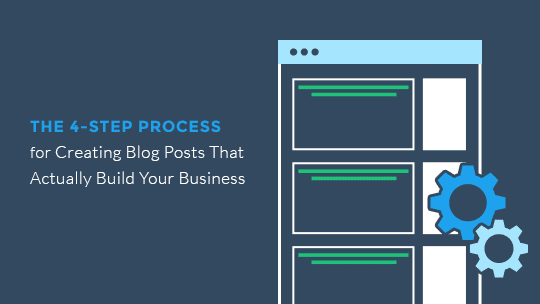 Let's be honest. If you're the marketing engine behind your business, then your time is more than valuable. In fact, your time has an actual dollar amount attached to it.
It doesn't matter whether you run a one-person business or you're the Marketing Director of a major corporation. If you're in charge, you need to spend your time on tasks that bring in revenue — like designing promotional campaigns or running key split tests.
Any time you spend on other activities can cost you. That includes the hours you might spend creating sensational content for your blog.
Of course, blogging can be just as important as all these day-to-day marketing tasks. Sharing phenomenal content with your audience can produce scalable results that go far beyond your standard promotion.
Since your time is so valuable on an hour-to-hour basis, let's make blogging even more worthy of your time.
That's what I want to talk to you about today. I want to show you how to get the most ROI out of every blog post you publish, so you can continue to grow your list and boost your sales with your blog in 2015 and beyond.
NOTE: It is highly recommended that you download our 4-Step Blogging Checklist so you can easily use all these ideas in all blog posts you write from now on. Click here to download.
Step #1: Give Blog Readers More Chances to Join Your Email List
It goes without saying if you're blogging for your business then you should be growing your email list at the same time.
It doesn't matter whether you're just starting out with a 1-person business or you're quickly growing a billion-dollar startup.
You should always, always, always grow the size of your audience. That's how you turn casual blog readers into leads and potential customers.
As you're setting up your blog, the easiest way to do that is to give your readers as many chances to join your email list as possible.
For example, on the LeadPages™ blog, we give blog readers five different opportunities to opt-in for our list with LeadBoxes®. That includes four opt-in opportunities in our sidebars and a timed pop-up LeadBox™.
By using a two-step opt-in process for each of these LeadBoxes®, we can easily give readers multiple chances to join our list — without embedding a bunch of intrusive, easily ignored opt-in forms all over the blog.
Here are just a few of the ways you can ask blog readers to join your list. . .
1. Give Blog Readers Exactly What They Want with Content Upgrades
Before 2014, no one had heard of a "content upgrade." Now, this new phenomenon is quickly becoming the new industry standard for blogging.
What's a content upgrade? Simple. It's giving away a unique piece of content with every specific blog post in exchange for your reader's contact details. To be a true content upgrade, this piece of content must offer some "elevated" content that matches the topic of your post.
Right now, industry bloggers like Noah Kagan of OkDork.com, Brian Dean of Backlinko.com, Pat Flynn of smartpassiveincome.com — to name a few — are all using content upgrades to quickly generate new leads in every blog post. If you check out their blogs, you'll notice they're using LeadBoxes® to entice readers to download these content upgrades.
So why are content upgrades so effective? It's because a content upgrade offers blog readers the exact same information that readers came to the blog to look for in the first place.
In effect, it's just giving your readers more of exactly what they want.
For example, check out this fantastic content upgrade from Shopify below.
Shopify wrote a blog post called: "The Ultimate DIY Guide to Beautiful Product Photography."
Then, to entice their blog readers to join their email list, Shopify included a LeadBox™ to give away their content upgrade called: "Bonus Guide: How to Capture High-Quality Product Photos With Your SmartPhone." Perfect match, right?
For your own content upgrades, you can give away any type of extra content that matches what you're offering in your specific blog post. Get more examples in this post's content upgrade below.
Make sure to download our Blogging Checklist for more ideas about how to create your own content upgrades. Click here to download this checklist now.
2. Create an Evergreen Lead Magnet You Can Give Away Every Day
Here on the LeadPages™ blog, our evergreen lead magnet is known as the "four-step tutorial." Long before we offered content upgrades with each blog post, we consistently grew our email list by offering this free training to our blog readers.
For your own blog, it's a good idea to create an evergreen, valuable piece of content like this that you can offer to your blog readers every day. Short courses, quick video tutorials, resource guides, and ebooks can all serve as your evergreen lead magnet. This way, you'll always have an opt-in opportunity no matter what else is happening that day on your blog.
Here's a great example of an evergreen lead magnet below from LeadPages™ user Anne Samoilov. As you can see, she's offering her evergreen "launch essentials toolkit" in the sidebar banner of her blog.
3. Replace Your Blog Sidebar with a LeadBox™
Again, if you're using a two-step opt-in form like a LeadBox™, you can add new opt-in opportunities in as many places as you'd like.
We've found that, on average, conversion rates improve by 30% when switching from traditional opt-in form that's right on the page to a two-step opt-in process.
Specifically, we recommend you try swapping out a traditional one-step form for a LeadBox™ sidebar banner, to see how it impacts your conversions.
Here's a quick example of what a new two-step opt-in form would look like from Social Triggers.
4. Add an Opt-in Opportunity to Your Byline or Author's Bio
This is a very simple, but effective way to grow your email list through any blog post that your business publishes (or any other blog publishes for that matter).
In short, this tactic involves asking your blog readers to join your email list from either your byline or your author's biography.
To do this: You could simply hyperlink your byline or author's bio to your best-performing landing page. However, I'd recommend you use a LeadBox™ instead.
With LeadBoxes®, you can hyperlink any line of text to a pop-up opt-in form. This way, your readers will see a call to action to join your email list. They'll click it and a LeadBox™ will appear.
You can see an example of this below from Bryan Harris's byline on his site, Videofruit.com.
Even better, you can also use this tactic when you're guest blogging. Just provide the site that's publishing your guest post with the HTML code for your LeadBox™ and have them add it to your byline or author bio. That way, you can grow your audience from a completely different traffic source.
5. Invite Your Blog Readers to a Webinar (or Two)
If you hadn't noticed, we love webinars at LeadPages™. That's because hosting live webinars has generated more revenue for LeadPages™ than any other marketing tactic we've used.
From a lead-gen perspective, inviting your blog audience to a high-value webinar is an incredibly simple and extremely effective way to turn casual blog readers into new leads.
Right now, we're testing a new sidebar banner on our blog that gives you two different dates to sign up for our two weekly live webinars. Check it out below:
Step #2: Make Google Love Your Blog Posts
If you're talking about making every blog post really count in 2015, it's worth spending two minutes talking about search engine optimization.
Here at LeadPages™, our in-house copywriter / SEO expert, Sean Bestor, has four very simple tactics that he uses when writing blog posts to optimize each of his posts.
Any one of these can help drive your posts higher in search engines, but when used together, they can significantly improve your results.
1. Leverage Your Main Keyword
In an ideal world, you're trying to get your blog to rank on the first page for a certain topic. Whatever that topic is, make sure you use your topic as a keyword as much as possible.
You should be using these keywords in places like the Page Title, Headline, H-2 Tag, once every 75-125 words in the body copy. The more you use it (without keyword stuffing, of course), the more likely a search engine will tie your blog to that keyword.
2. Use Your H-Tags Effectively
Heading tags, or H-Tags, are most commonly associated with making your text bigger or smaller. However, there is SEO significance to these tags. Using H-tags effectively can help your posts rank higher in search engines.
As a rule, you should stay away from using H-1 (the largest) tags. That's because you're only allowed one H-1 header per page and you'll generally use that for your page title.
From there, you use the H-Tags like a pyramid: a few H-2 tags, a few more H-3 ones, and so on and so forth. Search engines place emphasis on the words in the higher up H-Tags, and vice versa.
3. Optimize Your Images
Even if your blog post doesn't rank on the first page, your images can rank towards the top of image search results.
By including keywords in your image title and the image description, you can get an image to rank for a keyword — which leads to a click through to your blog post.
4. Include Social Share Buttons
Inherently, this isn't a direct SEO measure. But, two of the biggest factors to rank well quickly are page visits and linkbacks.
Integrating social media means your post gets shared more, which drives traffic to your post. Of course, better traffic will lead to better rankings.
To get you started, LeadPages user Adam Connell of BloggingWizard has a great list of social share plugins for WordPress right here.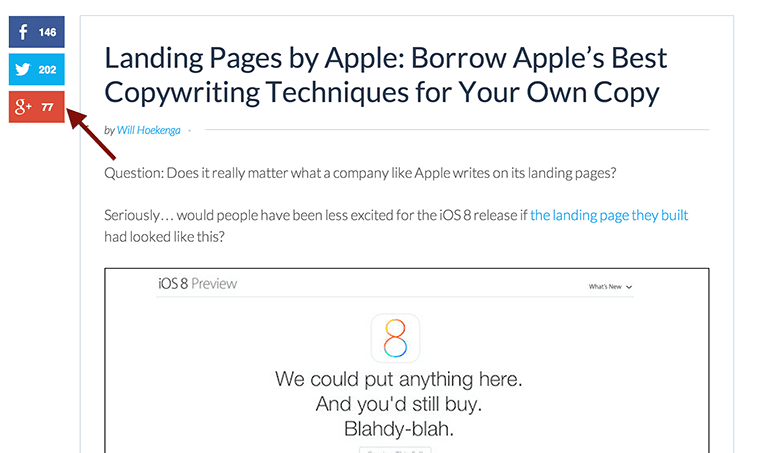 That leads us right into step #3…
Step #3: Tell The World Your Blog Post Exists
Yes, I know. It's a bit obvious to say that you should alert your audience when you publish a new blog post.
But in reality, it's possible to overlook the fact that you are, and always will be, the #1 advocate for any blog post you publish.
With that in mind, if you'd like to get the most sales and revenue from any blog post, you can start by finding creative ways to share it immediately. Here a few quick ideas that we use to maximize the traffic to our own LeadPages™ blog.
1. The Basics: Social + Email
Any time you create a new post, it should be integrated immediately into your Facebook, Twitter, G+ community, and LinkedIn posting schedule, at the very least (or whatever social platforms where your audience is most active).
Ideally, you should schedule it to appear multiple times during your peak posting times for the day. (At LeadPages™, we use both Buffer and Edgar to schedule posts.)
When you're just starting out, it's also a good idea to email your new list when you publish a new blog post. It drives immediate, interested traffic to your latest content. (The only exception is if you're publishing blog posts every day. Then I'd recommend only mailing on your most important blog posts.)
Once you develop a larger mailing list, you can start segmenting your email list based on your subscribers' preferences. That way, you can email your posts to people as often as they'd like to receive them.
2. Use Paid Media to Boost Blog Posts
Our Paid Media Manager, Andrew Scherr, can tell you just about anything about paid media.
When it comes to marketing a blog post, Andrew could probably give you dozens of ways to use paid media to drive potential customers to your blog posts. Here are just a few initial ideas to get you started…
Retarget Your Own Audience on Facebook: Once your blog post has been replicated as a Facebook post, the first thing you should do is create an ad campaign around it. Specifically, use Facebook retargeting pixels and custom audiences to narrow down your total audience. Also, depending on your business model, you may want to remove your current customers from the audience.
Create a Lookalike Audience on Facebook: You can also use Facebook custom audiences to create a lookalike audience of your blog readers. Lookalike audiences allow you to create a new audience with similar interests to any of your custom audiences. This one may take a little tweaking and fine-tuning, but it's a great new customer acquisition technique.
3. Alert Individuals, Partners, and Platforms
If you need additional leverage on a particular blog post, here are a few simple ways you can continue to promote an existing post (without any paid media costs).
Prominent Individuals: If you happen to mention a particular client, thought leader, or other prominent individual in your blog post, you can reach out to this person via email or Twitter to let them know about the mention.
Best case scenario: This person might leave you a comment or share your article. Worst case scenario: They may ignore you completely. Either way, you lose nothing by reaching out to them. (Our in-house copywriter Will Hoekenga wrote extensively about how to reach out to individuals like this in his article: How to Get Awesome Results from a Low Traffic Blog.)
Strategic Partners: Every once in a while, you can offer your strategic partners the opportunity to release a few of your blog posts to their audiences. You can even give your best partners exclusive rights to republish certain posts.
Content Platforms: If you're looking for new channels to promote your content, you can test out posting your best, most in-depth blog posts on platforms like GrowthHackers, Medium, or LinkedIn (on their publishing platform).
For more ideas on spreading the word about each of your blog posts, be sure to download the Business Blogging Checklist. Click here to download this free checklist.
Step #4: Recycle, Reuse, Repeat
Is your most valuable content already sitting on your blog — not really doing anything?
If so, then you have some incredible assets that you can turn into revenue-generating opportunities for your business.
There are many ways you can do that. Here are a just a few ideas…
1. Add Your Best Post to Your Follow-up Sequence
If you have an email list, it's always a good idea to create some sort of follow-up email sequence that welcomes new subscribers onto your list. This entire follow-up sequence can just be comprised of emails that link to past successful blog posts or videos.
As soon as you notice that a particular blog post is getting more shares, positive comments or traffic than usual, you can add this new blog post to your existing follow-up sequence.
Hint: If you notice a particular blog post is driving more sales than usual, you absolutely should include it in your follow-up sequence for new subscribers.
If you're new to the idea of a follow-up email sequence, I recommend checking out our video on how to create one.
2. Use Your Best Posts as Content Upgrades
If you already have stellar blog content on a specific topic, you can repurpose that content the next time you cover that particular topic on your blog. Specifically, you can use past blog posts as new content upgrades for new blog posts.
For example, let's say that you're a dentist, and you blog about the most unusual ways to keep your teeth and gums clean. Your most shared, popular post to date is called:
"The Six Best Toothbrushes to Buy this Year (including the One I Just Bought My Son)."
Now you're planning to write another post on the best toothpastes to buy for 2015. Since these posts are related, you could offer a PDF version of your old toothbrush post as a content upgrade for your new toothpaste post.
You can also turn past blog posts like this into infographics, checklists, PDF mindmaps, or other resources to give away as content upgrades with your latest blog posts.
3. Turn Your Best Posts into More Revenue-Generating Assets
Beyond content upgrades, you can also turn your best blog posts into potential new revenue opportunities for your business.
For example, you might take five or 10 of your most popular blog posts of all time and repackage these blog posts as:
A new ebook to sell or give away as a lead magnet / content upgrade
A new training course that you can sell or use to train your team.
A new webinar that you use to sell your products or services.
Really, the possibilities are endless here. Once you have these assets in place, you can leverage this content in any way that makes sense for your particular business model.
Already Using These Blog Tactics? Let Us Know.
Again, this is about leveraging every piece of blog content you create for business.
Before you go, I'd love to hear if you're already using these tactics to grow your email list and leverage your blog.
Specifically, are you using content upgrades with your blog posts? If so, tell us what content upgrades you're giving away in the comments below.