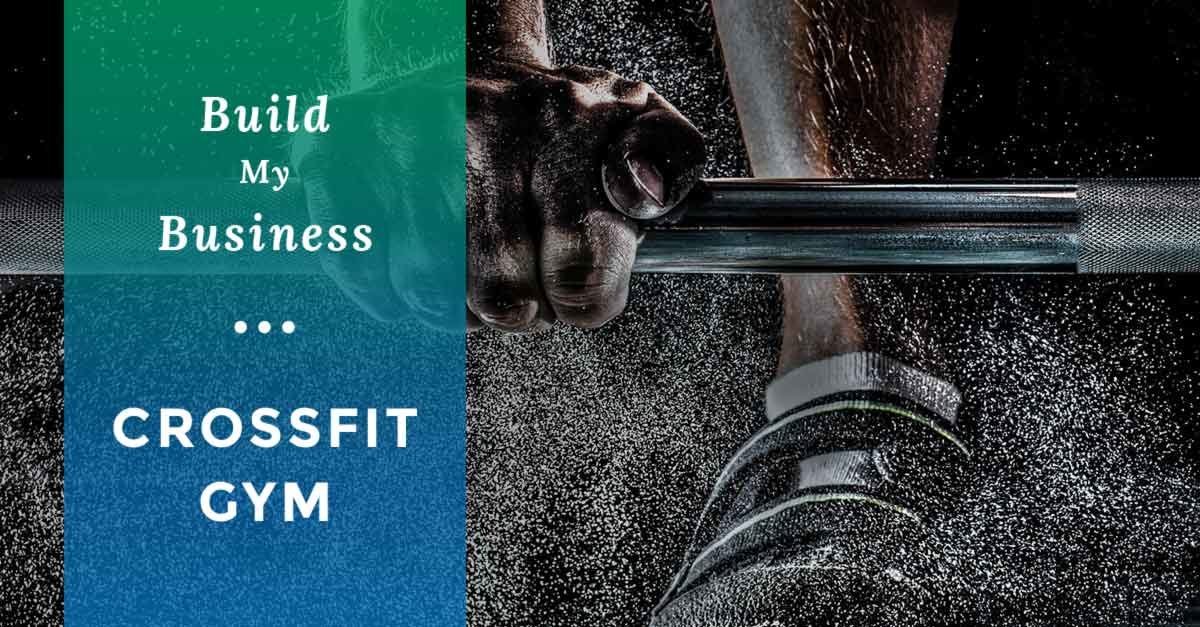 Editor's Note: Welcome to the latest installment of our Build My Business series, in which our in-house experts and insatiably curious marketers show you how they would use LeadPpages to launch a campaign for a very specific—though hypothetical—business purpose. This week, videographer Adam Ruhland expands on a thought he's often had while working out: what would it take to successfully start a new CrossFit studio?
I've been a member of multiple CrossFit gyms over the past four years, and as a marketer, I keep coming back to one thought every time I'm working out: what would it take to start a business like that from scratch?
You'd have no members; you might not even have an audience to market to. Opening a new fitness business is pretty expensive, given the amount of equipment you need to purchase. I did some research and discovered that a CrossFit gym typically requires $50,000–$150,000 to get off the ground.
To recover that investment, you'd need a powerful marketing strategy that gets people in the door quickly. That's what I set out to build with this campaign.
Every piece of this campaign is pretty simple on its own, but it gets complex as you put them together. That's why I've worked with our design team to create a full-color PDF campaign infographic you can follow on your own. Click below to download a free copy:

The Challenge: Attract long-term, high-value members to a new CrossFit gym
One thing working in my imaginary fitness studio's favor is the pricing model. Most CrossFit gyms offer only group training and can charge a premium for memberships—generally $100–$200 a month. High membership fees coupled with marketing that emphasizes that I'm offering a premium product will allow my gym to break even sooner with fewer members.
Because of the month-to-month pricing structure, it's ultimately going to be much less expensive for me to put my energy into retaining the customers I have rather than trying to get new ones every month. So from the beginning, I want to target prospective members with the highest possible lifetime value, not simply aim to get tons of people in the door who may change their mind after a month.
That means I'm comfortable with a higher cost per lead. I'm operating with the expectation that I can dramatically cut my marketing costs after I've filled up my initial client roster.
My plan to get long-term memberships has three important qualities:
Low barrier to entry (but not so low that the product loses value), so that I can increase membership rapidly in the first month
Targeted pricing to make long-term plans the most appealing option
The ability to build community (since people who work out with their friends are more likely to keep coming)
Here's how I'll do it:
Step 1: Create an irresistible opt-in offer
Key Tools: Leadpages® landing pages, LeadBoxes opt-in forms
Before I start trying to generate traffic to my web presence, I need to make sure that I've created an optimal offer to get new clients into the gym.
Lots of fitness studios offer a free trial class, but I decided to go one step further and offer a free three-class package. Why? Because I want potential customers to start developing a relationship with my business. One class is an experiment that may or may not stick; three classes is a pattern that customers are likelier to want to maintain.
Because I'm offering such an extraordinary value, I also hope that this strategy will fill my classes quickly, so that trial customers perceive my business as an active, desirable community. To enhance this effect, I could stipulate that all three classes have to be used within a certain timeframe.
Here's the landing page I created for this offer using Leadpages: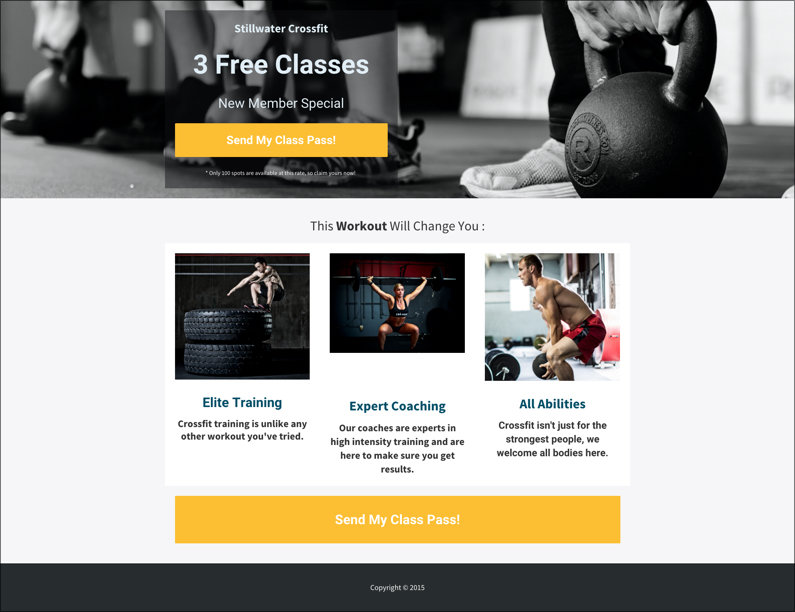 When visitors click the button, they'll be prompted to submit their email address, at which point the Leadpages lead magnet delivery system will send them their three-class pass. At the same time, their information will automatically be added to my GetResponse email list (more on that later).
Step 2: Get leads from the landing page into the gym
Key Tool: GetResponse email marketing service
I know people are busy, so I'll assume that my new leads might appreciate a nudge to come to redeem their class passes after they've opted in. Using GetResponse, I'll design a series of timed, automated emails to go out to new leads, reminding them to come in and giving them additional information to help spur them to action. The content of these "nurture" sequence emails will be as follows:
1. What exactly is CrossFit?
2. Learn about our gym.
3. Learn about our coaches.

4. See how we differ from our competitors.
Once leads arrive to redeem their first free class, I can have them check-in by entering their email address into a simple, preloaded landing page at the front desk. Behind the scenes, I'll link the check-in form to a new list in GetResponse that automatically removes them from the "nurture" email sequence to the "join" sequence.
Each of these emails in this new sequence will use a different angle to explain why, now, that they've sampled my classes, leads should become long-term members. This three-email sequence will have the following content:
1. What you get with your membership

2. How our prices compare to others (that is, equal or less, considering what you get)
3. Why six-month and annual plans are better for everyone
Each of these emails will contain a prominent call to action linking to my LeadPages pricing page.
While of course, I'd be thrilled for people to choose the annual option, I'll really be happy with anything longer than a month. To draw focus away from the monthly option and make the semi-annual option seem like a far better deal, I'll use LeadPages' Tiered Pricing Page template. It also lets visitors compare different package elements at a glance: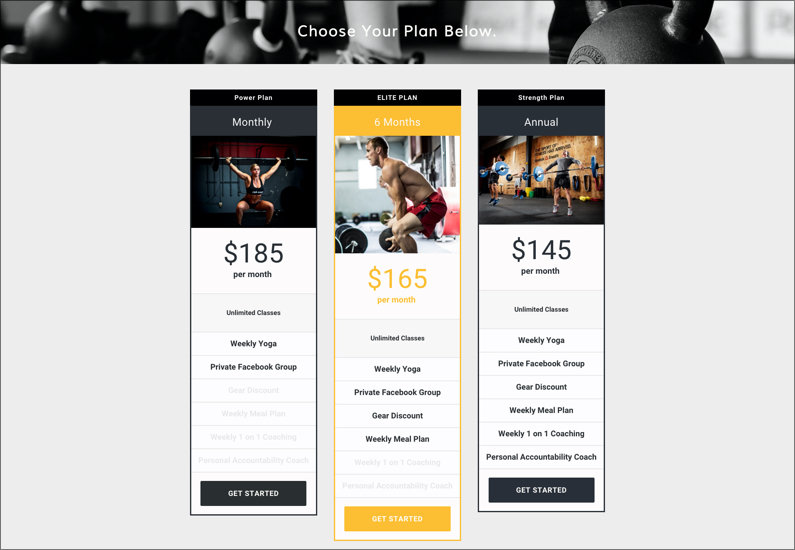 Once they click to purchase, my marketing work is almost done. I can send them through to my payment page and add them to my membership roster. (I'll also make sure to update their status in GetResponse to remove them from the "join" sequence if they're still in the middle of it.)
With my core landing pages and email sequences planned out, now I can start going after visitors.
Step 3: Turn on the Traffic
Key Tools: Google AdWords, Facebook Ads, Follow Liker Instagram Edition, PostcardMania direct mail, Opt-in texts
The first thing I need to do is figure out exactly who I want to get into my gym. I'll use different advertising techniques to reach different segments of my ideal audience, which includes:
Men and women ages 18–55 with a household income of at least $40,000 (given the price of my membership packages)
Former high school and college athletes
People within my gym's zip code
Here are the platforms I'll use to get them onto my email list and through my door:
Google AdWords
Google AdWords is a higher-priced paid advertising option, but it's excellent for reaching local customers searching for a business like mine. For $480, I can expect to get around 250–400 clicks from an ad like this one to my offer page.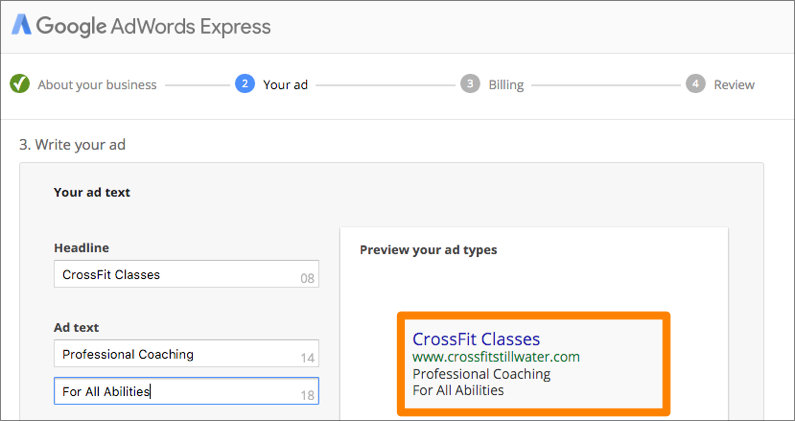 Since these people are already actively searching for information about CrossFit or local gyms, I think I can get a substantial percentage of them to take advantage of my offer.
Facebook Ads
During the first month, I'll also plan to devote $15 a day to Facebook ads, from which I can expect to get 15–20 clicks each day. Facebook ads are useful because I can limit my audience using some of my finer-grained targeting criteria above, such as age, income, and athletics history.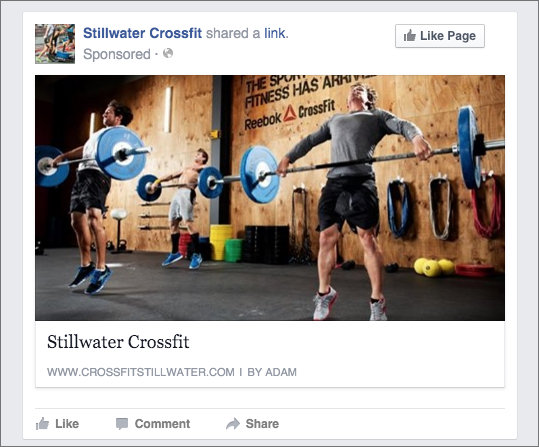 Instagram
To build an Instagram following quickly without spending a lot of time on it, I'll invest in a tool called Follow Liker (currently $57.99). This tool will automatically like or follow Instagram photos or accounts based on hashtags and user data, ideally prompting some of them to check out my feed and follow me back.
That means I can have my account like and follow everyone who follows other CrossFit gyms in my area, has an interest in the paleo diet (popular with CrossFitters), follows certain athletes, or has tagged themselves in nearby locations.
On my Instagram feed, I'll post pictures often as the gym grows, and only occasionally promote deals to get people to come in. People are sensitive to promotional feeds on Instagram, so it's important not to "pitch" followers too often.
Direct Mail
This is an old-school technique, and it's not cheap: to send 5,000 postcards to people in my gym's immediate vicinity, it'll cost me $1,525 through PostcardMania.com. However, I think it'll work in this case. Direct-mail competition is a lot lower than it used to be, given the increase in online advertising, and can still be quite effective for local businesses like mine.
Direct mail is typically hard to track, but I'll add something extra to give me a sense of how well I'm connecting with recipients. In addition to announcing that my gym is open, I'll include a LeadDigit that people can text to opt into my "special offers" email list. The number of people who take advantage will help me assess whether direct mail is really a good technique for me.
Step 4: Build a community through referrals
There's one page I left out of my landing page sequence above: my custom thank-you page. After new leads opt-in, they'll see this: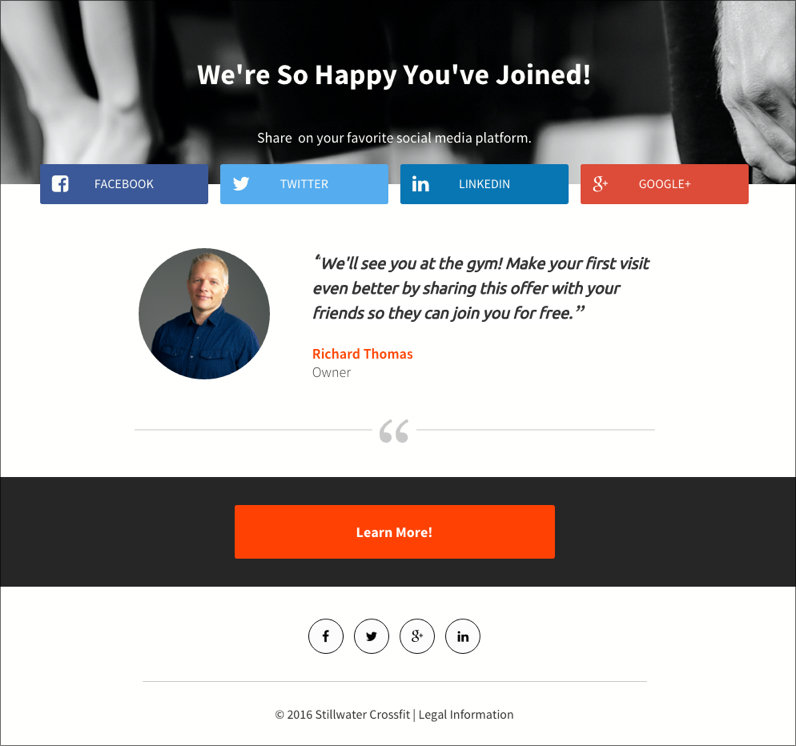 It's almost always more fun to try a new activity with a friend, so leads will be naturally motivated to tell their friends about the great deal they've just picked up. Social sharing buttons right on the page help them spread the word and put together a CrossFit posse.
I'll also encourage new clients to refer to others after they've become official members. I'll add all new members to a two-email "referral" sequence in GetResponse. The emails will cover:
1. What you get when you refer a friend
2. How referrals build community
Both emails will contain a special LeadDigit they can share with friends. When those friends opt-in, they'll be added to a list that's similar to my "special offers" list, but with an extra message asking them to name the person who referred them. If they become a paying member, that person will get a month of free classes.
Step 5: Stay in touch with slower decision-makers
Key Tool: Email Trigger Links
If someone reaches the end of my "join" email sequence without becoming a paying member, it might be time to let them go—or it may just not be the right time for them to join yet. Rather than making one assumption or the other, I'll let those leads tell me the answer by adding one final email to the "join" sequence.
This email will give them the option to stay on my email list to get occasional special offers, once or twice a month at most. Since most people are unlikely to update their email subscription preferences, I'll include an email trigger link they can click to join this list without leaving their inbox.
Then, after giving them a chance to respond, I'll periodically remove non-customers who haven't joined the "special offers" list from my contacts, cutting down on email marketing fees.
The future
One month in, I'll ideally have signed up at least 20 new semiannual members and have a critical mass of enthusiastic customers to generate great word of mouth.
That means I can scale way back on my advertising spend. If things go as planned, I may even be able to drop my paid advertising program entirely and rely solely on social media and referrals to get new customers as needed.
Want to get a handle on how this campaign could work for your own business? Download the PDF campaign infographic that shows exactly how all these pieces fit together.

This campaign blends some very traditional marketing techniques with newer digital tactics. Are there any "old-fashioned" marketing strategies that still work well for your business? Tell us in the comments.