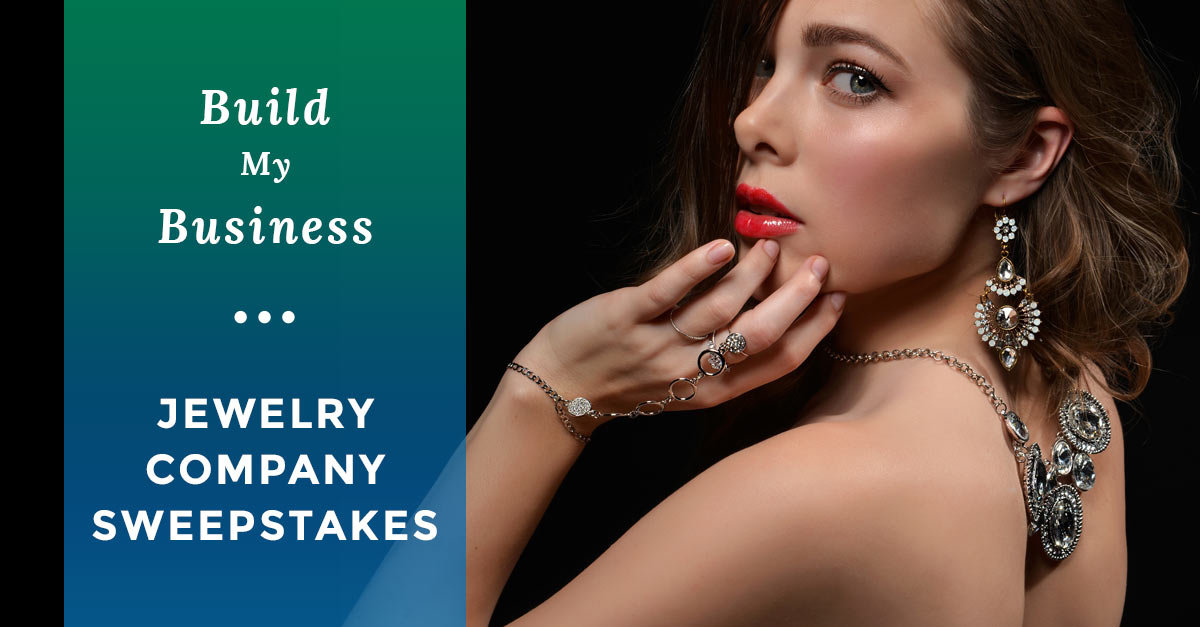 Editor's Note: This week, account manager of affiliates Jennifer Wagner dips into her beauty-industry experience to lay out a sweepstakes campaign designed to sweep leads off their feet.
Before joining Leadpages, I worked in e-commerce—in the beauty and fashion industry, specifically. One of the most effective strategies we found was to partner with a complementary brand on a sweepstakes, giving away an enticing prize package of our respective products.
This was an extremely cost-effective way to market, since we only had to give free products to the winners. More importantly, it generated thousands of leads for the business.
By partnering with the right brand, you can target prospective customers who are a natural part of your audience, but not quite part of it yet. This kind of campaign can work for almost any industry, but in this post, I'm going to stick to a very familiar business type for me: an online jewelry shop.
Step 1: Find the right partner brand
First, I'll start creating a list of potential brands to partner with. To decide which ones to reach out to, I'll look at the following factors:
Product portfolio: Does the brand have any products that compete with mine? If so, they're probably not a good fit.
Customer base: On the other hand, I'll need to make sure that the brand's audience is close enough to mine to have some overlap.
Getting a sense of the demographics they serve will be a good start.
Website quality: Do they have a nice website with good user experience? I want to make sure I'm directing my own audience to a quality site.
Customer service: Along the same lines, do they have high standards for customer service? If there are a lot of complaints about the brand's customer service, it might be best to keep looking.
Social media and email following: The purpose of holding this kind of promotion is to reach a lot of new leads, so I'll also need to look into the number of social media followers and email subscribers they have.
Once I've chosen a brand to work with, I'll send them a proposal with details on the background of my business, any impressive stats I can share (such as my audience size, growth metrics, etc.), my media kit, and details on the prize package I'd like to offer.
In short, I'll make the strongest case I can for why our businesses are a natural fit. But I also realize that not every business will be in the right place to run a promotion like this, so I'll also select a couple of backup brands in case my top choice doesn't work out.
For this campaign, let's say I've found an emerging beauty brand to partner with and decided on a $500 prize pack (with $250 contributed by each brand). The contest will run for one week, and my company will "host"—meaning l'll set up the landing page and handle the contest logistics.
Offering to take on work like this can help a smaller company add real value to a partnership with a larger brand. And with the tools I'll be using, I won't actually have to spend a lot of time or money to pull it off.
Step 2: Build a lovely landing page sequence
Key Tools:Leadpages landing pages, pop-ups, Squarespace e-commerce platform, Snappa graphic design software
Because this sweepstakes is sponsored by two companies, it probably shouldn't be hosted on a core page of my main website. LeadPages® is perfect for launching one-off campaigns like this. Using the new drag-and-drop landing page builder, I created this simple contest opt-in page: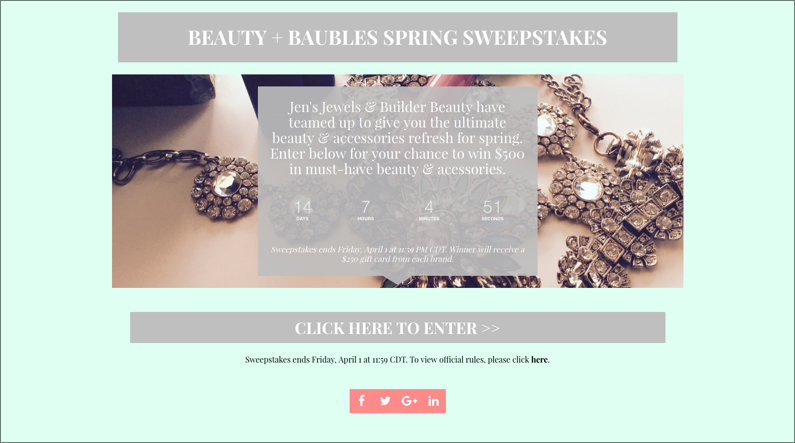 This is a neutral space where I can show off both my and my partner brand's products while including the following key elements of an effective sweepstakes landing page:
Memorable sweepstakes name
Prize package details
Countdown timer and sweepstakes end date
Clear, unmissable call for people to enter
Link to the official rules in line with sweepstakes regulations for where you live (check out this article for a rundown on why this is important)
Although this landing page isn't part of my main site, I'll still make sure it can be easily found from my core Squarespace site by linking it from my online store's homepage; I might also consider creating a temporary link to the landing page in my navigation bar. (In fact, I could even consider exporting the landing page HTML into a blank Squarespace page, with my site-wide navigation bar appearing at the top—making it easier for new visitors to go exploring.)
How will people actually be able to enter the sweepstakes? For that, I'll use a lead manget. When visitors click the call-to-action button, they'll see this simple pop-up: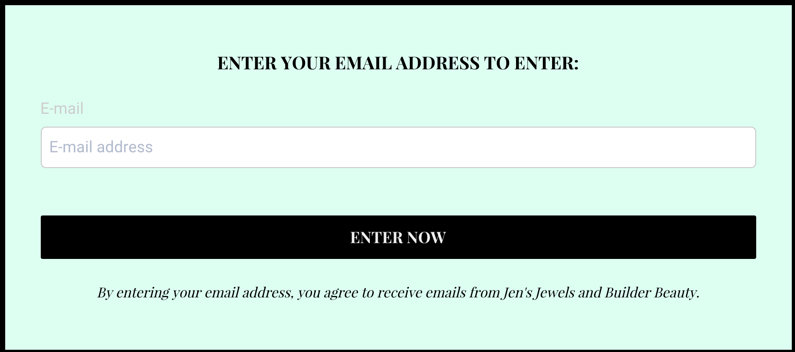 Entering their email address will automatically enter them in the contest by adding them to a special list in my email service account. I can also share these leads with my partner brand, having notified entrants that they can expect to receive occasional emails from us.
Once people have entered, it's not quite over. Submitting the lead magnet will take them to this custom thank you page: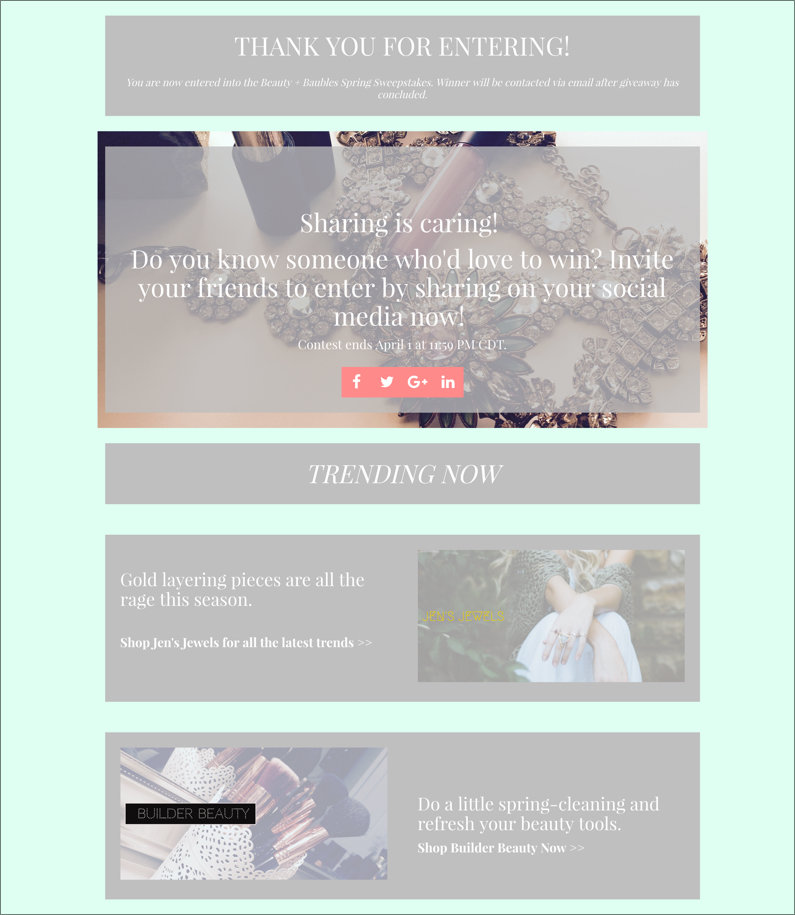 This page has several functions, including:
Thanking people for entering, so they know they successfully opted in
Stating the end date and when the winner will be contacted
Encouraging people to share the sweepstakes with their friends via social media buttons (helping me get more new leads without any extra work)
Encouraging people explore what my partner and I have to offer, via a "magazine"-style layout that frames our products as spring trends
To create this page, I again used the new Leadpages drag-and-drop builder. To give the visuals some polish (despite not being a graphic designer), I used the easy design tool Snappa to create images with text overlays for my brand and my partner.
Now that this sequence is in place, I'll contact my partner brand and coordinate our promotional efforts.
Step 3: Promote the sweepstakes
Key Tools:Facebook, Instagram, Twitter
One of the main advantages of partnering with a larger brand on a promotion is that you can drastically cut your cost per lead. In fact, for this campaign I won't plan to spend any money on advertising.
Instead, I'll rely heavily on the social media and email reach of my partner's existing audience (while also sending the sweepstakes page link to my own audience to benefit them and my partner brand).
First, each of us will send out a newsletter to announce the contest, linking to the landing page for the giveaway.
The giveaway will run for one week—an ideal duration for promotions like this, in my experience—and each brand will send one email the first day and one day before the end date.
Additionally, each of us will promote the sweepstakes social media throughout the week to capture people who aren't on our email lists. Facebook, Instagram, and Twitter will all be ideal for this. We'll plan to support the sweepstakes theme with images of our products in use—which, combined with the high-value prize package, should make our posts extra shareable.
Step 4: Choose a winner, then keep in touch
Key Tools:MailChimp email marketing, Random Picker drawing manager
Once the contest deadline hits, it's time to choose a winner randomly. To ensure the drawing is truly random, I can use an online tool like Random Picker. For a low one-time fee I can simply export my special contest-entrant email list from my email service, MailChimp, as a spreadsheet, upload it to Random Picker, and have the software choose a certified-fair contest winner.
At the same time, I'll share that spreadsheet of leads with my partner brand as promised. And then I'll start my own email follow-up campaign. I can keep things fairly simple by adding them to my standard "welcome to my list" email sequence, but first I'll send everyone (minus the winner) a special "consolation prize" email.
The basic message can be straightforward: "Although you didn't win the sweepstakes, we still have a gift for you. Use this code for 15% off your next purchase with us!" Since these new leads will be watching their inboxes for news of the sweepstakes outcome, they'll be likely to open this email—and since they were interested enough in my products to enter, they'll be likely to take advantage of the coupon code, too.
If all goes well, the end of this campaign could be the start of an even stronger collaboration with my brand partner. We could even consider creating a permanent joint product offering, again drawing on the power of their cachet and my proven promotional savvy.
What kind of contest or sweepstakes would be most effective for your own business to run?
Share your ideas in the comments.