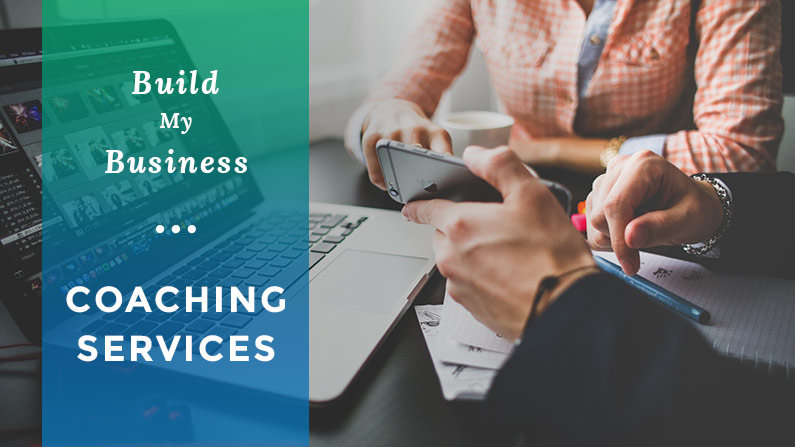 Editor's Note: This week, Bob "The Teacher" Sparkins looks back to his coaching days to design a campaign that can sell high-value coaching packages on a low marketing budget.
I love the impact that coaches have on the lives of their clients. Having been a business coach for over 10 years, and being the husband of an executive life coach, I've seen how a few key conversations can shift the happiness of a personal coaching client, or the profitability of a business client.
I've also seen the other side of coaching: the side where coaches with transformational skills simply can't get enough clients to stay in business. Or where coaches have been trained to accept clients for prices that are way too low, and where they struggle to create a thriving business.
These coaches need a reliable marketing funnel—one that really makes good on the promises of digital marketing and actually generates the revenue to keep them excited about helping clients.
That's why I built this campaign, which I encourage you to borrow for your own service-based business. To help you do that, I also put together a coaching marketing resources pack, which you can download free below. It includes:
Three landing page templates used in this post: the Coupon Page, the Facebook Advertising Page, and the Tiered Pricing Page
10 royalty-free, professional stock photos selected to add extra appeal to coaches' landing pages and websites (each available in four different sizes, so you really get 40 image files)
A marketing stack guide sheet containing all the tools I use in this campaign, plus a few of my other favorite tools for coaches
Let's get ready to close clients.
The Goal: connect, consult, close
I call this the Connect-Consult-Close Campaign. It's designed for the individual coach or consultant who loves working one-on-one with motivated clients, but who is struggling to fill their coaching calendar.
It's also simple enough for anyone to set up—in fact, you can put the majority of what I cover here into action in the next 24 hours. (I'll also outline some next steps you can take, which require about a week to execute.)
This campaign's initial goals: to generate 20 consultations and 5 full-paying clients within a single month, on a marketing budget of under $500. It's a repeatable marketing plan that can be turned on or off as the your bandwidth allows. My assumption: you want, and can handle, 20-25 monthly clients.
And although I'm a coach and I'm married to one, I'll use a hypothetical coaching business to share what I'd do if I was starting fresh in digital marketing.
So, meet Nicole Bainbridge of Beneath the Bark Coaching. Nicole likes to help leaders and entrepreneurs dig under their tough exteriors to become stronger through vulnerability, personal responsibility, and a keener sense of self-awareness. She's not a huge tech fan; she prefers to spend her time networking in person, and she's developed a strong network of colleagues that are happy to send her referrals. Through her guidance, Nicole's clients become better communicators, colleagues, and bosses.
Here's how I'd advise her to get more of those clients.
Step 1: build landing pages to get appointments
Key Tools: Leadpages landing pages, TimeTrade appointment scheduling
First, I'd set up a marketing flow where Nicole can offer a 30-minute free coaching session to anyone she deems a qualified potential client, using Leadpages to quickly build a series of three simple landing pages. Here's the first one, made with the Coupon Page template:
I want Nicole to give an air of familiarity to this page, as if she has already had a quick conversation with the prospect in person. Since Nicole wants to show off her personality a bit, as well as the intimate, but informal nature of the conversation, she uses an image of a pair of women in the corner of a cafe.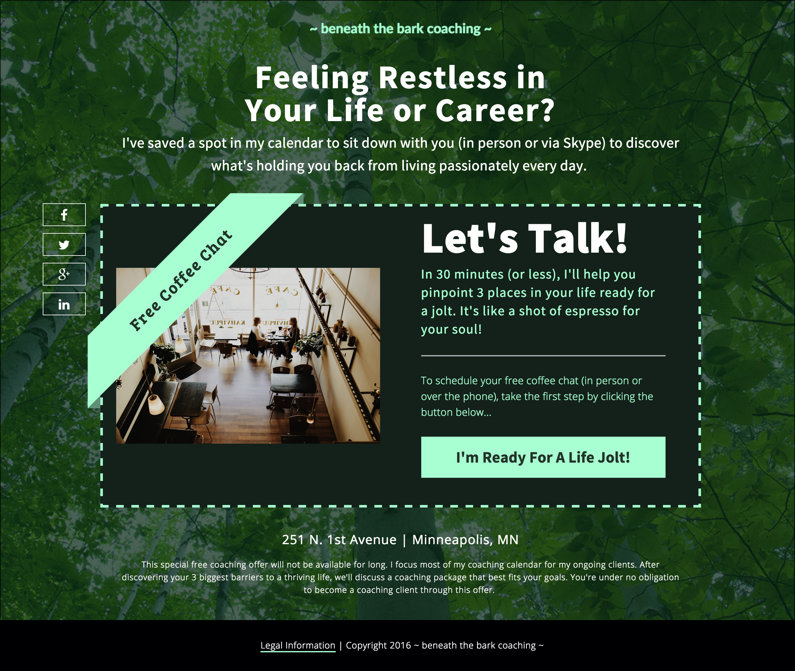 When visitors opt in, I'll use a pop-up to collect some basic information, including name, email, and—injecting a bit of personality—a single word that describes the prospect's life. Nicole will be able to use this word to quickly gauge her prospect's level of "stuckness."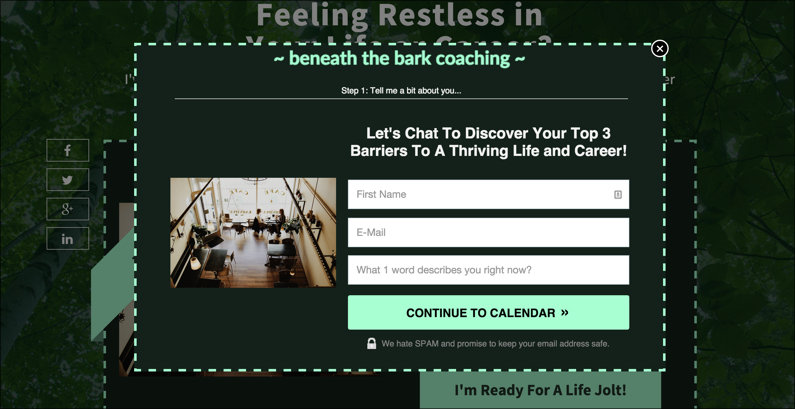 Once someone opts in, three things happen:
1. Nicole gets an alert with the lead's information in her inbox via LeadPages' Lead Notifications feature so she can reach out promptly.
2. The lead's information is added to Nicole's AWeber email list so she can follow up with them later.
3. Nicole uses LeadPages' automated Lead Magnet Delivery feature to send out a "Before We Chat" worksheet that prospective clients should answer before they meet, including questions like:
What do I feel is missing from my life right now?
Why don't I have it (honestly)?
What would life be like if I DID have it, and it was easy to get?
This bit of homework for the potential client will frame the conversation before it starts, and show Nicole how serious the prospect is when they show up to the call with the homework completed.
In addition to delivering this PDF, the Lead Magnet email will contain a link to the next landing page: the Coffee Chat scheduling page.
In Leadpages, I'll use the new Drag-and-Drop Builder to customize the Facebook Advertising Page template. I modified and pared down this template extensively (as you can see here), but I can always re-add the sections I removed when I have testimonials to share.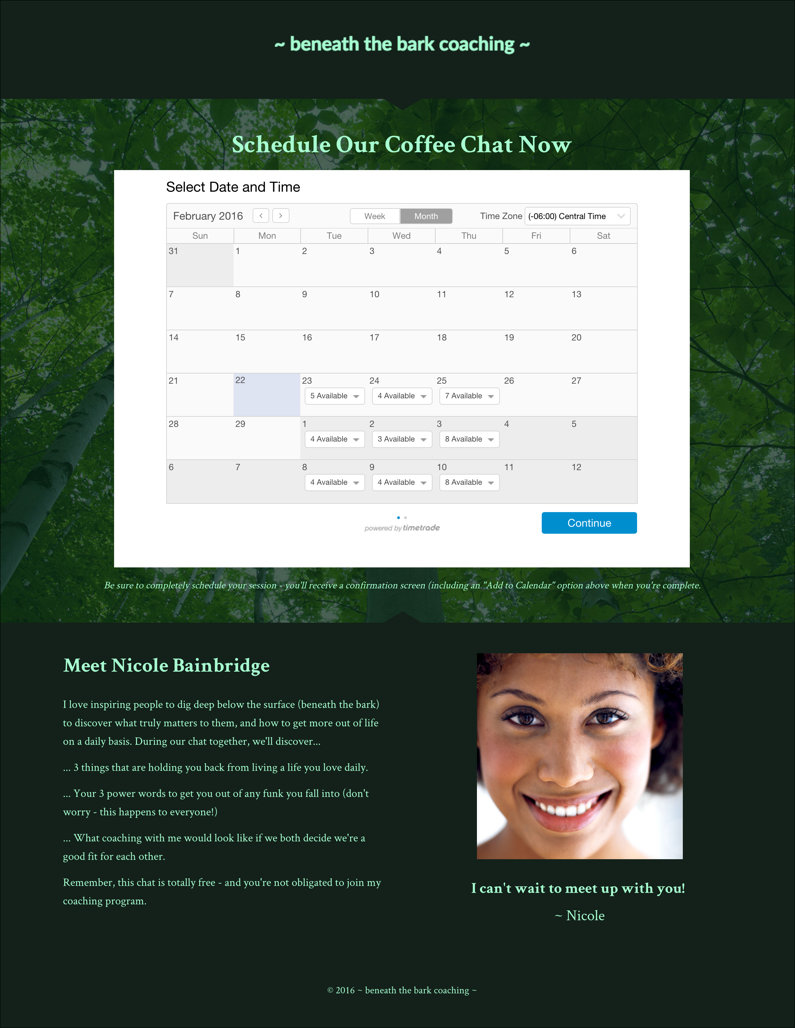 The centerpiece of this page is the embedded appointment calendar from TimeTrade, an online scheduling system. I simply copied the calendar code TimeTrade provides into an iframe field in the template.
One of the biggest problems coaches face is streamlining their communication and calendar appointments. Instead of going back and forth via email to find a mutually agreeable time, Nicole can pre-load her available times and avoid double-bookings or schedule conflicts.
The prospect will see available appointments up to 3 weeks out. The shorter the timeframe between initial invitation and the consultation, the better your results are likely to be.
The third page is the coaching package sign-up page. I'll use the Tiered Pricing template since Nicole wants to give her prospects two clear choices: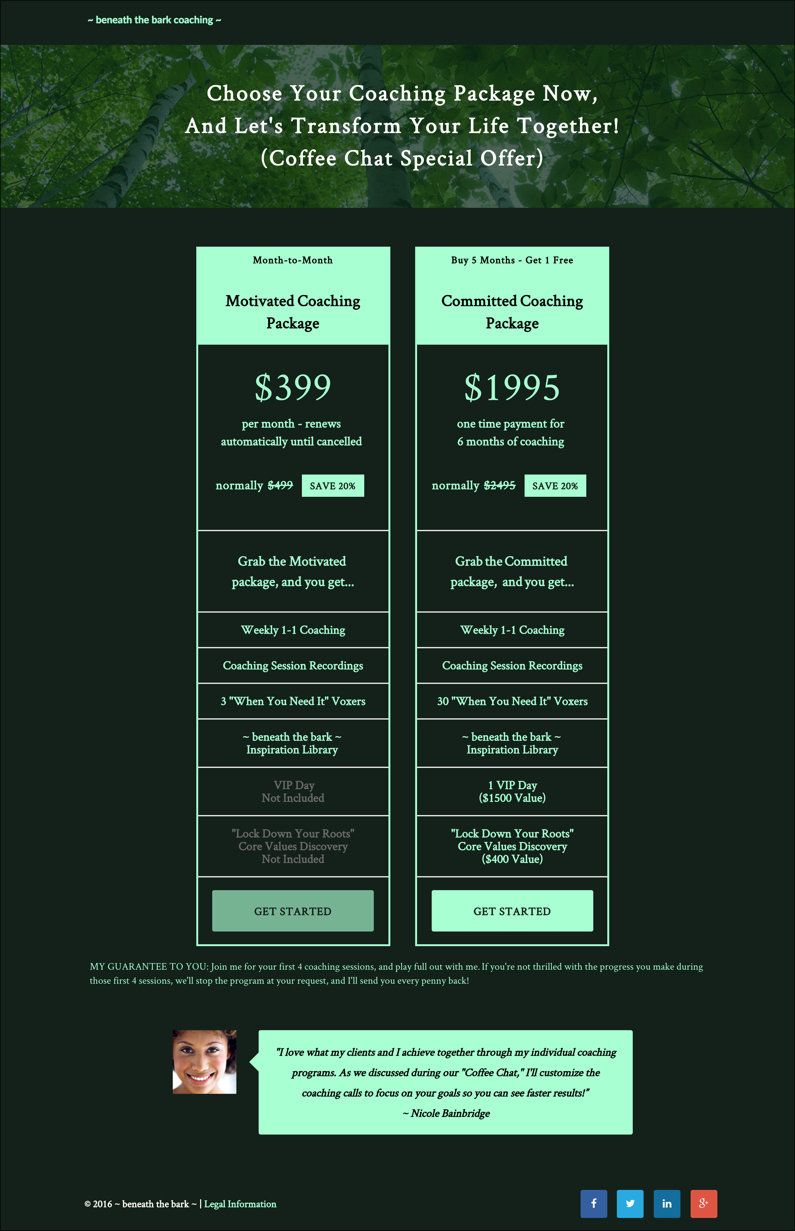 This page will be viewed by the prospect while they are on the call with Nicole. Once Nicole determines they are a good fit for a client-coach relationship, she'll give the prospect the link to this page for a "Coffee Chat Special Offer."
She'll go over the Motivated and Committed Packages, and ask her client which is their preferred option. The new client can choose to pay online via this sales page, or Nicole can take credit card information over the phone.
Step 2: turn on the traffic
Key Tools: Opt-in texts, Facebook, Twitter, Instagram, Pinterest, Pixlr image editing software
Now it's time to start showing this campaign off to potential clients.
Initially, Nicole will use three classic methods of driving traffic to this campaign:
People who refer others to her
Nicole frequently attends meetups and other networking events in her community. When she does, she's able to have casual initial conversations with people in her target market. For those who ping her potential-client radar, she offers her free coaching session in two ways: by providing a direct link to her coaching-offer landing page, and by giving out a LeadDigit (COFFEECHAT to 33444) for them to text right there on the spot.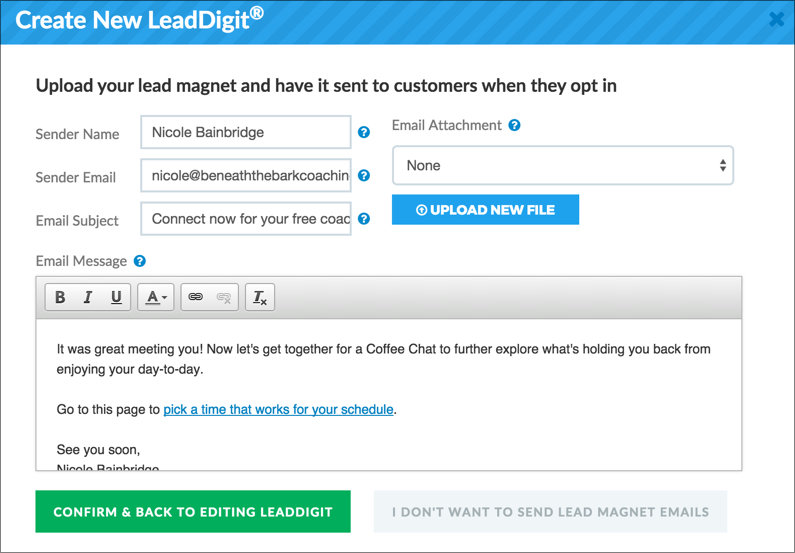 Nicole also reaches out to her network of friends and colleagues, and invites them to use the above LeadDigit and landing page when they refer others to her. Whenever she receives a referral from someone, she sends them a $5 gift card to Caribou or Starbucks—even if the referral doesn't sign on as a client.
Nicole also gets traffic via social media. She makes sure that her social media profiles have a link to her Coffee Chat invitation page. Since she frequently shares inspirational messages, life hacks, and other uplifting posts, she's able to attract the attention of people wanting more of that in their lives. She concentrates most of her energy on Facebook since her target market spends the most time there, but she also includes an excellent bio in her Twitter, Instagram, and Pinterest accounts.
To jumpstart the campaign, Nicole will post an invitation to connect for a Coffee Chat to her Facebook wall. To create this post, she'll use a stock image from the Leadpages Image Gallery, and use the free image editing software Pixlr to add some text to grab attention.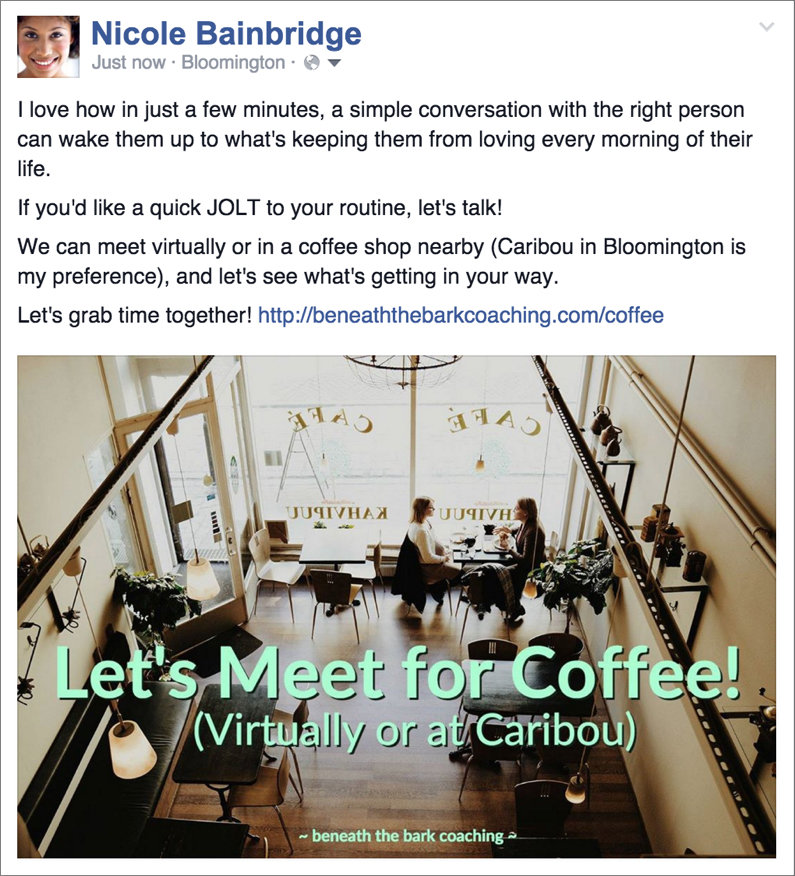 After this phase of her campaign is done, Nicole can add paid advertising with Facebook. She'll take advantage of the testing she's doing in Phase One to make sure her campaign is ready for scalable traffic.
Step 3: use email automation to drive sales more efficiently
Key Tools: AWeber email marketing, PayPal payments
I mentioned before that Nicole sends all her Coffee Chat leads to a special AWeber list. She'll also maintain two coaching client lists: a "Motivated Client" list and a "Committed Client" list, one for each of her coaching packages.
When a new client signs up for a coaching package through PayPal (the payment provider Nicole uses on her sales page), PayPal connects to Aweber to add the new client to either the Motivated Client or Committed Client list, and removes them from the Coffee Chat list so her clients no longer receive invitations to become a customer.
This add/remove automation feature is one of the main reasons I'd recommend AWeber here. Not all email service providers allow lists to "talk to each other" like this.
Once someone's been on the Coffee Chat list for 30 days, Nicole sends an automated email to check in and give them a second-chance offer to become a client, nudging those who expressed interest to follow through.
To her client lists, she'll send out automated emails that include client onboarding materials, reminders of what they signed up for, and instructions for setting up their first official coaching session. This communication boosts new clients' confidence in their purchase, which reduces the likelihood of buyer's remorse and refunds.
She'll also include a follow-up message after the first 45 days asking for a "What's Awesome Now?" update from her clients. She'll use this email to assess her clients' progress, ask for referrals, and potentially gather testimonials for the next marketing materials she creates.
Step 4 and beyond: improve and optimize
Within this first phase of the Connect-Consult-Close Campaign, Nicole has a target of 20 consultations and 5 new clients (a 25% closing rate) within 30 days. Over time, I think she could reach a 33% closing rate or higher. At that point, I'd encourage her to raise her prices for new clients.
What's next from there?
With this level of success, Nicole will have the luxury of being choosier about her consultations. She could use virtual events (teleseminars or webinars) to build up her list online and pre-qualify potential clients before they see the Coffee Chat invitation. She could also profitably start running Facebook ads to her landing pages.
With enough success, she could even also hire a virtual assistant to handle things like lead generation and customer care—freeing her up to spend more time changing clients' lives one on one.
Have you tried any of these strategies in your coaching or consulting practice? Would you like to see me lay out the second phase of this campaign in a future post? Tell me in the comments!