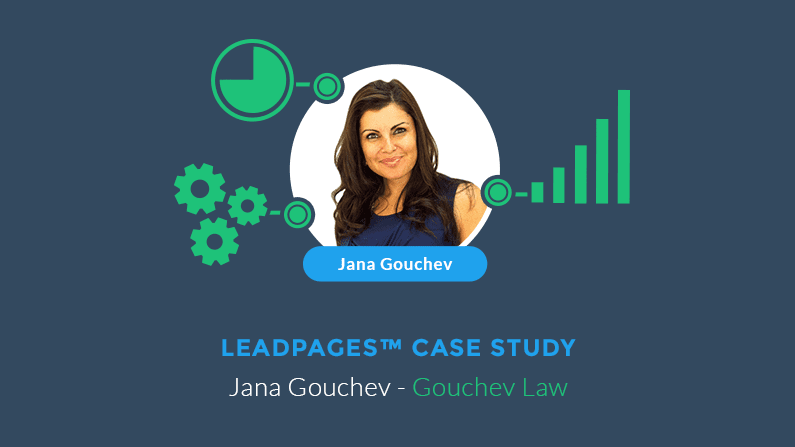 Business lawyer Jana Gouchev was frustrated.
She had this great ebook she was using as a lead magnet to get people to opt into her newsletter, but she just wasn't getting the conversions she wanted to see from her lead generation program.
Jana is the owner of Gouchev Law, a business law firm in New York City that specializes in helping entrepreneurs and small businesses go from startup ideation all the way through to IPO and even exit strategy. Her law firm is based on the idea of forming a close working relationship with clients instead of concentrating on the number of billable hours.
Like all lawyers, Jana is looking to build her client list. Her ebook, entitled The Top 10 Legal Mistakes Business Owners Should Avoid, is designed to both attract and educate her target audience. But try as she might, Jana was not getting site visitors to opt-in for this ebook.
The switch
Jana knew it was time to make a change, so she decided to give Leadpages a try. Jana had heard about Leadpages from several of the entrepreneurs she worked with and followed.
The first thing Jana noticed was how easy it is to create a landing page.
"I love the ease of it. First of all, I love the design and that there are so many options and you can customize it in just a few minutes, then it's done. I'm someone who is really busy, so that's really important to me." – Jana Gouchev
She also likes the fact that you can sort by conversion rate and all of the designs are clean, without being overloaded with information. "It's just enough for what I need," says Jana.
Once Jana started using Leadpages, she saw a 30% increase in opt-ins over her old system. She was thrilled.
Jana's Funnel
Jana has two goals for her campaign. First, she wants site visitors to opt-in to get her ebook. From there, their email addresses are added to her newsletter list in MailChimp. Second, she wants potential clients to sign up for a 15 minute consultation to determine if her law firm is a good fit for their small business.
Jana uses a timed pop-up on her site to prompt site visitors to opt in for her ebook. She also has an image of the ebook on her home page, which is linked to a landing page promoting the ebook. Jana chose the eBook Landing Page from Pat Flynn as her template.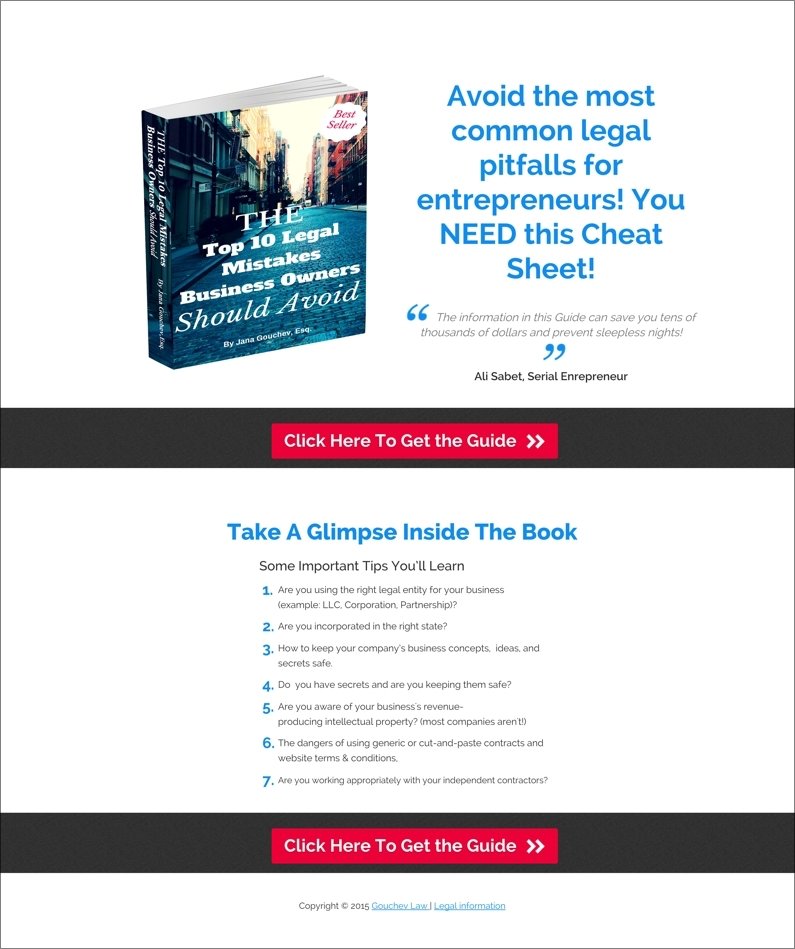 Once a site visitor opts-in, they are taken to her thank you page, which prompts them to schedule a consultation. Jana uses the Thanks For Signing Up template and linked the button to her appointment scheduling software, YouCanBookMe.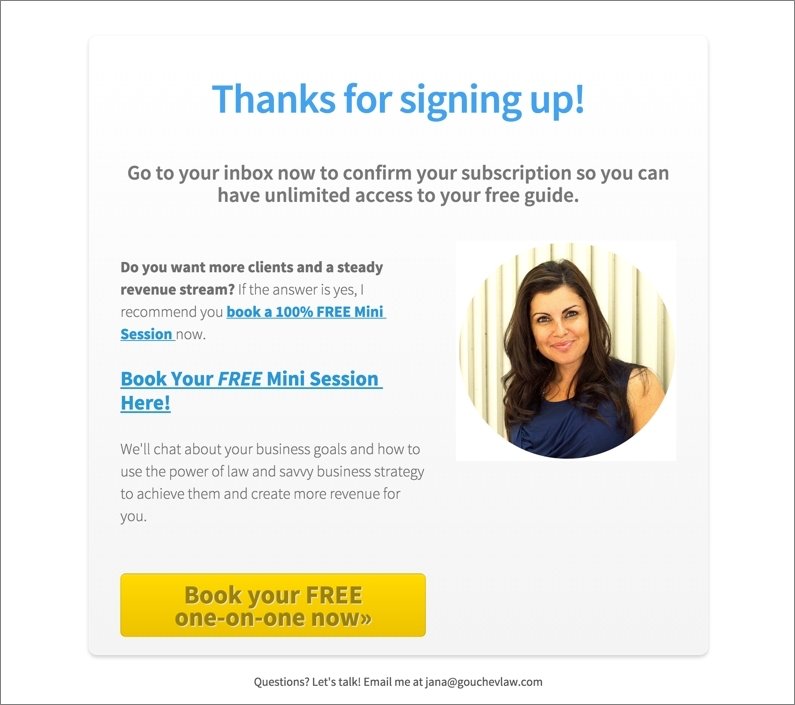 Jana also ran a very small Facebook campaign to schedule more consultations. She used Facebook ads to drive traffic to a landing page she made with the Adwords/PPC Page template, which she also linked to her appointment scheduling software.

The Results
Before Leadpages, Jana had a conversion rate of 12%. With Leadpages, her conversion rate has jumped to 42%. (That's a 250% increase.)
For Jana, that increase means a lot, as she can nurture each client through the lifetime of their business.
Jana is very happy with her results. She says she would recommend Leadpages to anyone running an online business.
"I did a lot of research on tools to build your email list and LeadPages® is the one that works best. And it's not just me saying this, all of the "go-to" entrepreneurs that I know, the ones making millions of dollars, are using Leadpages."

– Jana Gouchev
Jana's next goal for her law firm is to expand her clientele to include medium-size businesses. She intends to use Leadpages to continue to grow her email list and she's looking forward to exploring the many lead generation tools her Leadpages membership gives her.
She's also going to launch another Facebook advertising campaign and is using the information in Leadpages 11-part course, the Facebook Advertising System, to make sure it's a success.