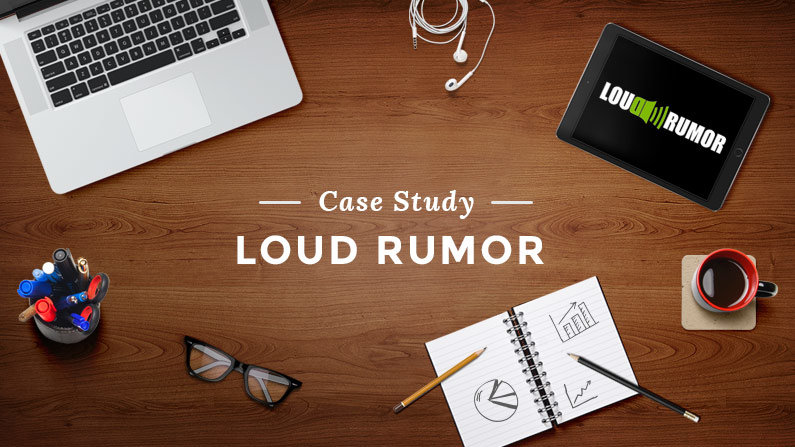 "We don't just want to drive leads for our clients, we want to create customers for them."
It's this kind of thinking that has propelled the success of Loud Rumor, a digital marketing agency based in Scottsdale, Arizona.
Mike and Marjon Arce founded Loud Rumor as a web design company in 2009 before transforming it into a full-service digital marketing agency in late 2012. Their specialty: getting web traffic—and, ultimately, foot traffic—to small local businesses.
Their client roster includes plenty of doctors, dentists, and other services-focused businesses, and more recently they've begun to concentrate on one niche in particular: boutique fitness studios that specialize in disciplines such as boxing, kickboxing, Zumba, barre fitness, and CrossFit.
It's often difficult to break into a new market, but Loud Rumor has been able to serve this industry remarkably well from the start by helping clients do something that's not always easy for fitness businesses. That is, consistently generate leads online.
When Loud Rumor's Director of Marketing, Sarah Louise, reached out to us to share the lead-gen results they were getting for one of these clients, I jumped at the chance to interview her about the process they'd created, and how Leadpages fits into it.
It all starts with one acronym: FLAVER.
To see exactly what it means—and how you can use it in your fitness or other service-based business—download Loud Rumor's infographic here:

A winning lead-gen formula: The Fit FLAVER Program
Loud Rumor wields an impressive marketing toolkit. They're well-versed in using tactics like local SEO, Facebook advertising, Google AdWords, email marketing, video marketing, and landing pages to get leads and sales for their clients.They knew that their knowledge in all these areas would be assets to the new fitness-industry clients they hoped to win. But they also knew that they needed to present potential clients with more than a grab-bag of tools and tactics (which those clients might or might not be familiar with). They needed to brand what they had to offer as an easy-to-understand, integrated marketing program.
In January 2016, they launched the FLAVER program. It stands for:
Facebook Ads
Landing Pages
Automation
Video
Email
Retargeting
To explain the program to potential clients who found them online, Loud Rumor used the Video Squeeze Page landing page template from Leadpages to:
a) Explain the program on camera, and
b) Invite viewers to opt in for a strategy session
Here's a snapshot of that page. (Click here to go watch their video.)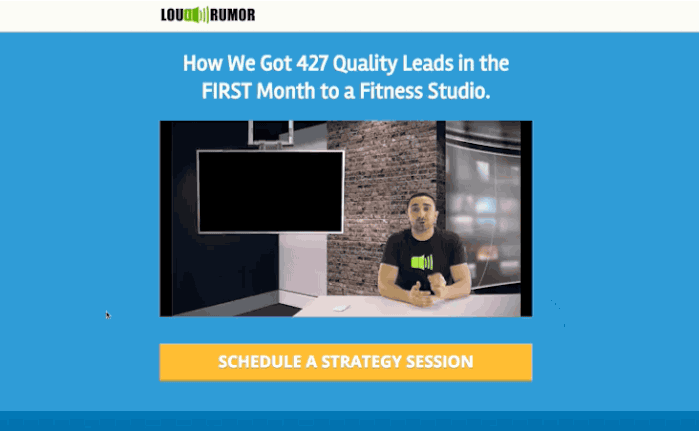 Soon, they had their first client—a test case for the FLAVER formula.
Loud Rumor's fitness marketing campaign
Their test client was a women's boxing studio, so Loud Rumor started by setting up Facebook ads aimed at local women interested in fitness. They adjusted the offer depending on the subset of that audience they were targeting—in some cases offering a free one-week trial, in others an inexpensive monthly membership.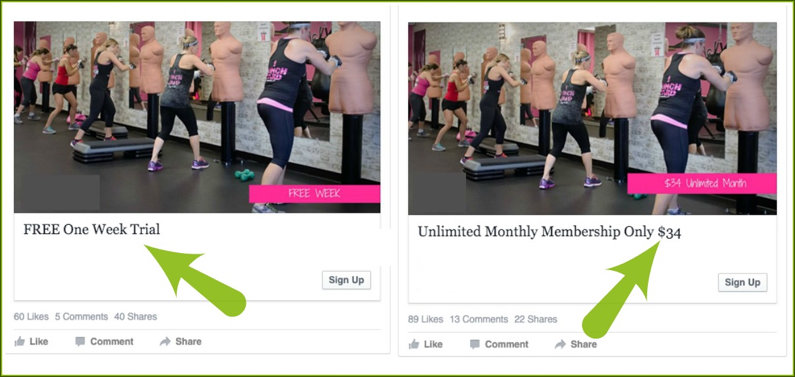 Once Facebook users clicked, they'd be taken to a landing page designed with one goal in mind: getting them even more excited to opt in for the discount. To generate that excitement, Loud Rumor used a Leadpages template equipped with an engaging video, two prominent call-to-action buttons, and a countdown timer to add a sense of urgency. Sarah made sure to get the most out of their Leadpages membership. She recommended:
"My best advice for others using Leadpages is to really explore all of the various templates and figure out all of the different features that can be used to your advantage, such as countdown timers, LeadBoxes and LeadDigits."
Check out the first page of this campaign here (with the client's name removed to protect their privacy):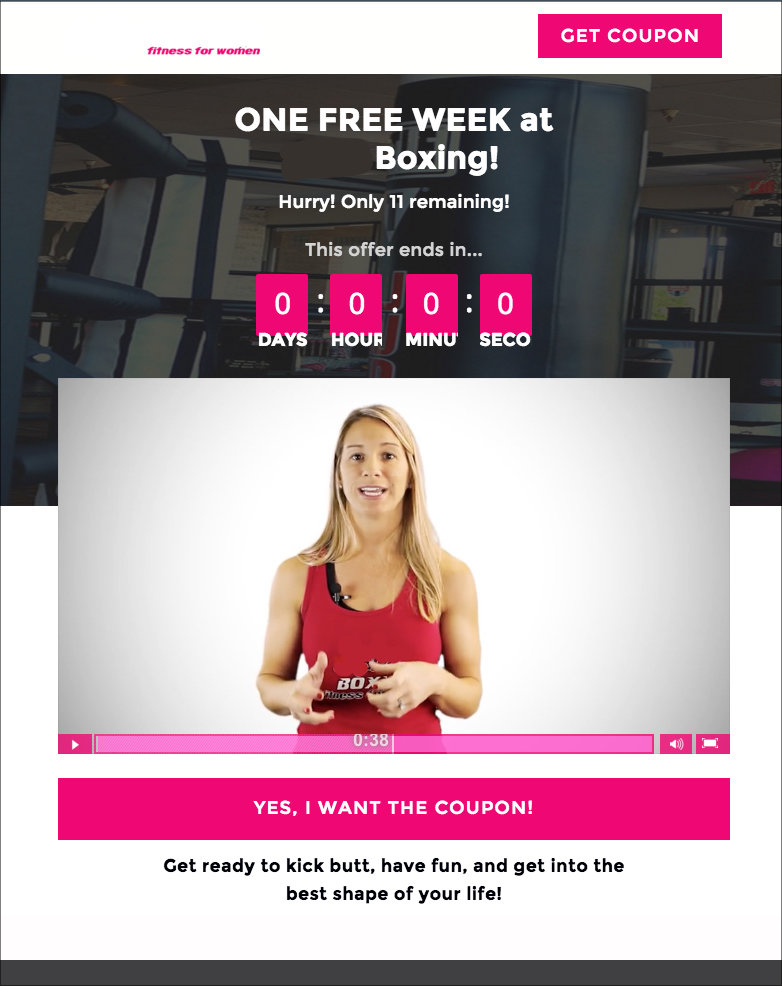 In order to get the coupon, visitors would simply enter their contact information in the LeadBox pop-up form linked to the button. Then they'd see a very special thank you page: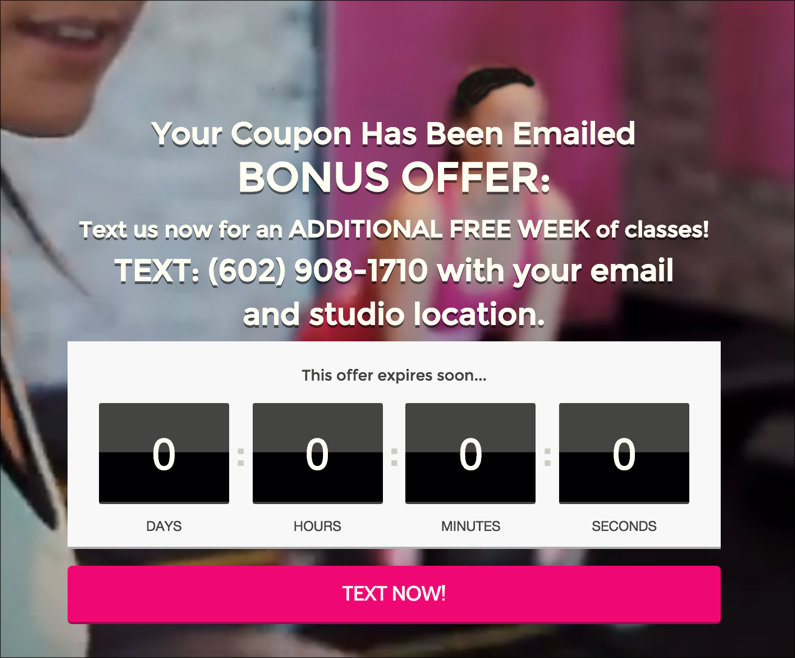 This page doesn't just thank new leads for opting in. It also offers an extra bonus to entice them to actually show up: an additional free week of classes if they send a text with their email and preferred studio location. (You can do something similar with text-to-opt-in tool LeadDigits.)
Meanwhile, those new leads are routed to the company's CRM, Infusionsoft, which will let them reach and retarget people who have opted in.
Loud Rumor's success: A month's worth of leads in a day
This campaign has only been up and running for a little over a month now, but the results are speaking loud and clear. Prior to implementing Loud Rumor's FLAVER program, the boxing studio was only generating a handful of leads each month.
That changed fast. Within 24 hours of launching the campaign, the studio had generated 31 unique, high-quality leads—more leads than they'd generated total in the previous month. After 31 days, they had 427 new leads to market to.
Needless to say, the client was ecstatic. And it got even better when they looked at their cost per click and cost per conversion.
Cost per conversion: $2.94
At this point, Loud Rumor realized they had created something truly unique that would drive success for a wide range of small businesses. The program quickly became their top-performing offering. They brought on several more boutique fitness studios, including two CrossFit studios that have each already generated 200+ leads in less than a month.
All this would have been much more difficult without Leadpages. Comprising just 8 marketing experts, the agency needed a solution that would allow the whole team to get involved in the creation process. Sarah reported:
"Ever since we discovered Leadpages it has been amazing! It's super user-friendly and is something that both our graphic designers and our team members who have very little experience with graphic design can master quickly."
Loud Rumor has big plans for the FLAVER formula. They're currently bringing on additional fitness clients, and even expanding the program to other kinds of small businesses.
In fact, the principles are easily adjusted for nearly any type of product or service. When you integrate high-converting landing pages into a start-to-finish marketing campaign as well as Loud Rumor does, you create a highly relevant, highly consistent visitor experience—which Loud Rumor's clients can then parlay into a wonderful customer experience.
To sample the FLAVER of success for yourself, be sure to download Loud Rumor's detailed infographic below:

Do you see any ways to expand on this campaign? Tell us in the comments!