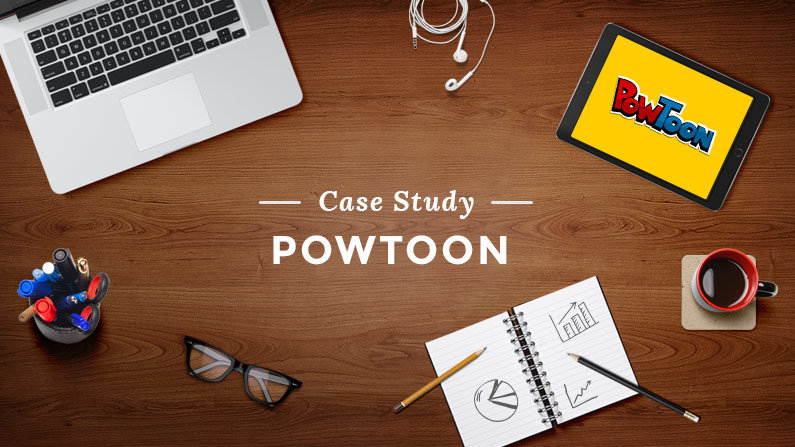 "The most valuable resource we have today is attention." That's the guiding philosophy of Ari Sherbill and of PowToon, where Ari is vice president of business development.
Founded in 2012, PowToon makes it easy for anyone to create fun, animated marketing videos and presentations using the drag-and-drop software. Major companies including Cisco and Starbucks number among their 7 million users. Ari's explanation for PowToon's success is simple: "If you have a message, and you want to make it more engaging, animated, fun, and use your own branding, it's a really easy way to create engaging content."
Here's one of PowToon's own 'toons:
But even a wildly popular product needs great marketing to support it in the long run. And initially, PowToon was having trouble creating digital marketing assets as compelling and effective as they product they were intended to sell.
To find out how they fixed that problem and get a behind-the-scenes look at the anatomy of a successful PowToon marketing campaign, download our infographic below:

Before Leadpages
PowToon knew that landing pages were important from the get-go. But with a team of just 15 people scattered as far apart as London and Tel Aviv, they didn't initially think they had the resources and knowledge to create them in-house.
"We outsourced [landing page design to] a company and it was a headache," Ari recounted in an interview with Leadpages. "Most of the time, the headline would turn out too small, there wasn't enough contrast, and they didn't understand design-based conversion for a landing page."
For their webinars (a natural fit for such a highly visual product), the team tried using the webinar-registration page templates that came with their WebinarJam account. They weren't happy with the options there, either: the resulting pages were neither as attractive nor as customizable as they wanted. PowToon has developed a distinctive, punchy visual style befitting its name, so it was important to Ari that all the team's marketing assets be consistently on-brand.
So he began looking for a way to get the control and customization he wanted without having to hire an in-house web-design team.
How PowToon Uses Leadpages and Webinars to Boost Engagement
After hearing marketing gurus Jeff Walker and Ryan Deiss talk about Leadpages, PowToon figured it was worth a try. Ari began using the platform to build landing pages to use throughout webinar sequences. When he saw what he could create within just a few minutes, he was instantly impressed:
"It looks professional, it's clean, it's gorgeous. I showed it to our team and they asked 'Ari, how did you do that? It's beautiful!'"
PowToon's webinar campaigns themselves are worth a closer look. Unlike many companies, they don't use webinars primarily to sign up new customers—because they offer a free subscription option, they have no trouble getting hundreds of thousands of new users each month.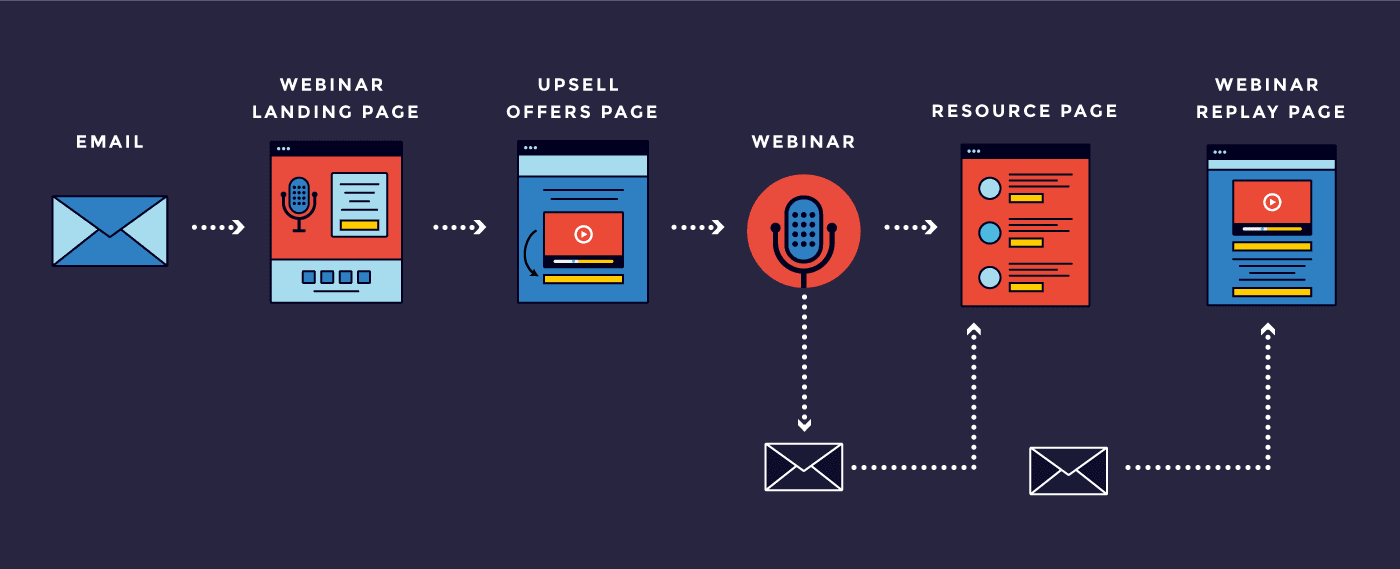 Instead, they use webinars to increase customers' engagement with the product (leading to longer-term use) and to sell more advanced services and subscription levels. Here's one of PowToon's webinar registration pages aimed at existing customers: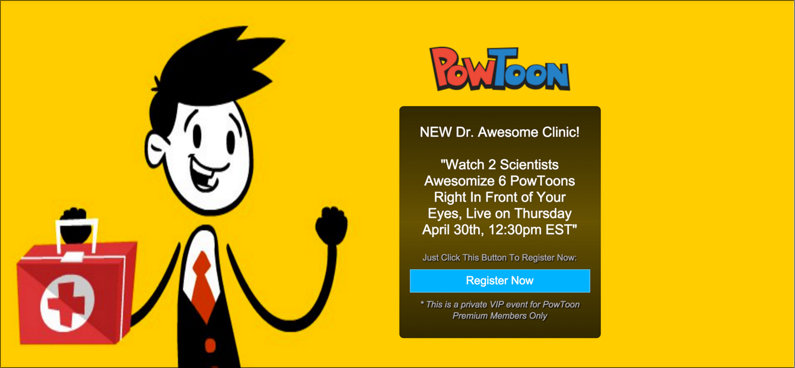 "I don't know what people are doing without Leadpages. The fact is that you do not need to rely on other people if you learn the core basics. It's easy enough and affordable enough." – Ari Sherbill, PowToon
After signing up, registrants would see a custom thank you page offering an additional service, such as a custom training session.
Once the webinar itself was drawing to a close, the host would direct viewers to a third landing page: a resource page filled with additional free and paid resources related to the webinar topic, which would also be sent out in a followup email. This provided several chances to parlay the engagement generated by the webinar into an upsell.
But if that didn't result in a sale, PowToon had one more landing page up its sleeve: a webinar replay page. Here, customers who couldn't attend or wanted to review the original page could watch a recording, share the video with others, and easily upgrade to the Business edition of PowToon.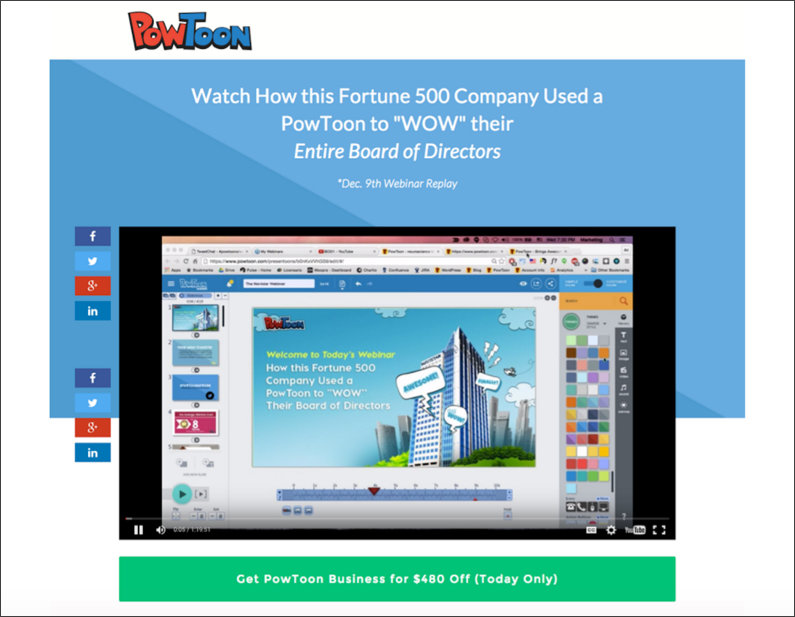 For an illustrated look at PowToon's campaign from start to finish, download the free infographic here:

PowToon's Success
Through pages like these, PowToon is regularly able to draw 500–1,500 attendees per webinar, many of whom continue on to the followup pages.
And when PowToon wants to try something new, that's simple, too:
"Leadpages is just easy. I have the analytics. I have the ability to make tweaks to the core elements and I know the structure was created for the sole purpose of conversion and make it look professional."
Ari and his team even rely on the Leadpages analytics dashboard to assess how well their webinar content itself is resonating with viewers. Leadpages "gives me the instant data, which is super valuable," he said. "I can see which webinars are more useful and more popular to see where we should be spending more of our time."
From branding to content planning, using Leadpages saves PowToon time they can reinvest into their product. With sharp-looking landing pages and ever more engaging webinar content, the team has a surefire way to grab and keep their audience's attention.
As for Ari, he's become a bit of an evangelist. His recommendation for other businesses is simple: "If you have a website, you have a business, you have leads, and you need to nurture them. You need Leadpages."

Think you could borrow any of PowToon's marketing techniques for your own business? Tell us in the comments.