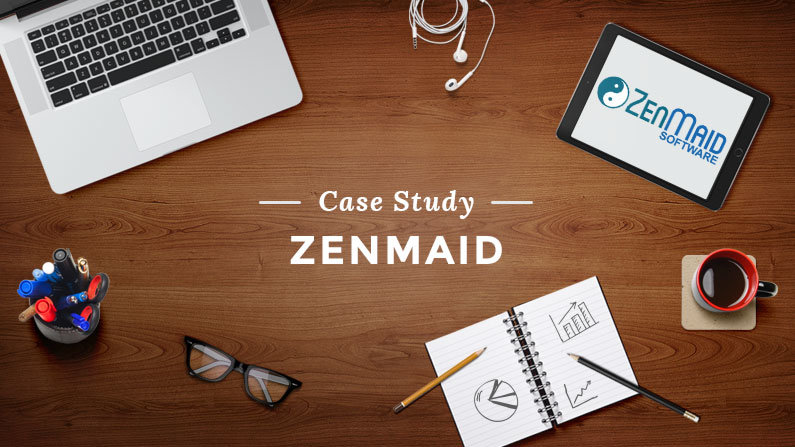 A few years ago, you could find Amar Ghose in Orange County, California, running a residential cleaning company and becoming increasingly frustrated with the needless difficulty of scheduling clients' appointments.
If you want to find Amar today, you'll have to look a little harder. He may be in Palo Alto, Asia, the U.K., or somewhere else entirely. Though he's the new CEO of a software startup that's just a couple of years old, Amar has figured out how to run and market his business in between traveling the world.
All this despite the fact that Amar describes himself as "not a technical person." Instead, the driving force behind Amar's startup came from the industry in which he worked.
With the help of technical co-founder Arun Devabhaktuni, in April 2013 Amar launched ZenMaid: software by maid-service owners, for maid-service owners. It included features such as work order automation, a simple instant booking calendar, and payroll and QuickBooks integration. It even included automated customer reminders and follow-up messages to reduce no-shows, get more customer feedback, and inspire repeat bookings.
It was a powerful product, and Amar knew it would connect with customers—if he could get them to give ZenMaid a try.
To start, Amar set up a WordPress blog and began creating content he hoped would be found by cleaning companies searching for information on how to run their businesses better. He initially hoped to collect leads by asking readers to subscribe to the blog, but this produced only a trickle of new subscribers.
Then he happened to tune into a business-changing podcast episode.
Enter Leadpages
Amar was a fan of Pat Flynn's Smart Passive Income Podcast, and one day Pat was joined on the air by Leadpages co-founder and CEO Clay Collins. As Amar listened, he was drawn in by how easy to use Leadpages sounded, and by the fact that Pat himself had helped create landing page templates for Leadpages' template library.
"Having templates that you're getting in from Pat Flynn and James Schramko, it just removed a lot of thought because I knew they would work and they would convert pretty well."

– Amar Ghose
At the end of December 2014, Amar signed up for Leadpages and immediately put into practice Pat's philosophy of "the small quick win:" something you can do to get measurable (if small) results in 5 minutes or less.
To apply some small quick wins to your own web presence, download our pack of three of Leadpages' easiest and most effective landing page templates:
His first landing page was actually one he hoped most people would never see. Page number one was a simple 404 page to capture any leads that have landed on a broken page or incorrect link.
Even though no one wants a 404 error on their site, Amar knew that, as he created more and more content on his site, it might easily happen to him. So in just a few minutes, he set up a redirect page to give any visitors who got an error message something to take home and a way to opt into his list.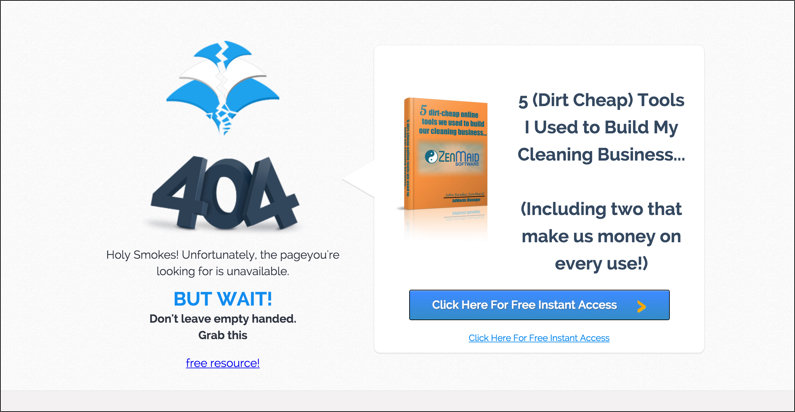 This page is converting at 7%—which is rather impressive, considering how hard it can be to convince a visitor to opt-in after landing in an unexpected place. Of course, Amar didn't stop there. In the course of just 10 months, he's used Leadpages to create 60 landing pages. What did he do with all those pages? Let's take a closer look.
ZenMaid's Success
Upon adopting Leadpages, Amar jumped right into the lead-magnet philosophy of list-building. He already knew that the best way to get people to join ZenMaid's list was to offer them valuable content in return, but before using Leadpages he simply didn't have a good way to deliver that content. His CTO, Arun, had his hands full making sure that ZenMaid's software was as good as it could be, and didn't have the time or the inclination to start building landing pages from scratch.
"For me, being non-technical and not wanting to have my technical partner's time being spent on building these landing pages, which isn't exactly his forte, the ease of Leadpages is pretty much what led me to actually create more lead magnets."

– Amar Ghose
Once Amar was able to create landing pages and set up automated lead-magnet delivery on his own, he launched a comprehensive marketing strategy with a page for each channel and campaign. Whether his leads were coming from LinkedIn, banner ads, AdWords campaigns, blog posts, or software review sites, Amar was able to present them with a landing page and a lead magnet tailored to their motivations. Here are just a couple of those 60 landing pages: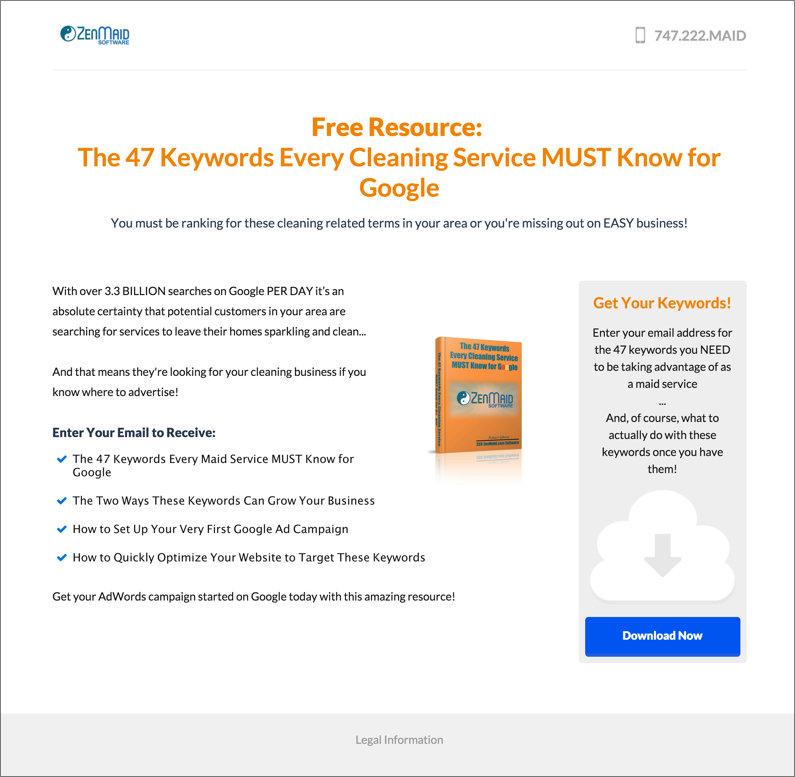 ZenMaid offers a lead magnet helping cleaning companies rank in Google results.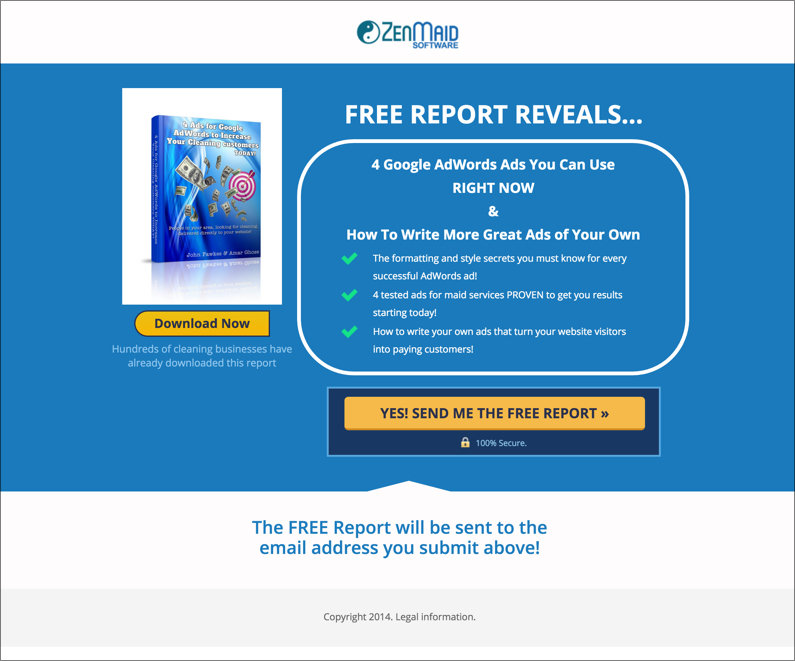 ZenMaid offers a report to help cleaning companies use AdWords
For Amar, pages like these typically convert at 25–36%. These sharp-looking pages and lead magnets (some repurposed from less-trafficked past blog content) got attention from ZenMaid's target audience and from industry influencers—another important avenue for raising the company's visibility. Amar has even parlayed this kind of attention into speaking engagements.
"Our Leadpages and lead magnets have given us credibility with industry experts and consultants, who have gotten in contact with us as a result."

– Amar Ghose
As ZenMaid grew, Amar began creating webinars as another strategy to generate leads. To get registrations while simultaneously adding people to his email list, he used the Webinar 3.0 Page.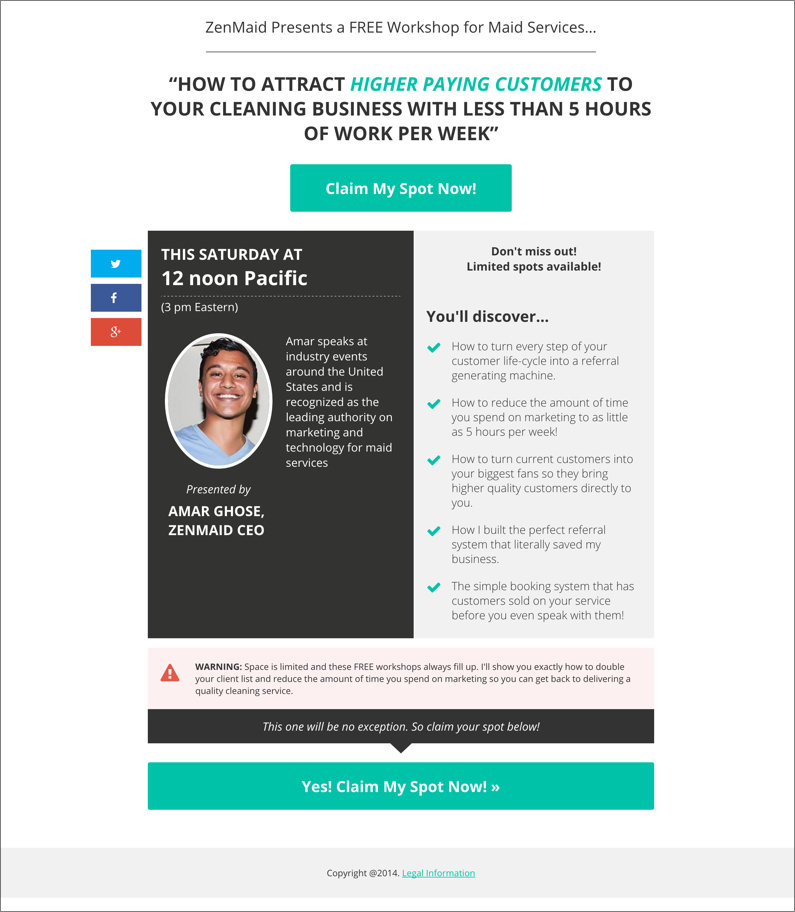 A remarkable 50% of people who visit this page sign up for Amar's webinar—especially impressive when you consider that webinars tend to create new customers out of attendees at an extraordinarily high rate.
To get this template and two more—the 404 Page and the Enterprise Lead Gen Page above—download our free template pack. If you're not a Leadpages member, you can customize the files by doing some coding yourself or simply hand them off to your web developer. Click below to get all the files now:

ZenMaid is now decidedly up and running, and so is Amar. Thanks to his efficient marketing strategy, he's now to work remotely and see the world on his own terms. Currently, he's living in the United Kingdom while considering a return visit to Asia. After that—well, that's up to Amar.
How Does This Apply to You and Your Business?
Whether or not you dream of working from the comfort of your Airbnb, Amar's story has plenty to inspire anyone struggling to launch an online product from scratch. Consider whether these strategies could work for your business:
1. Don't be scared of volume. The majority of new marketers we see tend to ease into landing page creation. They'll throw themselves into fine-tuning their first page and only then put it out into the world to see what visitors think of it.
But all the research we've seen suggests that when you're first starting out, it's much more important to focus on setting up lots of opt-in points than on optimizing the small stuff. You need traffic before optimization makes any sense at all. While you may not be ready to literally go from 0 to 60 as quickly as Amar did, set a schedule for yourself. What would happen if you created a new landing page every month? Every week?
2. To create effective lead magnets, find topics that fascinate your audience. Some marketers think that the content they create should hew very close to their business, the easier to pitch their products. The problem with that approach is that your audience may have a limited appetite for reading about your niche—which is probably only a very small part of their lives or businesses, even if it's all of yours.
Amar did things a little differently. ZenMaid isn't primarily a marketing platform, yet some of his most effective lead magnets focused on marketing for cleaning companies. Why? It's simple: Amar found this was a topic of great interest to that audience, so he knew traffic and opt-ins would follow. If you're running out of content ideas, think about topics that are related to or complementary to your own and start researching.
Interested in creating compelling lead magnets and landing pages like Amar's for your business? Get started with the free ZenMaid Essential Template Bundle, which includes the following templates:
Not Found 404 Page
Enterprise Lead Gen Page
Webinar 3.0 Page
Which of Amar's landing pages do you like best? Tell us in the comments.