The #1 Content Marketing Mistake: When readers don't turn into revenue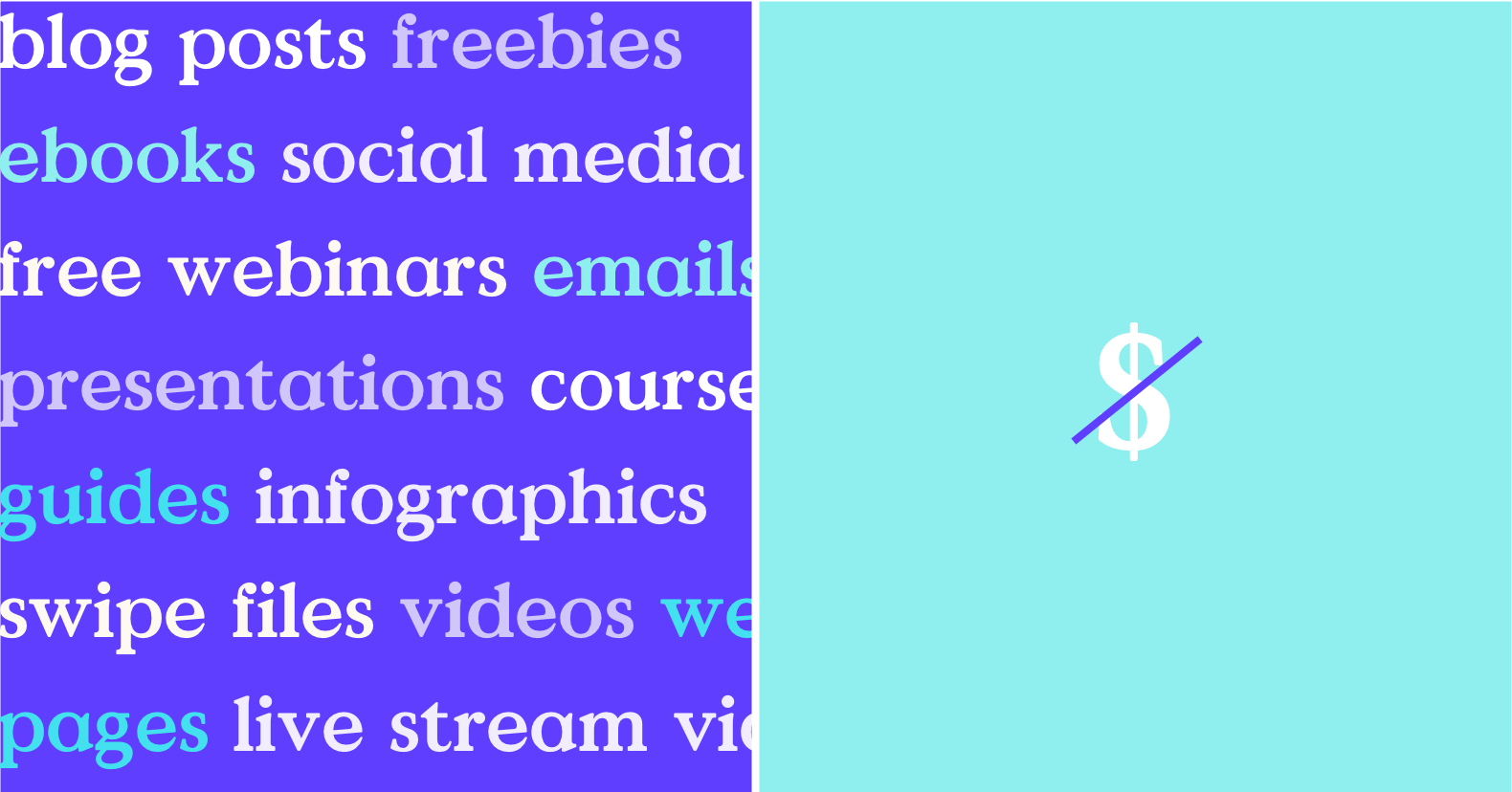 Editor's note: You're in luck! This post has been updated in Oct. 2019 for greater accuracy and relevancy to market to today's consumer. This article addresses a common challenge faced by digital entrepreneurs—particularly those selling their services or expertise.
When People Love Your Content But Won't Buy From You, What Are You Doing Wrong?
Blog posts, social media, free webinars, emails, ebooks—marketers are making more content than ever before. The outbound sales pitch has been replaced with an inbound multi-stage, multi-channel customer journey fueled by scores and scores of—you guessed it—content. But when it comes to content marketing for your small business, what's the line between efficiently selling your services and effectively serving 'it all up' for free? Where does educating and engaging your audience end and the sale start?
In this article, we'll be exploring how not to confuse readership with revenue and what you can do to keep your content marketing on the right path.
Dive into the article or jump to the section that most stands out to you:

1. Education: The momentum behind content marketing
2. Balancing free content while building a business
3. 10 Ways to strike the right balance in your content marketing
4. Content Marketing Mistakes: 'Red flags' that signal you've got the mix wrong
5. Here's how to avoid the #1 content marketing mistake
Many marketers with educational content don't make sales because they fundamentally confuse the two. You've probably heard a lot of talk about moving the "free line" and giving information away as a way to create sales and to create customers. But what if it goes too far?
Case in point: If you have a popular blog and people say time and time again that they love your stuff, but they're not buying, what you're doing is you're educating instead of marketing. And there is a huge difference. In most cases, marketers who are just blindly teaching their audiences how to do things are running their businesses into the ground. All without asking for a sale.
Education: The momentum behind content marketing
Content marketing's definition, according to the Content Marketing Institute is:
"Content marketing is a strategic marketing approach focused on creating and distributing valuable, relevant, and consistent content to attract and retain a clearly-defined audience — and, ultimately, to drive profitable customer action."
Content marketing is a fusion of sales and education at different & appropriate stages of the customer journey.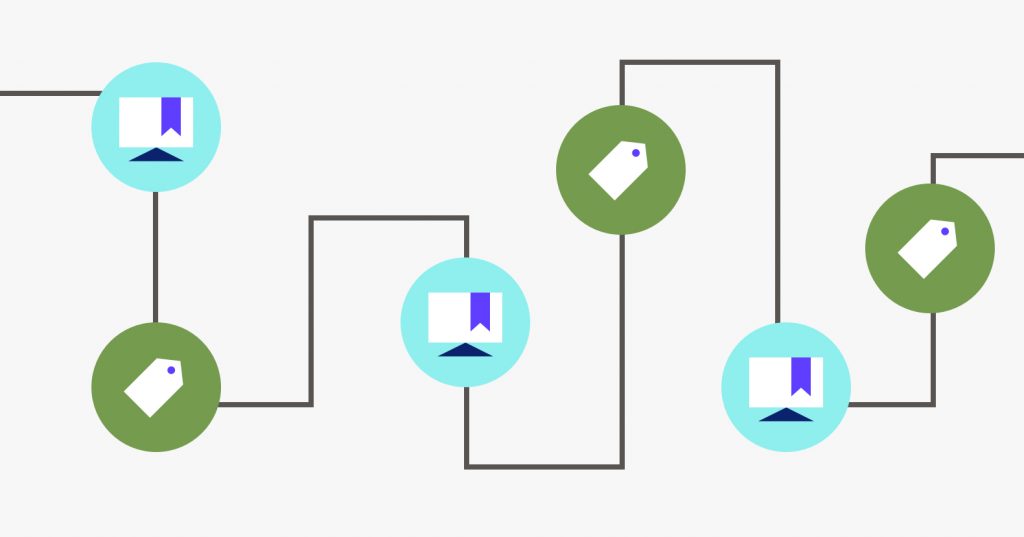 Marketing harnesses existing desires, fantasies, hopes, dreams, thoughts, and predispositions of people in order to compel a valuable action. Marketing creates desire-based tension.
Marketing works because it first illustrates a gap between a person's present state and desired future state and second proposes a way to close that gap. To some degree, education plays a role in both of those steps but is most prominent in the second: proposing solutions to close the gap.
Here's where many marketers and small businesses go awry: educating your audience will not sell your products or services. Education alone will not keep you in business. But by weaving it tightly together with marketing strategies and sprinkling (free) content throughout your customer journey, that's when your business begins to grow.
It begins to grow because you create momentum within your audience: invoking an emotion need and relieving the tension bit-by-bit with rational (educational) arguments. Over-index on sales pitches or pieces of free content and you can't keep the engine running—not without the right balance.
Balancing free content while building a business
Content marketing—like any marketing initiative—has to provide a return on investment. It's not enough to simply educate an audience if they end up buying from a competitor. Or posting a blog article that you think is a work of art—if it doesn't actually work to turn readers into revenue.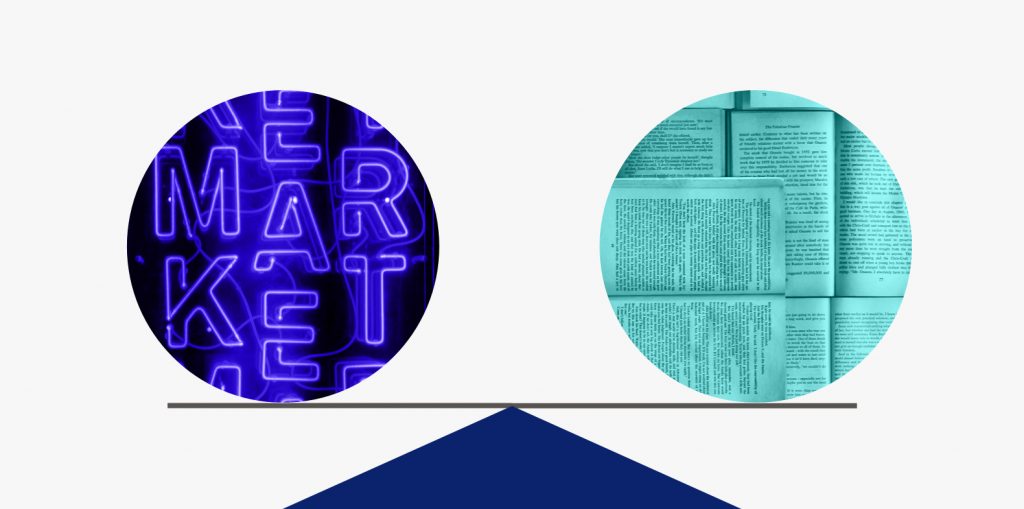 To strike the right balance in your small business marketing, try to assume the role of a trusted advisor and educate prospective clients about their problems and the solutions you can provide, says Trey Ryder in recent Cornell University research.
Why? Research reveals people who engage with a brand's education-based marketing materials are 29 times more likely to purchase a product from the company than those who are informed through traditional media advertising. Additional benefits are:
Building trust
Improving engagement
Filling gaps of reader misunderstanding
Fostering more educated readers (who turn into buyers)
Did you know? People who engage with a brand's education-based marketing materials are 29 times more likely to purchase 
Click To Tweet
10 Ways to strike the right balance in your content marketing
While it might be easier said than done, putting education-focused content into your next marketing campaign is possible! Here are some ideas:
Help your audience make their buying decisions by providing 'how to choose ___' or 'questions to ask a potential ____.'
Publish online courses that are supported by automated email sales sequences.
Create a mini-mailer or magazine to your customers, featuring informative content that addresses a variety of problems faced by your target audience.
Publish an interactive tool or calculator to drive home the value of something while generating interactivity with your readers.
Host a blog series featuring product experts. Cultivate posts with "Ask me Anything" mentality, allowing the experts to share every trick of the trade.
Schedule and publish an email campaign featuring customer guides, tips and other educational content.
Host a webinar, a live learning event where you can share thought leadership in an area of your expertise.
Identify gaps in your product or service understanding and add webpages on your site that speaks to it.
Host live Facebook or Instagram streaming events where you answer questions your audience has!
Create a study with a supporting infographic to portray and simplify complex issues your readers face.
Content Marketing Mistakes: 'Red flags' that signal you've got the mix wrong
In an age of content /inbound marketing—how do we know when/ how to draw the line between giving something away for free/ using free content as a sales lever? Sometimes it's difficult to detect if you're teetering one way with marketing and education.
Here are some red flags to signal you've moved the wrong direction:
Too little marketing and too much education:
Nobody is converting into a paying customer after you host a webinar or post a substantive eBook about a topic central to your business.
Web visitors are still confused about what you offer. This can be viewed by a high time on page (in your web analytics) and no conversions.
You have a lot of website visitors, yet nobody converts because you're giving away so much information for free.
What to do: Add call to action points with alert bars and pop-up forms. Invest in more marketing on outbound channels like Facebook Ads / social media advertising and email marketing. Start creating gated content that is only accessible if someone opts-in to your communications so you can market regularly to them.
Too little education and too much marketing:
You find a low ROI with your external marketing efforts because nobody knows what you're actually marketing.
You don't produce any materials that seek to educate people about the category and sector you're in and why they would need your type of product.
What to do: Add educational content on your website in the form of blog posts, eBooks, podcasts, and webinars. Share your unique value proposition. Educate people about why they need to invest in your product or service.
The pitfall of over-indexing on free education is forgetting to ask for the sale. Yes—you're educating your readers on how to make the purchase and what factors to consider in their purchase decision. But the need to ask for the sale.
Every education-based marketing material you produce should have a call to action luring readers to turn into customers. While you should educate, you should also want to generate income. Gated content also works well too! Here are some creative ideas to subtly infuse marketing in your educational content: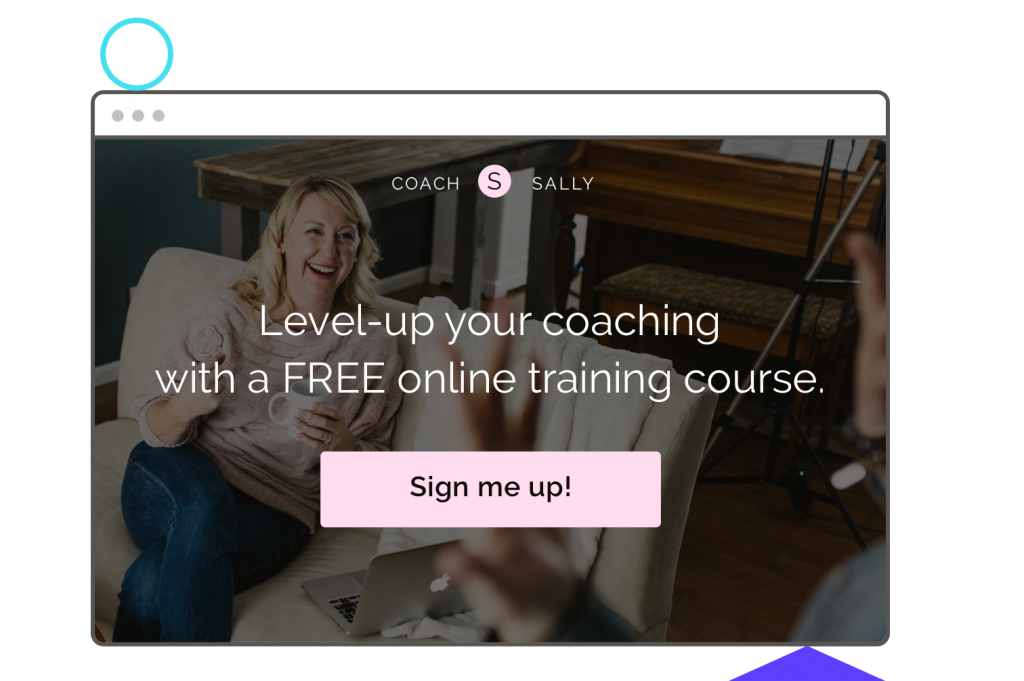 For materials not on your website:
Produce a landing page to capture reader information and hook them into customers.
Here's how to avoid the #1 content marketing mistake:
Free content should feed into a sales message or nurture sequence
"A business should thus take a proactive approach and see that a customer learns about their business or industry on their terms," says MyCustomer.

Don't confuse educating your audience with marketing to them
Effective content marketing blurs the lines between education and sales—and it should.
Ok, let's punt it to you now. Have any additional tips we haven't mentioned in the post? Share them below!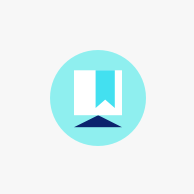 Need more tips on how to market? Join Leadpages (exclusive) Facebook Community to connect with your peers and get your marketing questions answered in real-time.