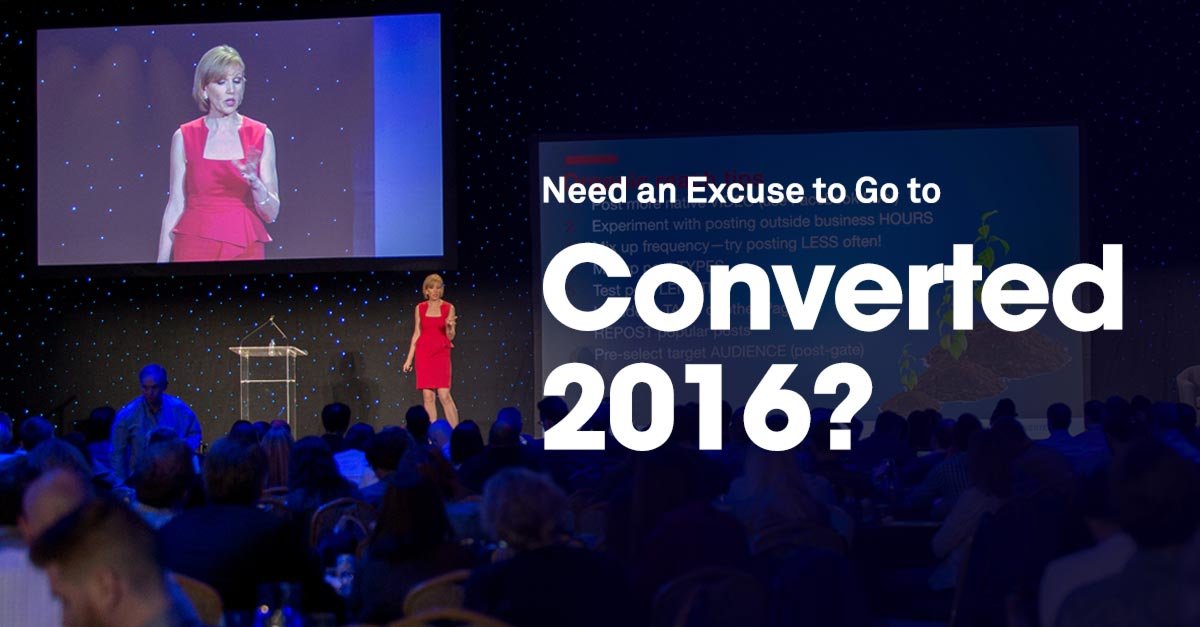 Almost every month, you can find someone from Leadpages at a marketing or business-growth conference somewhere in the country.
And I have to admit … I'm often a little envious as my coworkers head off to the airport, business cards and Leadpages swag in hand. A couple of days to escape from your ordinary routine, travel somewhere fun, and connect with people you'd never have the chance to meet otherwise? Sign me up.
But realistically, I know that conferences aren't just a chance to kick back, relax, and stare at pretty slide presentations.
In fact, if the conference is a good one, you leave feeling a weird mix of exhaustion and new energy. Your brain is stuffed full of new ideas to transform your day-to-day work (or maybe even your entire business plan). And you know that just as soon as you get a good night's sleep and let it all sink in, you'll be ready to spring into action.
That's the kind of conference Converted 2015 was. The 500+ entrepreneurs and marketers who attended told us so again and again.
If you didn't hear about it, last year we kicked off an all-new conference that demystifies the entirety of the customer conversion journey. Over the course of two days, some of the top business-growth minds in the world came together to share their newest conversion strategies, while attendees got a first look at upcoming Leadpages releases like the drag-and-drop page builder.
This year, we're doing it all over again—except this time, it's even bigger.
Click Here to Claim Your Spot at Converted
Wondering if Converted 2016 will
really
be worth it for you and your company? I hear you. As I see it, there are at least four major reasons you should consider coming to Minneapolis on October 18–19.
If one of these reasons resonates with you, I hope I'll see you there.
You Should Come to Converted 2016 If …
1. You want to thoroughly understand (and master) every stage of the customer conversion journey.
This is the thing that really sets Converted apart from every other marketing conference you've ever been to. At Converted, we take an end-to-end view of the customer lifecycle—the entire time a customer is interacting with your brand, from the moment they find you to the moment they make their first purchase to the moment they decide to refer a friend.

Increasing the number of leads or sales you have at any one stage of your sales process can dramatically impact your business. We'll show you how to increase leads and sales at every step of your sales process. Converted 2016 helps you put all the pieces together.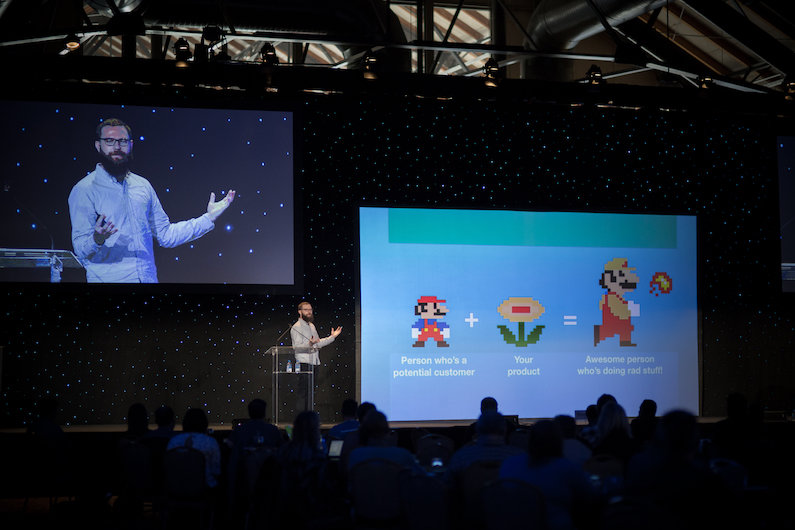 We've chosen our speakers and our schedule carefully to make sure that happens. When you sign up for Converted, you sign up for a single action-packed track.
That means you aren't going to miss out on the one session that everyone can't stop talking about because you picked the other guy. You aren't going to be frustrated that we put all the best speakers on at the same time and made you choose. You can't pick and choose which parts of the conversion journey you care about—so we're not going to make you choose between equally important topics.
You'll get the best of the best on one stage for two full days.
2. You want to get more leads and sales with all your marketing efforts (from 16 of the world's smartest marketers and entrepreneurs).
I mentioned we're bringing in some of the top marketers and influencers in the industry.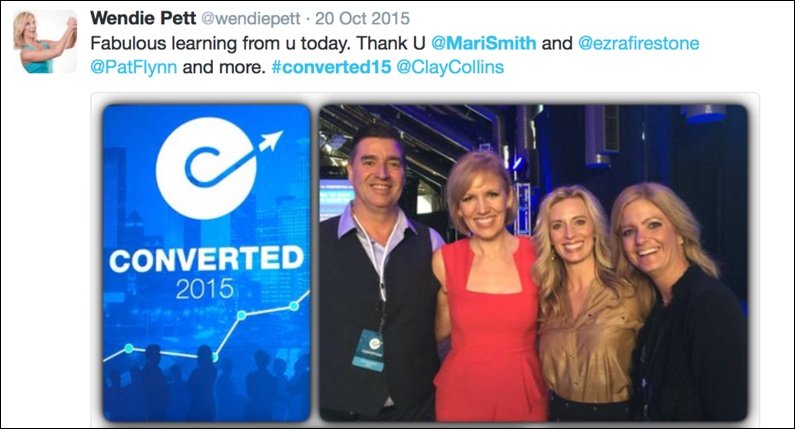 You might have heard us mention that comedian and podcaster Marc Maron is giving the Converted 2016 keynote address. (I can pretty much guarantee you've never heard him in this context, even if you're already a big fan—he'll be delving into his strategy for monetizing his content and the lessons he learned along the way.)
We're excited to welcome back one of the crowd favorites from last year, Pat Flynn, who will show you how to be "everywhere" online—everywhere your ideal customers are, at least. Also speaking on drawing traffic to your site will be …
Nerd Fitness creator Steve Kamb on "turning visitors into raving, tattooed fans"
Screen, film, and voice actor turned app creator David H. Lawrence XVII (you might know him as the Puppetmaster from Heroes)
Chet Holmes International CEO Amanda Holmes, who will discuss how she took on a major business with almost no business background … and doubled her clients two years in a row
The next group of speakers will show you how to create leads from that traffic to build a robust list of subscribers. Andrew Warner of Mixergy has recorded more than 1,000 podcast interviews with entrepreneurs, and along the way he's noticed the immense importance of empathy in turning casual visitors into interested leads. He'll explain how to turn that empathy into marketing that converts reliably.
You'll also hear from …
Social-app founder Laura Roeder on the pre-launch strategy that garnered a list of 100,000 leads for MeetEdgar
Conversion Scientist Brian Massey, taking a deep dive into the elements of a high-converting landing page
The next step in the customer cycle is obvious: you want those eyes on your site and names on your email list to turn into real, paying customers. On Wednesday morning, you'll get there with help from Digital Marketer founder and CEO Ryan Deiss. I'm pretty intrigued by his session title alone: "The Ultimate Email Game Plan: How to Automatically and 'Invisibly' Convert New Leads Into Paying Customers." His speech will be bookended by presentations from:
Social Triggers founder Derek Halpern
Nectar Collective founder and course-creating powerhouse Melyssa Griffin, in conversation with ConversionCast host and Leadpages conversion educator Tim Paige

While you might be thinking, "Great, I made a sale, time to move on to the next one," our final set of speakers is going to convince you that you still have more work to do with the customer you just acquired.
The final stage of the customer journey is to turn customers into repeat buyers. David Cancel served as chief product officer at HubSpot before founding his latest app, the live-chat tool Drift. He'll have plenty of thoughts to share about keeping customers around and keeping them happy. So will …
Ezra Firestone of Smart Marketer, getting a little technical with a discussion of dynamic automation and multi-touch retargeting
Author and business consultant Noah Fleming, who will show you the top five reasons why your customers are leaving and how to get them to stick around
Throughout the conference, you'll hear from our very own cofounder and CEO Clay Collins. Clay will be your guide through this journey, offering insights from his own experience and giving you a sneak peek into the future of Leadpages.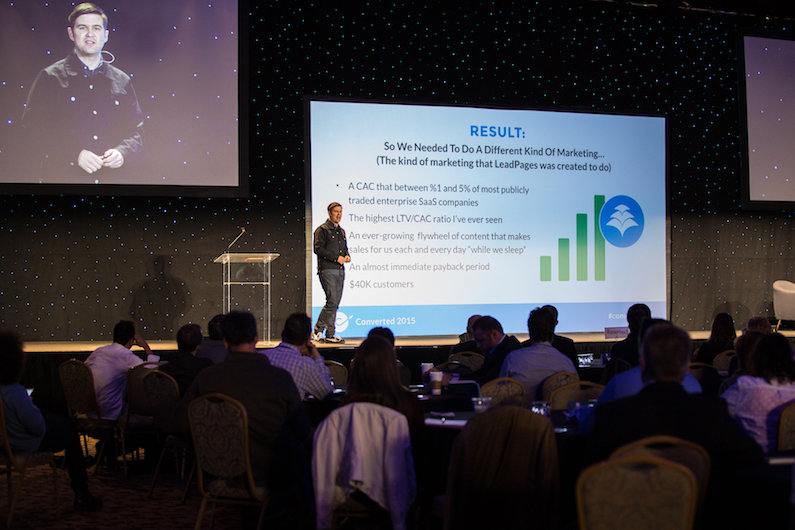 3. You want the opportunity to workshop your business plan with the experts (so you can use the conference sessions to build on an ultra-solid structure).
In keeping with our mission to make Converted 2016 bigger and better, this year we've added a Hands-on Accelerator Workshop at Leadpages headquarters. If you can make the time on the weekend before the conference officially starts, we're inviting you to add a workshop ticket to your all-access pass and join the marketing experts at Leadpages to fine-tune—or even overhaul—your business and marketing ideas.
The workshop is limited to 100 attendees to make sure you get 1-on-1 time with the people who can help you grow your unique business. Bring your landing pages, your campaign ideas in progress, and all your questions, and we'll help you strategize for success.
And while we've never offered this particular workshop before, we can say that magical things tend to happen when we bring entrepreneurs together to talk marketing. Expect to join together with other entrepreneurs for plenty of spontaneous peer-to-peer support and inspiration, too.
Since workshop space is limited, you'll definitely want to claim your spot sooner rather than later.
Click Here to Claim Your Spot at Converted
Another bonus: this ticket option gets you an invitation to a private networking session on the evening of October 17, in addition to all the networking opportunities you'll find throughout the conference.
4. You want to connect with up to 1,000 industry pros, fellow business owners, strategic partners, and potential clients (while having a great time).
Whether you're looking for clients, partnerships, potential hires, or even just supportive fellow marketers you can bounce ideas around with throughout the year, you have a good chance of finding them at Converted. That's why we're holding a big kick-off party at the end of Day 1 so that we can all get to know each other.
By creating a one-track structure, we've optimized this conference to be a place where you can network to build relationships. When you walk out of a session, you already have something in common with everyone you bump into in the hallway. Connections come easily when you can discuss the speaker you just saw and how their advice applies to your business model.
The conference will also feature an exhibit hall full of hands-on demos from industry leaders. You'll get to meet the people behind the scenes at some of your favorite companies—and yes, that includes Leadpages. All of us Leadsters can't wait to meet you!
The whole conference will be held in a funky old train station converted into a gorgeous event hall in the heart of downtown Minneapolis. (If you haven't visited before, the city's stunning in the fall.) You'll have time to digest what you've learned and strike up conversations over locally sourced meals and refreshments, including a killer breakfast buffet and a hearty lunch each day.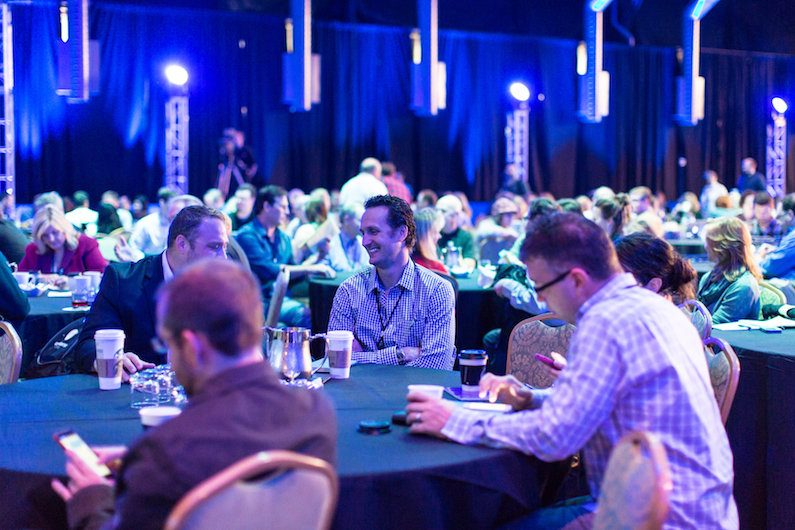 Plus, we're throwing a big party at the close of Day 1, complete with networking opportunities and a signature cocktail.
Last year, Leadpages copywriters gave on-demand headline feedback and copy advice at the cocktail reception and our marketing team ran around taking selfies with everyone throughout the conference. This year, we're expecting up to 1,000 marketers from around the country and the globe, so you can expect more opportunities to make powerful connections.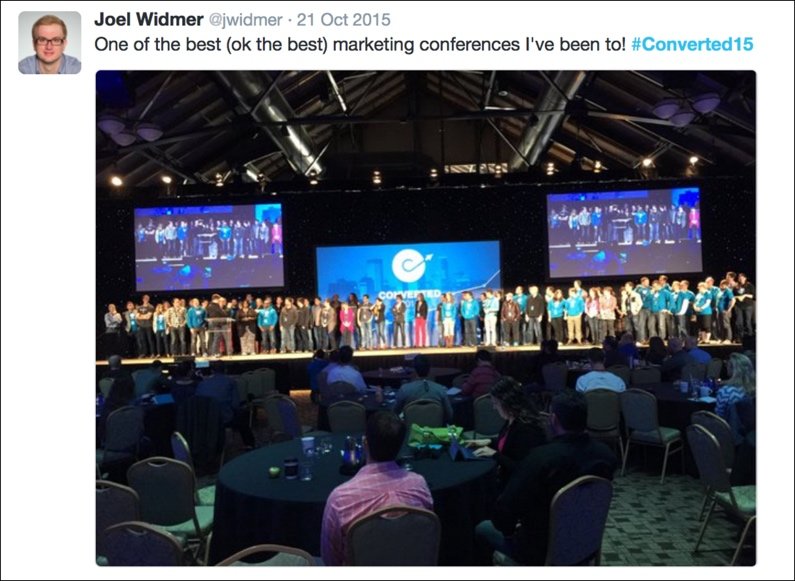 Can you tell we're excited about this?
If you're excited too, go ahead and get your ticket ASAP.
Click Here to Claim Your Spot at Converted
Still deciding whether it makes sense to fit Converted 2016 into your schedule this fall? Ask us any lingering questions in the comments.