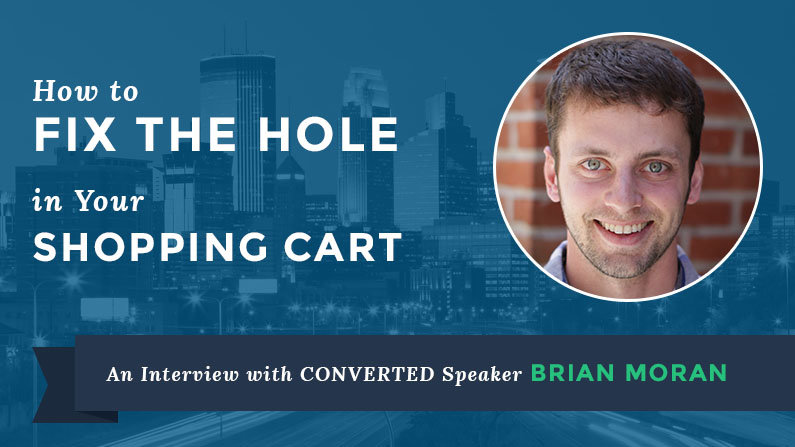 Brian Moran is the founder of SamCart and Get 10,000 Fans. This October 20–21, he'll be speaking at CONVERTED 2015, LeadPages®' first annual conference on conversion-driven marketing. In his presentation at CONVERTED, Brian will reveal his proven approach to getting customers to complete the checkout process.
It happens all the time. Online shopping carts abandoned in their virtual checkout aisles by potential customers who, for some reason, decided that they didn't want to buy your product after all.
According to several studies, online shopping carts are abandoned at a rate of 68%. In fact, one of those studies, done by Forrester Research says that 88% of online shoppers in the U.S. admit to having abandoned a shopping cart at some point in their buying history. Most of them have probably done it more than once.
That's a lot of revenue that you're missing out on. But how do you solve this problem?
Fortunately, LeadPages® superuser Brian Moran has some answers for you. He has first-hand experience in solving this problem. Brian is the founder of SamCart, an online shopping cart tool that provides high-converting checkout pages.
Brian has put some very serious research into what gets your potential customers to continue all the way through your sales process so they actually click your "Place Your Order" button.

I got a chance to sit down with Brian and ask him about what he's done to reduce shopping cart abandonment in his businesses. He was kind enough to give me quick strategy you can use right now to increase conversions on your checkout page.
Restate Your Offer on the Checkout Page
This is a standard practice when writing a sales letter or promotion. Every expert copywriter out there insists that you must restate your offer on your order form so the reader remembers why he or she reached this point in your sales letter (and was persuaded to buy your product) in the first place.
So why is this not true for online checkout pages?
Brian asserts that it really should be.
According to Brian, when a potential customer checks out your landing page and gets excited about your product or service, it's your job to keep that customer excited throughout the entire sales process. So when you reiterate your offer on your checkout page, you're reminding your customers of why they got excited in the first place.
Reiterating your offer can be something as simple as including a description of the product your customers are buying and showing a picture of the product. As Brian says:
"I think a lot of times reiterating your offer can reassure your customers that they're on the right page. A lot of checkout pages look very different from the website that sent the customer there, especially if the marketer is using a third party service like Paypal.
"People kind of take it for granted, but the fact that your checkout page might look a little bit different from your site can kind of startle people sometimes. If you're not restating what it is that your customer is going to get and reassuring them that 'hey, you're on the right checkout page' somebody might leave literally because they think they are about to buy the wrong product.
"So restating what it is they're about to buy is a great way to reassure them that they're in the right place, they're about to pay for the correct product, and they're actually going to get what it is that they're excited about."

Brian also points out that you need to do more than just restate what your customers are buying. You need to remind your customers why this product or service will benefit them.
"You need to restate the value behind everything your customer is getting. That includes if you're offering a special discount or bonuses they're going to get. Just sending them to a checkout page that isn't really reaffirming the buying decision they're about to make doesn't work.
"You can't just send your customers to a page, ask them for their credit card and assume they're ready to buy. A lot of people go to your checkout page to get a recap of your offer or make sure that the price of your product is an amount that they're actually willing to pay. There are a bunch of reasons people go to the checkout page. So not restating what they're going to get can really kill conversion."
So how do you do this on your own checkout page? Let me show you.
The Ideal Checkout Page for Information Products
If you're selling an information product, you would want to mention the same product benefits on your checkout page that you referred to in your sales letter. Restate all of the benefits, including what your customers will get from the product itself, as well as any bonuses you're giving them if they buy.
Brian says that for Get 10,000 Fans and SamCart, they frequently cut and paste the benefits from their landing pages directly onto their checkout pages. This simple hack allows them to easily reuse their best copy from their landing pages on their checkout pages. It also ensures that all of their copy remains consistent. You can do the same on your own checkout pages.
Another best practice for your checkout page involves writing your copy in the voice of your customer. You've probably seen order forms or checkout pages with copy that mimics the voice of the person buying like this:
"Yes! I want to buy ABC's Regenerate product and get all of the many benefits it offers, like:

Healthy Hair Growth: My hair will be strong, long and healthy for the rest of my life, with no waxy build-up and no breakage until long after I have been put in my grave.
Metabolic Stimulation: My metabolism will increase to a healthy point that will give me more energy and promote steady weight loss so I feel and look great.
Skin Rejuvenation: My skin will feel soft, supple and glow like it did when I was a teenager. It will heal faster than ever and show no signs of scarring after injury so I have a flawless complexion and a beautiful swimsuit body.
And I'll get 2 months of Regenerate at no cost to me, along with the ebook "Your Body, Your Way" which will give me lots of tips on how to maintain a healthy lifestyle while eating and doing whatever I want.
I understand and acknowledge that I have 60 days to return ABC's Regenerate product if it does not meet my every expectation and if I do not see the promised results. If this occurs, all I have to do is mail my receipt, along with the two empty bottles, back to ABC's headquarters and my money will be refunded, no questions asked."
My apologies to my fellow copywriters and marketers, I went a bit overboard here, but you get the idea.
If you want to see a real-life example, check out what we do on the LeadPages® checkout page below.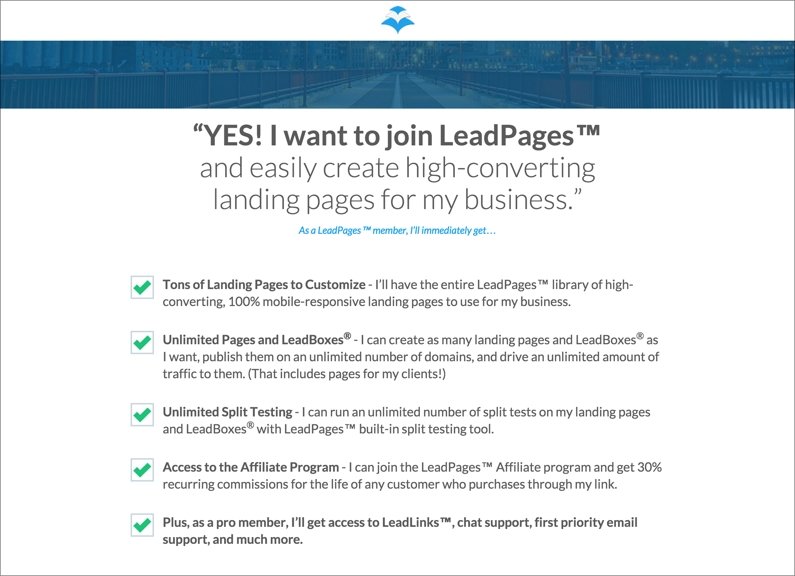 Another thing you should consider is adding testimonials to your checkout page. This reiterates how much other people love your product. It gives your product that most valuable of assets, social proof. Your potential customers think, "If other people have tried this product and had success, it can work for me too."
Putting this social proof on your checkout page can help compel your customers to click on that final button to complete the checkout process.
SamCart has an excellent example of this on their checkout page. (By the way, we do this on the LeadPages® checkout page too.)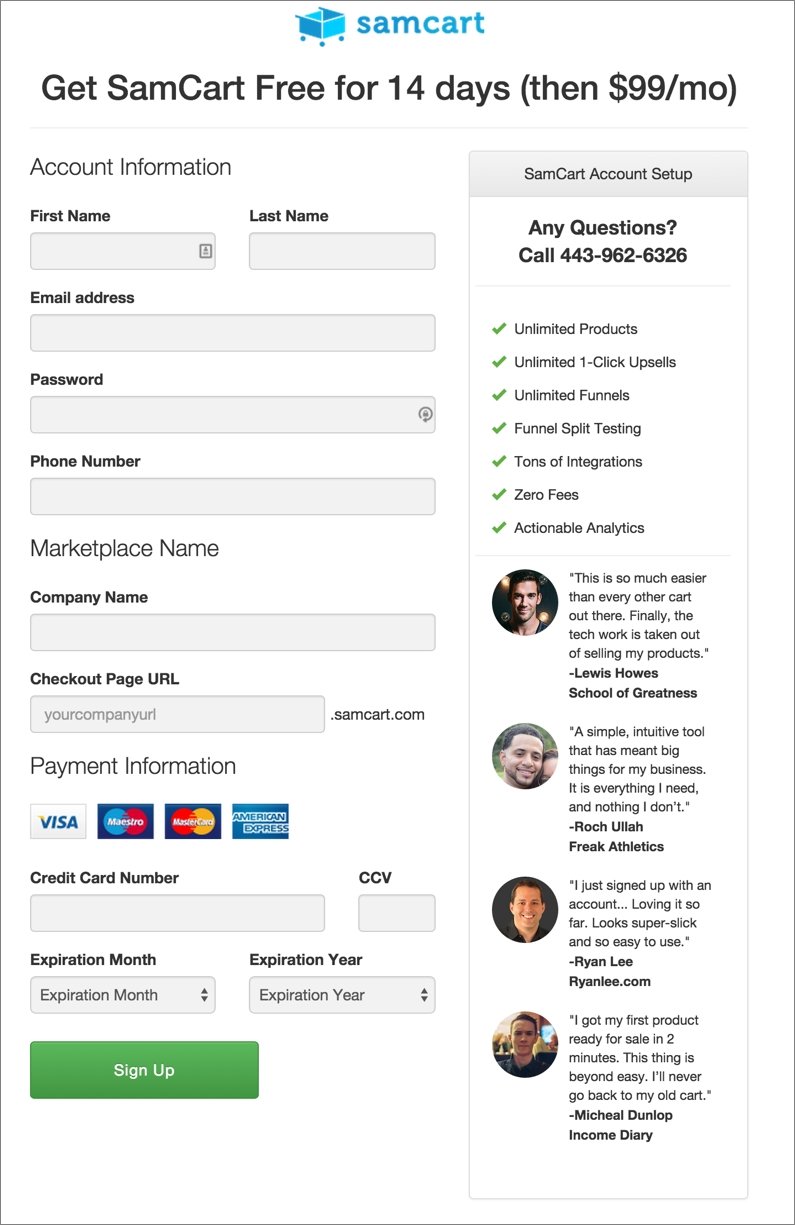 Speaking of SamCart, they regularly recommend this idea to their customers, and (obviously) they practice it themselves.
Brian told me that they have seen conversion increases of between 50% and 67% in their product sales. Granted, there are several conversion techniques that they recommend to their customers and put into practice on their own products, but they do credit this particular technique as one that is highly effective in converting their customers.
The Ideal Checkout Page for Physical Products
If you have a physical product, Brian strongly recommends that you have an image of the product, like the example I posted from Amazon.com earlier in this post.
"If they saw a red t-shirt on the sales page, make sure they see a red t-shirt on the checkout page just to reassure them, 'hey I'm about the buy the right thing.' Then obviously things like the name of the product, again just to reassure them they're in the right place about to buy the right thing.
"As far as restating what it is they get, we normally do that on the sidebar of the checkout page in the form. We usually have a headline that says here's what you're about to get, or here's what's inside your order. Then maybe just a quick paragraph or bullet points that kind of just summarize look, you're going to get.
"So if you're selling physical products, you would explain what's going to actually show up inside that box that's going to be at their front doorstep. Then restating the benefits. That might be a section of bullet points that's going to say something like 'here's how this product is going to help you.' "

Come Hear Brian Speak at CONVERTED
These are just a few minor things you can do to boost your conversions on your checkout page. In October, Brian Moran will be speaking at CONVERTED, where he will show you the top five reasons why customers abandon your checkout cart, and how to completely overhaul your entire sales process to boost your conversions. Within 24 hours of hearing Brian speak, you'll be able to update your checkout page so you can increase your lead-to-customer conversion rate.
Brian is just one of the many conversion experts speaking at CONVERTED. Right now, you can get in on our Early Bird special and get $400 off the price of your registration. That's a savings of 53%. But this offer only lasts until July 31st. So register now and get CONVERTED on your calendar so you can learn from experts like Pat Flynn, Tim Paige, Clay Collins and more.
Check out everything CONVERTED has to offer, and sign up now to get in on the Early Bird savings. Click on the button below for more details right now.

How Will You Change Your Checkout Page?
Now that you know this very important strategy to increase conversions on your checkout page, what are you going to change on that page to make your business more successful? Please share your ideas in the comments below.