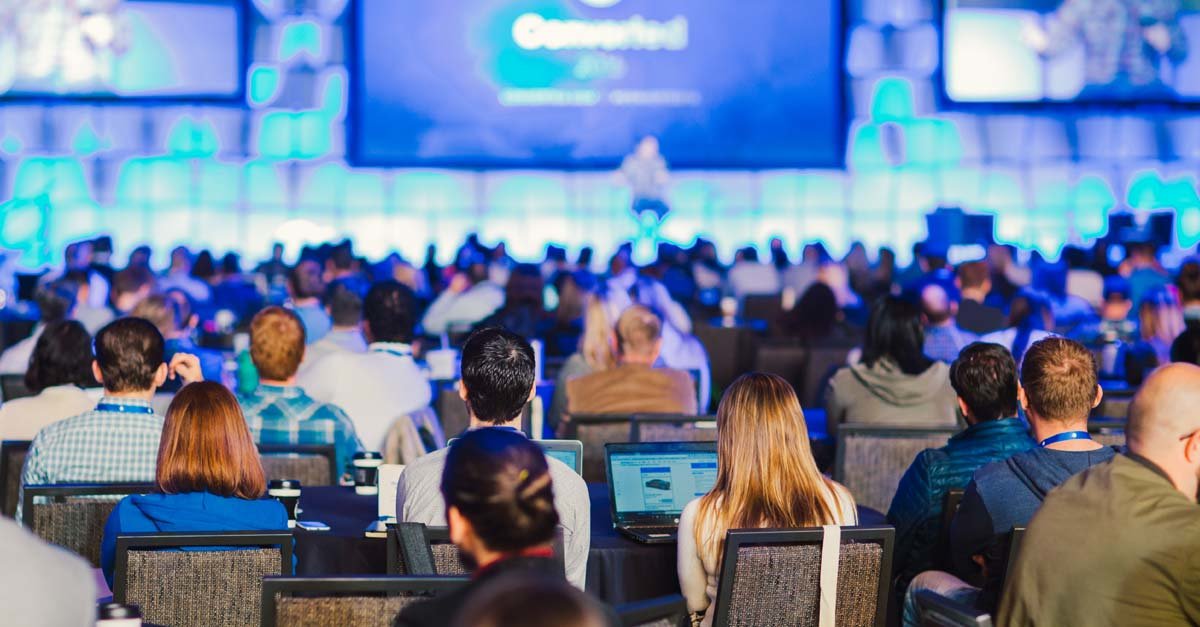 Sure, I might be biased.
I come into Leadpages every day, sip the coffee, shoot the breeze with my comrades, write a bit here and there. I get to bask in the rays of martech know-how and rub elbows with some of the smartest smarty pants in the industry.
(I call them that because they're the same folks who have had their hands in the company's personal growth, putting Leadpages at #297 on the 2017 Inc. 5000 list.)
So, when these experts get together and plan a two-day marketing conference focused on how to grow your business, you know it's going to be good.
Read: It's going to be really, really good.
Why should you come to rad Minneapolis in the fall to learn how to grow your company at any stage from the best minds in the industry and learn priceless entrepreneurial lessons that will make you more money?
If not to toss your tam beret on Nicollet Ave. a la Mary Tyler Moore, try these six reasons on for size:
1. The Speakers
We spend a lot of time curating our speakers. They're smart, they're experienced, and they love sharing their individual road maps to success.

Marc Maron on stage at Converted16
You can check out the full lineup here, but these are people who have been in your entrepreneurial shoes, found something that works for them, and now want to share the love with more marketers.
Plus, this year's keynote speaker is Kevin Smith.
Award-winning writer, actor, director, podcaster and entrepreneur Kevin Smith (aka Silent Bob) will kick things off sharing the wit and wisdom that has made him one of the most successful and multifaceted talents today.
Do you really want to miss out on a chance to see him live?
2. The Venue
The Depot Renaissance Hotel is home to Converted again this year, which is OK with us. It's very cool. And very old.
Clocking in at nearly 120 years old, the Depot is one of many ancient behemoths lining the Mississippi. Trains chugged in and out of the station until 1971, shortly before it became the hotel and event space we know and love.
The historic integrity and detail were preserved just for Converted attendees. Or something like that.
3. The Staff
That's us!
We all get the treat of volunteering to help out and make this event one to be remembered and recounted through stories to generations to come. When you're 90, we hope you lay your great-grandchildren to sleep with a story that starts like, "It was 2017, and Converted was just getting started…"
The emcee, Ryan Kopperud, is especially excited.
When I asked just how excited he is, he sent me this.
But really, everyone from our registration team to our video has been hard at work
Julie Carroll, the brains behind putting this whole thing together, says,
"I'm really excited about the fresh format we're rolling out for this year's show. This year we're having each presenter share a case study of a successful campaign they've run. They'll be taking our attendees through the step-by-step process of how they managed their campaigns, and what made them successful. Our objective is to have every attendee leave with actionable insights they can immediately apply to their business."
That's some serious insight for any marketer, no matter what stage their business is currently at.
What's more, is that you can grab your own 1-on-1 consultation with any Leadpages marketer right on site.
Our campaign strategy director, Kat Von Rohr, remembers, "One year, I gave an attendee a blow-by-blow account of how to turn their content into a full-fledged course over drinks at the cocktail party."
If you want to pick her brain (trust me, you do) you could swing by our booth and learn priceless tips for building your business.
4. The Networking
This event is going to be stuffed with fellow entrepreneurs, marketers, martech enthusiasts, me, long-timers, newcomers, etc.
And all of you are going to be in one room for two days.
This is an excellent time to make friends, swap business cards, share stories and experiences, and show each other pictures of your family (or all your cats).
I know what you're thinking.
"I hate networking."
But this is less like networking and more like grabbing a craft beer and small plates with friends. The atmosphere is fun and laid back. Very Minnesotan and friendly. The dress code is business casual.
And with a well-stocked cocktail reception, we know everyone will have an easy time breaking the ice, especially with our signature cocktail, Converted Bourbon (did we mention all drinks and on-site meals are on us?).
5. The City
Minneapolis is a great city (I'm a native Wisconsinite and I didn't even wince when I typed that). And The Depot is really smack dab in the middle of its best parts.
It's downtown and a short walk to our light-rail transit system (and a smattering of buses going everywhere your heart desires), which can get you practically anywhere—even St. Paul!
There are more award-winning restaurants in the area than you can shake a stick at, which might only be outnumbered by Minneapolis' growing roster of craft breweries.
Autumn is the perfect time to slip on a sweater and walk across the Mississippi river—where there is usually some sort of wildlife, like turtles sitting on logs—on everyone's favorite Stone Arch bridge.
It's a quick walk from downtown Minneapolis to historic NE Minneapolis, where you can walk cobblestone streets and have some of the best food from cheese plates to sushi. You'll probably like it so much, you'll walk back and forth and back again. Then forth again, because you need to get back to your hotel.
6. This Testimonial
Come to Converted17. It's Going to Be Awesome.
Seriously, though. If you can only get to one conference to help grow your business, this is the one. Stop the search. Pump the brakes. You've found the conference right for you and your business.
Learn how to get more leads, then turn all of them into customers. Easy peasy.
Real-life examples and implementation-ready marketing strategies are waiting for you.
If you're not convinced that Converted is where you (and every other entrepreneur and marketer) should be this October, read more about it here.
Then click below for a ticket with a $200 discount applied.
Save $200 on my Converted ticket
Have questions about Converted? Especially excited for a speaker? Tell us all in the comments below.