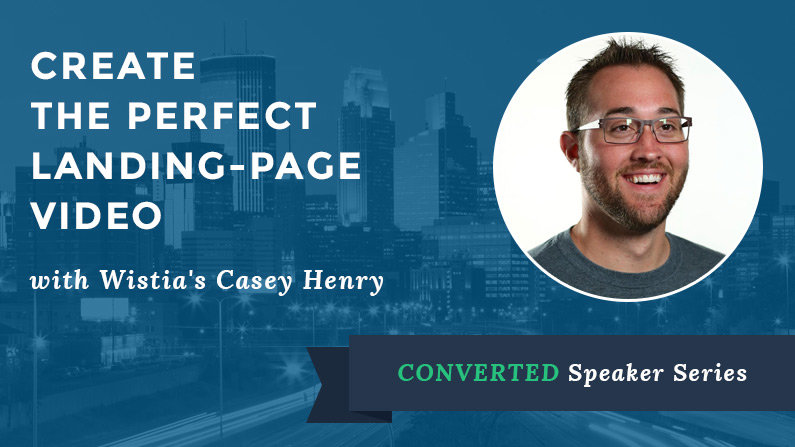 When most people think of the video, they think of the Moz "Whiteboard Friday" videos, demonstration videos or funny cat videos. When Casey Henry thinks of video, he thinks of conversion.
As the growth manager for Wistia, a startup that helps their customers easily embed and use video as a conversion tool, Casey has lots of ideas on how you can use video to increase conversions on your website or landing pages.
Casey's a video evangelist partly because so few companies are taking advantage of its benefits. He conducted an experiment in which he pulled a list of 100,000 keywords from Google, ran searches using these keywords then extracted information from all of the landing pages that linked to the resulting PPC ads.
Then, he analyzed 375,000 landing pages from approximately 145,000 companies of all sizes to see which ones had a video.
The final result? Less than 1% of these 375,000 landing pages had a video.
Casey mourns the fact that even when these marketers have the full attention of interested potential customers, they're not using all the tools available to get them to convert.
"I think the interesting thing is these landing pages are all about conversion. Yet what we typically see again and again is when you have a landing page with a well-produced video . . . [people who watch] convert at a much higher rate than those who don't engage with that video."

Why Does Video Work?
"Video is one of these unique things that can really tell you how engaged your customers are with your content." Casey says. "Typically people think of using video only from a standpoint of 'How can we use this video within a blog post?' I've been spending a lot of my time talking about how to use video within your funnel to really connect with your engaged audience and drive those people deeper into your funnel so you can ultimately get them to convert."
How does a landing page video improve your conversion rate? Casey's theory is that it helps people connect with your brand.
"When you click on a PPC ad and then you're dropped at a landing page with stock images or a really salesy message, I think people are turned off by that," Casey says. "But when you have a video that shows a warm person who greets them and explains the product and explains that they're there to support them and help them, then it humanizes your brand and your product more than any single image ever could."
One of Wistia's customers is an appliance store near Boston (where Wistia is based). Though they're not professional videographers, they've found great success recording video reviews of their products—a refreshing change of pace from the hard-sell techniques people might expect when shopping for a high-ticket item. This company has discovered that when customers watch these videos, they feel more connected to the salesperson in the video because they've gotten great information from him or her before they even walk in the door.
"We've become very disconnected from the brand," Casey says. "It's all about is this right for me, is this the right price, that kind of stuff. We've become disconnected from the fact that there are actual human beings behind everything you do and buy… Some people want to know that there's a hard-working group of people behind that product and that brand."

What Should Your Video Look Like?
Casey recommends that you invest a little money into your video production. Don't just record a video with your smartphone without any other equipment and expect to be able to use that to get opt-ins or sales. Here are a few practical tips he shared for creating marketing videos that convert in 2015
Get a tripod so your video isn't shaky, whether you use your smartphone or a DSLR camera.
Use a professional lighting set-up. It doesn't have to be complicated or expensive.
Put yourself and your employees in the video so potential customers know who they're dealing with.
By the way, LeadPages' Head Product Educator, Jeff Wenberg put together a great blog post on making marketing videos quickly and inexpensively. Check it out.
Don't expect to get the perfect video in one take. Making a video takes time and effort, but the results can be well worth it.
If you don't have the time, but you do have a budget, go ahead and hire someone to do a video for you. Casey doesn't recommend spending thousands on your video, but if you have enough to hire a local film student or a reasonably priced freelance videographer, go ahead and do it.
Casey also advises staying away from animated explainers. "Three or four years ago those things were cutting edge and really great. Now there's just been too many of them done, and poorly done, that I think customers and consumers are turned off by them."
How Long Should Your Video Be?
"I think short and sweet, less than a minute, to the point, and the meat of the video needs to be within the first 10, 15 seconds to get them really hooked," Casey advises. "If it's a landing page and your company is business-to-customer, then you can be more touchy-feely. If it's business-to-business, your potential customers probably want the data on the product and they want it quickly. Don't sugarcoat it, don't make it longer than it needs to be."
For instance, one of Wistia's customers sells balls for soccer, dodgeball, and other sports. It might seem hard to make a video about a soccer ball, but this company pulls it off by sticking to the point. For each product, they record a one-minute video review that covers the quality, the materials, and what it's like to kick or throw.
Once your video is out there in the wild, analyze your data to see if your customers are responding. If people are only watching the first five seconds, you probably need to change direction. If they're watching the whole thing, you probably have a winner on your hands.
How Can You Turn Video Into Sales?
You have about five seconds to capture someone's attention once they arrive on your landing page, regardless of what media you put on the page. If a site visitor has watched your video all the way through to the end, you definitely have their attention.

If you're using YouTube or Vimeo, their systems allow you to add a CTA button to your video. If you're using Wistia, a call to action feature is included in their service. If you're a LeadPages® member, all of our video landing page templates have CTA buttons and several of them can be timed to pop up at a certain point in the video.
How do You Use Video for Your Business?
Do you use video on your landing pages? Tell us how video factors into your business in the comments below.