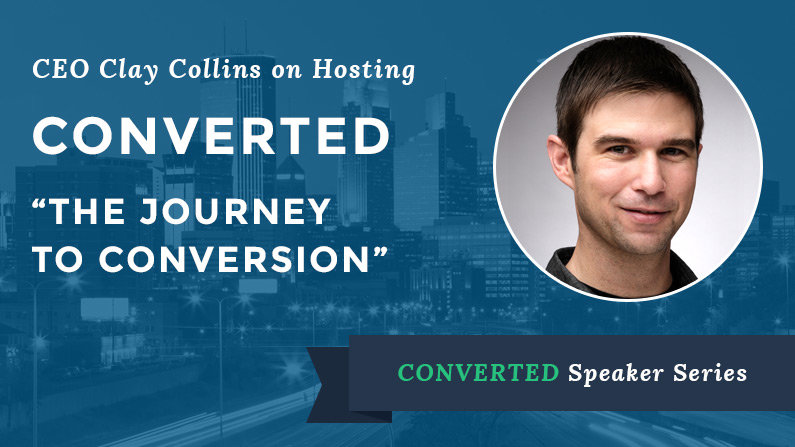 Clay Collins has built LeadPages from an idea to a growing company with over 35,000 members and employing 150 people (and counting) in two and a half years. He's also raised $38 million in venture capital funding for the company. LeadPages has been dubbed the fastest growing start-up in Minnesota by Mattermark and has received the 2015 Top Workplaces Award from the Minneapolis-based Newspaper, the Star Tribune.
This year marks the inaugural LeadPages conference, CONVERTED, which will take place October 20th and 21st in Minneapolis.
I got a chance to sit down with Clay to discuss his decision to create a conference focused on conversion and a customer's journey from Internet browser to repeat buyer.
"Most people have a very narrow idea of what conversion is," said Clay. "They only think of opt-ins and sales as conversion points. They don't think about all of the other conversion points that can be optimized and used to grow their businesses"
CONVERTED will take you through every point of conversion within your business, several of which you've probably never thought about, including every time a prospective customer:
Chooses your search engine listing over another company's listing.
Clicks on a tweet from your company that shows up in their feed.
Sees your shortcode on a billboard and sends a text to that number.
Purchases an upsell after they've already bought your product.
Renews their membership every month or year.
Directs a friend to your website.
All of these conversion points matter, even if they seem minor. If you don't take advantage of each of these conversion points, your business may fail, or never reach its full potential.
CONVERTED is designed to help you make your business a success.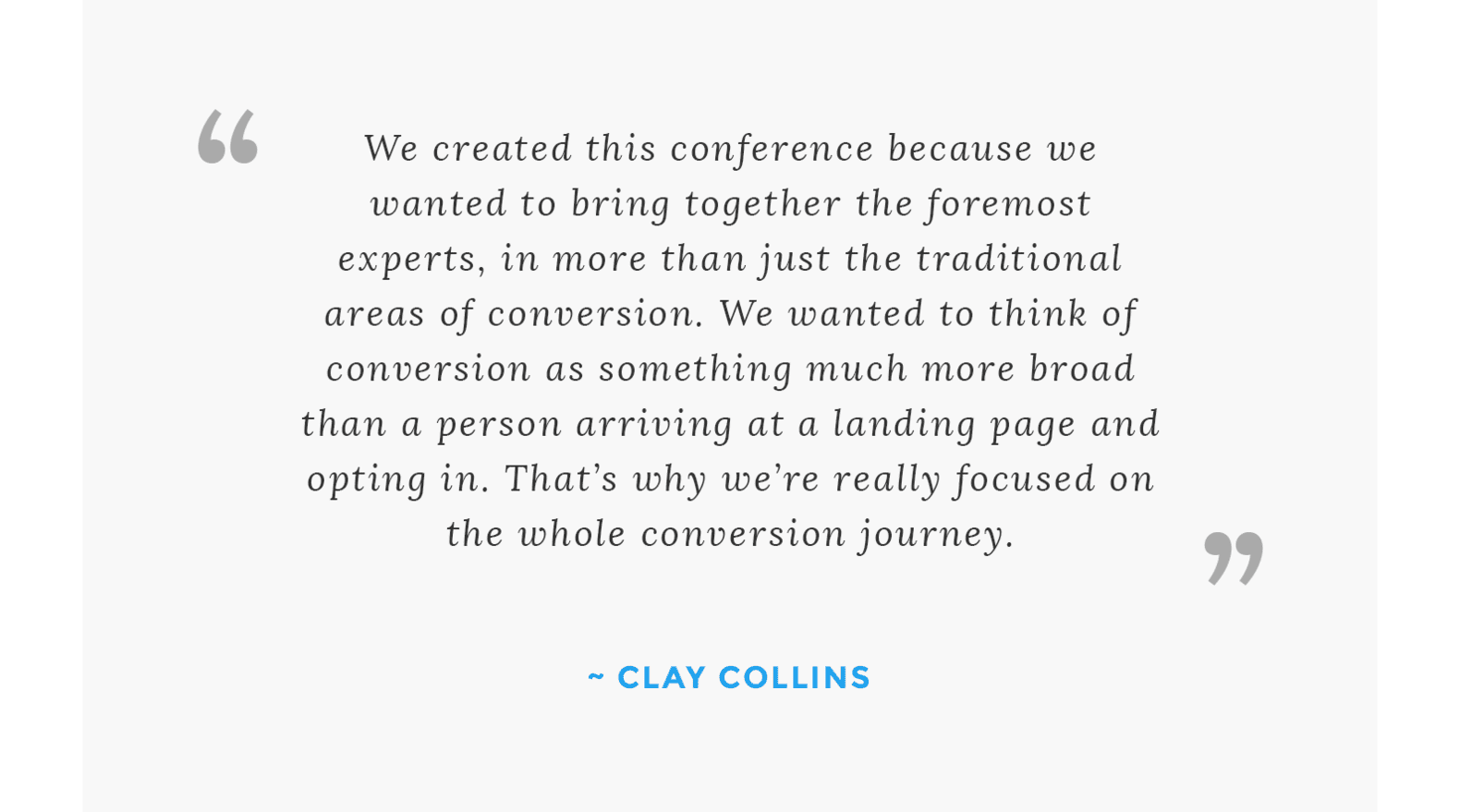 Each Step of the Journey
Part of what we're trying to do is bring more attention to all of the different conversion points available to your business, many of which you may not have considered.
Our conference is structured around the customer's journey to conversion.To start our conference off on the right path, we have three incredible opening speakers who will address the very beginning of that journey, your company:
Clay will open our conference by giving a broad overview of the conversion journey and what you will learn during over the next two days.
Ryan Holiday, our keynote speaker will explore the four steps of growth hacker marketing and how you can apply all of them to your business.
Our own Co-Founder and Chief Strategy Officer, Tracy Simmons will show you how to build, and keep, your own dream team of employees.
The rest of the conference will focus on the four basic steps every customer takes on his or her conversion journey. Within those steps are many smaller conversion points that you need to recognize and optimize for your potential customers.
The first step is from Internet browser to landing page or website visitor. This can be one of the more important steps, as it's where potential customers meet your company for the very first time. We have an amazing line-up of speakers to help you with this step:
Pat Flynn will talk about how to create an audience of raving fans. He'll be revealing techniques he's developed through building his own audience of 120,00 fans who hang on his every word through his Smart Passive Income podcasts, blog posts and videos.
Dan Martell will reveal his brand new strategy for building a continuous stream of traffic to your website.
You'll learn about the right ways to introduce your social media audience to your website from The Queen of Facebook, Mari Smith. She'll talk about the kinds of content you should post, how often you need to post and how to build a genuine relationship with your audience.
Jared Polin, CeFro of FroKnowsPhoto will host a question and answer session all about how to win with content.
The next step will see the visitor become a lead. Persuading site visitors to opt into your email list is an art in itself. We talk about it regularly on our blog and in our webinars. Our CONVERTED speakers each bring their own perspective on how you can move site visitors along this next, very important step in the conversion journey:
Ezra Firestone will reveal the right way to speak to your leads, including everything from properly nurturing your email list and creating effective sales pages to converting your customers again after they've bought with cross-sells and upsells.
Tom Kulzer, CEO of Aweber, will give you the best practices for building and maintaining a massive email list.
Tim Paige, our own Conversion Educator will uncover the secrets of making every page on your website a conversion machine.
Infusionsoft will share the secrets of creating follow-up sequences that gently guide your leads down the path to becoming customers.
Once you have converted that site visitor into a lead, you need to lead them one step further to becoming a customer. Our experts will help you address and improve in this area:
Patrick Campbell, CEO of Price Intelligently, will show you tested, proven methods for creating a high converting pricing page.
Brian Moran, Co-Founder of SamCart will explain the art of crafting a compelling checkout page.
Casey Henry, the SEM/Growth Manager at Wistia, will demonstrate how to turn the average video into a powerful conversion tool.
Finally, for your business to thrive in the long run, you must retain these customers and make them into repeat buyers. Our final speakers will give you the tools you need to keep your customers for life:
Samuel Hulick of UserOnboard.com will show you how to craft a killer onboarding sequence so your customer's first experience with your product will keep them coming back for more.
Nick Francis, Co-Founder and CEO of HelpScout, and LeadPages own Chief Customer Officer, John Tedesco, host a fireside chat, discussing what you can do to reduce churn and delight your customers.
In addition to this incredible line-up of speakers, our entire marketing team will be on hand to answer your questions and give you advice and feedback on your current, and future, marketing efforts.
When CONVERTED is over, you'll have all the tools you need to fully optimize every step of your company's conversion journey so your customers have the best experience and your business gains the most benefit.
Who Shouldn't Attend CONVERTED?
Well, maybe someone not interested in growing their business.
But I asked Clay who he thought would benefit the most from CONVERTED.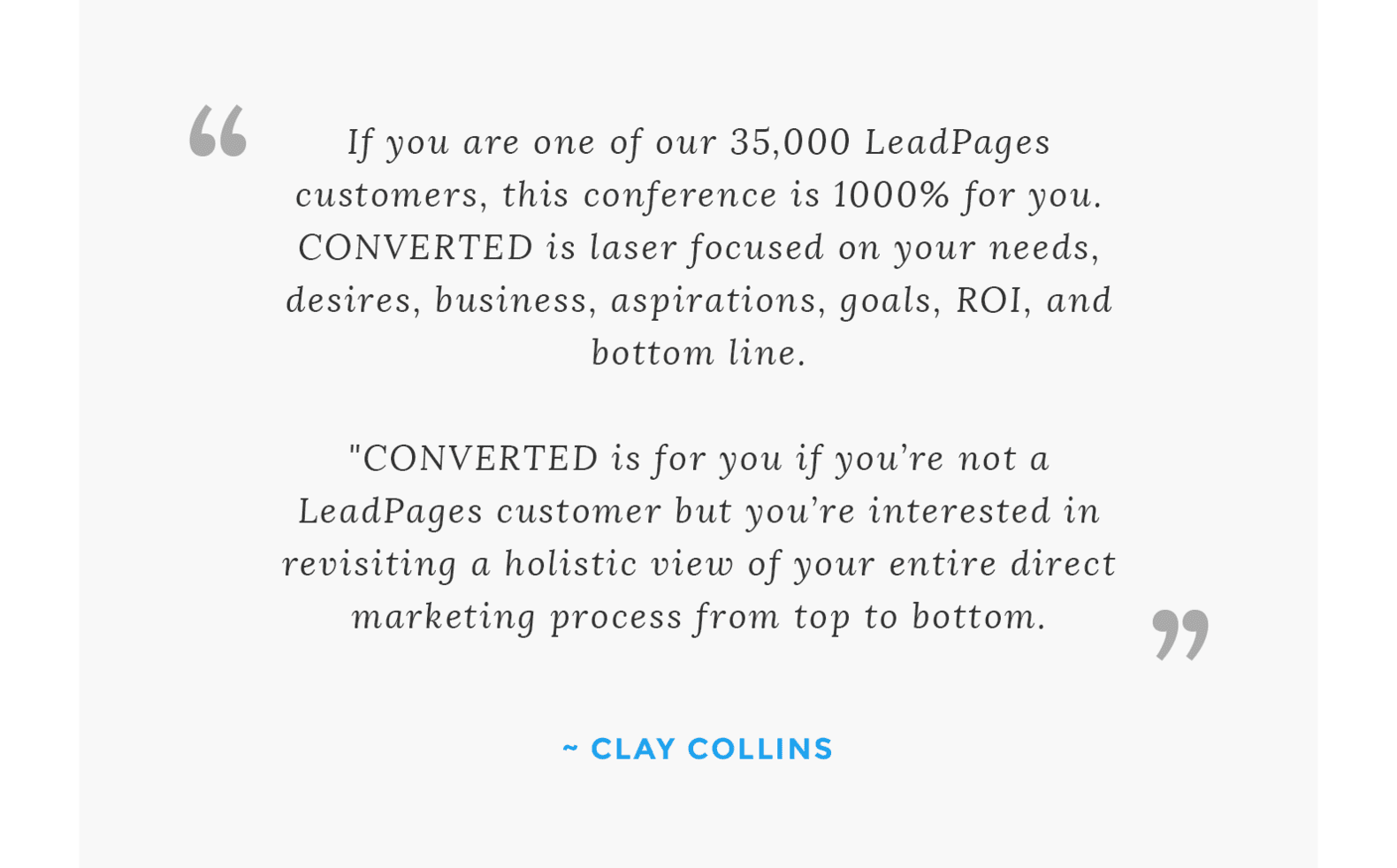 Regardless of the size of your business and the phase of its development, you will come away with actionable strategies you can apply as soon as you get home, possibly even before you leave.
Agencies will discover new and efficient ways to drive performance for their customers.
Solopreneurs will learn what it take to turn their dreams and hard work into successful and valuable businesses.
Coaches and consultants will learn new tactics to double or triple your business.
Established companies will be inspired by the newest marketing tools and tactics being shared by the most savvy and competitive marketers on the planet.
No one should walk away from CONVERTED without new ideas and strategies to apply to their businesses.