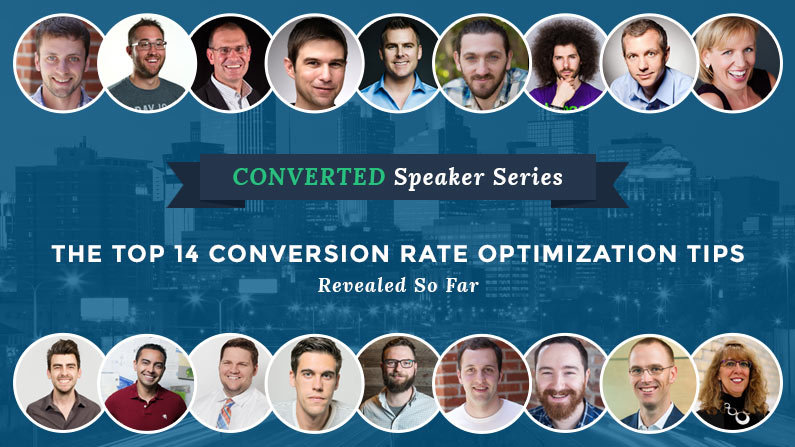 2 days. 17 of the top marketing minds in the industry. 1 phenomenal LeadPages event.
That's what you can expect at Leadpages first ever conference, Converted 2015 next month.
During this groundbreaking event, we're taking you on a conversion journey, to show you how to boost your conversions at every step of your sales process.
That means we're going to show you how to drive more traffic to your site, generate more leads, drive more sales, and rack up more lifetime customers in 2016 and beyond.
We have invited some of the top marketing minds in the industry to speak at Converted 2015 on October 20-21 including Pat Flynn, Mari Smith, Ryan Holiday and more.
Today, we want to give you a glimpse at 14 of the conversion rate optimization tips these top speakers have revealed so far here on the blog (and show you what's coming at Converted). Read on for this Converted exclusive. . .
Ryan Holiday: Converted Topic – Growth Hacker Marketing: The Future of PR, Marketing, & Advertising
Our CONVERTED keynote speaker, Ryan Holiday will kick off this event with an insider's look at how growth hackers market their businesses (and how you can do the same). As the author of Growth Hacker Marketing and other books, he has quite a bit of expertise in this area.
Ryan will also give you a look at how to ensure your product matches your market. Earlier this year, Ryan gave us a quick look at Product Market Fit here on the blog. To make sure you're making a product people want to buy, Ryan advises:
Listen to your customers. As Ryan points out, "When you have this thing that solves a very real problem, that is exactly what people want, marketing it is considerably easier."
Create a minimum viable product (MVP) and put it out there in the world.
Get feedback from your potential customers.
If the feedback is good, keep developing your product. If it's not, go back to the drawing board until you get good feedback.
Ryan is going to cover the other aspects of growth hacking during his presentation at CONVERTED. If you want to get a head start, read Ryan's full blog post on product market fit.
Mari Smith: Converted Topic – The Right Way to Use Social Media to Introduce Fans to Your Site
Mari is known as the Queen of Facebook and is considered one of the world's foremost experts on Facebook marketing and social media.
I spoke with Mari shortly after she had presented at Facebook 2015 Boost Your Business, a Facebook sponsored marketing event here in Minneapolis. One of the most common questions she was asked at this event was "What do I post?"
Mari answered this question here on our LeadPages blog. She recommended that you:
Post Different Types of Content: Along with posts promoting your product, give your audience a peek behind the scenes of your company and show how your product is made.
Use Visuals: Mari recommends using pictures and video in your posts.
Tell Your Story: You want to build a relationship with your audience, so tell them how you got to where you are, and what's going on in your life.
Where to Post: Mari recommends posting on Facebook, Twitter, Instagram and LinkedIn
How Often to Post: Mari gave specific post frequency instructions for each of her chosen social media platforms, which you can find here. Ultimately, she points out that you're maintaining a company presence on social media so you have to stay engaged with your audience.
Everything in Mari's presentation will help you avoid common mistakes businesses make on social media, so make sure you're right up front to get any of your questions answered.
Pat Flynn: Converted Topic – How to Create an Audience of Raving Fans with Your Content
Pat has grown the audience of 120,000 raving fans for his Smart Passive Income blog using many of the techniques that he'll show you at CONVERTED next month. Pat shared one of these techniques with me here on the blog. It's called a "small quick win."
A small quick win is a tip or strategy that your potential customer can put into action right away with very little effort, and see an immediate result. As Pat points out, it takes a lot to get someone to make major changes in their life:

Pat shares his small quick wins with his audience in a few ways, including:
In His Autoresponder: Pat includes a quick tip to help people find topics to write about within their particular niche in the very first email his new subscribers receive from him. He's gotten numerous thank you emails for this very simple idea.
Within His Lead Magnets: One of Pat's lead magnets is called Ebooks the Smart Way. In this Ebook, Pat recommends you create a mindmap for your book, which can make the project seem much more achievable instead of feeling like daunting task.
Pat is going to reveal more of the techniques he's used to built his audience during his CONVERTED presentation. To read more of Pat's advice on small quick wins you can give your audience, read his blog post.
Ezra Firestone: Converted Topic – How to Speak to Your Leads: List Nurturing, Effective Sales Pages, Upsells & Cross-sells
When it comes to customer engagement, Ezra Firestone of Smart Marketer is an expert. In fact, he's created something he calls the "cycle of engagement," a series of emails that he sends his customers to keep them excited and engaged. After all, it's much cheaper to keep your current customers than to acquire new ones.
Ezra shared his email sequence here on the LeadPages blog. Once his customers make a purchase, he sends these five emails:
The Welcome Email: Start your relationship off right by welcoming your new customer into your community.
The Pre-Arrival Email: Ezra also refers to this as the "open the box" email. It describes exactly what the package will look like when it arrives and a sneak peek of what of the product inside will look like when the customer opens it.
The Social Promotion Email: Once his customers have their product in hand, Ezra grabs the opportunity to get social proof for his company by asking his customers to take a selfie with their product and enter it in a contest.
The Survey Email: Customer feedback can be some of the most valuable information you can get about your product and your sales process. Ezra sends his customers a survey asking them open-ended questions to get more in-depth feedback.
The Video Review Request: The final step in the cycle of engagement is to ask customers for a video review in trade for being entered in an additional contest. Again, Ezra uses this method to get social proof to put on his website.
This is just one of the many conversion techniques Ezra will reveal during his CONVERTED presentation.To get more information on the cycle of engagement email sequence, read Ezra's blog post.
Tim Paige: Converted Topic – 4 Keys for Conversion: How to Turn Every Page on Your Site into a Conversion Machine
Tim is the LeadPages Conversion Educator and the host of our wildly popular podcast, ConversionCast. He has also hosted more than 150 live trainings for LeadPages so far this year. At CONVERTED, Tim will show you how to grow your email list in every area of your website, including the most surprising places that most marketers never think to use.
One of the first steps towards growing your email list is creating the perfect lead magnet. Here on the blog, Tim gave a quick look at how that's done.
Tim says that your lead magnet needs to address a pain point or a pleasure point that your potential customers have. In other words, your lead magnet should either offer a solution to a problem or fulfill a desire.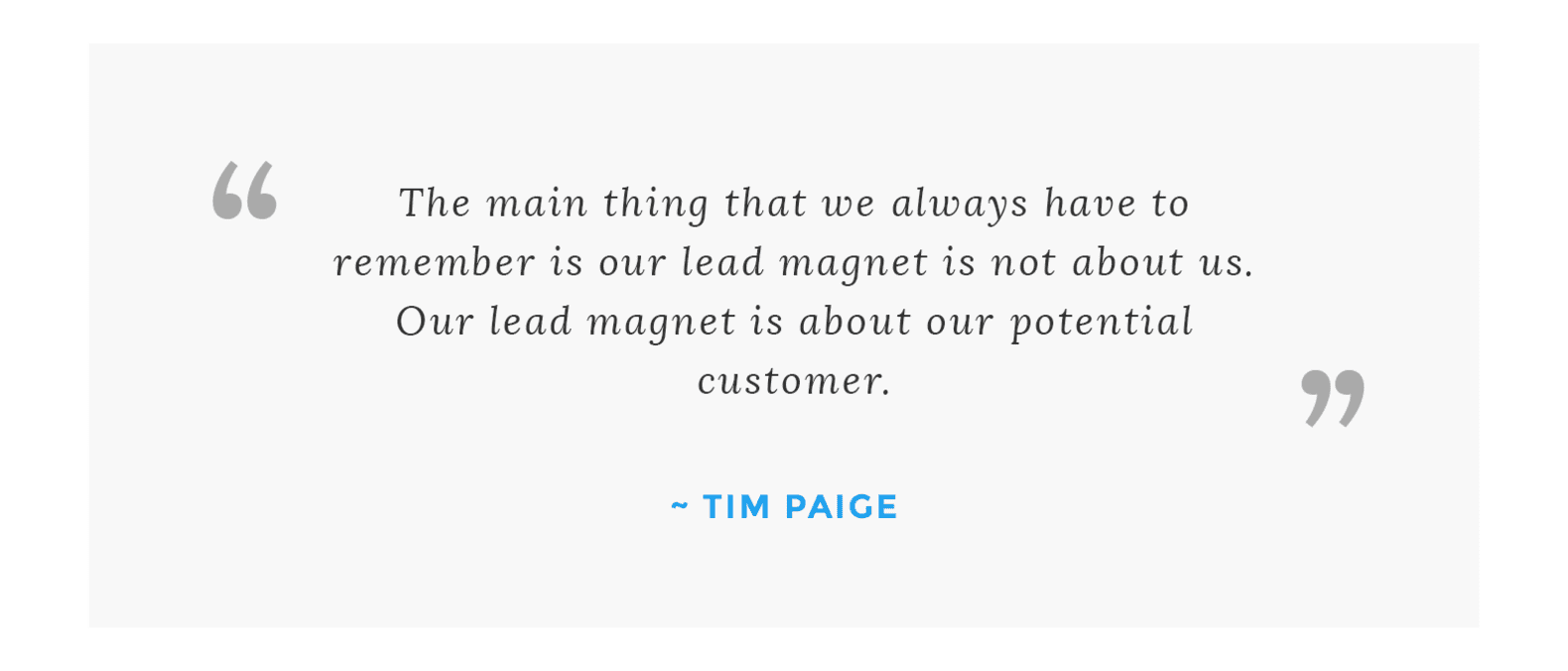 Tim will show you ways of optimizing your website and increasing conversions that you've probably never thought of before, including things that major companies and experienced marketers frequently miss. To get a jump on this process by creating a great lead magnet, read Tim's blog post.
Scott Moran: Converted Topic – What to Add to Your Checkout Page to Boost Conversions
Scott is Co-Founder of SamCart, an online shopping cart tool that provides high-converting checkout pages.
I had a chance to talk to Scott's brother and Co-Founder, Brian Moran, about how to prevent shopping cart abandonment and get more customers to complete the purchase process. Here's what they suggest at SamCart:
Restate Your Offer on Your Checkout Page: Remind customers of why they were so excited about your product or service in the first place, as well as the benefits they'll receive by purchasing.
Use Social Proof: Adding testimonials to your checkout page often inspires would-be customers to click the "buy now" button.
Show Your Customers What They're Buying on the Checkout Page: Make sure there's an image of the product, as well as the product name and price, on your checkout page so your customers know they're in the right place, and about to buy the right thing.
Scott is going to reveal even more techniques you can use to increase conversions on your checkout page, at CONVERTED. Meanwhile, check out the blog post to get more information on how you can use the tips listed above.

Dan Martell: Converted Topic – Build a Traffic Flywheel that Continuously Drives Traffic to Your Site
Dan is a serial entrepreneur who has started several prominent businesses, which he's sold for considerable sums of money.
Dan is currently between business projects and has used this time to develop a system to drive a constant stream of traffic to his website, He'll be showing you this exact traffic system at CONVERTED next month. Here on the LeadPages blog, Dan revealed how to create the unique content he uses as part of this system.
Every four months, Dan spends 2 days shooting a total of 16 videos. He then breaks the videos out into different forms of content, such as quote cards, blog posts, tweets, audio files, email newsletters, etc. All of this content is scheduled on different social media platforms and sent out according to a specific timetable where it drives people to Dan's website. Since he began using this system six months ago, Dan's email list has gone from nonexistent to 14,000 subscribers.
Remember, Dan will reveal the entire system, including the very specific timing of when to send these posts out on which social media platforms, so make sure you've got your seat reserved for CONVERTED. To learn more about how Dan creates his content, so you're already ahead of the curve, check out his post.
Jared Polin: Converted Topic – How to Beat the @#$%&! out of the Internet and Win with Content
Jared is the "CeFro" of FroKnowsPhoto.com. Over the last 7 years, Jared has grown his audience by giving away his content for free. Since starting his podcast, he has 426,000 YouTube subscribers, 158,000 Facebook fans and 43,000 Twitter followers, all acquired with free content.
Jared will be hosting a Q&A session on building your audience with content at CONVERTED. Here on the LeadPages blog, Jared gave us a look at how he developed his following first, then started partnering with sponsors for brand deals, getting in on affiliate programs, putting advertising on his YouTube channel and selling his own products.
Jared's Q&A is sure to be both interesting and entertaining, so don't miss it. Meanwhile, read his post to learn more about how Jared built his audience.
Patrick Campbell: Converted Topic – Tested, Proven Methods for Creating a High-Converting Pricing Page
Patrick founded Price Intelligently to help companies turn pricing their products and services into a science. Here on the LeadPages blog, Patrick revealed why companies should spend more time focusing on their pricing instead of just trying to increase their volume of leads and customers.
Here are Patrick's top three tips for making sure your pricing matches the value of your product:
Identify Your Target Market: Make sure you know who you're selling to and how much your prospective customers value your product.
Examine Your Pricing Model: Take a serious look at your current pricing model so you can find opportunities to increase the lifetime value of your customers.
Increase Your Prices Without Raising Costs: By packaging goods or services together, you can raise your prices and offer more value to your customers without decreasing your own bottom line.
Patrick will go more in-depth on value-based pricing and how you can apply it to your business during his CONVERTED presentation. For more information on the tips above, read his blog post.
Samuel Hulick: Converted Topic – How To Craft A Killer Onboarding Sequence
If you ask Samuel what he does for a living, he'll tell you "I help make it easier to get started with software." He does this by improving the user onboarding process.
What is user onboarding? It's the first impression your customers have with your product or service. The difference between a good user onboarding experience and a bad one is whether you end up with a lifelong customer or your product is returned or just sits on the shelf, never to be used again.
When I talked with Samuel about user onboarding he told me: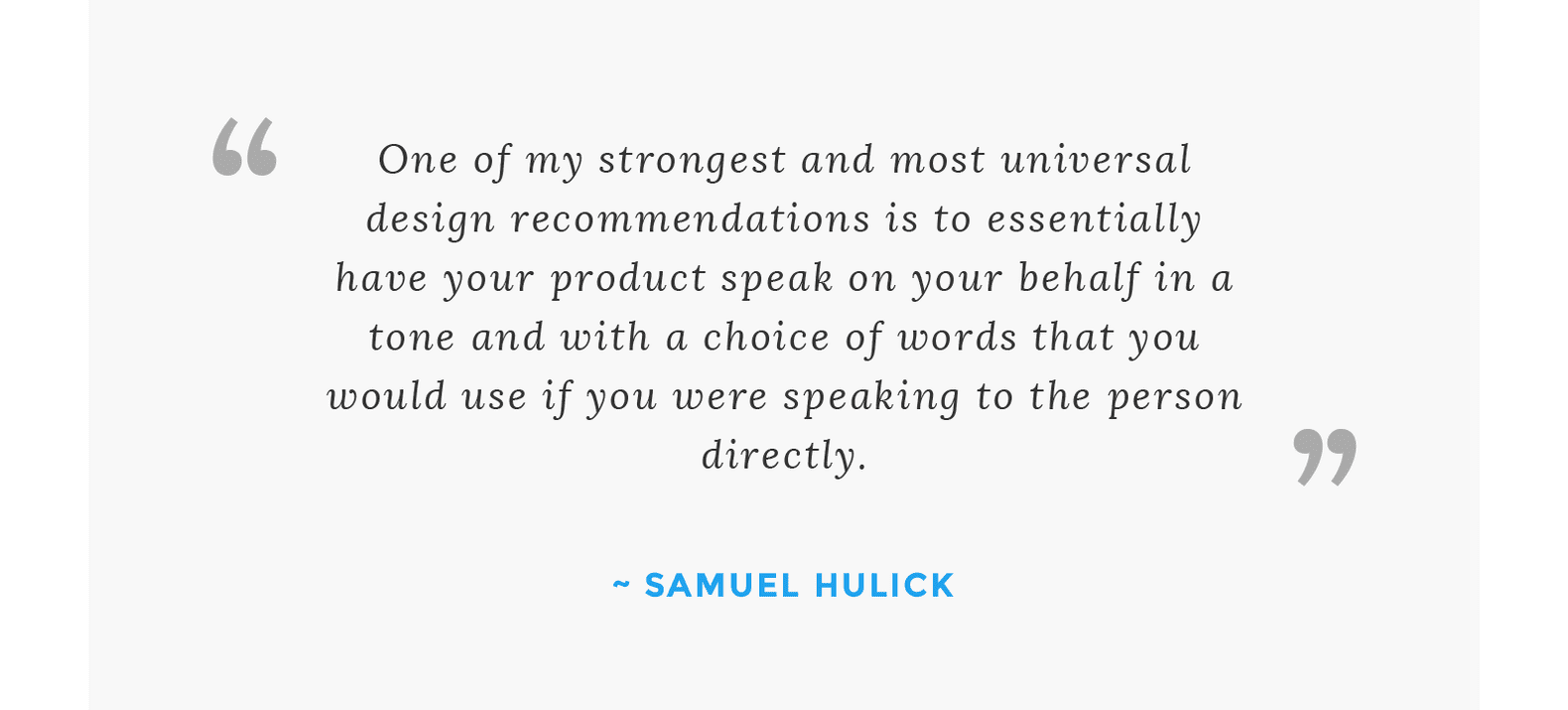 Anything you can do to provide a welcoming environment and ensure an uninterrupted experience the first time customers use your product or service will go a long way to making sure they continue to use your product or service in the future.
Samuel will cover everything from how to introduce your product to your users to how to follow up with them after they've started using your product. To learn more about user onboarding and to see examples of good user onboarding experiences, read Samuel's post.

More Great Tips Coming Next Month
Now that you know what we've covered already, I'd like to give you a sneak preview of what our remaining speakers will share with you on our blog and at CONVERTED in October.
Casey Henry: Converted Topic – How to Turn Your Average Video into a Conversion Tool
Casey will show you why video is such a great tool for engagement and conversion. As he points out, "when a person has watched a full video they will do almost anything you tell them to do." So take advantage of this fact and get them to convert.
Casey will divulge lots of strategies to use video to increase conversions during his CONVERTED presentation, so get there early.
Tom Kulzer: Converted Topic – How to Build Email Campaigns That Nurture Your List
Tom will explain why, no matter the size of your email list, you need to write each and every email as though you were talking to one person, and why that matters so much.
As Tom says, "Every time you hit send, whether you're emailing one person, one hundred people, one hundred thousand or even a million people, one, and only one, person that receives that email."
Tom will show you how to nurture, grow and make the most of your email list this October at CONVERTED.
Tracy Simmons: Converted Topic – A Call for Courageous Leadership: How to Create (and Keep) Your Own Extreme Dream Team
Tracy Simmons, LeadPages Co-Founder and Chief Strategy Officer will explain how she has created the LeadPages dream team, and how you can do the same for your own company. Tracy will also show you how to avoid making the same mistakes many companies, including major multinational companies, make on a regular basis.
Because, as she points out, "If you don't have a dream combined with a strong, specific intention of what kind of company you want to build, the default you'll end up with is one more half-baked company littering the world, harming more people."
Tracy's going to show you how to create a spectacular team and get them onboard with your company's mission so together you can fulfill your dreams, as well as give your customers exactly what they want.
Finally, What's Coming from Our CEO, Clay Collins
We saved the best for last. As our Co-Founder and CEO, Clay has guided the creation and development of LeadPages for the last two and a half years. He's also been the driving force behind CONVERTED.
When I asked Clay who CONVERTED was really for, here was his response: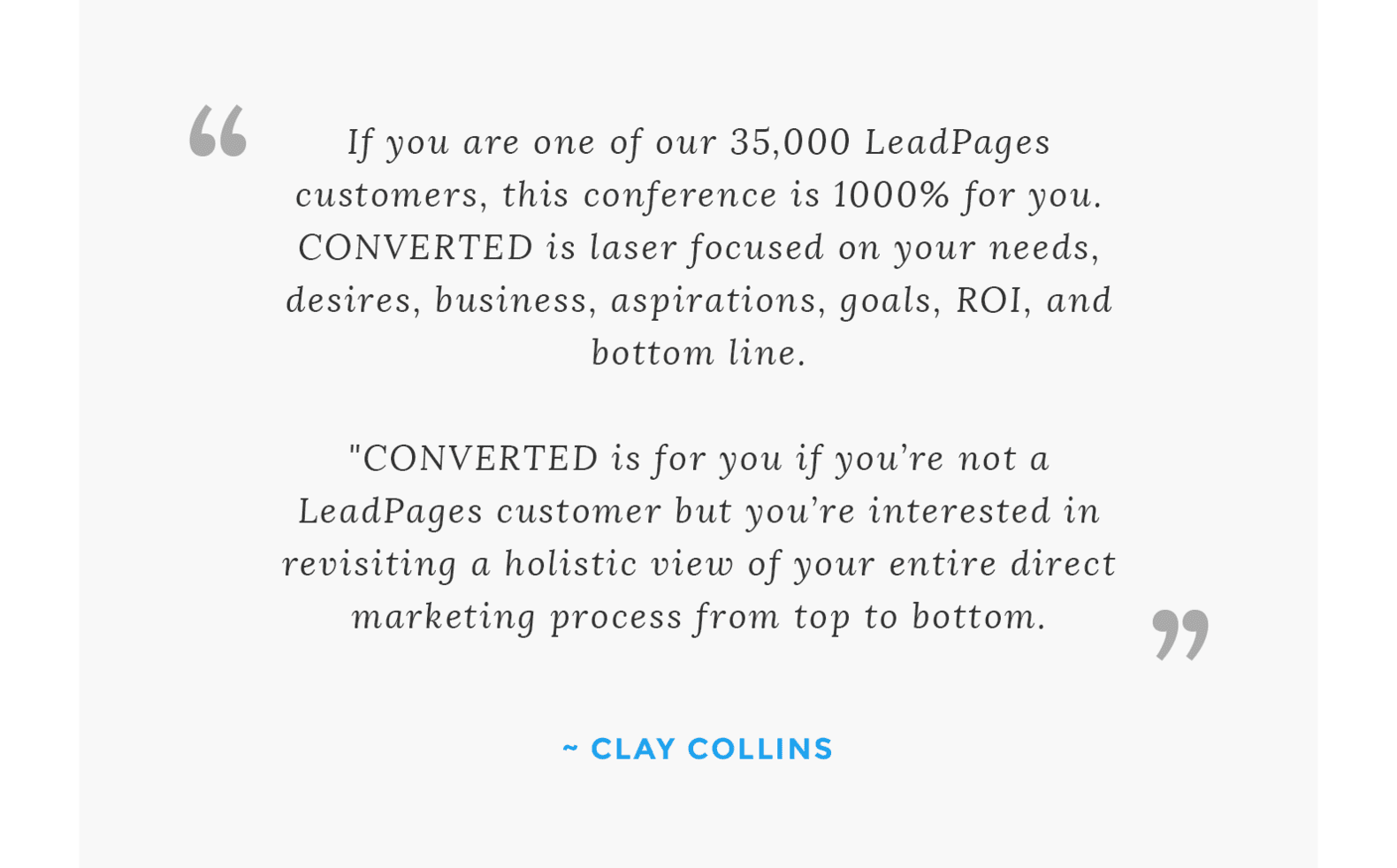 Clay is our opening speaker at CONVERTED. He's going to walk you through the entire conversion journey and explain how each point can positively impact your business. To read more about why Clay decided to hold this conference, read his blog post.