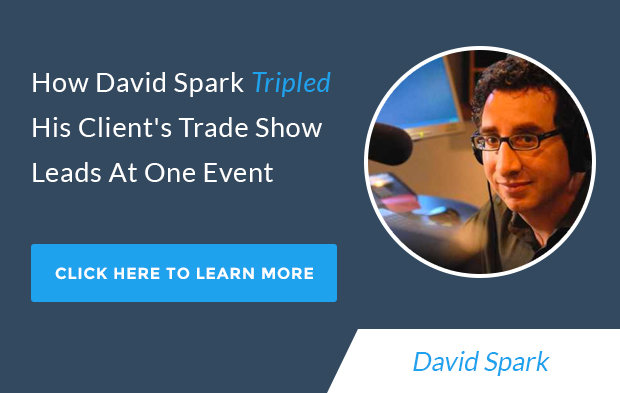 Note: The Exact Strategy David Helped His Client Implement That 3X Leads At One Trade Show Is Available For Download.
Click Here To Download
Our Guest:
David Spark runs his company, Spark Media Solutions, which provides relations-based content. It is primarily made up of what he likes to call brand journalists (aka content marketers) that generate content based on the knowledge of other people. Two-thirds of the company's business takes place at trade shows and conferences where they spent time interviewing people and created a training program to improve behavior at trade shows to get results. With this experience, David has written a book titled, Three Feet from Seven Figures: One-on-One Engagement Techniques to Qualify More Leads at Trade Shows (threefeetbook.com).
A Quick Preview of the Podcast:
The three qualifying questions you should be asking at trade shows
The 4 Step Trade Show Secret
How to engage prospects and turn them into leads
To See These Tactics In Action:


Click Here To Learn David Spark's Strategy To Engage & Qualify Leads At Trade Shows
To See The Transcript:
Listen To Discover David's Trade Show Strategy That Tripled Leads For A Client At One Show