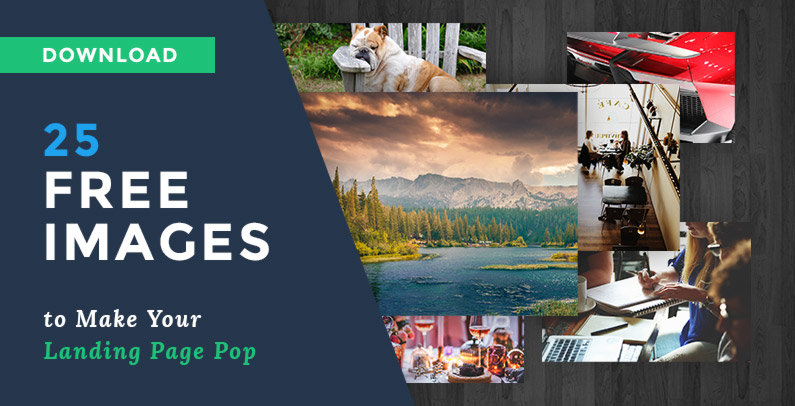 Click Here to Download the Images
If you have
LeadPages™
, you don't need to download this template – it's already available to you inside your LeadPages account. Just
log in
and you'll see how super easy it is to customize this page in seconds with no technical knowledge or skills, make it mobile responsive, integrate it with your email service provider or CRM, run A/B split tests, and publish it to Facebook, WordPress, or your own server.
204%. 409%. 900%.
Those are all real conversion-rate improvements we've seen from our customers' A/B tests. And the three tests that produced those exact results had one thing in common: they all resulted from a simple change of image.
In some cases, you can get results like this by adding a photo image where there was only a blank background before. In other cases, you can see this kind of jump just from swapping in a new image for an old one.
A couple of clicks for a ninefold improvement in landing-page performance? It's hard to beat that kind of return on investment. (Especially when the winning image is free.)
Gains like these are exactly why our designers and conversion experts at LeadPages work hard to curate high-quality, royalty-free stock images we can pass along to you. Today, we're releasing a brand new collection of 25 photos optimized for your landing pages. Each of them comes in four sizes ranging from small to gigantic, so you'll get a total of 100 image files.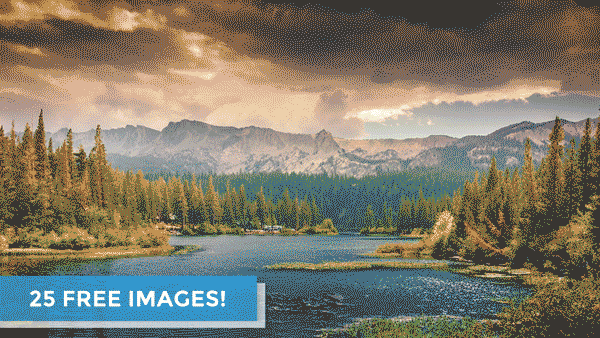 When our designers create a collection like this, they rely on more than just their own good taste. They draw on trends we've noticed across a spectrum of industries and Leadpages users. While we can't make any universal claims about which kind of image will resonate best with your audience, I have observed that the images that produce the biggest conversion-rate bump tend to have three things in common:

1. Realism: It can be tempting to get artsy with your landing-page images. On some level, it seems intuitive that applying an odd filter or choosing an unusual angle would be a good way to stand out from the pack.
However, we've noticed that even a very simple photo, if it's high-quality and well composed, will often outperform an image sporting lots of special effects. Accordingly, the images in this collection are often creatively shot, but they register primarily as photographs, not feats of digital manipulation.
2. Context: Another fun-in-theory kind of landing-page image is the extreme closeup—say, an ant's-eye view of a wine glass or a bigger-than-life section of a person's face. But when we look at the data, photos like this rarely do as well as photos that include some context: not just the wine glass but the hand holding it and the sunny patio behind it.
Why would this be? It could be that the extra work of decoding an unfamiliar perspective distracts visitors from taking action. Or it could be that it's easier to imagine yourself into a scene that feels more "human-size." Which brings us to . . .
3. Relatability: We've seen a lot of A/B tests based on another kind of photo: the headshot. Quite consistently, "lifestyle" shots that include things like non-studio spaces, family members, and even imperfect lighting show an edge over formal headshots.
Even when the subject's not you, you want to paint a picture that prospective clients and customers can feel comfortable in. You'll notice that when people are present in these images, the focus is often on their hands or the work they're doing; they're not staring you in the face. This softer approach makes it less likely that any one photo subject will leap out at you and more likely that you'll feel welcomed by the overall scene.
Sometimes entrepreneurs have a tough time choosing inviting imagery because their work doesn't primarily take place in a physical space—it happens on the phone, or on their laptop screens. When that's the case, you don't need to abandon great photos. You just need to start thinking in terms of metaphors and moods, rather than a literal depiction of what your business does.
To give you a head start, here are a few beyond-the-obvious types of images you can try on your landing pages:
Atmospheric images: Find images of places that people want to be. If you want to suggest the warm relationship you'll build with clients, choose one of our images of people consulting in a cafe or laidback office. If you're building an event page, set the scene with festive imagery of lights or elegantly set tables.
Inspiring images: If your business is all about helping people reach their greatest potential, help them tap into inspiration with scenes of natural beauty. Mountain vistas, tall trees, and tranquil lakes can suggest the sense of calm or accomplishment you're hoping your clients will find.
Metaphorical images: Here's a little exercise: take five minutes and write down every figure of speech you use in your industry. I bet you'll find that you speak in images more often than you think. If you're creating a page to help people "launch their product" or "watch their business skyrocket," try a photo of an actual rocket blasting off. The animal photos in this collection can serve a similar function: perhaps your clients are as "dog tired" as a sleepy bulldog, or as "curious" about your industry as a baby raccoon.
To use any of these images with Leadpages, start by downloading and unzipping the folder. (This is a very large file, so the download may take some time depending on your connection speed.)
Then open the template or existing landing page where you want to use them, click on the field where you want to add the image, and click "Upload New Image." You're all set!
The largest images will be ideal for background images. If your template uses a large photo background area, seek out images that have natural space for a text box. (You'll notice that many of them do.) Even better, think about the placement of that text box and use a background image that draws the eye toward the text with strong lines or the direction of someone's gaze.
For header images and other sections of the template, you may want to start with something less dramatic. Depending on your business, shots of cozy cafes, charming pubs, and outdoor scenes can all support your page's message without posing a distraction.
. . . and then let us know how you use them! If you put them to work right away, I'd love to see you post a link to your page in the comments.
What principles do you use when you're choosing landing-page images? Tell us below!