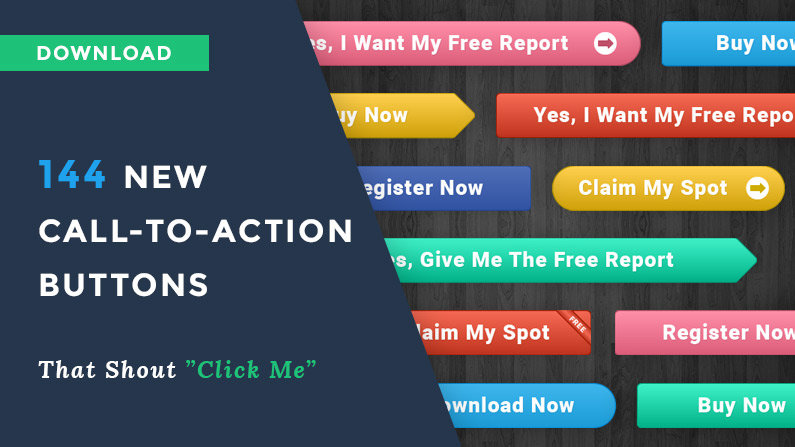 "How do they make their website buttons look like that?"
It's one of the most common questions we get when we show off the work of our talented LeadPages® members. A great call-to-action button commands attention, and naturally, when marketers and entrepreneurs spot one, they're especially intrigued. What's the secret?
In most cases, the secret is simple: you create great-looking buttons by designing a great-looking image and hyperlinking it.
Now, we realize that may not be a very satisfying answer if you're not a designer. So we've done that step for you. Today we're giving you a free pack of 144 call-to-action buttons you can download and use anywhere on your blog or website. Click below to get them now (and see one of these buttons in action):

When you download, you'll find 6 different proven-effective call-to-action messages, each presented in 6 different colors on a variety of different button shapes.
For each message, you'll also find an Adobe Illustrator file. If you have access to Adobe Illustrator or other compatible vector-graphics software, you can download these .ai files and make any changes you like to the button text, colors, or design. (If you do this, you can also download the font we used, League Spartan, for free from
Font Squirrel
.)
I asked the designer who created these, Taylor Wegner, what his goal was in creating this new button pack, and his answer doesn't require you to speak designer. Taylor simply set out to make "a set of cohesive buttons that will look good almost anywhere."
While fitting in with the majority of modern blogs and websites, these buttons also follow some important best practices for call-to-action button design. Based on what we've seen at LeadPages and around the web, a call-to-action button that gets people to click will:
Look like a button: These buttons are attractive, but they aren't too ornate. That's for a very good reason. You want your site visitors to look at your call-to-action button and immediately understand what they're supposed to do.

And that means drawing on existing web-design conventions. It may not be thrilling, but "oblong object with prominent text" is likely to be the most effective model for a button.
Contrast with its surroundings: We've examined scores of split tests that aim to discover the best color for a call-to-action button. What we've discovered is that there isn't a best color for everyone—there's only a best color for your site.

The highest conversion rates tend to come from maximizing contrast while staying on brand. So if you have a black background, you may want to try a yellow background; if your blog uses a lot of red, try turquoise. The colors in this pack are vivid but not glaring, so they can harmonize with a variety of color schemes.
Appear interactive: Flat design may be all the rage (as opposed to design that mimics the 3-dimensional, tangible world). But studies continue to show that people prefer to click buttons that look like more than a collection of pixels.

To take advantage of this while still appearing modern, the buttons in this pack have a subtle gradient and darker border that make them pop up from the screen. (If you are a flat-design purist, consider making your buttons entice mice in other ways, such as setting up a color change upon rollover or adding subtle animation.)
Build momentum: Somewhat surprisingly, you can often improve your opt-in or click-through rate simply by suggesting forward motion. A forward-facing arrow or other graphic element at the end of your button copy seems to motivate people to keep moving through your process. Several of the designs in this button pack use elements like these.
Get personal: It's often effective to write button copy in the voice of your visitors. That's why we've included messages such as "Claim My Spot" and "Yes, I Want My Free Report," written from the perspective of the people the buttons are meant to engage. This copywriting technique subtly suggests that you've already set aside something just for each visitor, and now they only need to claim what's rightfully theirs.
Use the f-word: Of course, I mean "free." Time and time again, we've seen conversion rates rise when marketers simply add "free" to their buttons and other copy.

We've included two messages that include this magic word ("Yes, I Want My Free Report" and "Yes, Give Me My Free Report"), but we've also baked it into a design available for other messages. This design conserves space by adding a "Free" banner to the corner of the button. (You may notice it's the one we've used in this post.)
These buttons are a natural fit to use with LeadBoxes®, our two-step opt-in forms. Click below to see how they work together (and download the buttons if you like):

This makes for an easy way to put LeadBoxes® absolutely anywhere on your blog or website, including pages you didn't create with LeadPages®. You can also link them to your pricing or product pages, your webinar pages, or any system you've set up to let visitors download free resources.
We hope these new buttons help you collect more leads and make more sales from more places online.
Got any questions about how to use these buttons or what makes for an effective call-to-action button in general? Ask us in the comments!