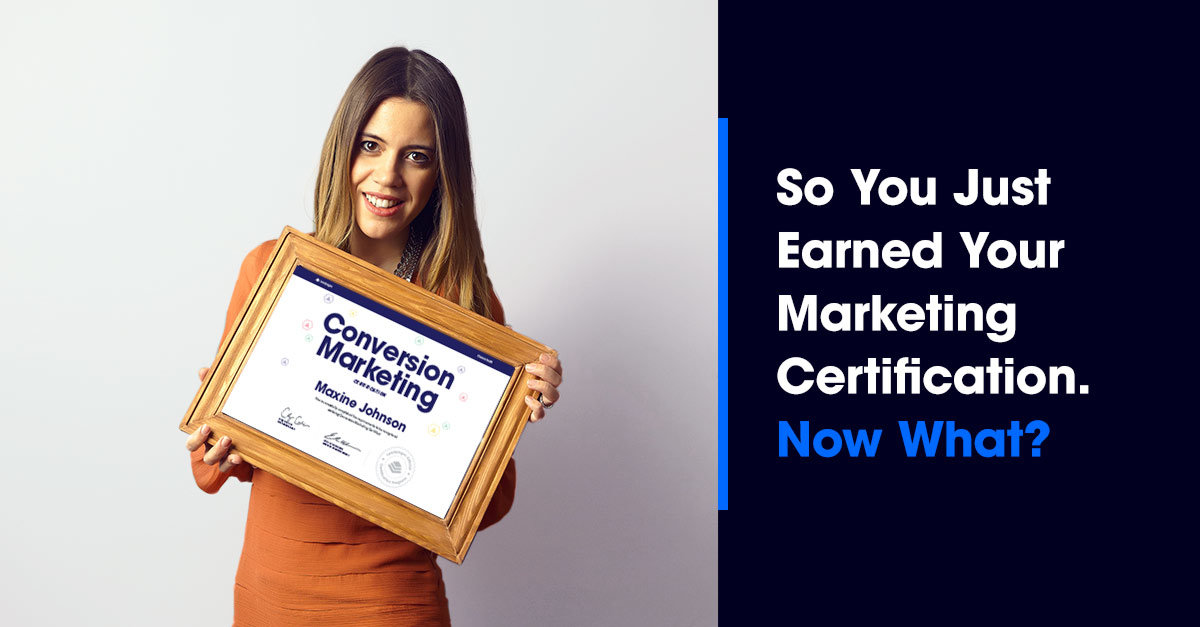 Congratulations! You've earned a major marketing certification. (In conversion marketing, Google Analytics, Adwords, inbound marketing, or any of a gazillion other marketing certification training programs.)
You look amazing in your certified swag, and your profile in the certified directory shines. You are poised for the influx of inquiries and warm leads sure to come your way.
You even wonder if you'll be able to keep up with them all. But then …
Nothing. Nothing but crickets.
Finishing a marketing certification is not the end game
Hundreds if not thousands become certified in some form of marketing every single day. And unfortunately, a good number of these newly minted experts become quickly frustrated and disillusioned when the leads don't come pouring in.
Finishing a marketing certification is a big achievement, and one that will absolutely help your career. But it doesn't mean you've punched your ticket to easy street. It's not the end-game.
Instead, think of your marketing certification as a tool you can use to market yourself. Just as there are things the certifying organization may do to spotlight your success, there are also things you, the certified expert can do, to market and promote your certification.
7 powerful ways to market your marketing certification
In 2016, we graduated our first class of Conversion Marketing Certified Professionals We took a look at what they were doing to promote their certified status and also asked them what tips and tactics they'd like to share that could help others.
Here, in no particular order, are seven ways to market your marketing certification to acquire more clients and generate more business revenue. There are some basic things you can do as well as some more advanced tactics. Do what you believe will best help you and your business, but make sure you do something.
1. Add your marketing certification to your social media profiles
Do the basics: This may seem like a no-brainer, but you'd be surprised how many certified experts miss this opportunity.
Did you know LinkedIn provides a Certifications section in your professional profile for you to add all of the specialties you're certified in along with details for each? Some certification programs (like Leadpages' Conversion Marketing Certification) even provide a one-click "Add to LinkedIn" button in their directory listing profile.
Include it also on your Facebook page, in your Twitter bio, and on your Google+ profile. Create a board for certifications or specialties in your Pinterest account and pin certification badges or specialty skills icons there. Leave no social media network you're active in untouched!
Do more: In addition to the above, consider adding a certification blurb to the About Us or profile sections of your social media profiles. On Twitter, you could include it in a pinned tweet. Include some results-oriented bullet points of what you've achieved along with some customer quotes in your LinkedIn summary section.
Then, ask your clients if you can share their stories on social media (tagging or linking to them, of course). Create periodic posts demonstrating how your certification expertise has helped them succeed.
2. Add your marketing certification to the most important pages of your site
Do the basics: KISSmetrics cofounder Neil Patel claims that a website's most important and most frequently visited pages are its homepage, About page, blog and contact page. While every website is different, consider including your certification credentials or badge on one or more of these key pages.
Here's how Conversion Marketing Certified consultant Colin Scotland uses his certification badge to enhance his About page.
Do more: Check your analytics to find your most-visited website pages. Then add your certification badge to the sidebars or footers of these pages. Make the image a link to your profile page on the certification program site, or a custom page you've created to tell your certification story and showcase your expertise.
Here's an example from Conversion Marketing Certified copywriter Tanya Brody's website.
Extra credit: Instead of just inserting your certification badge with a link, add a description and a brief story about your certification experience and why prospective customers should care. Here's how Carlos Aguilar of Conversion Surge does it.
3. Write a blog post about your marketing certification
Do the basics: If you haven't done so already, consider adding the company or industry news to your blog's editorial calendar. Then schedule and publish periodic stories your audience will find interesting. And don't be afraid to toot your own horn with a certification story that reveals how you've sharpened your skills and how your new capabilities can benefit your customers.
Do more: Create and publish an online or social media news release with links back to your certification story blog post on your website. You can even use an online press release distribution service like PRWeb, BusinessWire, or PR Newswire if you think it may be of interest to people outside your audience.
4. Create and publish client success stories
Do the basics: The key to an engaging client success story: position your customer as the hero of the story and you as the helpful guide, wielding your marketing certification expertise (the secret weapon!) to overcome their challenge.
You can publish success stories in multiple formats to reach a broader audience. We've done this at ConvertedU ourselves. For instance, you can find one successful program graduate featured on a webpage, in the form of a free PDF download (in the sidebar of that page), and on an episode of my podcast.
Do more: Share your expertise on platforms bigger than yours. Look for businesses tangential to your area of expertise and see if you can collaborate with them to create a win-win opportunity for a blog, podcast or video they publish. As an example, one of our Conversion Marketing Certified professionals, Victor Ramirez, was recently interviewed by the GoDaddy blog thanks to his WordPress expertise—and got to share how he'd helped his agency's clients in the process.
5. Validate your credentials with client testimonials
Do the basics: The best testimonials are mini success stories. They substantiate your expertise and inspire confidence in your ability to help similarly situated clients find the results they're looking for. See how Kathy Colaiacovo of Pepper It Marketing has placed her Conversion Marketing Certified badge prominently with her Testimonials page.
Do more: Add testimonials to the services and pricing pages of your website. This tactic will help add context and relevancy to your pricing scheme and packages.
6. Place your certification badge everywhere
Do the basics: In addition to the spots mentioned above, add your certification credentials to your:
Estimates and proposals
Email signature
Business cards
Marketing collateral
Promotional items (even apparel such as hats or tees)
Signage (if you have a physical location)
Slide decks
Laptop (if you have a certification-badge sticker)
Conversion Marketing Certified Professional Suzanne Feinberg sums it up nicely: "We put our Certified logo on everything we do."
Do more: Talk about your marketing certification with your existing clients. Use it as a conversation starter to win more business from the clients you already have. Conversion Marketing Certified Professional Hendrik de Vries of Mingle Media Marketing finds talking about his certification with current clients leads to more revenue opportunities. He says: "Since the certification, we've grown 10x in revenue. We don't have 10 times more clients, but 10x more revenue from our existing clients."
The key to successful conversations: make your certification about what you can do for them, not about yourself. Hendrik says:
"We try and let the certification speak for itself. We focus on the benefits to our clients and prospects rather than speaking to how "smart" and 'educated' we are. Why? Because deep down, they honestly don't care about the certification—they just care what skills we have that can help them. It's ALWAYS about giving access to our knowledge to our clients and guiding them to continuous results."
7. Sponsor something to raise awareness of your certified expertise
Do the basics: In Stage One of ConvertedU's conversion marketing lifecycle certification training, we talked about using earned media to increase awareness and generate interest in the form of traffic to your website.
One tactic is to sponsor events such as an industry awards ceremony or a charitable event that can help you a build positive reputation. If you do this, you can interview the honorees and publish a blog or news release (including a byline with your credentials), share and distribute it widely. The honorees or charitable organization involved will be only too happy to share in the exposure.
Do more: At the beginning or end of a year, why not create and publish your own branded collection of the best-of-the-best predictions on a topic associated with your niche?
But don't make this only about your predictions. Invite industry experts to contribute and make it about their thoughts and predictions. All you need to do is package them up, include a short blurb about your expertise and certification credentials, and publish the collection as an ebook. Everyone who contributed to it will share it with their communities, bringing awareness and traffic to your site. Example: 60+ Content Marketing Predictions for a Successful 2017 from the Content Marketing Institute.
Extra credit: Make your collection of predictions an annual initiative and invite more professionals to contribute each new year. (CMI started with 40 contributors to the above collection and are now at 60+.)
How will you make your marketing certification work for you?
Many thanks to the Leadpages Conversion Marketing Certified Professionals who contributed to and inspired these tactics. Which ones will you put into play?
Do you have a marketing certification? Share how it's helped you in the comments!