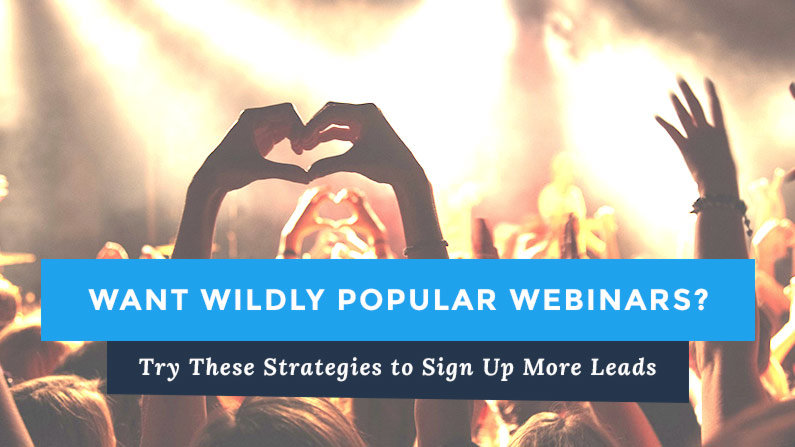 How do you run a successful webinar?
Plan great content. Be an engaging presenter. Make a compelling pitch for your product.
All true. But there's one other step you need to consider, and it comes at the very beginning of your webinar campaign …
Promotion.
If you don't make an excellent case for your webinar well before you take the mic, you'll be presenting your high-quality webinar to a pretty sparse crowd. That's why it's important to take some time at the outset to map out how you'll fill those virtual seats.
Fortunately, that doesn't need to be a major effort. The promotional strategies in this post can take as little as 5 minutes; apply a few of them and you'll be well on the way toward optimizing your webinar attendance rate.
Some of these tips will help you expand your reach, while others focus on what happens when someone reaches your registration page. In fact, the latter aspect is so important that we're not stopping with this post—we've also created a PDF guide called "How to Create an Effective Webinar Landing Page." For a section-by-section visual breakdown of an ideal, high-converting webinar page, download the free 12-page guide below:

Here are 5 of our favorite quick ways to get more eager prospective customers into your webinars starting now.
Strategy #1: Make your webinar a joint effort
If you're early on in the process of building your audience, it may seem difficult to attract enough webinar attendees. Where will you find them?
Maybe in someone else's audience. A joint venture webinar is a webinar co-hosted by two people or organizations, and finding the right joint-venture partner can get you in front of a larger (or simply a different) crowd than you could command on your own.
The ideal webinar partner will serve the same industry as you, but not directly compete with your products. Maybe you offer training packages while your partner offers some of the software you recommend to your clients during training; maybe you each specialize in consulting clients on two different aspects of the same niche.
Of course, any webinar host wants to expand their audience, but if your existing audience is smaller you can bring other things to the table. Supplying a majority of the webinar content, offering a commission on product sales, and handling the webinar logistics or promotional assets can all help balance the scales for a partnership that benefits both parties.
Strategy #2: Write a quantifiably captivating headline
There are a couple of elements that I've noticed win webinar-page headline A/B tests time after time:
1. Real-life results: Attending a 60- to 90-minute webinar is a significant time investment, and attendees want to know they'll be rewarded with concrete benefits before signing up. While you don't want to make unrealistic promises, you can demonstrate those benefits by referring to real-life successes achieved with the knowledge you'll be sharing in the webinar.
You can improve most webinar headlines just by asking "where are the results?" A couple of examples:
Before: The Most In-Demand Coding Skills Today
After: The Coding Skills That Hiring Managers Say They Want Today (and How to Learn Them)
Before: Selling Your House? Attend Our Home Improvement Seminar
After: How I Got Multiple Offers on an "Unsellable" House
2. Numbers: The results in your headline become even more convincing if you can back them up with some numbers. Revenue generated, time saved, profit margins increased—all these metrics can make for a compelling headline.
But even if your webinar topic isn't quite so quantifiable, you can still borrow the benefits of numbers. Take a look at your webinar outline. Does your content contain a certain number of steps, tips, resources, recommended tools—any collection of valuable things you can add up and include in the headline?
If you've already improved your headline by adding results, you can probably include it further by asking "how many?" or "by how much?" Some examples:
Before: How I Got Multiple Offers on an "Unsellable" House
After: The 5 Repairs That Got Me Multiple Offers on an "Unsellable" House (and Cost Less Than $5,000 Total)
Before: A Parent's Guide to the College Scholarship Application Process
After: How to Find Thousands of Dollars in College Scholarships Your Child Can Apply for in an Hour a Week
These examples actually use multiple metrics that work together. I'm guessing you can find at least a couple of juicy numbers inside your webinar content, too.
Strategy #3: Time it right
When should you hold your webinar to get the most attendees?
That depends on the answer to two questions: where is your audience? And who is your audience?
If your webinar is for local prospects only, the answer to the first question will be fairly obvious. But if you market to a more far-flung crowd, a quick look inside your Google Analytics account can tell you about the geographical spread of people who visit your site.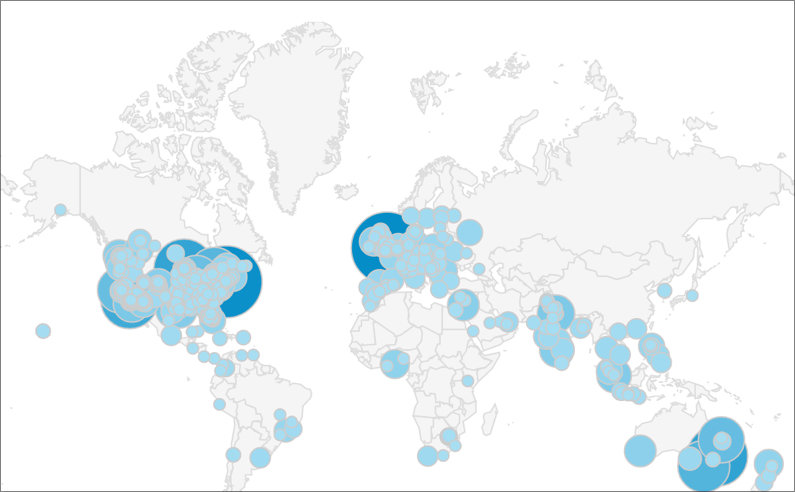 Covering a few different time zones? Experiment to see if there's a way to find a reasonable time for the majority of your audience (though this may not work if they're on opposite sides of the globe); otherwise, consider making replays or automated options available. And no matter what, be sure to translate your webinar time into a few popular time zones on your registration page so most visitors don't have to do the math.
Another option is to offer two different webinar times on one page. If you're pretty sure you can draw a crowd, use one of LeadPages' two-date webinar registration templates to increase your chances of getting an opt-in.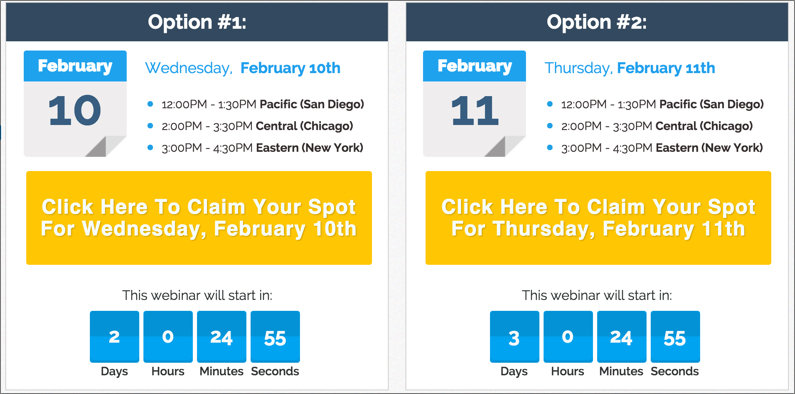 Webinar timing should consider not only where prospects live, but how they live. If you sell to other businesses, your audience is likely to be professionals with buying power who will be attending during the course of their workday, so fit it into the regular 9-to-5. If you market to an audience of hobbyists, find times that are less likely to interfere with their other responsibilities, such as weekdays after dinner.
Finally, you've probably heard that as a rule webinars perform best when held in the middle of the week (Tuesday–Thursday) in the middle of the afternoon. But if you think a different time will be more convenient for your industry or the demographic you serve, don't hesitate to try it out.
Strategy #4: Show them who you are
People attend webinars because they want good information, but they're likely to find a different way to get that information if they expect the presentation will be dull. One way to prepare them for an enjoyable time is to share a little bit about yourself. (This is especially important if you're marketing the webinar to an unfamiliar audience, as with a joint-venture webinar.) A few ways to do that on your webinar page:
Play up your credentials. At the minimum, include a line about what qualifies you as an expert beneath your presenter photo.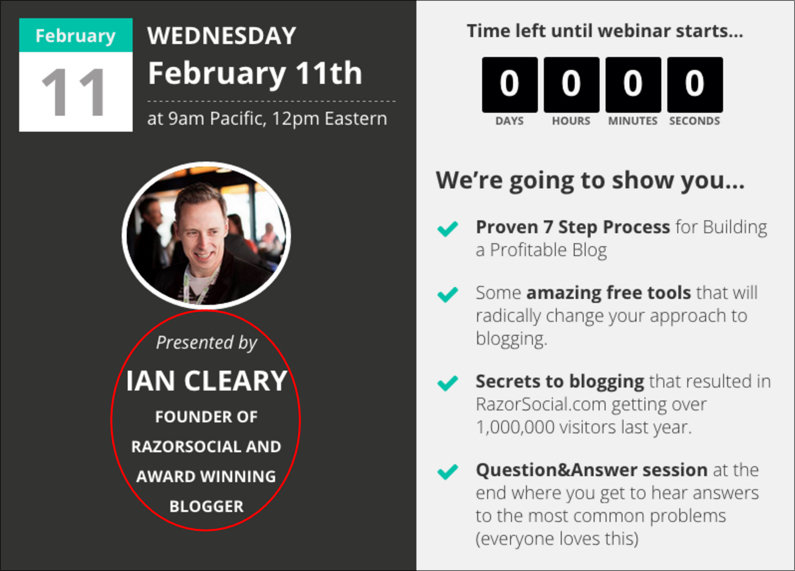 Write your landing page copy in the first person. Even in a more formal setting, if you're listed on the page as the presenter, take the opportunity to start building a personal connection by writing in your own voice.
Choose an approachable photo. A buttoned-up headshot may not be your best bet here. When we've looked at presenter-photo split tests, we've consistently found that an informal background and a big smile are the most important accessories you can have.
Strategy #5: Say thanks, and thanks again
If you have a website and you're about to have a webinar, you'll want to promote that webinar all-around your site. Sidebars, banners, and landing pages are all good options, but there's one especially effective spot that few people take advantage of.
That may be because it's a little bit "hidden:" the thank you page. Although this page will only be seen by a small portion of your site visitors, the ones who do get there will be your most engaged visitors—they care enough to have just opted in or signed up for something you offer.
And that's why the thank you page is an excellent spot to invite leads to a webinar. In fact, when Leadpages first started doing this a couple of years ago, we discovered that 20% of people who viewed our combination thank you/webinar page opted in.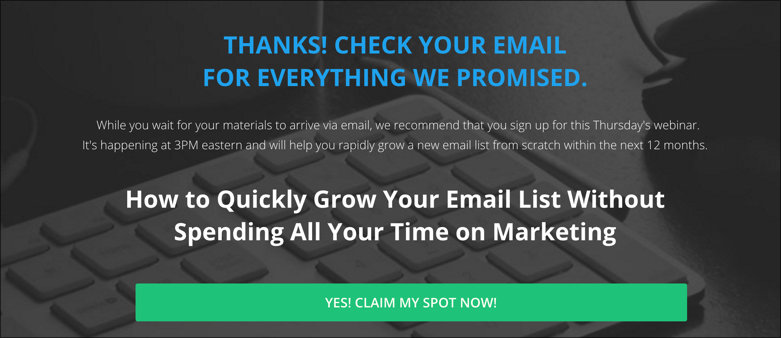 So once someone opts in for the webinar, do you show them yet another thank you page?
Yep. You can use this second thank you page just as strategically as the first. Now that someone has signed up, you can increase the chances they'll actually show up by doing things like:
Providing buttons to add the event to registrants' Outlook, Google, and iCalendar calendars
Allowing them to download a free resource you'll refer to during the webinar, such as a workbook or list of resources
Including a video that tells them how to opt-in for event reminders, or simply gets them excited about what you'll be discussing
Mentioning special bonuses that will only be available during the webinar
For 10 more tips to ensure that site visitors actually reach your thank you page, download our free webinar-page optimization guide below:

What features get you really excited about attending a webinar? Tell us in the comments.