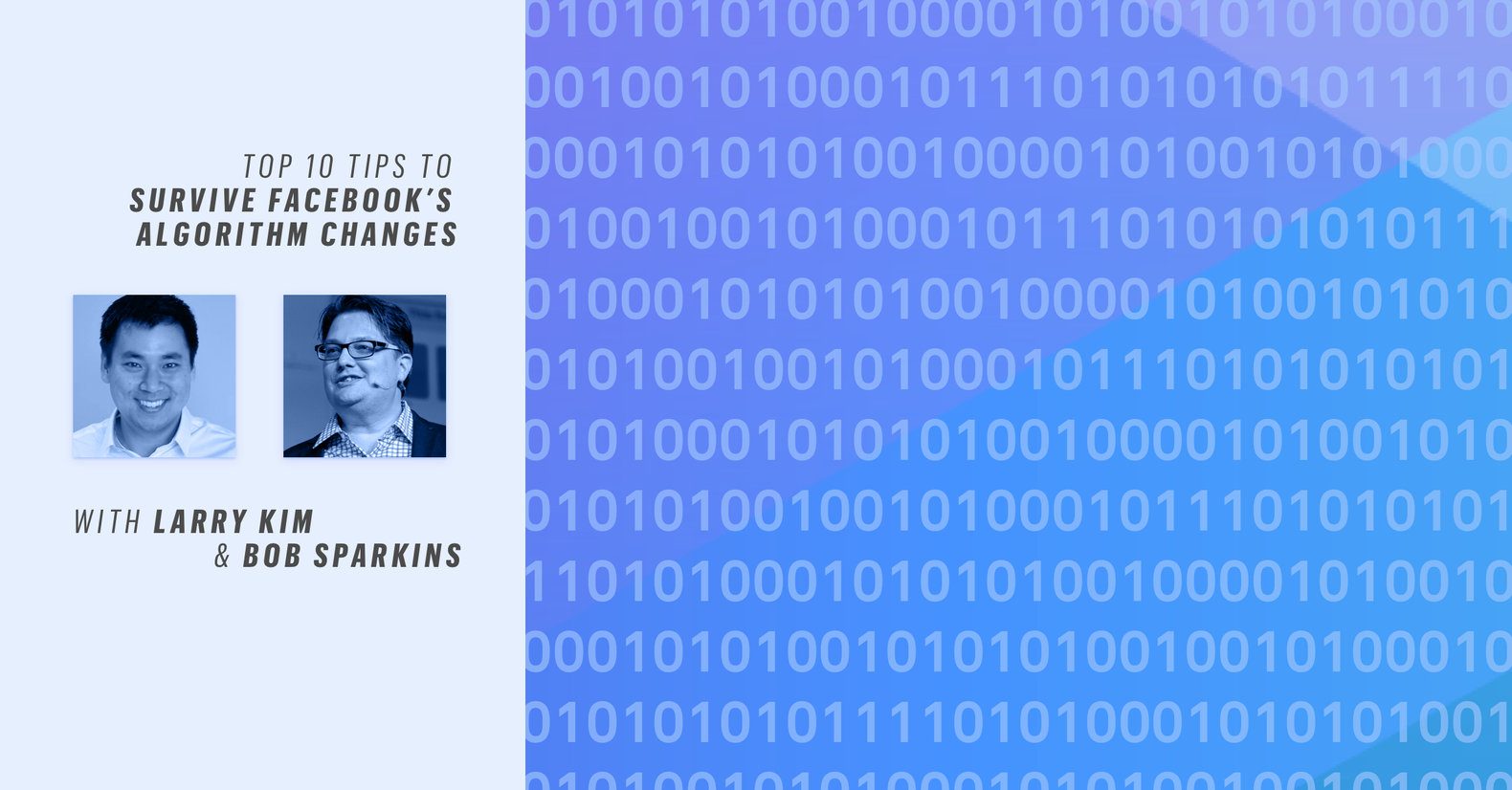 Marketers are quickly scrambling to adapt to Facebook's latest algorithm changes, which significantly scale back the visibility of organic (unpaid) posts that have been published by business accounts.
Organic posts by business pages are expected to reach 90% fewer eyeballs (impressions) as a result of the algorithm update.
In January 2018, Mark Zuckerberg, founder & CEO of Facebook, announced changes to Facebook's News Feed algorithm that would heavily favor content from "friends, family, and groups" and would seriously shrink the reach of organic content posted by business pages. It's all in an effort to better curate the overall content experience for Facebook users… but it's an unfortunate turn of events for publishers and brands reliant upon the channel to nurture leads and followers…for free.
From an advertising perspective, Facebook is undoubtedly inching towards a"pay-to-play" marketing channel, but there's still a great deal that can be done to creatively overcome the hurdles – before you pull out your wallet.
In this article, Larry Kim, CEO of MobileMonkey, Inc. and founder of WordStream, Inc., together with Bob Sparkins, Manager of Marketing Education at Leadpages, band together to present a handful of proactive approaches you can take to combat these new challenges.
They'll walk you through their top 10 tips for how to get in people's newsfeeds so your content can be seen, get the right kind of attention, and make the most of your ad spend budget (no matter the size).
Want to check out the full webinar? Zip down to the bottom of this article…it's there waiting for you!
Facebook's News Feed Ranking has four elements:
#1 – Available inventory of stories
#2 – Signals (data points) that inform ranking decisions
#3 – Facebook's predictions on how likely you are to engage with a story
#4 – Relevancy score (…another Facebook prediction)
Facebook News Feed Ranking
\
---
Top 10 Marketing Tips to
Survive Facebook's New Algorithm Changes
#1 – Inverted Unicorn Ad Targeting: Communicate to the Crossover

Facebook's ad targeting options are outrageously specific. You can zoom in on your target audience by specifying their demographics, interests, and online behaviors. But, don't stop there: Larry recommends maximizing engagement rates by combining your standard targeting with a completely unrelated interest – and creating ads that speak to the crossover. Such as email marketing + Game of Thrones.
(…Actually, that idea lends itself to some pretty phenomenal subject lines…)
Subject: Hey John, you know nothing.
Subject: Winter is coming, buy now
This unique tactic works because you can craft ad experiences that are extremely customized to two or more of the user's interests. In Larry's experience, this tactic results in remarkably low ad costs due to unusually high engagement rates

Take Action:
Brainstorm creative opportunities for interest crossover
Explore FB targeting options to find viable audience crossover
For example, layer in one of your new 'crossover interests' into the Facebook target audience tool and evaluate the size of the target audience you create. You might explore something like: your email subscribers + "Travel"
#2 – Find & Boost Your Unicorns: Pay Attention to High-Performing Posts

The more engaging your ad, the less you pay to serve it. Experiment with posting lots of different kinds of content and campaigns, pay attention to what scores higher than average engagement and pay to boost that post even further.
Facebook & Twitter ads: higher engagement rate = (Much) lower cost per engagement.
Marketers love to believe that every campaign is a unicorn, but – as Larry points out – sometimes your idea is a donkey. And in that case, the best you can do is identify it early and not put your money behind boosting organic content that flopped.
Take Action:
Produce and try out lots of different types of content & campaigns

Measure user engagement rates to discern unicorns vs. non-unicorn campaigns

Pause 'donkey' campaigns and don't continue producing that style of content

Find the unicorns and sound the unicorn alert (boost them)
#3 – The Unicorn Slush Fund Method: Be Stingy then Spend Big

Traditional marketing budgets might be set up to spend X amount of dollars in a single month over Y number of ad campaigns. Larry recommends you scrap that old-school financial planning for a model that he (hilariously) refers to as a 'unicorn slush fund.'
Rather than evenly distributing your budget, Larry urges marketers to keep their eyes out for an organic post that wins above-average engagement and then apply all your marketing moolah to promote that post.
"By doing this you could get 30-50x more value out of your ad spend than had you distributed it evenly amongst all your different posts."
Take action:
Set the benchmarks: What are the average impressions/ likes/ shares for your organic posts?

Check in regularly (weekly+) to track your posts' performance and identify outliers that outperform the rest by at least 25%

Once you ID a rising star bit of content, double down on your marketing spend to boost that post or repurpose it into an ad.
If this sounds like risky business – fear not. It's actually far more fiscally conservative than the old school methodology. Speaking from his own experience, Larry says that "by doing this you could get 30-50x more value out of your ad spend than had you distributed it evenly amongst all your different posts."
#4 & 5 – Make Messenger a Part of Your Marketing Toolbox

Did you know that more people are checking their messenger apps than they are checking their Facebook News Feeds. There are more monthly active users on messenger apps than there are on Facebook. Yet only 1 percent of businesses can automatically engage with customers via messaging.
You can easily broadcast messages via Facebook Messenger to anyone who has already messaged your Facebook Business Page. You can use this function to deliver content like blog posts, webinars, or news about your business. Think of it like an email service provider right inside Facebook.
Take Action Now:
Make it easy for your audience to opt into your Facebook Messenger broadcasts by:

Adding a Facebook Messenger opt-in button to all website contact forms for visitors to opt into messenger updates(checkbox plugin)

Attaching auto-responders to your Facebook posts (respond to people who comment) – could be used to deliver content (ex. leave a message and we'll send you the PDF)

Linking to your chatbot (via email or web pages on your site) to invite your audience to opt-in

Install Facebook chat on your website


Try out a Facebook ad with a 'Send to Messenger' call to action that allows visitors to instantly opt into your messenger marketing
#6 – Use Snazzier Link Previews for Sharing (Open Graph)

Open graph is how you control the display of your link previews (for landing pages, blog posts, and website pages) when you post them to Facebook. You can set the image, title, and descriptive text that will appear when you cut and paste the link into both posts and comments. By specifying your open graph, you can achieve ad-quality presentation even in your organic (free) posts.

Take Action:
Use the Open Graph (OG) wizard inside Leadpages to set your open graph description

Find a WordPress plugin to set your open graph descriptions on blog posts
#7 – Add Captions for Silent Video Watchers

Facebook automatically auto-plays your video in mute (as default) as people scroll by within their newsfeeds. So, rather than miming out your message or allowing the meat of the matter to be lost entirely – simply add captions to all your video content.
Take Action:
Add captions to your video content




How? Edit video inside Facebook's business manager, select 'edit video' and upload or auto-generate captions. Facebook's auto-generated captions are very easy to edit and can be a significant time saver.

Focus on the first 7 seconds – and ensure you've got eye-catching, attention-grabbing content right up front
#8 – Advertise Like a "Real" Business

While there are ways to work around the recent algorithm changes on Facebook, the fastest is simply to deploy paid Facebook ads. (If you can't beat 'em. Join 'em)
Keep in mind that the goal of the algorithm is to foster more connection, community and profit for Facebook's investors. Therefore, ultimately Facebook's profit motive is always going to be stronger than their altruism.
We recommend combining great ads with the pursuit of connecting with your audience.
Take Action:
Create FB ads with Leadpages




(#1 app for lead conversion + #1 advertising platform…)




Facebook ad builder experience that doesn't require you to go into Facebook Ads Manager. You can do it all inside Leadpages and keep your campaign creatively aligned and easily on track.
#9 – Don't Put Your Marketing Eggs in One Basket: Use Google Tag Manager

The one constant of Facebook, is that it's always changing. So keep in mind that Facebook is Mark Zuckerberg's property – not yours. That means that you're on rented channel and could – theoretically – be kicked out or closed down at any time.
That's why it's so important not to put all your eggs in one basket. (One eviction notice could eviscerate your business…remember that thing called MySpace?)
Use Google Tag Manager to better segment and dynamically update your audiences – and, ultimately, achieve better advertising results.
Take Action:

Diversify your remarketing opportunities

Include multiple pixels in Google Tags Manager




(Facebook pixel, Facebook pixel with event codes, Google Analytics, Adwords remarketing, email tracking code)

Each can be triggered on specific URLs in your marketing

Use Google Display Network (GDN) remarketing
#10 – Grow Your Email List with Landing Pages & Content Upgrades

Email marketing sequences are excellent ways to nurture leads, encourage upsells, and boost revenue. Your email list is a fundamental asset in your business and traditional customers expect a broad web presence that combines "flashy" new channels (Facebook, SnapChat, etc.) along with more traditional marketing tactics such as email marketing.
Take Action:
Get more leads with landing pages.




(At some point you need to send your traffic an offer in order to get their email address into your database)

Take advantage of these 5 lead collection opportunities:

Website homepage

Welcome Gate ™ for new visitors

Specific landing pages for social links and ads

404 error pages for when you mess up (or they do)

Content upgrades on your blog
BONUS TIP:
Still sending Facebook ad traffic to your (static) website?
This tactic is going to be a game changer.
---
Watch the Webinar in Full:
This webinar was hosted by Larry Kim and Bob Sparkins and published on May 8, 2018. You can still watch the original webinar in its full, uncut version below. Check it out!