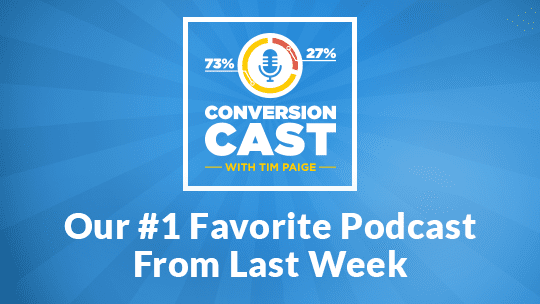 By Tom Q. Johnson, Analyst for LeadPages
For this edition of the ConversionCast Roundup, I'm changing things up a bit and taking a long look at my favorite episode of the week.
This week's favorite episode features Jason Hornung of the Jason Hornung Agency.
Jason is a former insurance man who left it all to start an advertising agency in 2009. On Friday, he joined ConversionCast to share a simple method for bringing his costs per lead on Facebook down dramatically.
And this guy is serious about dramatic improvements — we're talking $6.02 per lead in January to under a dollar in March levels on a recent project he worked on.
Granulated Demographics
The simple secret? Jason uses copies of his client's campaign to focus on a specific factor level, such as gender or age.
The results give Jason the ability to boost the population segments with the most return and downgrade the emphasis on those that don't. Per dollar spent, his conversions invariably go up.
The best part of Jason's process is how simple and it is to implement. Everything you need to replicate his success is already built into Facebook and ready to go with just a few clicks.
Here's what you'll learn in this episode:
Pinpointing where your Facebook advertising budget is being wasted and how to control that waste in future campaigns.
Setting up your own granular campaign and choosing the best level of scale.
Using Facebook's "Conversion Tracking Pixels" tool to gather even more data about how each customer group responds.
How to make your campaign more effective without changing your content at all.
How to interpret granular data once you have it. (Hint: A low price-per-click could mean a lower success rate on the backend as well.)
To me, Jason's technique speaks directly to the LeadPages core belief that using data to shine a light on your customers will lead to better results. Like split testing, his techniques are easily scalable and applicable in almost any situation.
To listen to this and other great episodes, visit us on iTunes or check our full list of everything else that happened on ConversionCast last week.
Leave a Review, Get a Review
And just a reminder: If you tell us what you think of ConversionCast on iTunes, the LeadPages team will give you or your project a free marketing critique. It's as simple as it sounds, we promise.
Check out the Leave a Review, Get a Review video from last week's marketing critique below to see what we're talking about:
Simply sign into iTunes, share your feedback on ConversionCast under the "Customer Ratings" section and drop a URL of your site or page that you would like our team to review.
That's it for this week's ConversionCast feature. As always, I look forward to hearing your feedback in the comments.