Facebook Live is new, it's fun … and it might feel like a waste of time for your business.
Sure, it's neat to capture the attention of live viewers on a spur-of-the-moment broadcast. But once you turn off the camera, then what? Does it really leave you with any more leads or customers than you had before?
Possibly—if you take one more step that most entrepreneurs don't seem to have discovered yet. It involves remarketing, and it's almost too simple.
But first, an extremely quick primer if you haven't yet had time to explore Facebook Live. I'd also recommend you download our quick-reference guide (updated just this week with new info). Check it out here:
What's cool about Facebook Live?
Facebook Live lets individuals and brands engage with their followers in real time. Users who follow your business page get a notification when your broadcast is about to start, and then they can chime in while watching to ask questions or give feedback on how the video is going so far.
Once it's over, your broadcast can live on as a regular video posted to your Facebook page—so followers can continue sharing indefinitely. Here's an example from one of our own recent feature-update broadcasts: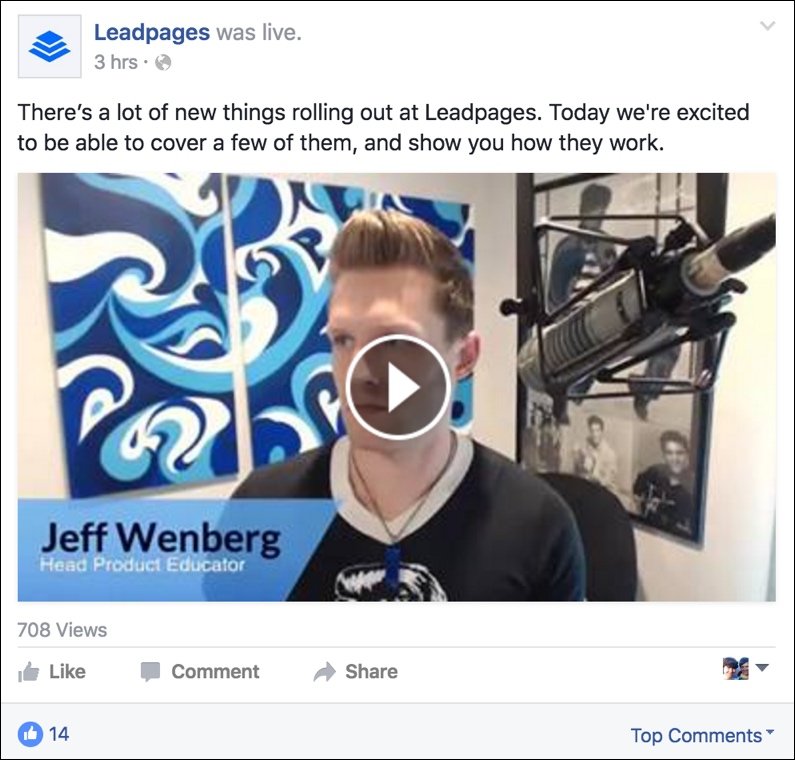 Facebook also recently announced an update to News Feeds that will make Live videos rank higher.
All in all, Facebook Live is a powerful way to capture more attention from your Facebook audience (most of whom probably aren't seeing all your regular posts). And there's one trick you should be using to capitalize on that enhanced engagement.
Facebook Live + custom audiences
So if you didn't before, now you get what Facebook Live is all about: an extra flashy form of posting on social media. Right?
Not quite. There's more.
When someone has attended your Facebook Live broadcast, you know that person is highly interested in your business. And you know that they're familiar with whatever you shared during the broadcast. That gives you quite a bit of information about them, compared to what you might know about any random Facebook follower.
And that means they're ripe prospects for remarketing.
Using Facebook Ads, you can now create a custom audience based on interaction with your Facebook Live videos. Here's how to do it.
1. Start by creating an ad campaign with the goal of getting website clicks. Then click Create New Custom Audience.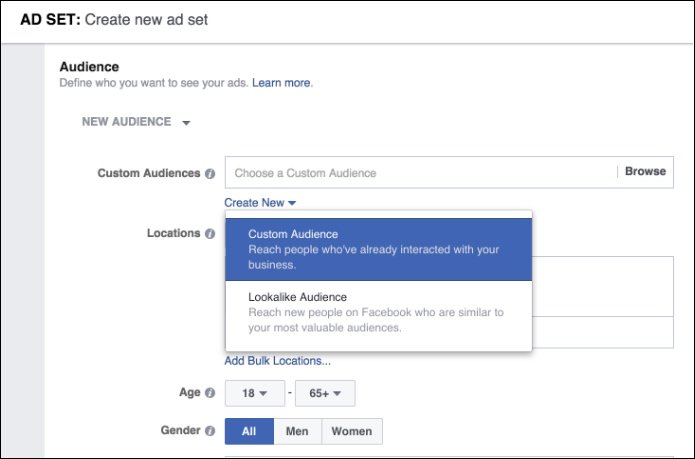 2. Next, choose Engagement on Facebook as the type of audience you want to create.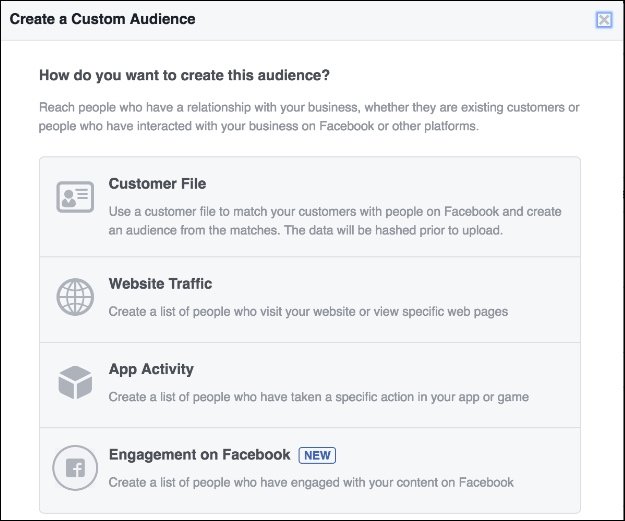 3. Select Video, then begin to make your custom audience.
Here you have some decisions to make.
If lots of people watched your Facebook Live video, I'd recommend choosing an individual video and targeting people who viewed 25% or more. If you are still building a following, you may need to do several videos and create audiences for each one before having enough audience members to begin showing ads.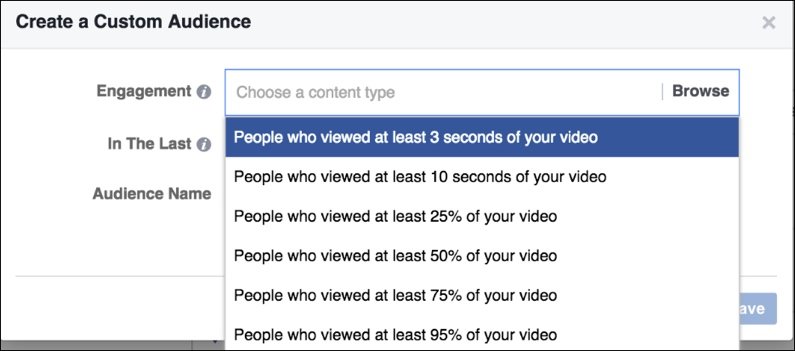 4. Finally, select your Facebook Live video(s) from the list and create your audience.
Note that the default timeframe Facebook will use to pull an audience is the last 365 days, so if you have used Facebook Live in the past, you can create audiences based on videos you ran up to a year ago.
Audience created–now what?
Congratulations—you're ready to start showing Facebook Ads directly to these highly engaged viewers.
What kind of ads?
That depends partly on the decisions you made in Step 3. If you created your custom audience based on just one well-attended broadcast, let the content of that video determine the best offer—and best landing page—you can present in your retargeting ads.
If you've grouped viewers of multiple videos into one audience, find the common thread and create or select a landing page that speaks to a topic they would all find interesting.
Let's take a closer look at how this plays out. For instance, you could use Facebook Live and retargeting ads to …
1. Educate current customers on a new product
Say you run an ecommerce store that has a healthy customer base for your first handful of products. Now you're releasing something new, and your current customers are the perfect people to introduce it to.
You could do this in a regular email. But for greater impact, try inviting your followers to a Facebook Live video where they can ask questions and get much more detail, not to mention an actual look at the new product.
Then, create a remarketing campaign that targets the viewers of this video and sends them to the product page. (You could even upload a list of any contacts who've already purchased the product and exclude them to keep relevance high and costs low.)
2. Share your small live event with the world
If you've ever run a live event to promote your brand or demo your products, you know there's a ton of work involved—setting up the venue, getting catering, maybe even hiring live music—even beyond getting your promotional offer right. Why not make the most of your effort and reach a wider audience by broadcasting from the event on Facebook Live?
Facebook Live has a great interface that easily lets people browse videos that are live at the moment, and you can capture interest pretty quickly with a fun event happening. This can expand the organic online reach of your event far beyond what you might get via mentions and shares alone.
In this case, viewers are likely to be somewhat high in the funnel since they don't necessarily know much about your company. Try creating an audience for any viewers who watched more than 3 seconds of your broadcast and sending them to a landing page with an especially intriguing offer, such as a special promotion or a contest. Make sure you also use the page to provide any information they may have missed in the video if they didn't see the whole thing.
3. Get feedback & give help firsthand
If you're an ecommerce or service-based business, your website probably has an FAQ section. That's a start, but you can give customers and prospects something much more interactive with a Q&A Facebook Live broadcast.
The format can be simple. Invite your followers and your email list to your Facebook Live broadcast, encourage questions and feedback, and answer in real time during the video. You can prepare a few responses to common FAQs in advance and then let the audience guide the discussion. In our experience, this is a great way to build rapport and trust with your customer base.
Then, continue the conversation by adding viewers to two different custom audiences for your retargeting ads.
For existing customers, consider creating retargeting ads around a special promotion aimed at retaining customers long-term. Attending a Q&A broadcast suggests that they're highly interested but potentially encountering some kind of confusion or issue with your product. If your answers during the broadcast didn't fully clear things up and convince them to stick around, a special offer might give them more confidence.
Non-customers who tune in are likely some of your top prospects. So for them, it might pay to send them directly to a sales page, or to a landing page where they can schedule a one-on-one demo or a free consultation (depending on your business).
Have you used (or watched) Facebook Live? Tell us how it went in the comments!