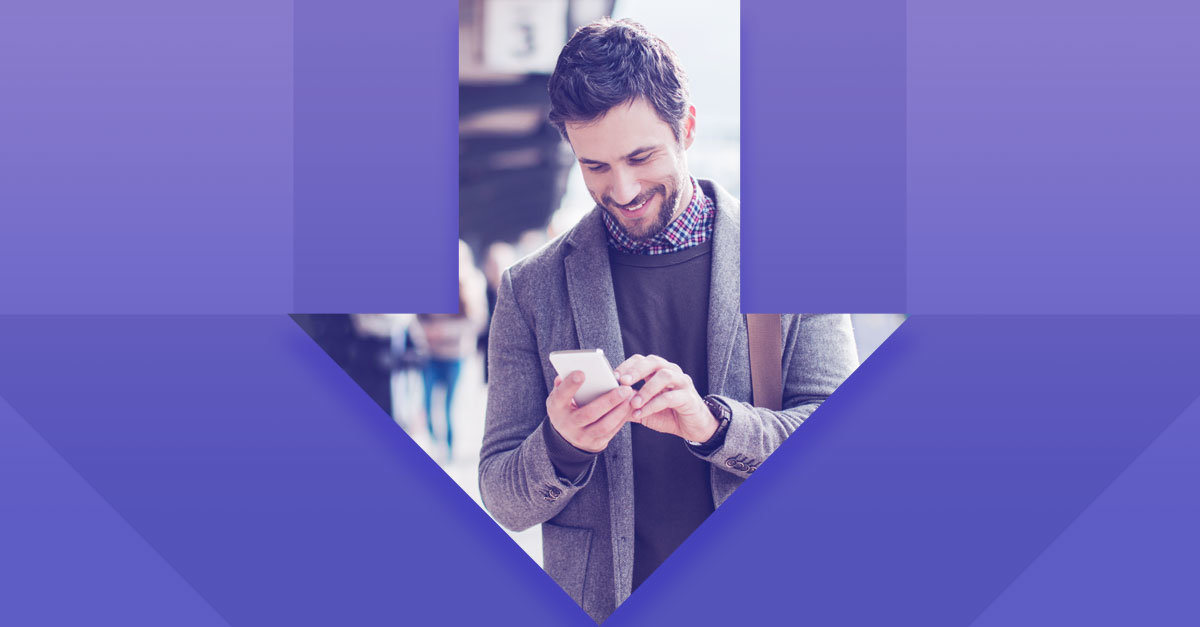 Editor's note: This is the first part of a multi-part Facebook advertising beginner's guide that details the key aspects of targeted advertising for more leads and sales. If you're brand new to Facebook advertising, or have yet to see meaningful results, you'll want to bookmark this post.
* * *
Did you know over 2 billion people use Facebook at least once a month, and over 1.3 billion people use Facebook daily? Did you also know that over 92% of those people access Facebook from their mobile devices?
As a business owner or marketer, the resulting question you should be asking yourself is:
How can I best reach the perfect audience for my products and services, without wasting my advertising budget?
When you're advertising on Facebook, the audience is technically the Facebook users who will see your sponsored posts in the Facebook newsfeed, the sidebar, on Instagram, or on Facebook's advertising network.
With over 2 billion people using Facebook every month, you can probably imagine that the more targeted the audience, the more likely you'll connect with the right people at the right time, with the right message.
In this 3-part series, The New Advertiser's Quick Guide to Facebook Audiences, we'll pave the way toward a higher ROI for your company's Facebook ads. We want to put those days of struggling to get your ads in front of the right people behind you. Instead, you'll know exactly which audiences to use and when to use them.
In Part 1, you'll learn about Facebook's "Saved" audiences. Leveraging the data Facebook has on all its users, any advertiser can reach the exact type of person that would best match their marketing message.
In Part 2, we'll dig into "Custom" and "Lookalike" Audiences. These powerful segments of Facebook users are even more likely to resonate with your marketing due to a closer match of behavior to your existing subscribers and customers.
Then in Part 3, we'll go beyond audiences to provide a few best practices for your ads, landing pages, and email messaging to support your next marketing campaign.
How to Access Your Business Audiences
For new advertisers, exploring the Ads Manager can be confusing and overwhelming. So let's take a quick look at how you access the audience creation options within Facebook.
The first time you create an ad audience in Facebook, you'll see a bit of a wizard to help you get started. You can access this wizard by going to:
Facebook.com/ads/manager/audiences/manage/.
You'll be presented with the three types of audiences you can target.
In the future, you can return to your audiences by finding the Audiences link in the main advertising menu inside your ad account dashboard.
Finally, from your Audiences dashboard, you can create additional audiences by choosing from the Create Audience menu at the top of your Audience listing.
Now with those basics set, let's dive into the Saved Audiences.
Leverage Facebook's Database with Saved Audiences
A Saved Audience is basically a search for all the users on Facebook who fit a certain combination of characteristics and qualities. Your job is to determine which details make up the best people to see your ad, and Facebook will create that audience for you. The detail categories you can select from are grouped into geography, demographics, interests, and behaviors.
Warning: Facebook includes over 1300 individual targeting characteristics. We've collected them for you in an easy to browse, printable guide.
Geography
Is the location of your audience important to you? If so, you'll want to use geography as a filter.
Let me share a few examples.
If you need traffic to your brick-and-mortar store, then a geographic audience is the first place to start. Create an audience within 10-50 miles of your ZIP code (the more unique your store, the wider the range should be).
If you want more people to discover your online store, but don't want to worry about the hassles of international shipping, then constrain your audience to your own country.
If it's important to only have people who speak your language see your ad, then make sure you're advertising to countries that speak that language (while also choosing that language in the demographics below).
Go beyond just the basics here. In addition to everyone who lives in an area, Facebook will allow you to advertise to people who actually live in a certain area, who were recently in a particular area, or who are currently traveling in a particular area.
For example, in February 2018, the NFL's Super Bowl will be held in Minneapolis (also the birthplace and home of Leadpages). This is one of the largest sporting events in the world, and over 1 million people are expected to visit the Minneapolis area the week of the "big game."
A local restaurant that wants to keep its tables full would do well to advertise on the mobile feeds of those currently traveling in Minneapolis during that week.
Beyond the Twin Cities, any business whose target market includes higher income people willing to travel for such a big football event would do very well to set up an ad campaign in early February targeting an audience who recently visited within 10 miles of Minneapolis, Minnesota.
These types of audiences will be relatively small in Facebook standards. But the focus of this targeting could have a big impact on the results of an advertising campaign. Especially if you used football puns to better connect with this audience (just be sure to not actually use the trademarked term Super Bowl in your ads).
The point is: Don't just think about geography in its simplest form of who lives in or near a certain place. Consider these advanced geographic filters to take advantage of time-sensitive events that attract your ideal customers.
You can also use geography to do a small test of a marketing campaign before rolling it out to a larger audience.
Demographics
In addition to the basics of age ranges, genders, and language(s) spoken by your prospects, Facebook lets you dig deeper into the demographics of your ideal audience. Facebook will provide suggestions, or you can browse to open up hundreds of choices.
Is your typical customer a college graduate of a particular university? Such a person may gravitate toward an ad campaign with their college colors—even if your product has nothing to do with that school.
Do you want to show your ads only to people within a certain income bracket? Or those that have become engaged within the last 3 months?
All of these types of demographic characteristics (and dozens more) serve as audience filters within Facebook.
For a list of all 1300+ targeting options, be sure to download our Facebook Audience Targeting Options Master List.
Interests
Most users of Facebook are pretty open about talking about things they love (and hate). Therefore, the platform has an enormous data set of interests for its users. Whatever pages and events people have "liked" also demonstrate to Facebook what users are into.
Do your ideal customers like to cook? Do they also enjoy horseback riding and surfing? Facebook can target them for you.
What kinds of hobbies do your ideal customers enjoy? From photography to having a pet rabbit, Facebook can filter for it.
Want to target people who obsess over sunglasses and shoes? No problem.
Think your ad would get great response from people who take Zumba classes or who like to meditate? Facebook lets you create that audience, too—in just a couple of clicks.
Behaviors
Like interests, behaviors are known by Facebook because of users' daily display of things they're up to. As a human being, it may seem a little creepy to have this much information known to Facebook. As a marketer, you'll be well-served to take advantage of the targeting this information allows. Plus, Facebook protects its users' privacy—as an advertiser, your ad is shown to Facebook users, but you don't actually see who sees your ad until they say yes to your offers.
What kinds of behaviors can you target for your ad campaigns (and variations within those campaigns)?
Here are just a few random behaviors you can target in your campaign:
What model iPhone are they using?
Are they actively looking to buy a car?
Are they an expat living in Canada, Indonesia, or anywhere in-between?
Have they returned from a trip in the last two weeks?
Are they the Admin for a Facebook page?
Pro tip: Combine behaviors, interests, and demographics to get a narrower audience, or exclude people from your audience who match particular behaviors. For example, in our Super Bowl scenario discussed earlier, a local restaurant would narrow their targeting to likely restaurant goers, and exclude veganism if they don't cater to vegan guests.
Which Do I Choose?
With all these choices for a Saved Audiences, you may be wondering how to figure out these characteristics of your target audience.
If you have an existing business page with more than 500 Likes/Fans take a look at your Audience Insights. These bar graphs show you where your audience is over-weighted with particular interests, behaviors, and demographics. Use that information to focus in on who's most likely to be excited to see your ads and offers.
If you're just starting out, you'll have to make some educated guesses with your own hypothesis. Start with characteristics that you yourself find appealing, particularly in your best clients you've served in the past. Run ads to this audience, measure the results, and make changes once you have real-world data to dig through.
How do you know your audience is big enough? A good guideline is to create Saved Audiences between 50,000 and 100,000 people in size. Smaller than that, and you may have a hard time getting enough visibility to your ads in a short period of time.
Plus, your ads may get shown too many times to a small (and now annoyed) audience. Larger groups than that, especially when you're early in your Facebook journey, can result in poorly matched ads to an audience that's too broad.
Coming up in Part Two
In the next part of this New Advertiser's Guide to Facebook Audiences, we'll explore the world of Facebook Custom and Lookalike audiences. For now, download our Facebook Audience Targeting Options Master List, and create an audience (or three) in the Facebook Ads Manager.