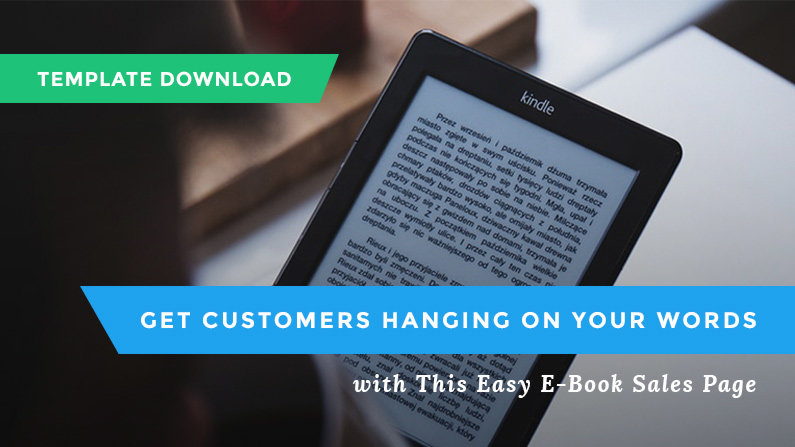 It's quite possible that there's never been a better time to be an independent e-book author.
As Fortune noted last fall, independently published e-books have swiftly been gaining market share over titles from major publishing houses, heading toward nearly 40% of total units sold.
If you've got a book-length idea to share, tools and platforms abound to make the publishing process as simple as possible. The only thing left after that is to market it.
Independent authors can find that part daunting, but it doesn't have to be. One important piece of the puzzle—your landing page—can come together in a matter of minutes when you use our brand new Easy E-Book Sales Page template. Here's a preview of the page: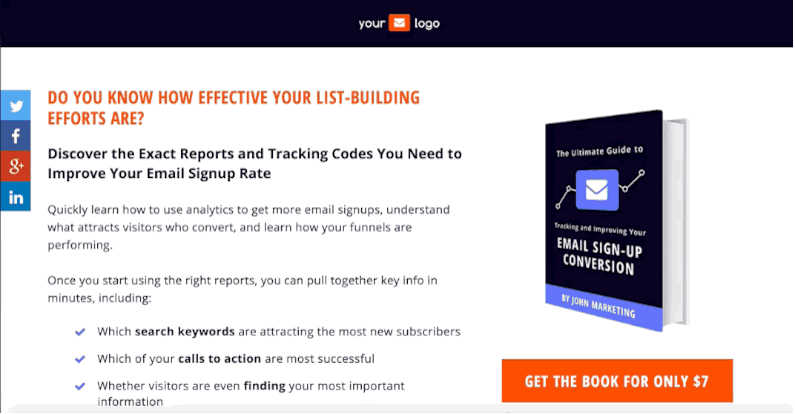 Click below to get your own free copy of this landing page template, or look for it in the standard template library if you already have a LeadPages® account. (If you don't, you'll want to download the files, edit them for your own e-book, and host the page on your website—or pass the template along to your web developer.)

We've designed this template to be incredibly easy to update. All you really need to make it look great is an image of your e-book's cover (or another related image) and some compelling copy—which should be no trouble if you're a writer. If you want to get a bit fancier, there are options for a couple of extras, too.
Let's take a closer look at the newest LeadPages® template.
All the Highlights, Above the Fold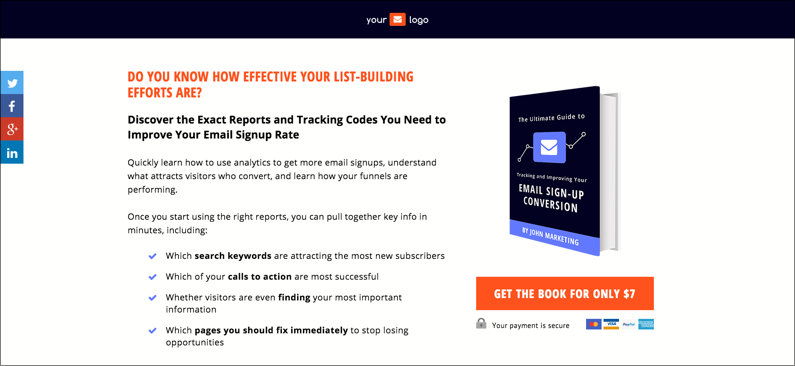 As soon as visitors land on this page, they see everything they really need to know about your e-book. A bold headline and subhead put your book-cover image in context, and a text section lets you share the best of what's inside.
We recommend you use the included checkmark bullets to convey what your book's about at a glance. Selective bolding (as shown in the default copy) can guide the eye even more swiftly to your book's most compelling features.
Below the book cover sits a big, bright purchase button you can link to PayPal, Stripe, Amazon, or any shopping-cart software you use. A secure-payment message and optional mini-icons showing available payment types convey trust and legitimacy.
The Plot Thickens: Multimedia Content Sections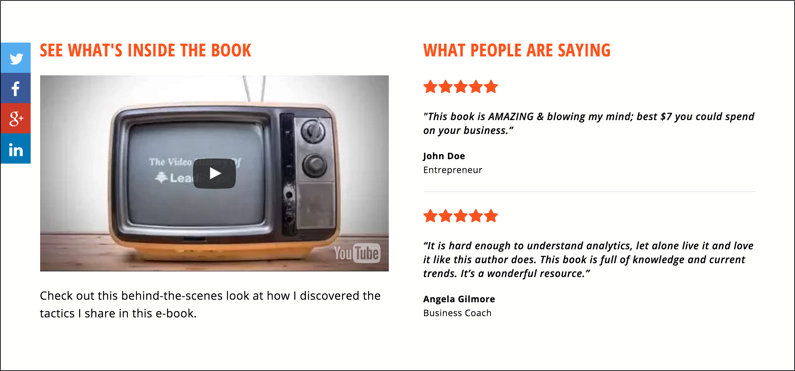 Even the most gifted writers can use a little help from other media to amplify the power of their words. After you sum up your e-book's value and present a concise call to action, you can use this section to open up your book from a few different angles. Use the video field to reach out to potential readers directly. Consider filming a short author's introduction, a book trailer, a section of a public reading, an author interview, or anything else that can bring your book to life.
In the right-hand column, you can replicate a favorite feature of Amazon's book pages: user-generated reviews. Of course, here you can select the review quotes yourself. Pull snippets from real-life user reviews on Amazon or other sites, take excerpts from published reviews, or—if you don't have either of those things—solicit quotes from readers in your industry.
Final Chapter: Guarantee and Beyond

After a final call to buy the book, we reach the end of the page. The default copy and images are built around a money-back guarantee offer, but if you're not interested in offering something like that, you can use this section in several different ways. Consider adding a short bio and replacing the badge with an author photo; adding a longer testimonial from an industry leader; or talking about any credentials or background that qualifies you as an authority on your subject.
Other Ways to Use This Template
Though this template is tailor-made for e-book sales, we're sure creative marketers will find many different uses for this template. Remove the payment icons and you have an enterprise-ready lead-gen page offering a free e-book or report.
Adjust the copy and images and you have a page that's ready to market other kinds of assets, such as online courses or consulting services. It's even suited for physical products—use the video field to present a three-dimensional view of what's for sale.
Click below to get a free copy of this template to use on your own site:

Have you considered writing an e-book (or written one already)? Tell us about it in the comments.
Related Reading
Build My Business: How to Launch an E-Book (in Just 5 Steps)
Inspired by his father's book in progress, business development manager Brandon Lytle lays out a complete campaign to get a self-published e-book onto Kindles everywhere.
Got Product Market Fit? Ryan Holliday Helps You Answer This Important Question
Ryan Holiday didn't become a bestselling author on marketing and business growth by accident. Here's how his publishing strategy and his entire product-launch philosophy work together.